Cinnamon Amish Friendship Bread w/ Orange Glaze
This post may contain affiliate links. Please read my disclosure policy.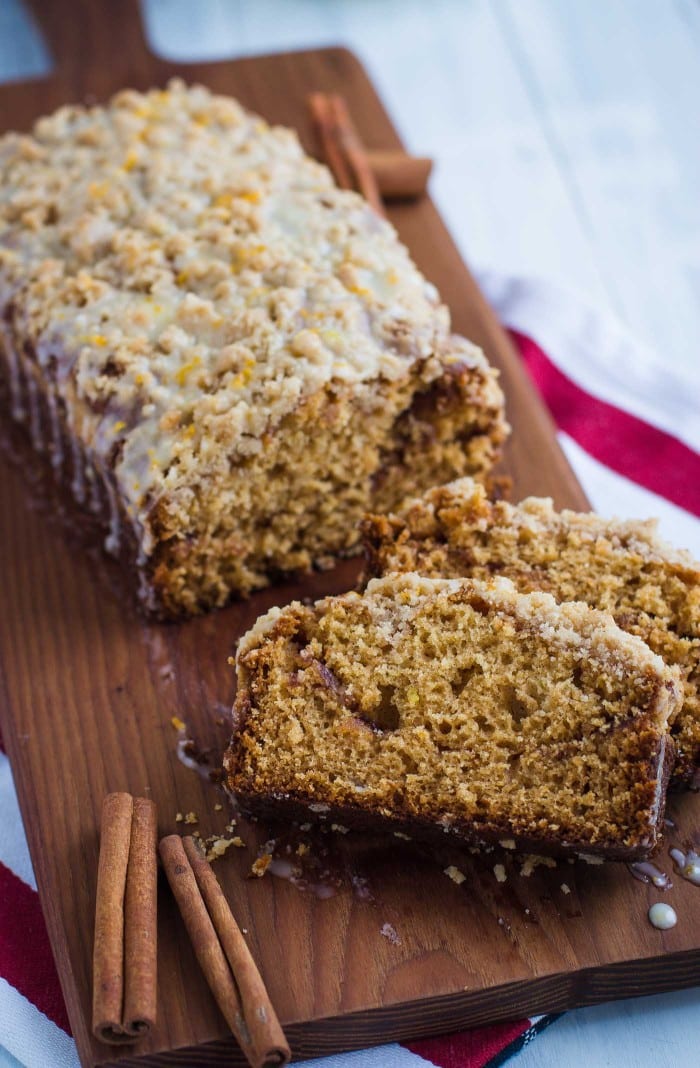 This Monday morning really has me dragging. BUT, it's the Monday morning before Christmas week and an ELEVEN DAY break from work. So, that's keeping my spirits high. I have a long list of fun things that I plan to do with my break and I'm very excited about it.
In the meantime, I have holiday sweets and treats to share with you every. single. day. of this week. I didn't necessarily intend to post every day this week but then I did a bunch of holiday cooking and I can't very well post a recipe for Christmas meringues the week after Christmas, can I? So, be prepared for lots and lots of yummy holiday posts over the next 5 days.
TODAY we're working with Amish Friendship bread. Have you ever baked with it?? I have memories of my Aunt Tracie asking me if I wanted a starter to bake some of the bread but seeing as I was in college and didn't go near a kitchen unless to microwave a bowl of ramen, I declined. SO, I'm very excited to have made my own starter and baked with it.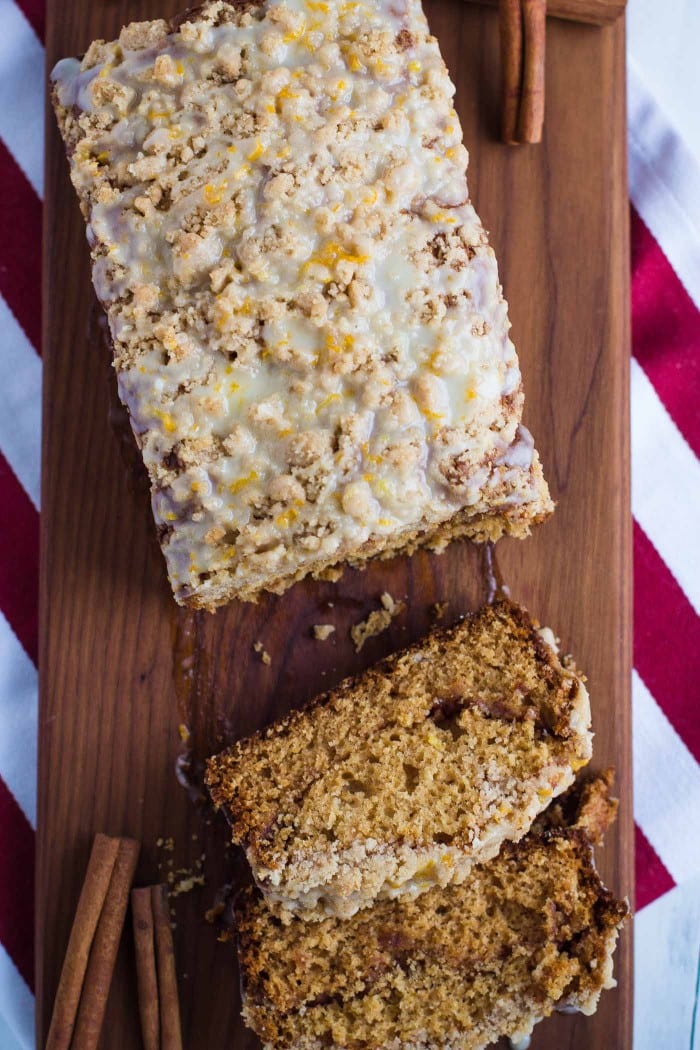 This recipe is part of a collaboration with Darien from Friendship Bread Kitchen. Darien is doing 10 Days of Amish Friendship Bread Giveaways with a new recipe for each day. I'm so super honored to be included in with this!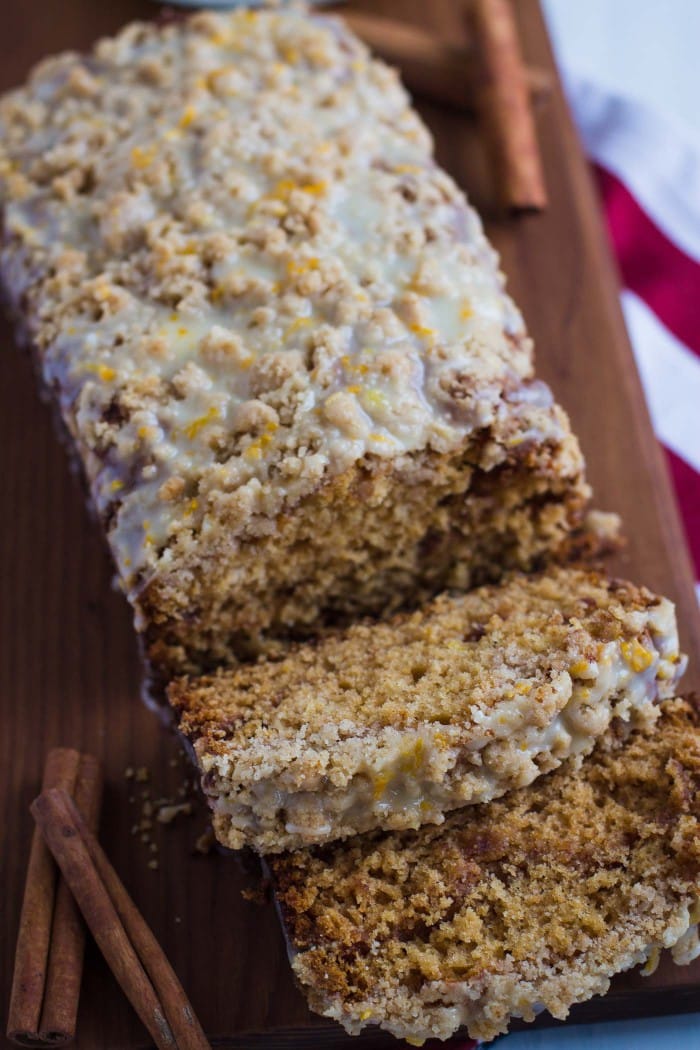 To backtrack a little, do you know what an Amish Friendship bread starter is? Darien has a great recap on her site that you can read HERE. The gist of it: the starter is a sourdough starter that is used as a substitute for baking yeast. You make your starter and "feed" it (ie add sugar and milk and flour to it) every so many days and after 10 days, you divide it up, keep some for yourself, and give the rest to friends with the idea that they'll keep the chain going and eventually give some to their friends. You can read all about how to make your very own starter HERE.
If you've never visited her site, you need to do so ASAP and then make sure that you follow her in some way because she has SO many great Amish Friendship bread recipes on her site. Like, hundreds of recipes and they're all so good looking! Who knew that you could bake so many things with the Amish Friendship Bread Starter?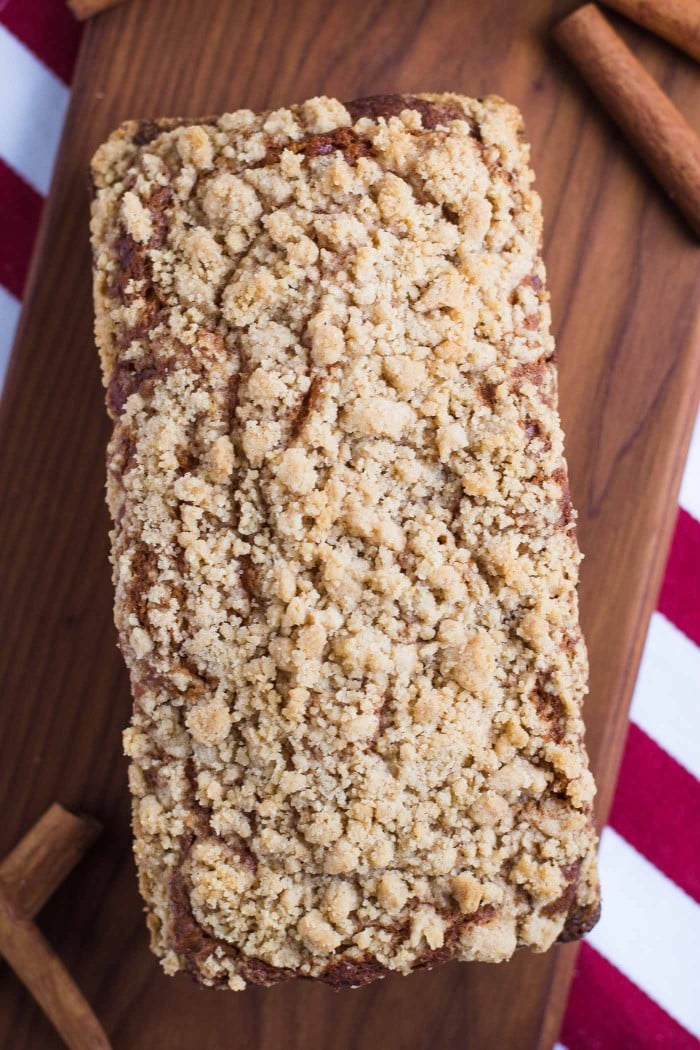 For my recipe, I just slightly adapted the main Amish Friendship Bread recipe, added a simple crumble on top, and then topped it with a yummy orange glaze. I had intended for this to be cinnamon swirl bread but I simply couldn't get the swirl to come through so it's just cinnamon bread. Stephen lovingly called it Cinnamon "not so swirled" bread.
One of my favorite parts about the bread itself: it comes together in ONE bowl. (I love easy recipes).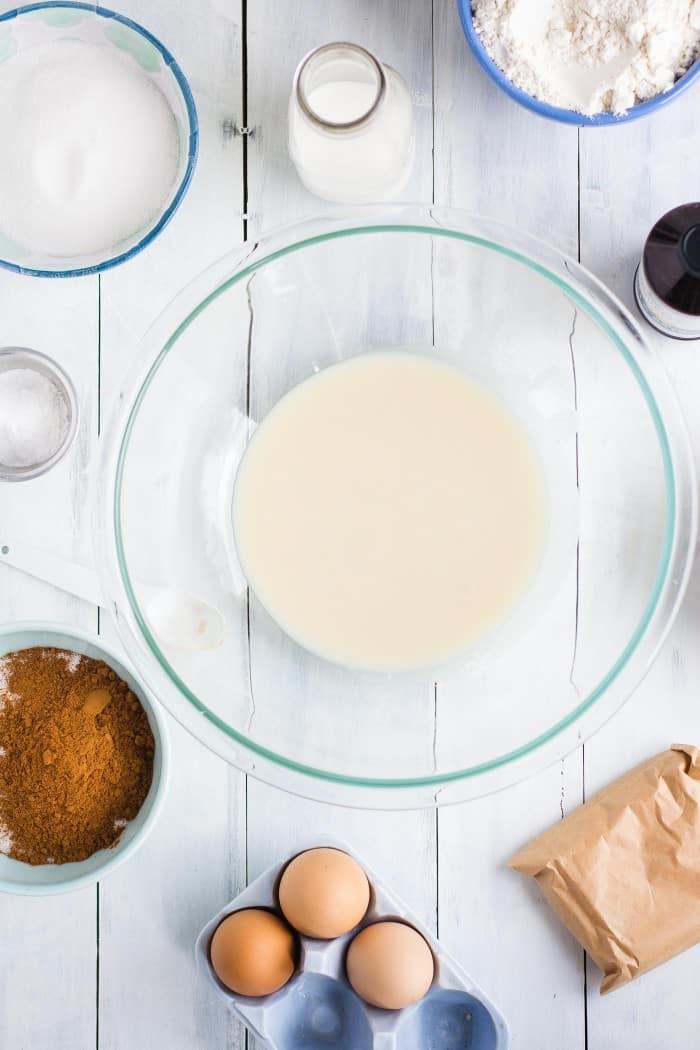 We start by mixing all of the wet ingredients in first.
Then the dry ingredients are sifted in right over the wet ingredients.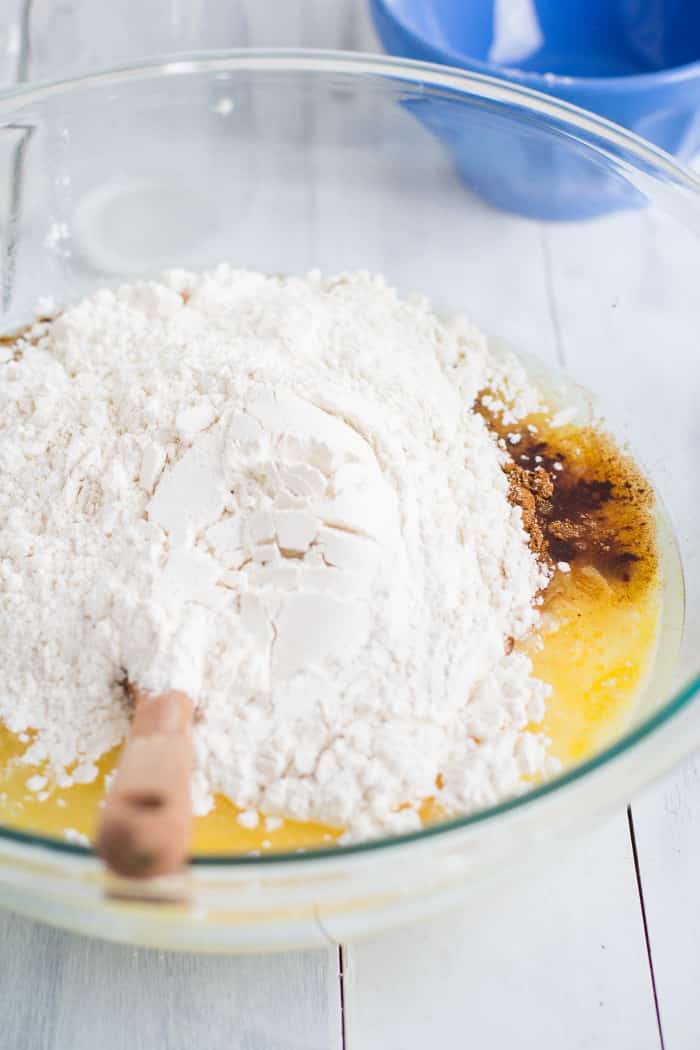 Once it's all mixed together, that's basically it for the bread.
Dividing the batter up, we'll pour 1/2 of it between 2 bread loaf pans and then top with about half of our cinnamon sugar mixture.
We'll then pour the rest of the batter into the loaf pans.
And then sprinkle with the remaining cinnamon sugar.
The crumble is then spread out evenly over the 2 loaves. It might seem like a little bit too much crumble but trust me, it's not :)
The loaves are then popped in the oven for about an hour and then left to cool for a bit before the glaze is added on top.
The glaze isn't 100% necessary. I put the glaze on one loaf and then not the other. However, it is really tasty especially if you love everything orange flavored like I do.
If you've never made an Amish Friendship Bread starter from scratch and then shared it with friends, I highly recommend it! Speaking of which, if any of you in the Nashville area want one, I have a couple extra :)
Happy baking!
Print
Cinnamon Amish Friendship Bread w/ Orange Glaze
---
Total Time:

1 hour 10 minutes

Yield:

2

1

x
For the bread:
1 cup

Amish Friendship Bread Starter (link above)

3

eggs

1 cup

vegetable oil

1/2 cup

milk

1/2 teaspoon

vanilla

1 cup

sugar

2 teaspoons

cinnamon

11/2 teaspoon

baking powder

1/2 teaspoon

salt

1/2 teaspoon

baking soda

2 cups

all purpose flour

1

–

2

small box instant pudding
For Cinnamon Sugar:
1/2 cup

of sugar

1 tablespoon

of cinnamon
For the crumble topping:
1/2 cup

flour

1/4 cup

sugar

1/4 cup

butter, softened

1 tsp

cinnamon
For the orange glaze:
1

–

2

tablespoons of orange juice

1 teaspoon

of orange zest

1 cup

of powdered sugar
---
Instructions
For the bread:
Preheat oven to 325° F. Grease two large loaf pans.
In a large mixing bowl, add in all of the wet ingredients and mix thoroughly.
Sift the dry ingredients into the wet ingredients and stir until fully incorporated.
Dividing the batter up, pour about 1/4 into one loaf pan and a 1/4 into the other. Sprinkle each one with about 1/4 of the cinnamon sugar mixture. Pour the remaining batter evenly between the two loaf pans and sprinkle the tops with the remaining cinnamon sugar.
Top with the crumble spread (recipe below) evenly across both loafs.
Bake for one hour or until the bread loosens evenly from the sides and a toothpick inserted in the center of the bread comes out clean.
For the cinnamon sugar:
In a small bowl, mix together the sugar and cinnamon until fully combined.
For the crumble topping:
Combine all of the ingredients in a medium bowl.
Cut the butter into the other ingredients until it starts to crumble together and form clumps. I find this easiest if you do it with your fingers.
For the orange glaze:
Combine the sugar and orange zest in a small bowl.
tablespoon at a time, whisk in the orange juice until a thick glaze forms. Add a bit more juice if needed.
Prep Time:

10 minutes

Cook Time:

1 hour
This post may contain affiliate links. Please read my disclosure policy.