My Cookbook Wishlist
This post may contain affiliate links. Please read my disclosure policy.
Over the past ~6 months, I've been obsessively adding cookbooks to my Amazon wishlist. I use my wishlist as more of a reminder list that I might want a particular thing. I do realize that there are other ways of saving items instead of just dumping all of them into my wishlist, but, well, that's just how I do it.
In fear that someone would look at this wishlist and buy me some weird cookbook for Christmas that I don't actually want (but had on my wishlist anyways), I went through the list and narrowed it down. And with that, I give you my Cookbook Christmas Wishlist!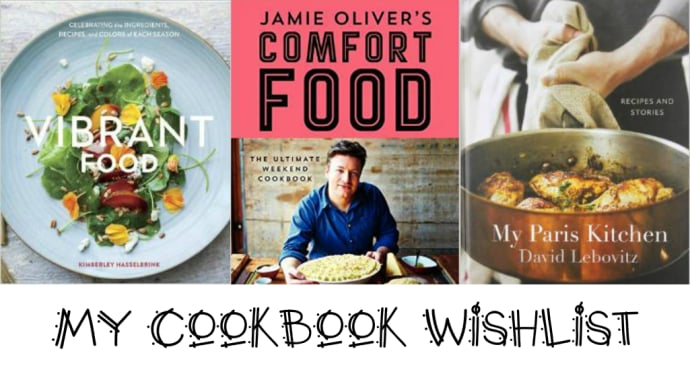 This cookbook is a new release and I'm rather surprised that I haven't just bought it in one of my uncontrollable clicks of the Amazon "Buy NOW with 1-click!" buttons. (that's a serious problem that I have….Amazon makes shopping WAY too easy!).
I like to put on a front like I'm super healthy and eat loads of kale salads and fresh juices. But, truth is, the words "Comfort Food" (next to the word weekend) is pure music to my ears!! Plus, I kind of love Jamie Oliver (like a lot).
Speaking of comfort food! I've mentioned many times that a big motivation behind my food blog is less the food and more the photography. That is, however, becoming untrue. I've scaled back my obsessive picture taking in the kitchen recently and started just enjoying the food and process of cooking. I'm learning to cook lots and lots of new things and I'm really loving it (I don't think Stephen is complaining much either).
Anyways, when I think of "trying new things in the kitchen" I think French. Hence, my desire for this cookbook (and the next….).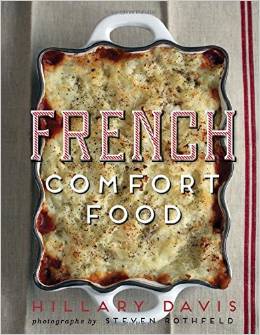 I've been wanting this book since it came out earlier this year. I really love David Lebovtiz's blog and any food blogger released book is high up on my list of must haves. In fact, I usually pre-order blogger cook books but there's got to be a limit on how many cookbooks I buy in one month. I'm REALLY excited to get this one!
Speaking of blogger-released French cookbooks, here's another! I don't know Mimi's blog all that well but I've heard great things about this cookbook. Bonus: it has a really pretty cover photo and I'm a sucker for a good book cover.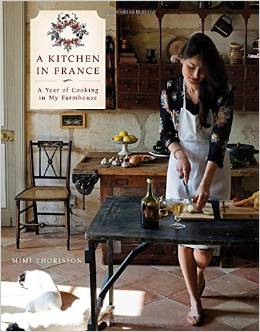 Despite the fact that she has a million of them, I don't own a single one of Ina Garten's cookbooks. And, like the others, I've heard really great things about her most recent book. So, I think it's about time I cook with the Berefoot Contessa.
Another blogger turned cook-book writer, Izy started this cookbook when she was only 17 years old and (I think) released it when she was just 18. Crazy! Her blog is definitely one that I constantly find myself going to for inspiration and her photography is wonderful! I defintely want to get this book soon even just to support a fellow food blogger.
This is yet another recently released cook book by another one of my favorite food bloggers. I (obviously) totally love food so I think this cookbook is a good fit for me.
Making lots of homemade pasta is one of those things that I keep talking about doing but have only actually managed a couple times. So, this book is to inspire more pasta making!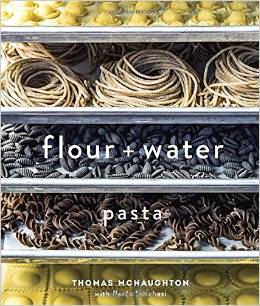 I don't know much about Kimberly Hasselbrink or her blog but her cookbook looks great! It's centered around exploring seasonal ingredients which is something that I've tried to do more of this past year.
---
And that's my Cookbook Christmas wishlist. Do you have any cookbook's that I need to add to my list??
This post may contain affiliate links. Please read my disclosure policy.