Creamy Basil Cashew Pasta- Vegan
This post may contain affiliate links. Please read my disclosure policy.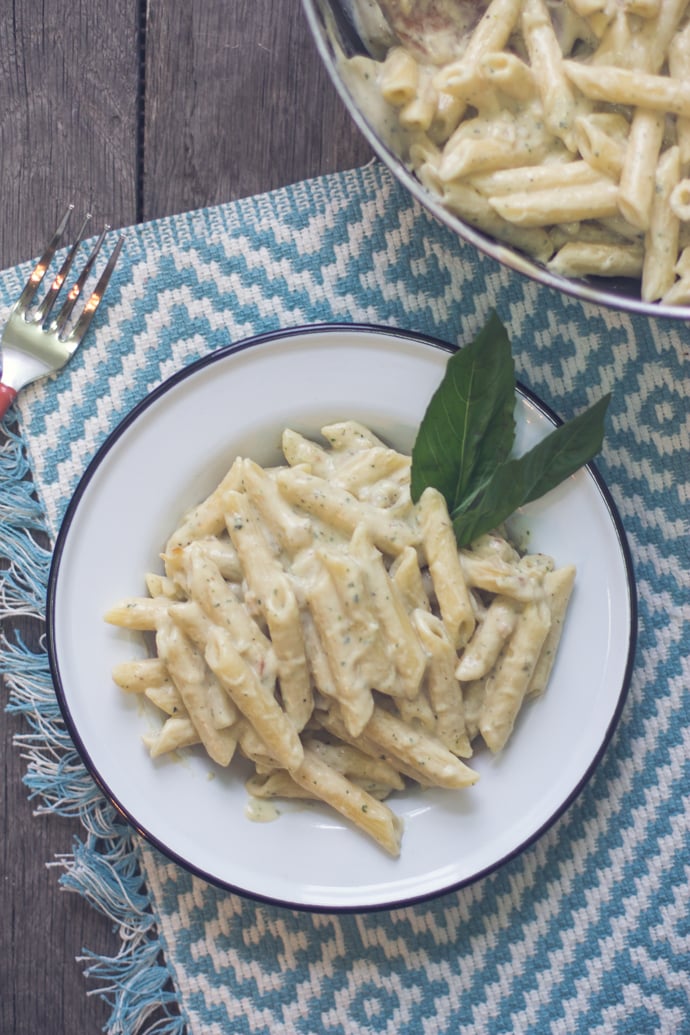 Y'all. This week is kicking my butt and I'm a little bit brain dead right now. So, for just this once, I won't give you a dissertation on the random thoughts in my brain before getting to the food. Just this once.
This Creamy Basil Cashew Pasta is one of my new favorite things. I made a bag batch of the basil cashew cream and used it for a few days. I used it on this pasta, I used it as a salad dressing, and when there was just a little bit left, I ate it on top of a piece of toast and it kind of mimicked biscuits and gravy!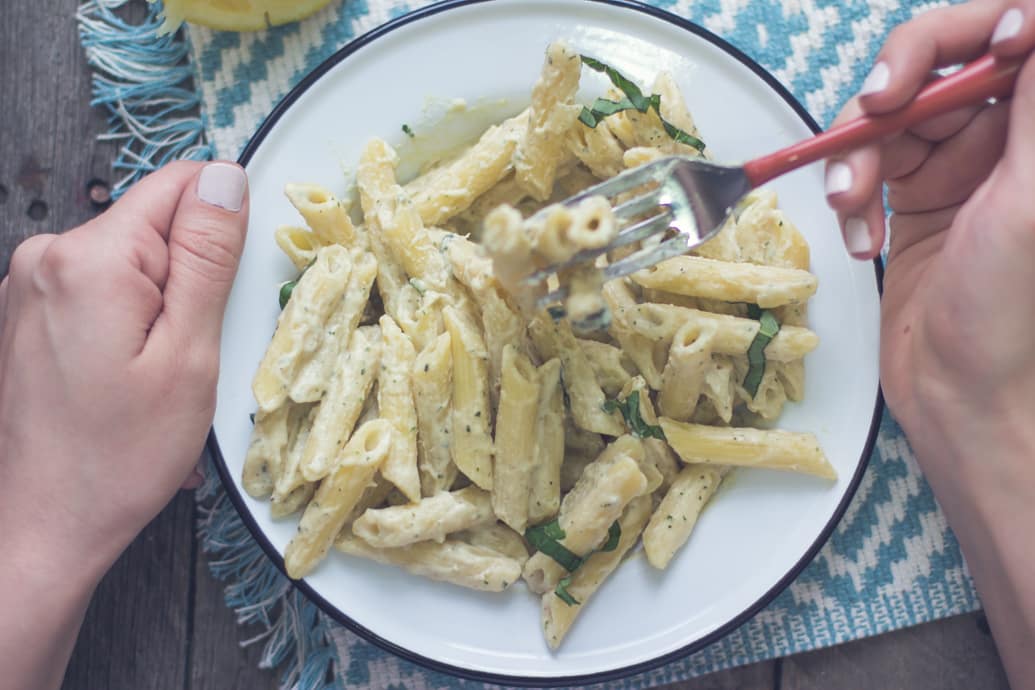 Making the Basil Cashew Cream sauce is pretty easy.
First the cashews need soaked for at least an hour…especially if you don't have a high speed blender/ food processor.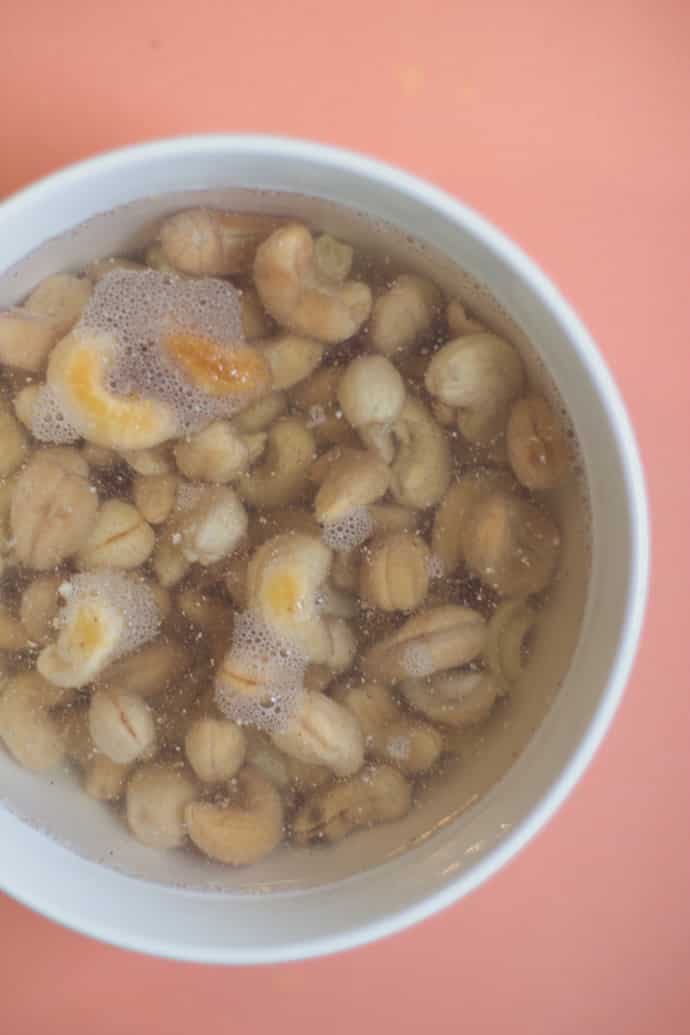 Then they're drained, added to a food processor, and blended with some fresh water.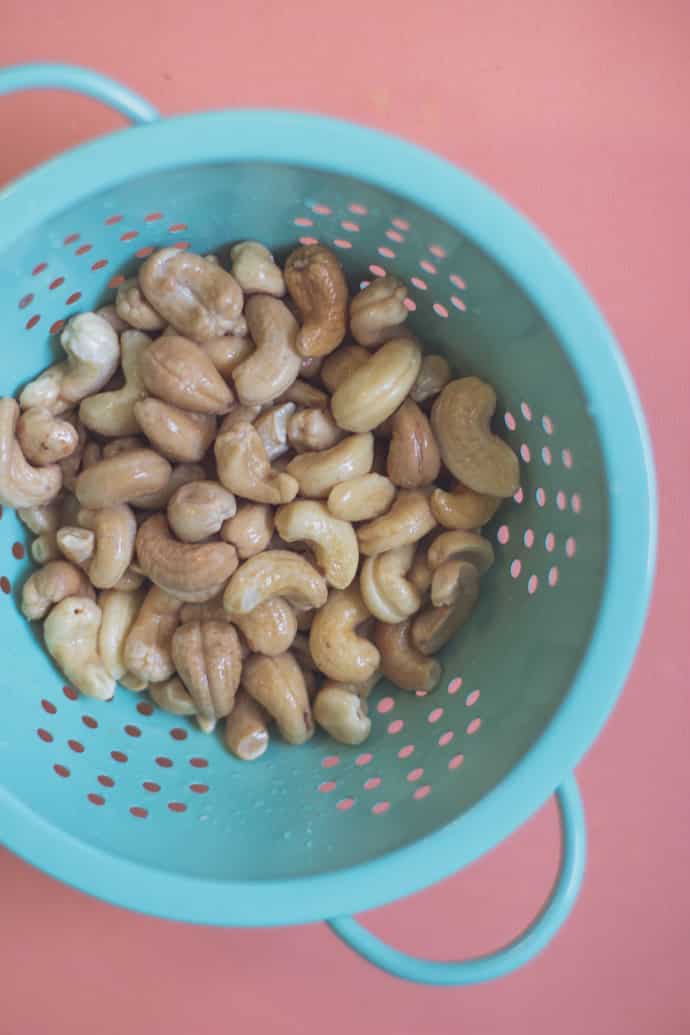 You could stop here and just add a touch of S&P. You could also add virtually any spice you so desire. I went with basil because it's one of my favorites.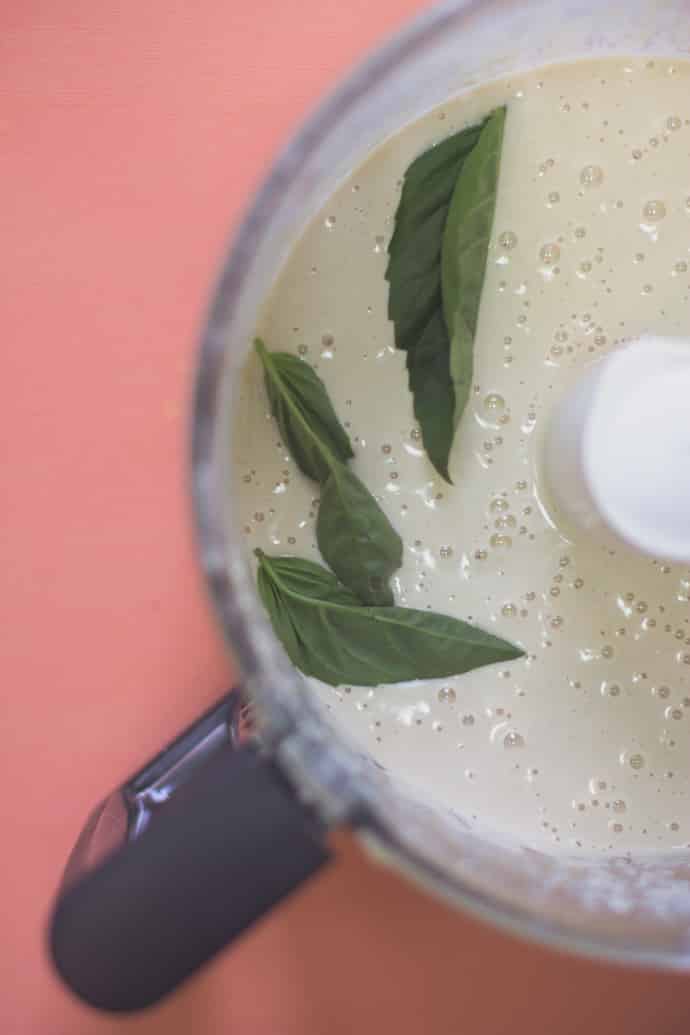 MMMM! Look at that subtle Basil creaminess: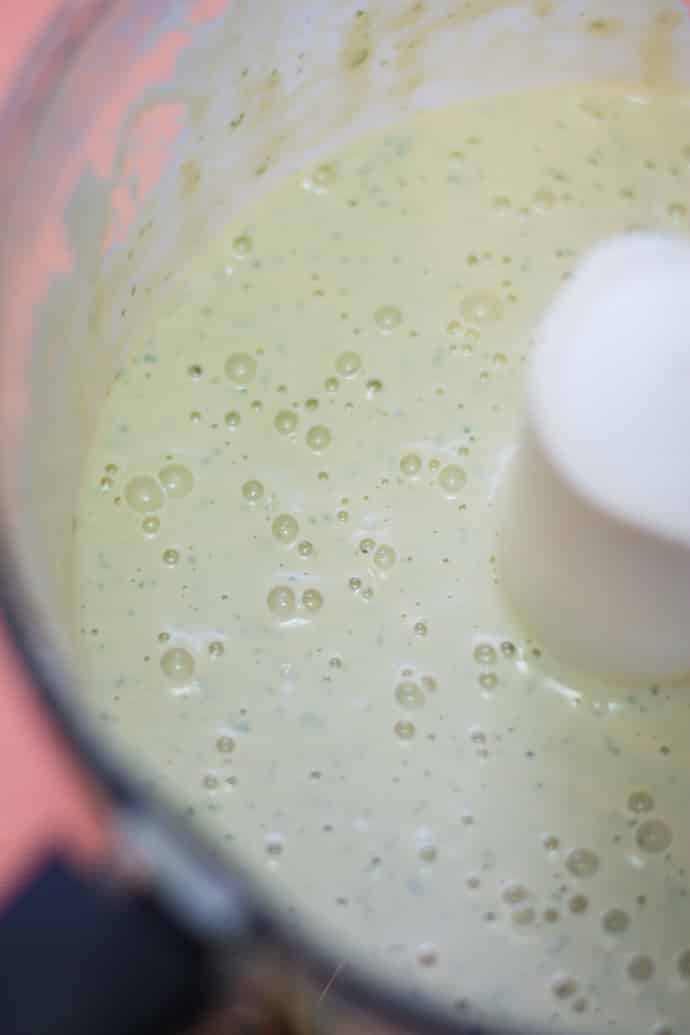 This recipe makes a bit more than double the cashew cream sauce than you actually need. So, good news: you'll have extra!
Just pour the sauce over pasta and enjoy! It's super easy and for that, I love it.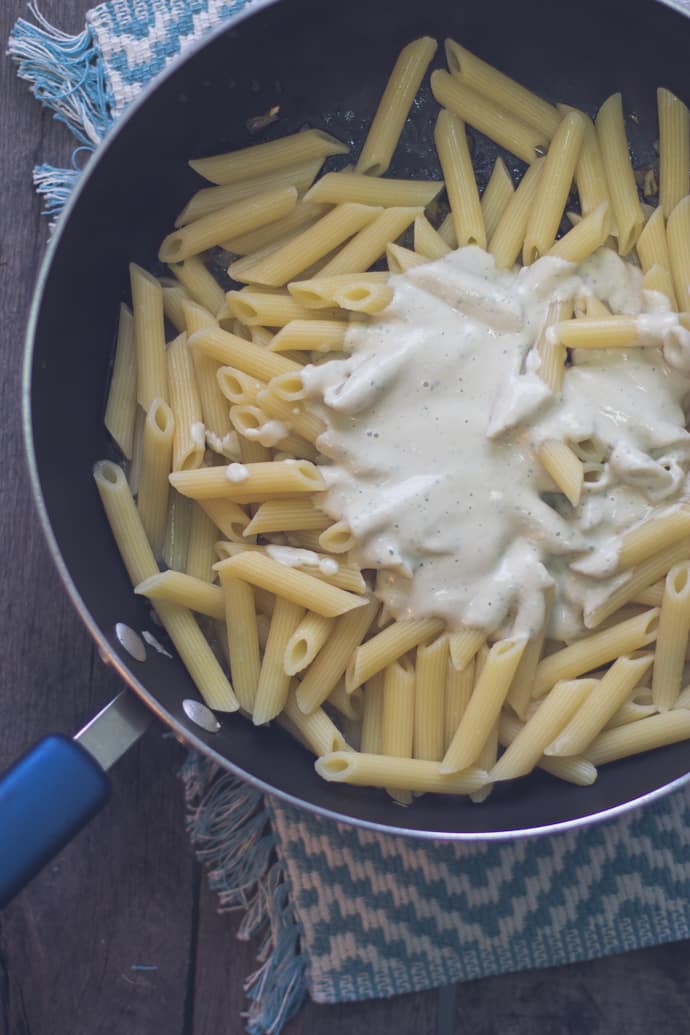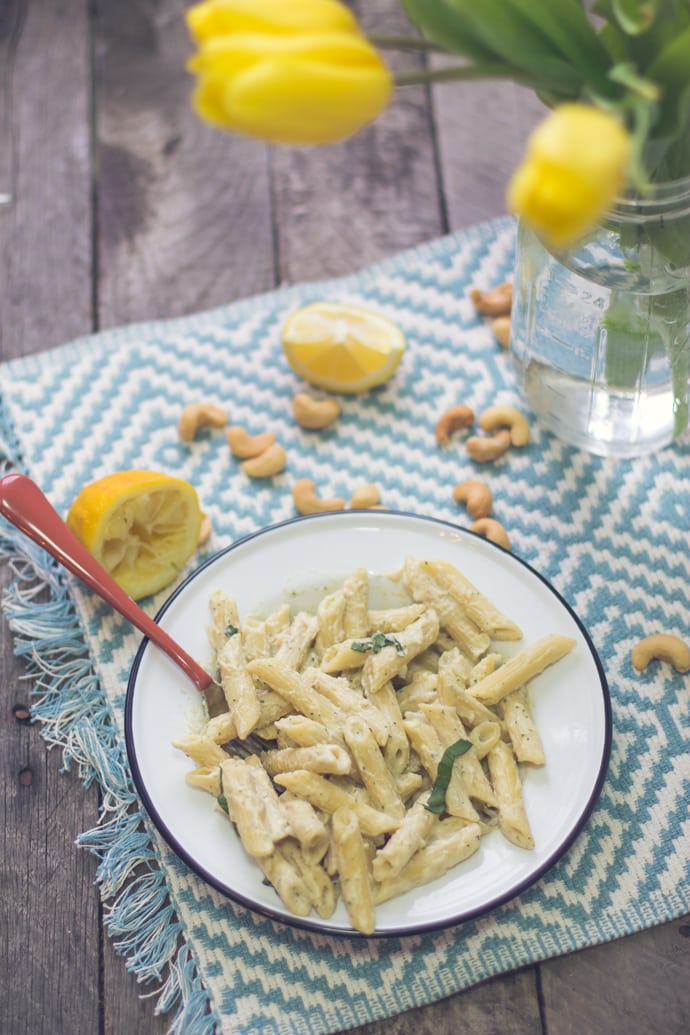 Happy Thursday, friends! I hope your weekend is filled with lots of chocolate and relaxing.
Print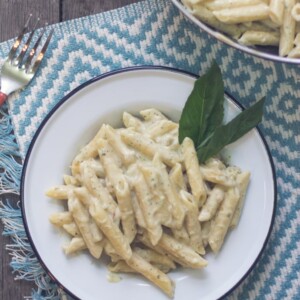 Creamy Basil Cashew Pasta- Vegan
---
1 cup

whole cashews (raw unsalted is best but roasted/ salted will work too)

3

cloves of garlic, finely minced

1

shallot, finely minced

6

–

8

large basil leaves

8 ounces

of dry pasta
Juice of

1/2

a lemon
S&P to taste
---
Instructions
Soak cashews in water for at least 1 hour but ideally overnight. When ready to cook, drain and rinse the cashews.
Place the cashews in a food processor or blender with 1 cup of water and blend until smooth. Add in the basil and pulse a few times so that the basil is chopped up but not completely blended in. Set aside.
Cook pasta in salted water. Once done, save 1 cup of the pasta water. Drain pasta and set aside.
In a large skillet, saute the shallot and garlic in olive oil over medium low heat.
Once tender, turn heat to low and add into the skillet the pasta, 1 cup of water, and 1 cup of the cashew cream sauce. Stir until thoroughly combined.
Stir in lemon juice, salt and pepper to taste, and serve up!
ENJOY!
Prep Time:

10 minutes

Cook Time:

10 minutes
This post may contain affiliate links. Please read my disclosure policy.