Toast + Magimix Vision Toaster
This post may contain affiliate links. Please read my disclosure policy.
i've been on a really big toast kick lately. i think i like the flexibility of being able to add virtually anything to a piece of bread and call it a snack/ meal.
the only problem with toast is that it requires a good toaster. when Stephen and i got married, he gave his toaster away thinking that i had one. but, the one i had didn't really belong to me. so, when he moved in we ended up with 2 blenders, 6 muffin pans, 2 coffee makers, 5 bottle openers, 8 bags of various types of flour, double (or triple) of every spice in existence, 1,000 mugs, and NO toaster. it was a sad sad realization.
the lack of a toaster in our home became a constant topic of conversation that we constantly proceeded to do nothing about. i just kept putting bread in the oven on broil and burning most of it.
so, you can imagine my excitement when Magimix offered to solve my burnt toast problem with their (AH-freaking-mazing) Vision Toaster! I think this gif just says it ALL: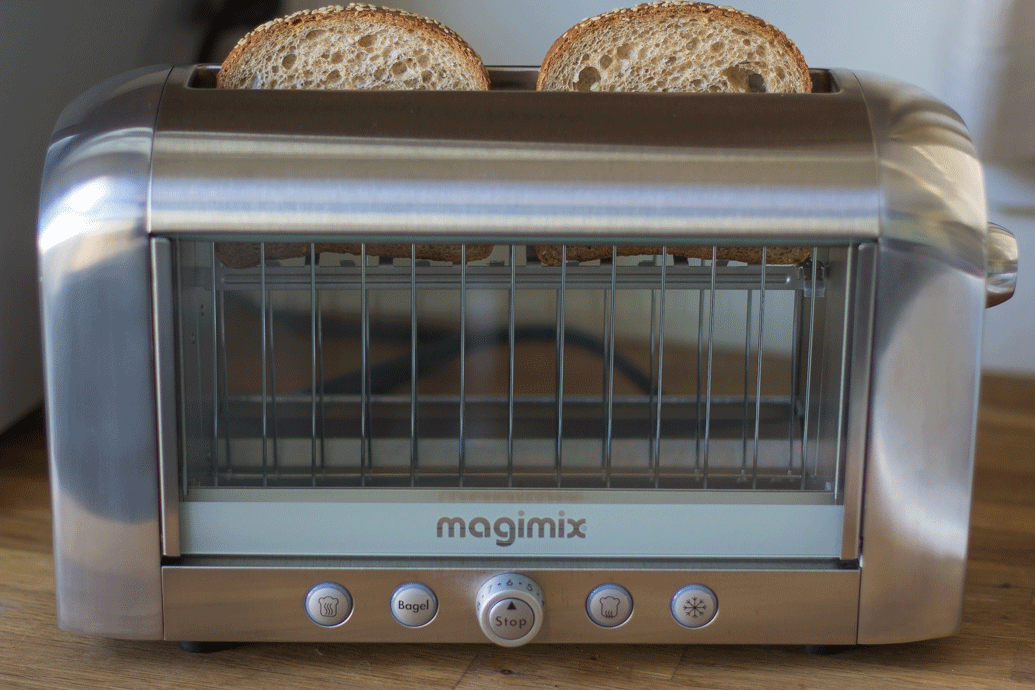 you simply can't tell me that's not THE coolest toaster you've ever seen in your entire life. (!!!!)
needless to say, we've been eating lots of toasted things in my house lately. so, i thought i would share with you some of my new (and old) favorite ways of eating toast.
first up: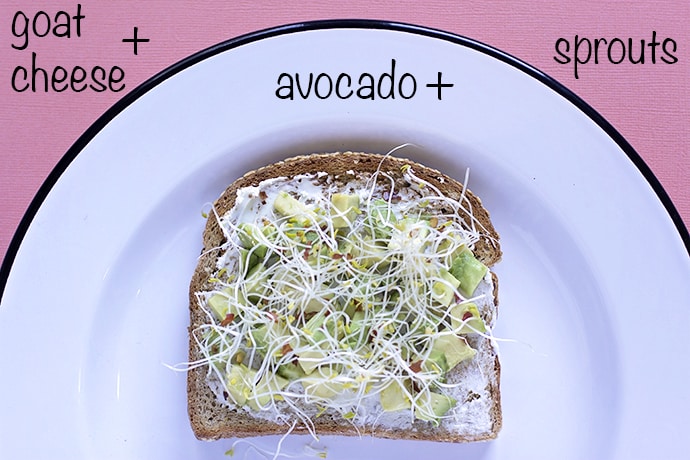 this one is probably my favorite right now. because, ya know, goat cheese. i'm also on a really big sprouts kick lately and want to try growing my own soon. it's pretty easy, right??
I can't really call this a recipe but i'll give it to you anyways:
1 piece of perfectly toasted bread + a spread of goat cheese + bits of avocado + alfalfa sprouts (though any sprouts would be great) + a sprinkle of red pepper flakes
it's really just THIS recipe with the addition of sprouts.
next: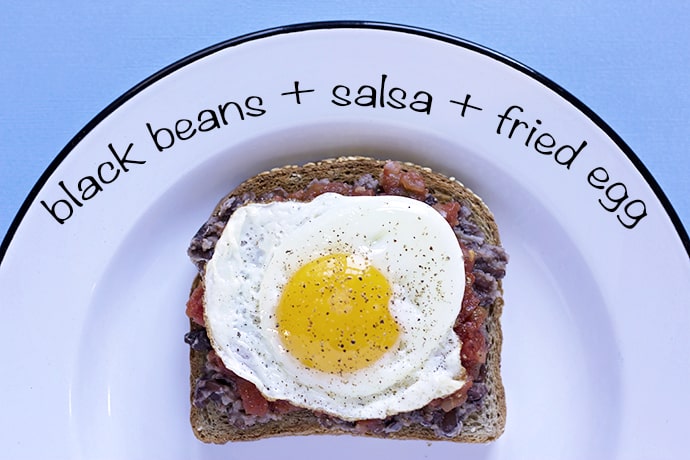 this one is my go to breakfast toast. it's heated & mashed black beans + salsa + 1 fried egg
i love this because it's filling and holds me over great until lunch. i'll often put a layer of spinach on there as well to balance it all out.
a classic:
for much of my life, this toast existed in the simple form of peanut butter + banana but i've somewhat recently discovered the way hipper nut butter: almond butter.
i kind of can't stop eating almond butter. i even carry the jar with me to work sometimes. true story. and if you read this post then you know i have a huge abundance of chia seeds that i need an excuse to use.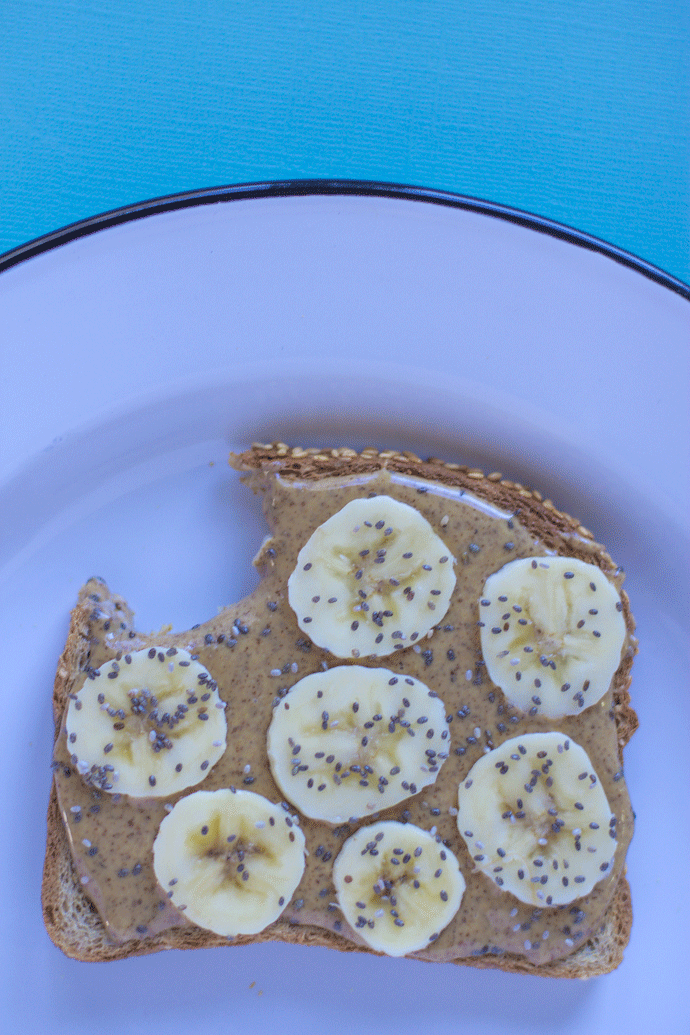 and finally: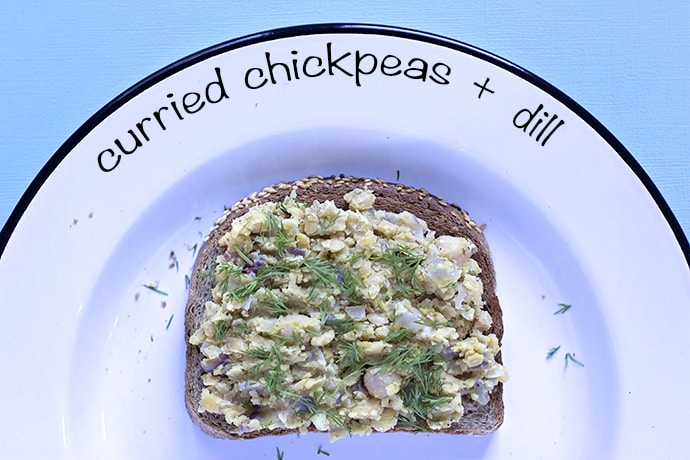 this one is new to me. a friend (yep, the same amazing friend that brought us the vegan smoked tomato pasta) gave me this recipe and i'm loving it!!
for this one, garlic, onion, and chickpeas are toasted in a pan. after a few minutes, the chickpeas are smashed and allowed to cook a bit longer until it all starts to brown a tiny bit. put it on toast and top with some fresh dill!
i've discovered that this chickpea mixture lasts for a good few days so i'll make a big batch of it (2 cans of chickpeas) and keep it in the fridge for snacks or a light lunch. it's good cold but i typically heat it up before putting in on the toast each time.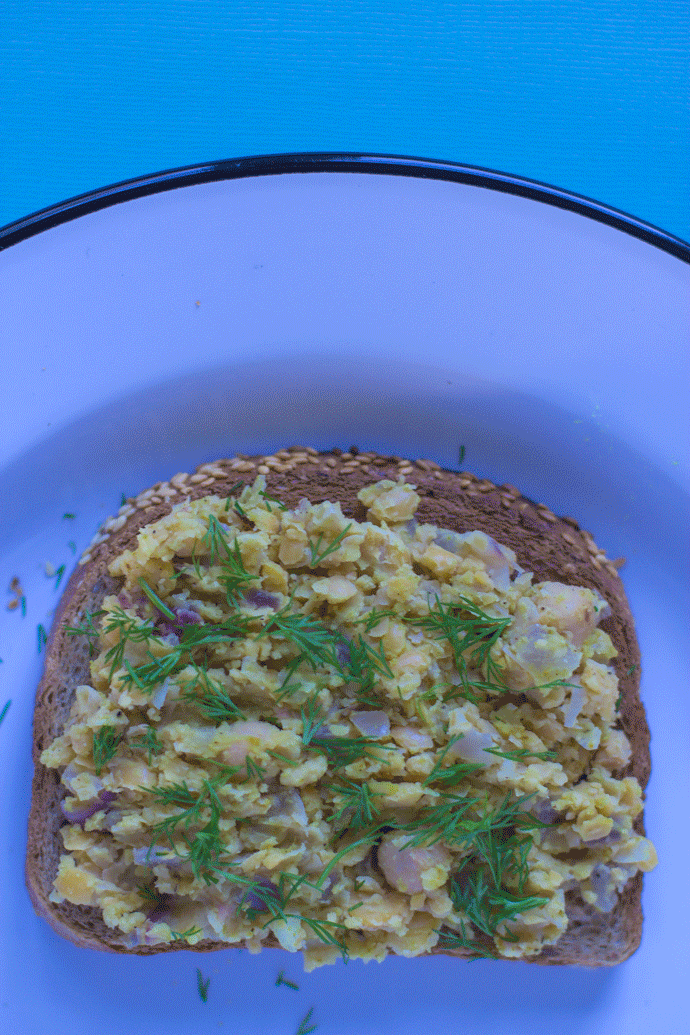 what's your favorite way to eat toast!!??? i need more excuses to use my toaster :)
a few awesome things about this toaster:
1) it has various toasting modes. you can toast a piece of bread on both sides OR choose the bagel option which toasts on just one side. there's also a button to re-heat already toasted bread (genius!) and a defrost button. i'm not sure how i lived without this toaster.
2) it's so super easy to clean! see:
3) let's just see another gif:
hello perfectly toasted bread.
Magimix Vision Toaster available at Williams-Sonoma.com, ChefsCatalog.com & Zola.com
Disclaimer: Magimix by Robot-Coupe provided me with the toaster. They did not pay me for this review and the views expressed above are my honest reactions after trying the product.
This post may contain affiliate links. Please read my disclosure policy.