Easy Chicken Saltimbocca
This post may contain affiliate links. Please read my disclosure policy.
Today marks 2 years since my father passed away. I wanted to honor him in his very favorite way: with home cooked Italian food.
Saltimbocca was probably his VERY favorite dish to make for people. He had a whole routine; A somewhat complex recipe that lived partially scribbled on a random piece of paper, that we have yet to find, and partially just in his brain. He always served his Saltimbocca with herby potato coins which is the next recipe of his that I hope to master.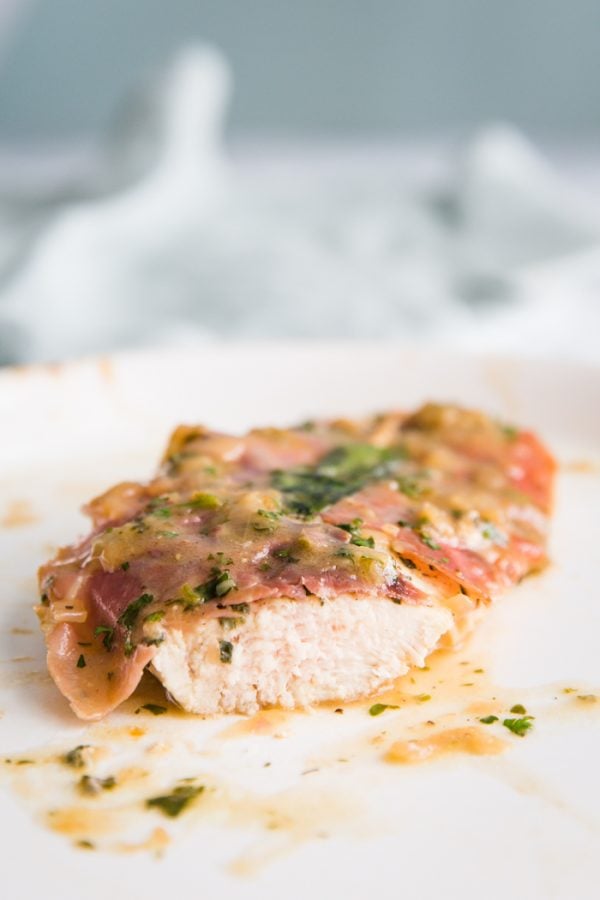 Unfortunately, we haven't been able to find his recipe anywhere for this saltimbocca dish so my re-make of it is a best guess based on taste and a bit of research.
While my dad always made his saltimbocca with pork (which is the more traditional way to serve it), I decided to make my own version of it with chicken. Truthfully, I don't have a lot of experience cooking pork AND I thought chicken would be a little more approachable for people looking for an easy dinner recipe.
Plus, I'm just that kid who always HAS to do something different than what my parents tell me :)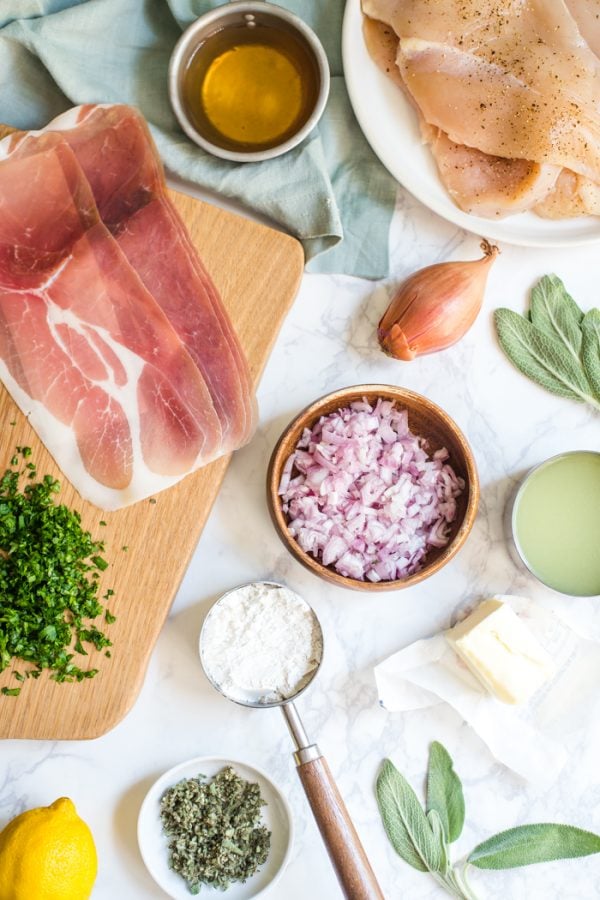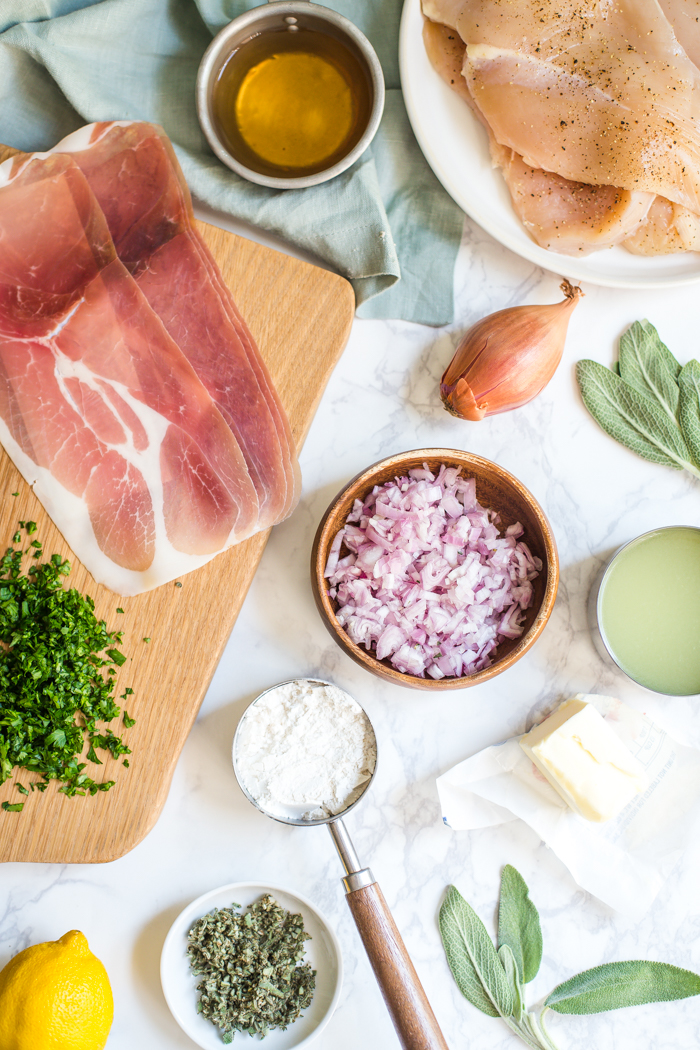 If you aren't familiar with Saltimbocca, the word literally means "jump in the mouth" in Italian which SO accurately describes how DELICIOUS this dish is. I swear, this is one of the BEST recipes on my blog. Admittedly, it's NOT the prettiest dish in the world. I had a really hard time trying to take pretty photos of this. BUT it's good. SO so good.
How to make Chicken Saltimbocca
For this dish, we're going to use very thin pieces of chicken breast (aka, cutlets). I simply cut my chicken breasts in half and left it at that. Some recipes also have you pound the chicken until it's a certain thickness. I typically can't be bothered with that so I simple go in knowing that each piece of chicken might cook at slightly different lengths depending on the thickness.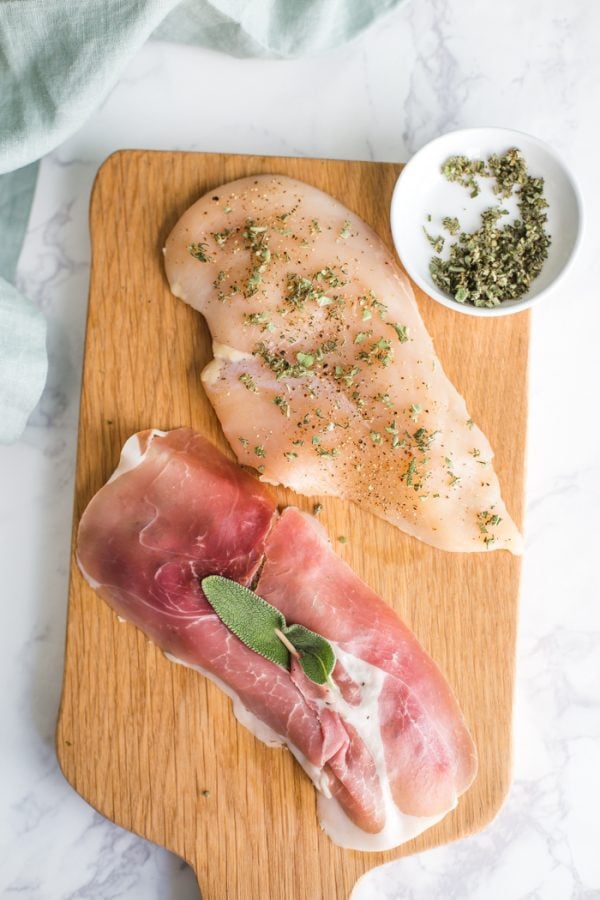 The chicken is salt and peppered and then sprinkled with fresh sage. The fresh sage is largely what makes this dish SO GOOD. A piece of prosciutto is then pressed onto the chicken breast, on top of the sage. While not completely necessary, I used a toothpick to hold the prosciutto and the sage onto the chicken. My dad did it this way so it's one of those small things that I wanted to incorporate into the dish. Plus it makes it easier to hold everything together when you flip the meat.
The chicken is cooked in a large skillet and then set aside while you make the sauce. OMG THE SAUCE! Guys, it's so good! If drinking saltimbocca sauce was an acceptable thing to do, I would. I so would. Licking your plate IS acceptable in our house so go ahead and do that, though!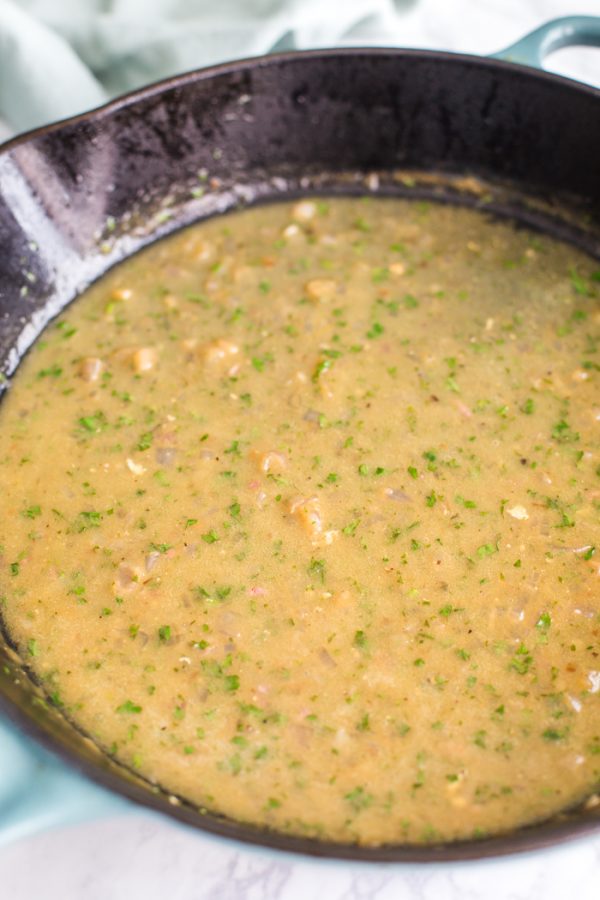 The saltimbocca sauce consists of shallot, broth, wine, butter, parsley, and lemon juice. SO simple but somehow one of the best sauces I've ever had.
Altogether, this dish takes less than 30 minutes to make. You can pop some veggies in the oven to roast while the chicken is cooking for a full meal!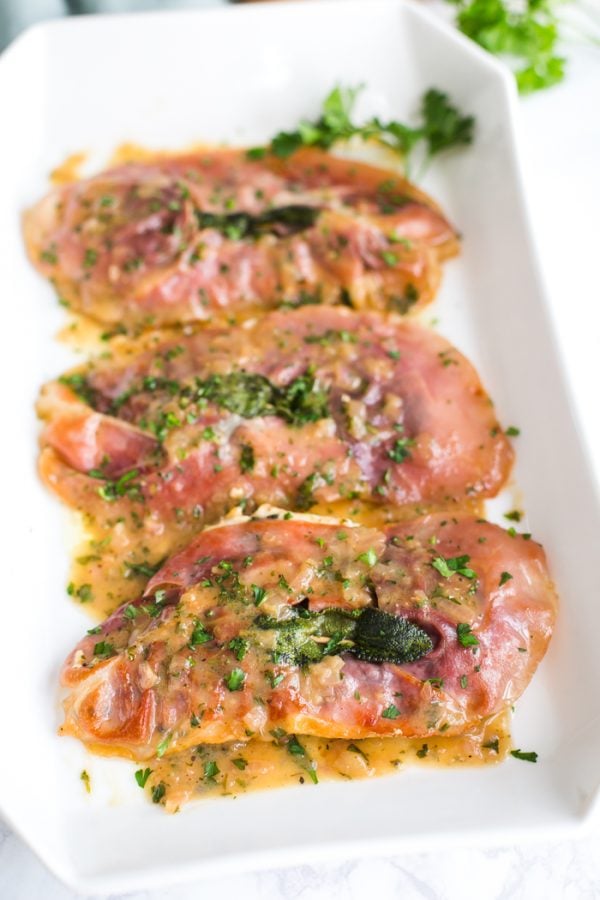 AND that's it. Saltimbocca is one of those dishes that many people are intimidated by but it's SO EASY! This seriously comes together in less than 30 minutes and is SO GOOD (have I said that yet??). I'm excited to see my brother in a few weeks just so that I can cook this dish for him and see how he thinks it stacks up to what our dad always cooked. Get ready, Jonathan!
PLEASE make this dish and then let me know how you liked it!!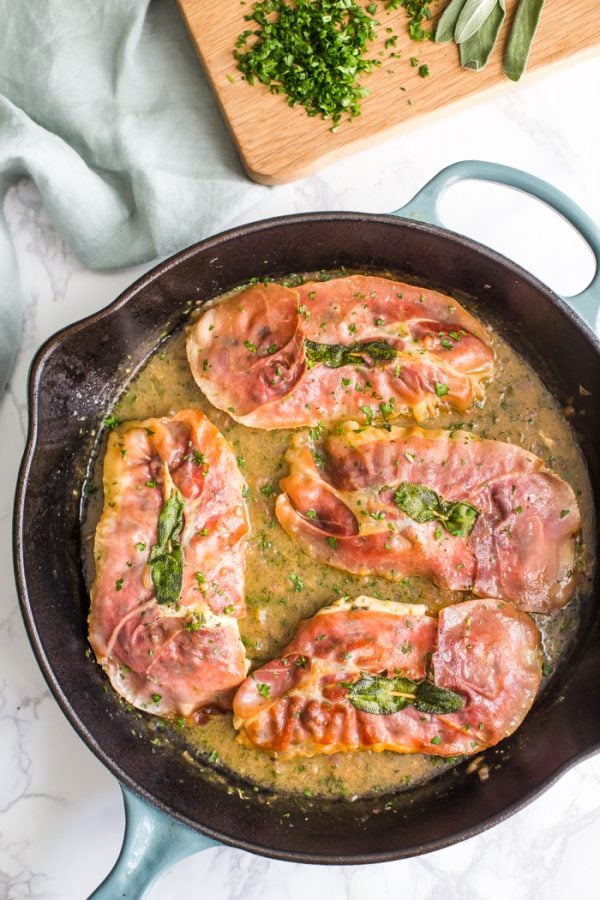 Print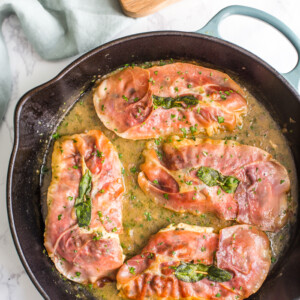 Easy Chicken Saltimbocca
---
Author:

Total Time:

25 minutes

Yield:

4

servings

1

x
4

chicken cutlets, roughly 4 ounces each
salt and pepper

2 teaspoons

of minced fresh sage

4

fresh sage leaves

4

slices of prosciutto (you could do

8

slices and have a slice on each side if you want)

2 tablespoons

of olive oil

1

shallot, minced

1 teaspoon

of flour (you can use a glu

ten

free flour here if needed)

1/2 cup

of chicken broth

1/3 cup

of dry white wine (vermouth is a good option here)

2 tablespoons

of butter

2 teaspoons

of fresh parsley, finely chopped

1 tablespoon

of lemon juice
---
Instructions
Salt and pepper both side of the chicken cutlets.
Sprinkle one side of each cutlet with 1/2 teaspoon of the minced sage and then place a slice of prosciutto on top of the sage. Press the prosciutto into the chicken. Place a sage leaf on top of each piece of prosciutto and then secure it into the piece of chicken with a toothpick.
Heat the oil in a large skillet over medium heat. Once hot, add in the cutlets, prosciutto side down, and cook for about 3. Flip and then cook on the other side until chicken is cooked through, about 3-5 additional minutes. Once done, transfer chicken to a plate and cover with foil.
Pour out about half of the oil so that only 1 teaspoon of oil/ liquid remains in the skillet. Add in the shallot and cook for 2 minutes until softened. Stir in the flour and cook for 1 additional minute.
Whisk in the wine and broth, making sure to scrape up the brown bits from the bottom of the skillet (this is where much of the flavor comes from!). Bring to a simmer and cook for about 4 minutes until the sauce is thickened and reduced a bit.
Turn heat down to low and whisk in the butter, parsley, and lemon juice until fully combined.
Return the chicken to the skillet, prosciutto up, as well as any juices that collected on the plate. Simmer for about a minute so that the chicken can heat through again.
Remove from heat and serve the chicken with the sauce divided evenly among the 4 cutlets.
Prep Time:

10 minutes

Cook Time:

15 minutes

Category:

dinner

Method:

stovetop

Cuisine:

italian
Keywords: saltimbocca, italian, chicken, prosciutto
This post may contain affiliate links. Please read my disclosure policy.