Easy Vegan Chocolate Cupcakes
EASY Vegan Chocolate Cupcakes- this vegan cupcake recipe comes together in just ONE big bowl and bake in just 20 minutes! So decadent and fluffy and no one will ever even know they're vegan!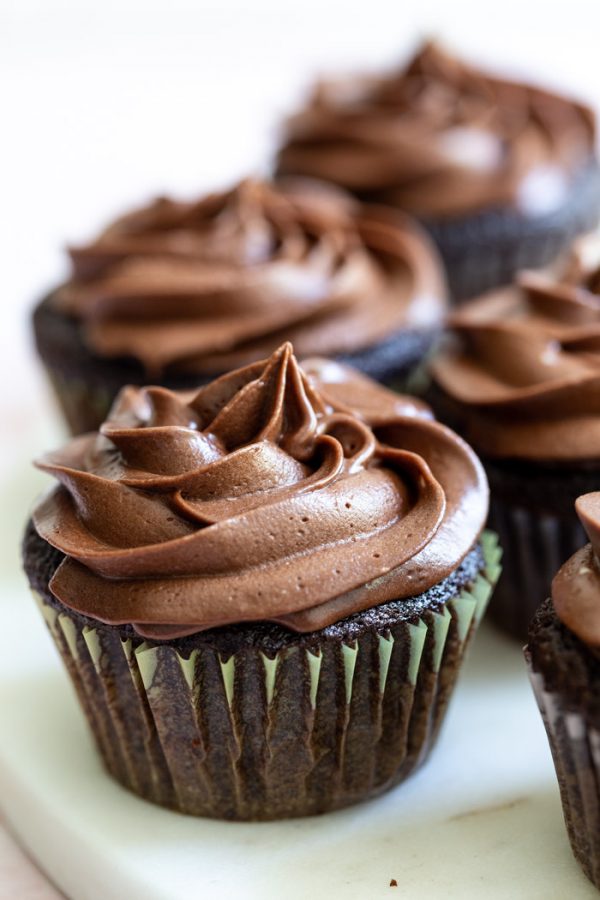 I've teased these cupcakes QUITE a few times and I'm sorry for that 😝But HERE THEY ARE IN ALL OF THEIR CHOCOLATEY GOODNESS!
I wish that I could properly describe to you how incredibly fluffy and delicious these cupcakes are but you're just going to have to make them for yourself to really understand. This recipe is a very slight adaption of my vegan chocolate cake recipe.
I have no idea why but the cupcakes are significantly better than the cake (and the cake is AMAZING TOO!).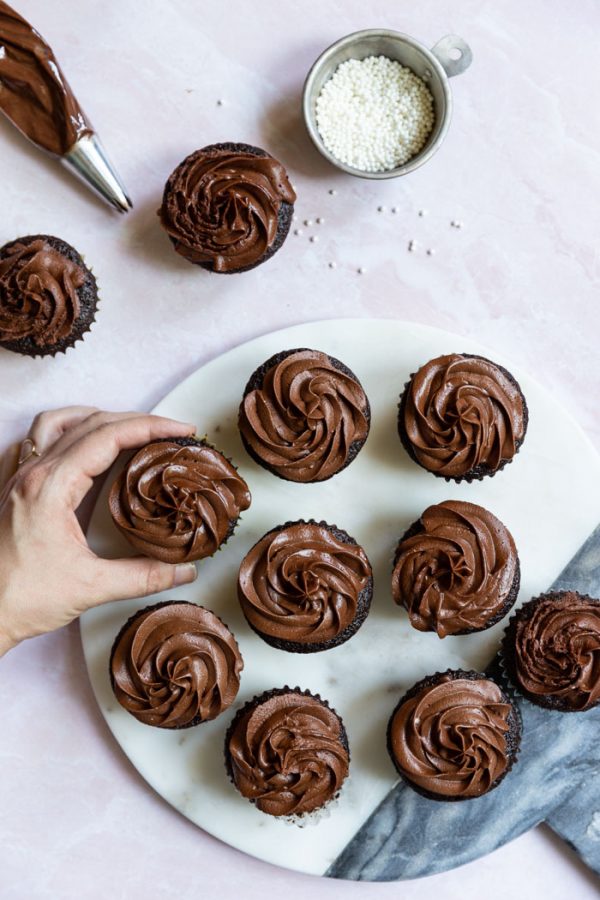 As written, this recipe makes 18-20 cupcakes depending on how high you fill your muffin tins. I asked on my instagram if that was annoying and if people thought I should make it a more even 18 or 24 cupcakes. So, hopefully too many cupcakes isn't an issue for you (is there such a thing!?).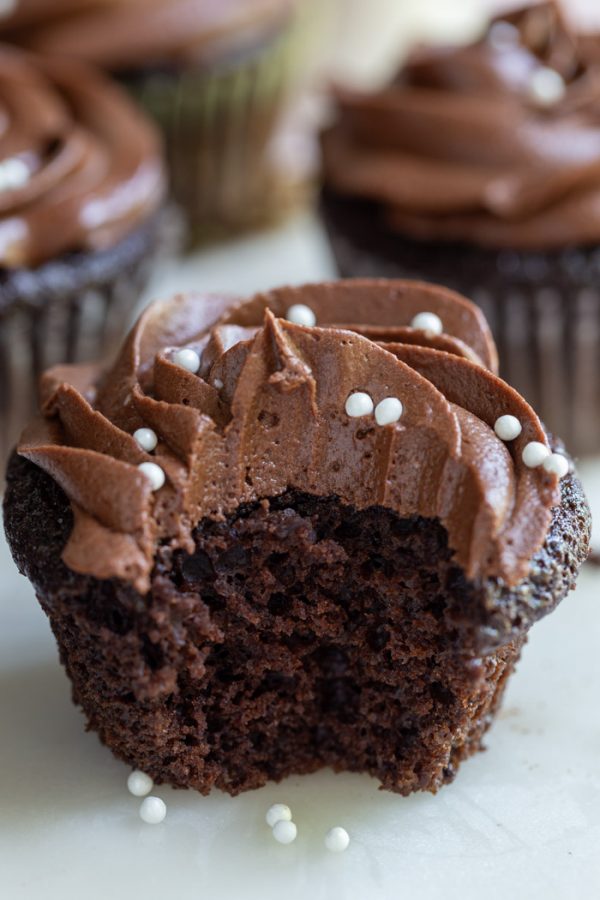 How to make Vegan Cupcakes:
It's super easy to make these cupcakes and I do it all in just one big bowl. While not necessary, I like to do this in my standmixer because I'm lazy and I need to put that big ole appliance to work! However, you could do this in a big mixing bowl with a hand mixer.
We'll start by mixing together the milk and apple cider vinegar to sit for a few minutes. Then we'll whisk together the dry ingredients until they're just combined.
Next we add in all of the wet ingredients including the milk mixture. That's mixed on a medium-low speed until just combined and then the batter is poured into prepared cupcake tins.
Now just bake it for roughly 20 minutes and you're DONE (I mean, you still HAVE to make the frosting obviously!).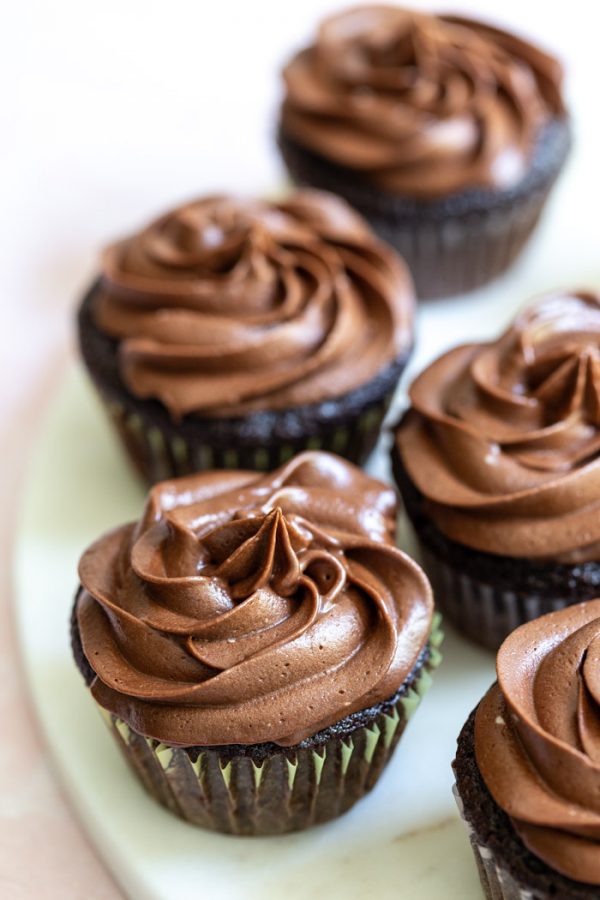 Vegan Gluten Free Cupcakes:
While I plan to make a dedicated gluten free recipe for vegan cupcakes, the only way that I can recommend making this particular recipe gluten free is to use a gluten free 1-1 flour blend.
COPY WORDS FROM OTHER POST ABOUT 1-1 FLOURS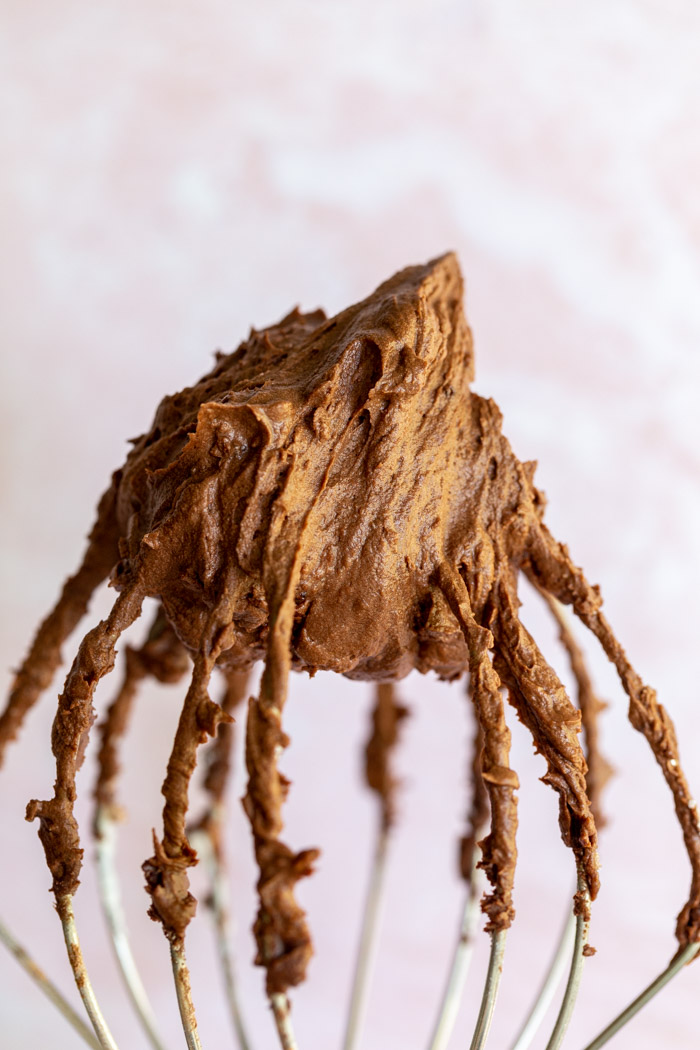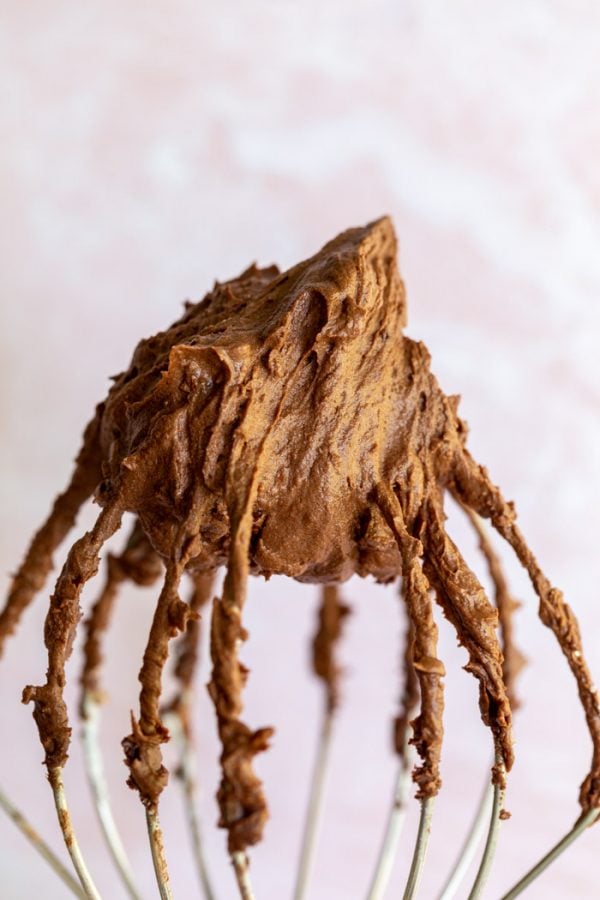 Vegan Cupcake Frosting:
I used THIS chocolate vegan buttercream frosting for these cupcakes and I highly suggest it!
I like my cupcakes to be more cake than frosting so I typically add on one single simple layer. If you want to LOAD the frosting on to these cupcakes, I suggest doubling the frosting recipe.
The frosting is super easy to use and I highly suggest THIS recipe!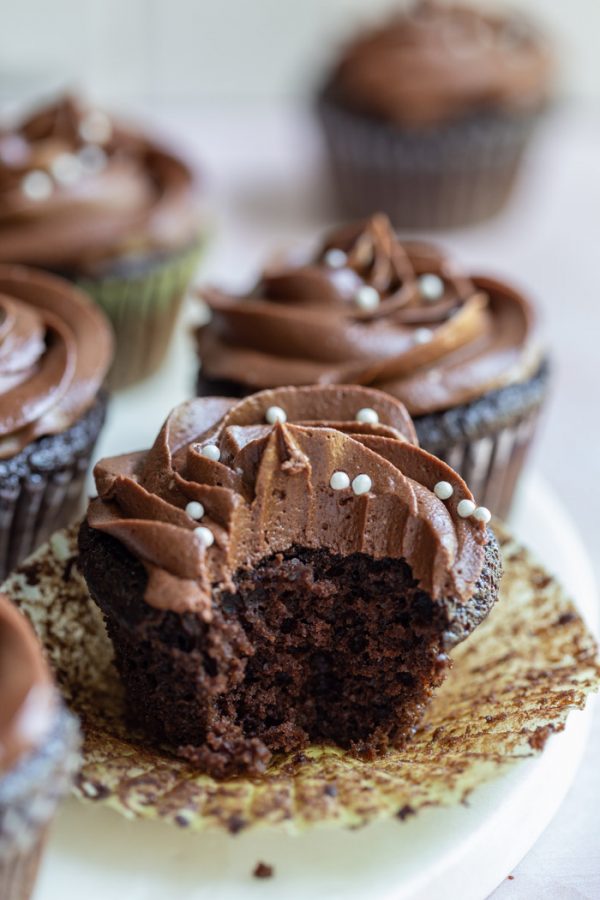 Other delicious vegan desserts:
See how to make this Vegan Chocolate Cupcake Recipe:
Print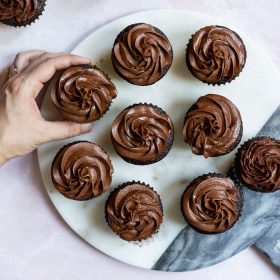 Easy Vegan Chocolate Cupcakes
---
Author:
Prep Time: 20 minutes
Cook Time: 20 minutes
Total Time: 40 minutes
Yield: 18 cupcakes 1x
Description
EASY Vegan Chocolate Cupcakes- this vegan cupcake recipe comes together in just ONE big bowl and bake in right at 20 minutes! So decadent and fluffy and no one will ever even know they're vegan!
---
Scale
Ingredients
2 ½ cups of all purpose flour
1 3/4 cups of organic cane sugar or granulated sugar
3/4 cup of cocoa powder
1 teaspoon of baking powder
1 teaspoons of baking soda
1 teaspoon of salt
1 teaspoon of espresso powder
⅔ cup of melted coconut oil (get unrefined if you want it to be virtually tasteless), vegetable or coanola oil also work
1 ½ tablespoons of apple cider vinegar
1 teaspoon of vanilla
½ teaspoon of almond extract
1 1/2  cups of milk, any kind works here (I tested it with almond milk and regular dairy milk), at room temperature*
½ cup of apple sauce unsweetened, at room temperature*
---
Instructions
Pre-heat your oven to 350 degrees F. Line 2 cupcake tins (makes roughly 18-20 cupcakes) and spray the inside of the liners with cooking spray.
In a small bowl or measuring cup, stir together the apple cider vinegar and milk. Set aside.
In the bowl of a stand mixer (or a large bowl with an electric mixer or even just a whisk), combine the flour, sugar, cocoa powder, baking powder, baking soda, salt, and espresso powder. Mix.
Add in the oil, milk/ apple cider vinegar mixture, vanilla, almond extract, and apple sauce. Mix until just combined (be careful not to over mix), scrapping down the sides as needed.
Pour the batter evenly between your cupcake tins filling each about 3/4 of the way full. I've made this where I filled them pretty high and got 18 cupcakes and another time where I ended up with 20.
Bake for 20-22 minutes or until a toothpick inserted in the middle of a cupcake comes out clean. Let cool before frosting.
ENJOY!!
---
Notes
*I've found that putting cold milk and apple sauce into the mixture makes it so that the cake sinks down in the middle just a little. It will still taste great though.
Category: Dessert
Method: Baking
Cuisine: American
Keywords: vegan baking, cupcakes, chocolate cupcakes