Holiday Bar Cart Inspiration
This post may contain affiliate links. Please read my disclosure policy.
This post has been sponsored by Pernod Ricard USA. All thoughts and opinions are my own. Thank you for supporting the brands that make Food with Feeling possible!
You all know that I LOVE a good holiday cocktail so I thought it would be fun to share with you a little holiday cocktail bar inspiration!
When having friends and family over during the holidays, I find it stressful to enjoy my evening while also making everyone drinks the whole night. I want people to enjoy themselves but mixing drinks the whole time can be a bit exhausting! Often my solution for this is to serve a pitcher drink which is fun but limits the options that people have.
SO my solution is to offer super simple drink options that people can mix themselves. To make it even more fun and festive for the holidays, I plan to offer a variety of different juices, mix-ins, and garnishes.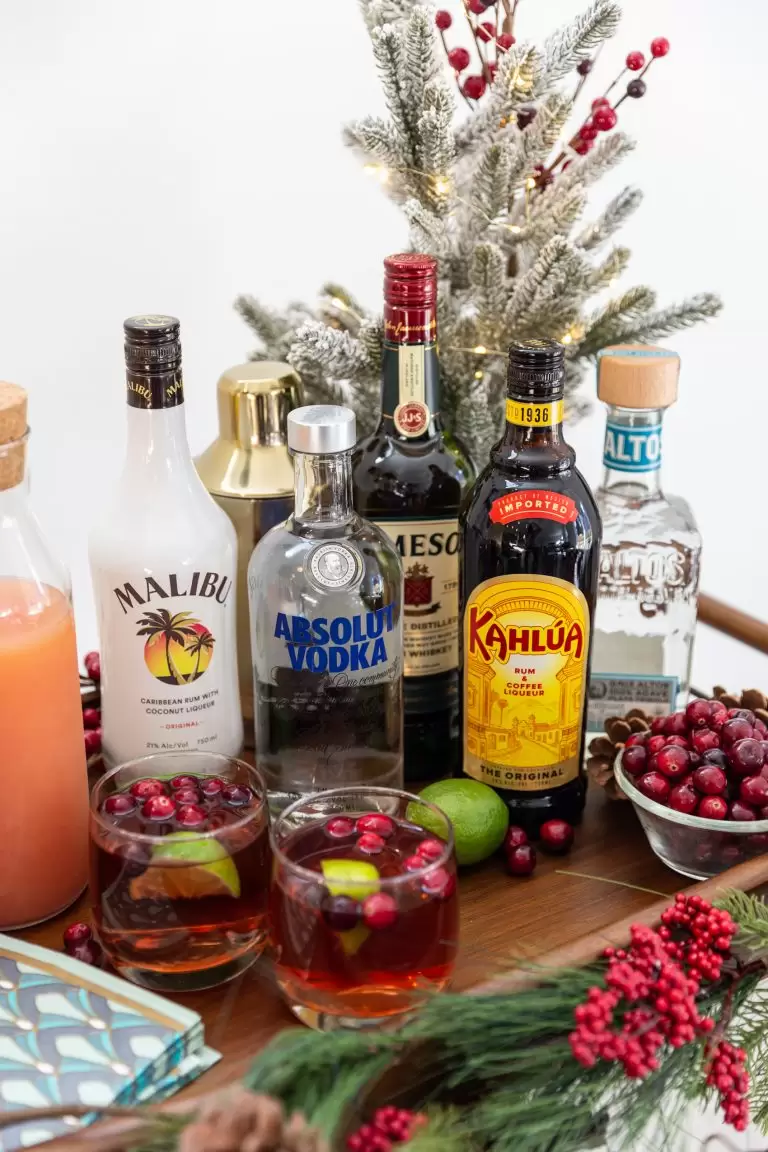 I suggest picking a handful of liquors to have on hand so that people have options but so that the drink choices are simple and clear. Today we're working with my favorites (and our wonderful sponsors today!). I love these because they're high quality drinks at a great value (especially helpful when buying ingredients for a party):
Kahlúa Original
Malibu® Original
Jameson® Whiskey
Absolut® Original
Altos® Tequila
Find them at your local Vons, Safeway, or Ralph's nearest to you!
To assemble your holiday bar, gather your juices (I used orange juice, grapefruit juice, pomegranate juice, and cranberry juice). Next, lay out any garnishes that you want to offer such as lemon, lime, or grapefruit slices. I also like to have some fresh herbs like mint and rosemary for people to choose from.
Next up I like to have a place with drink recommendations and possible mix ins. This works well if you're able to write everything on a large chalkboard placed above the drink station. You could also hang little signs for each drink in front of the bar area. This gives people ideas and a starting place but lets them mix a drink that they'll love!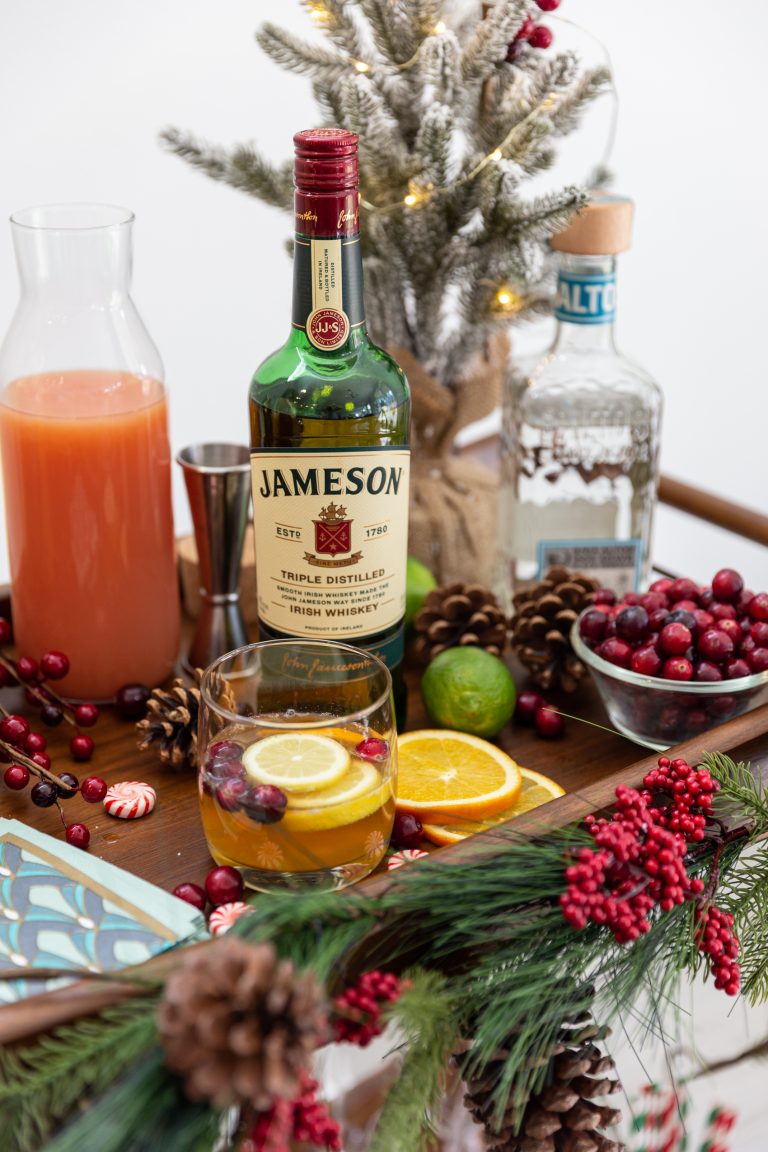 Here are the drink options I'm offering and the liquors to go with them:
Peppermint White Russian using the Kahlúa + Absolut vodka, heavy cream, and peppermints/ peppermint sticks.
Malibu Cranberry Cocktail using Malibu + cranberry and lime juice (or other fruit juices of choice!)
Holiday Margarita using Altos tequila + cranberry and orange juice + lots of garnishes
Orange Cranberry Whisky Sour using Jameson Whiskey + lemon & orange juice and fresh cranberries
I like the idea of offering people drink suggestions that they're familiar with but also giving them fun suggestions for changing things up :D
I hope that this gives you some fun inspiration for your holiday parties! I definitely suggest getting creative with it and do your best to offer your guests options! Be sure to check out my archives for lots of delicious cocktail recipes and please let me know if you have any suggestions for cocktail recipes that you'd love to see me create and share!
Be sure to find all of these hosting essentials at your local Vons, Safeway, or Ralph's nearest to you.
Watch the video for how I styled my holiday bar cart:
[adthrive-in-post-video-player video-id="jEdFWUcn" upload-date="2019-12-06T05:58:44.000Z" name="Holiday Bar Cart" description="Holiday Bar Cart Inspiration" ]
This post may contain affiliate links. Please read my disclosure policy.