Homemade Peppermint Marshmallows
This post may contain affiliate links. Please read my disclosure policy.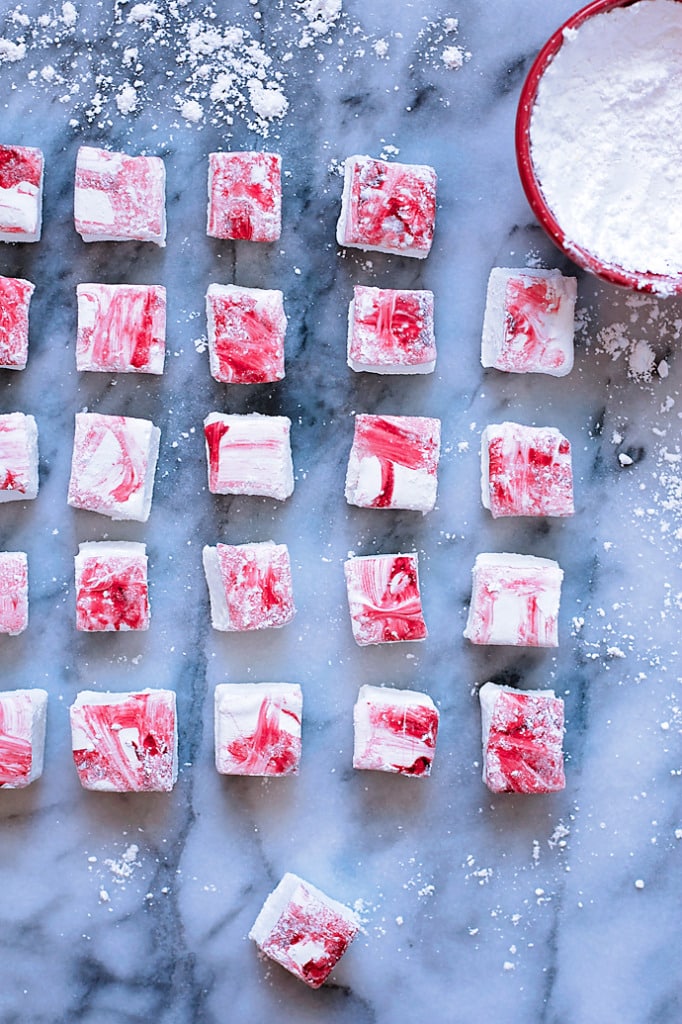 It's finally starting to really feel like Christmas for me. Finally. A week away from Christmas.
These Homemade Peppermint Marshmallows help a lot. And so does all of the Santa pictures that I had the honor of taking last week: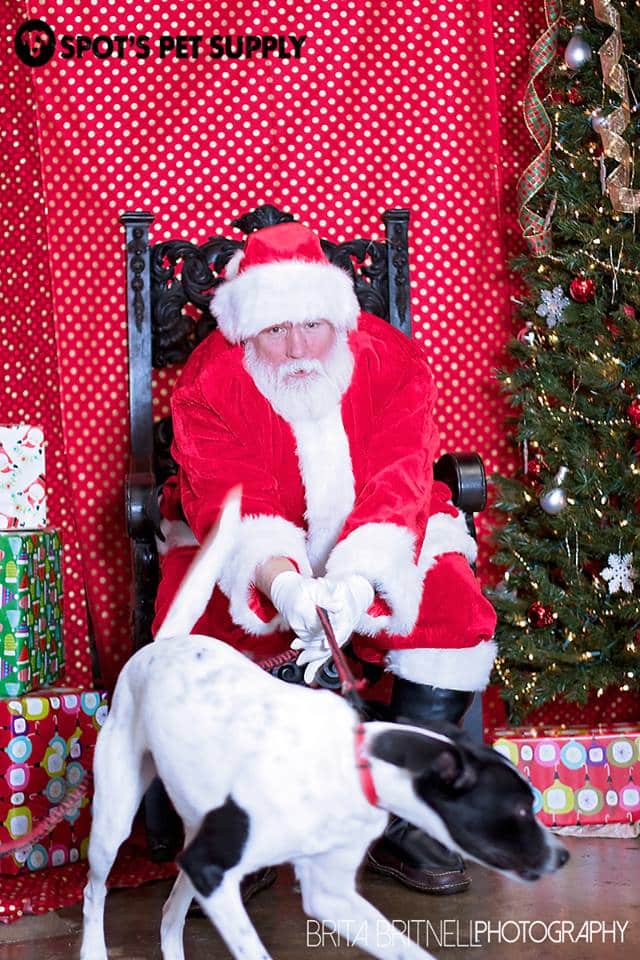 Last week Spot's Pet Supply, an awesome Pet Grooming, supply, and boarding facility close to my house, invited customers to bring their dogs (and cats which someone did) for pictures with Santa. I had the honor of taking all the pictures and had SO so much fun doing it.
Here are just a few of my favorites: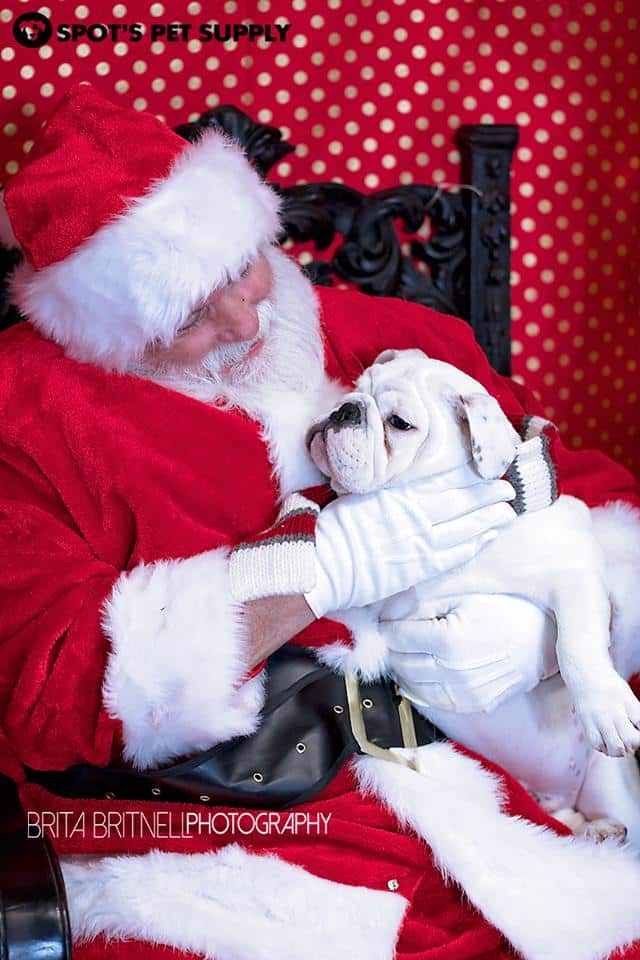 So yea, eating Peppermint Marshmallows and editing hundreds of pictures of Santa will inevitably put one in the Christmas mood!
But, back to the homemade marshmallows.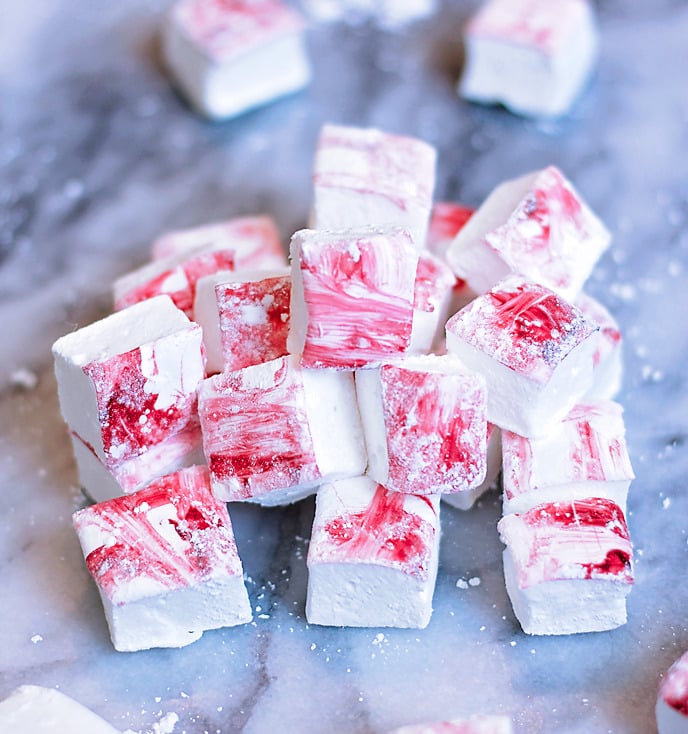 Have you ever made marshmallows at home before? They're RIDIculously easy and surprisingly fun. And, I like that you can make them all kinds of fun flavors with just a few drops of extract.
To make these, a syrup is made from sugar, corn syrup, salt, and water and heated for up to 30 minutes but the key is the temperature; you want to stop cooking once it reaches 240 degree F. It's then added to gelatin and beat in a mixer for 10 minutes. Extract of choice is added and then the mixture is poured in to a greased baking dish and topped with swirls of food coloring. It's then set aside to sit over night.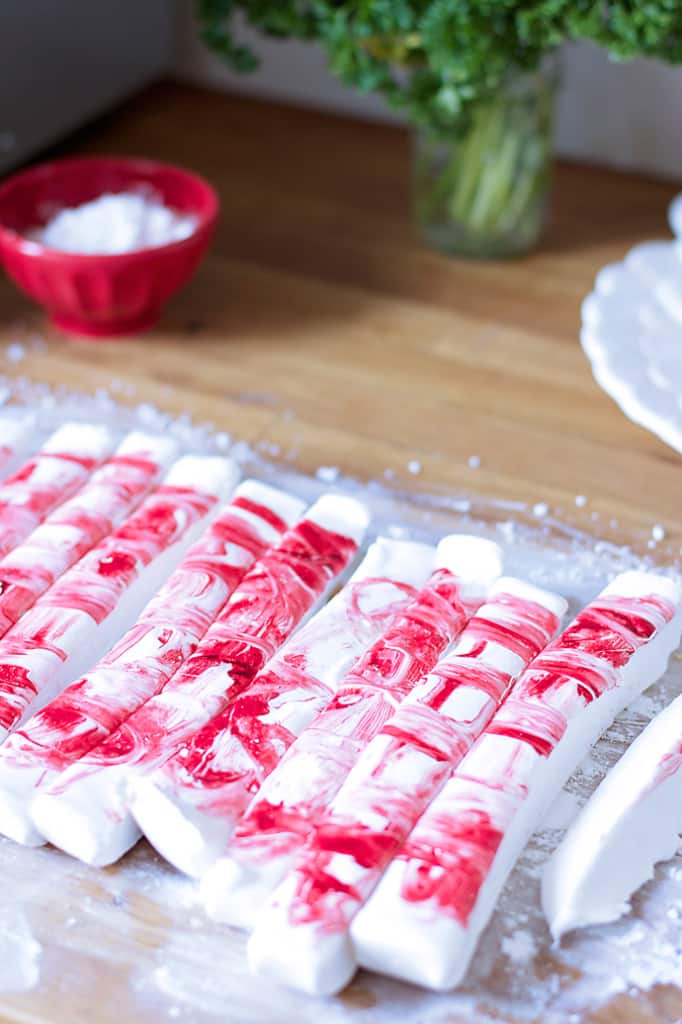 Come morning you'll have one giant delicious marshmallow. You can cut these into shapes and sizes of your choice. I cut mine into rather traditional sized marshmallows for reasons that you will soon learn.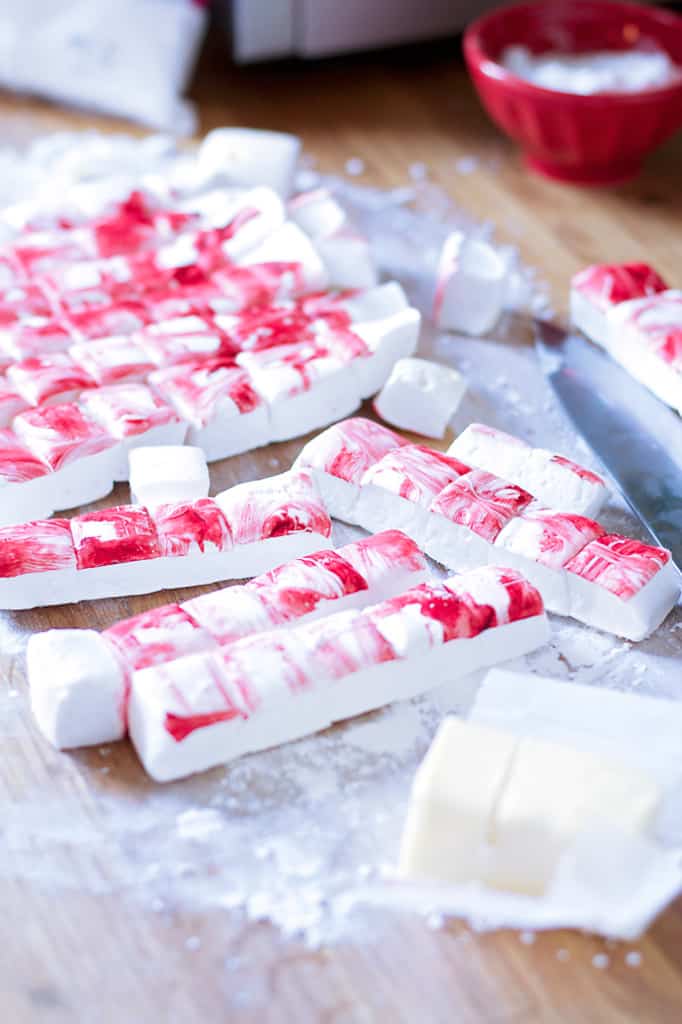 Each marshmallow is dipped and rolled generously in powdered sugar.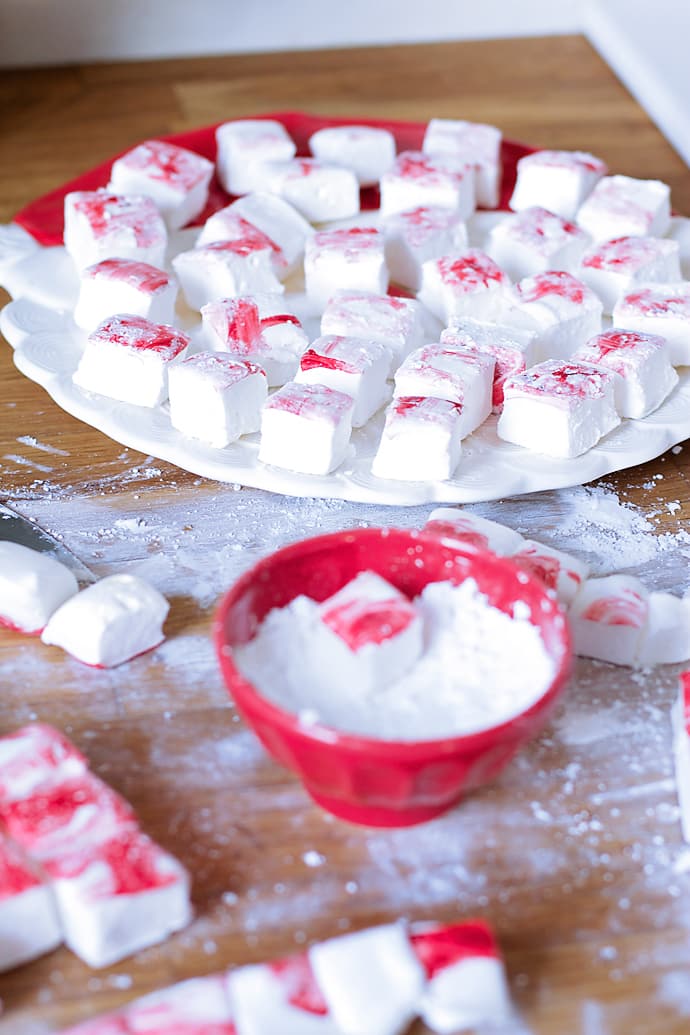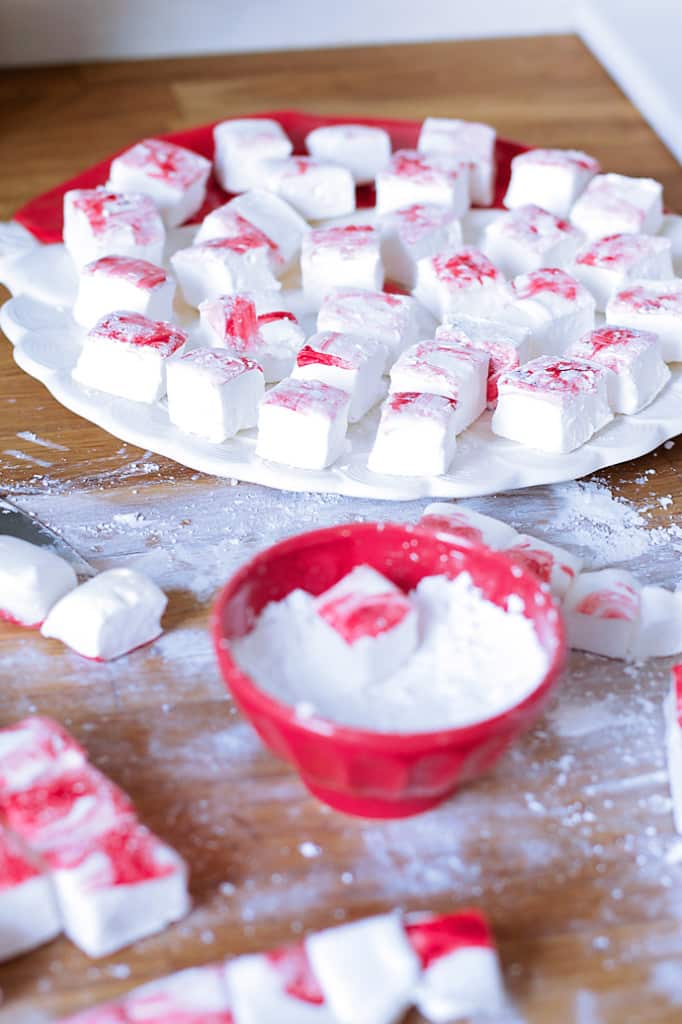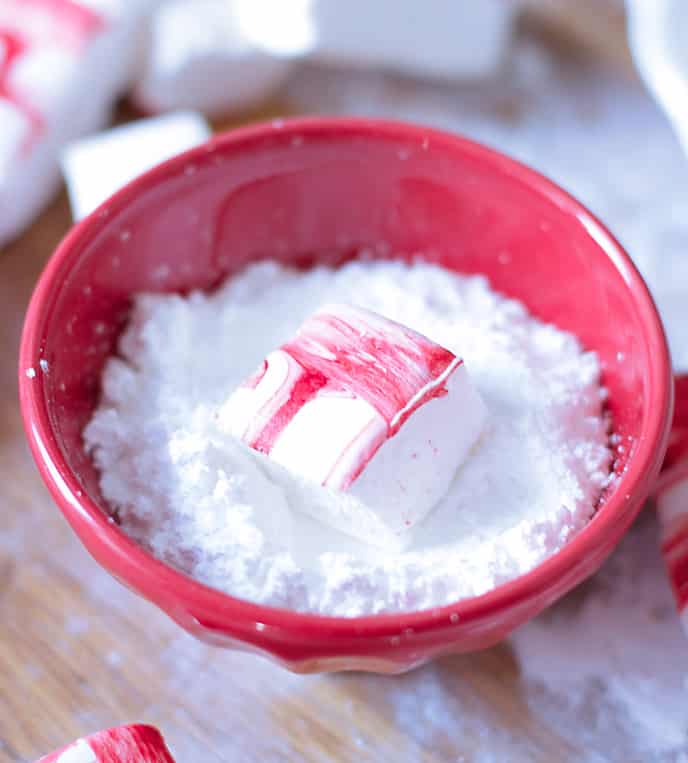 I need to take this moment to show you the adorable Santa tray that I received as a gift a few years back and am using for the first time this year. SO CUTE: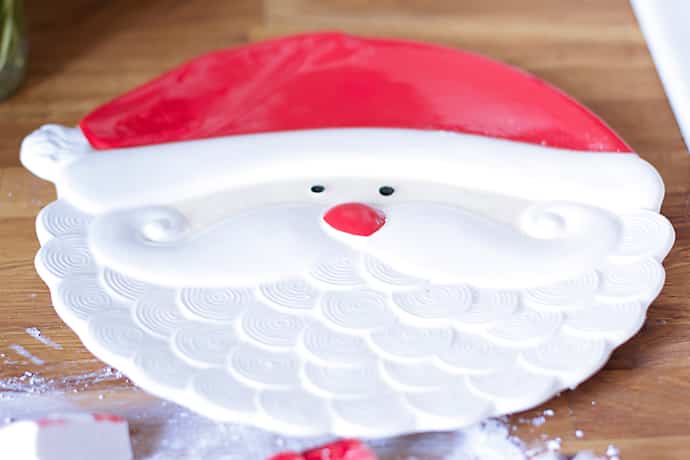 Top a hot cup of hot chocolate with a couple of these homemade marshmallows and you're instantly in the holiday spirit!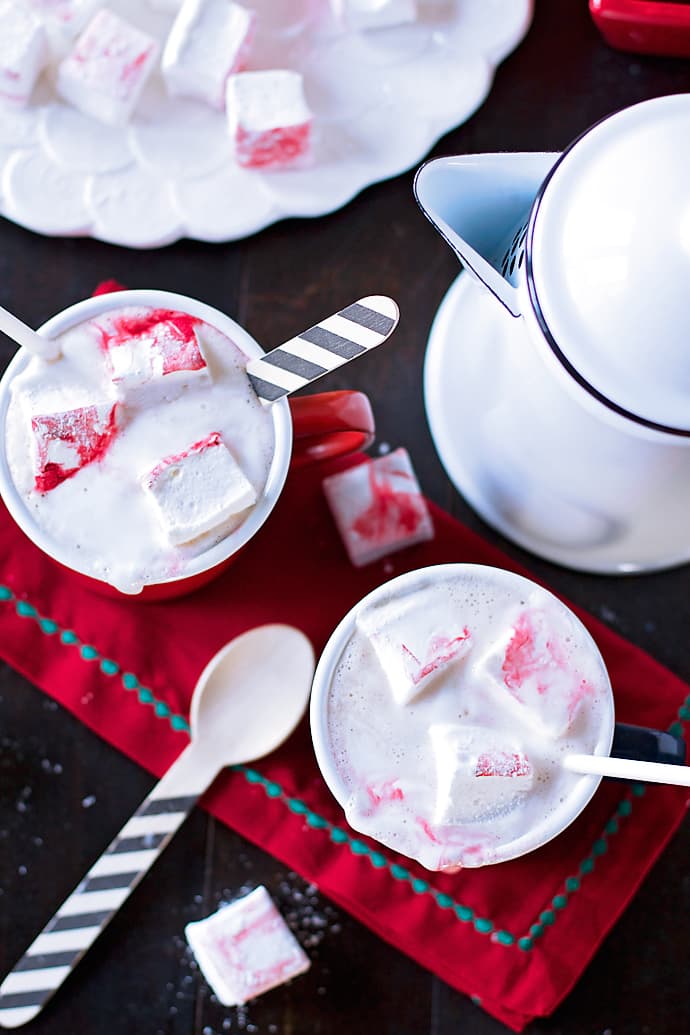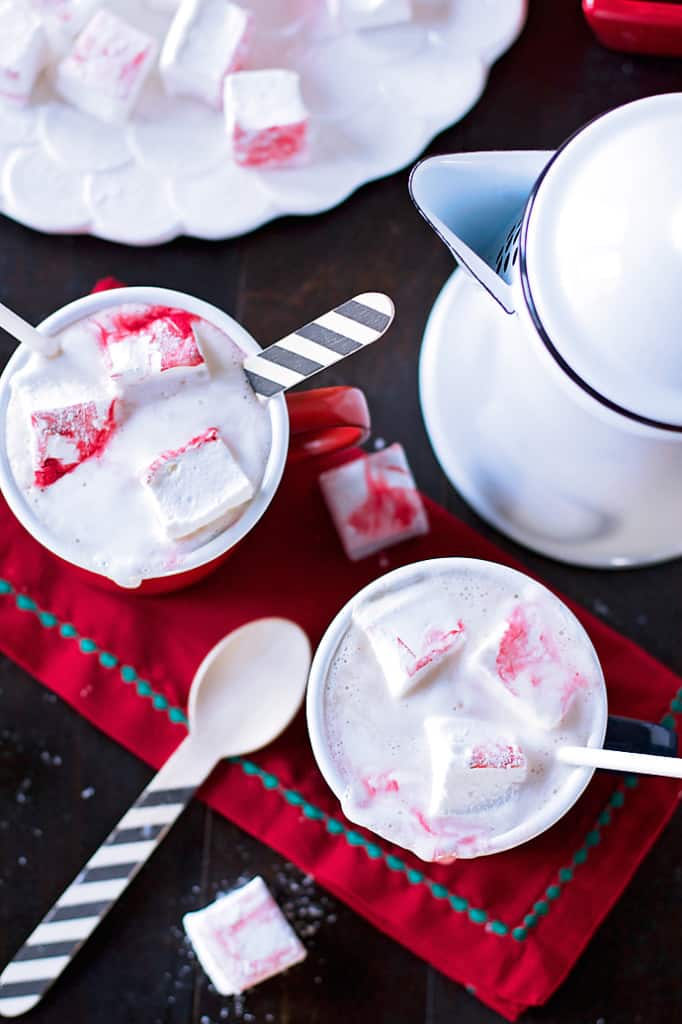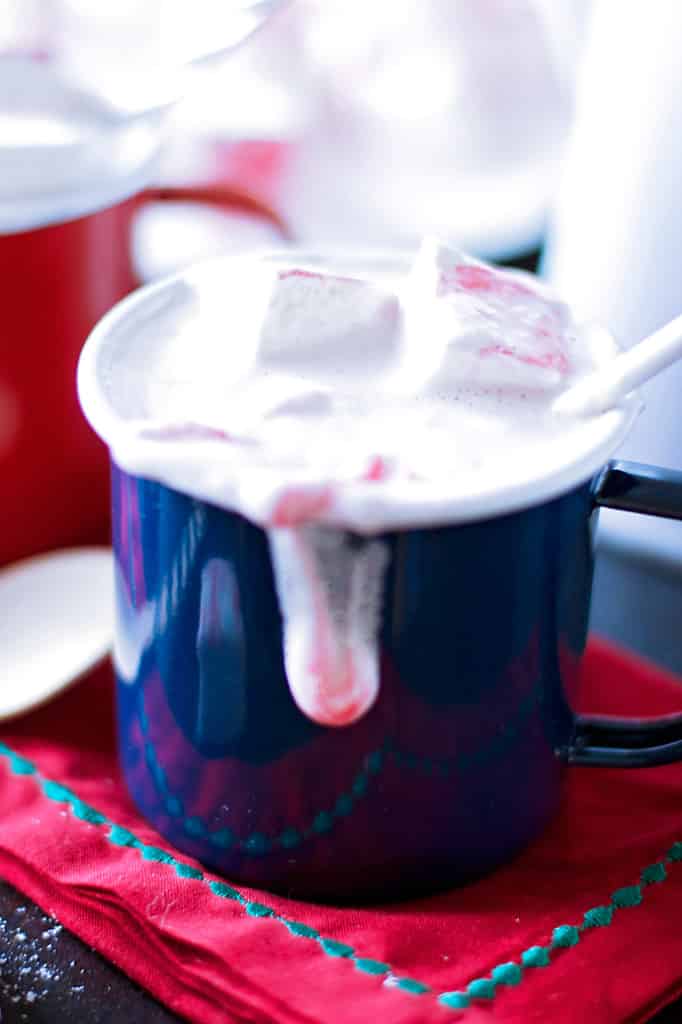 These also make fun holiday gifts (which I'll talk more about tomorrow!)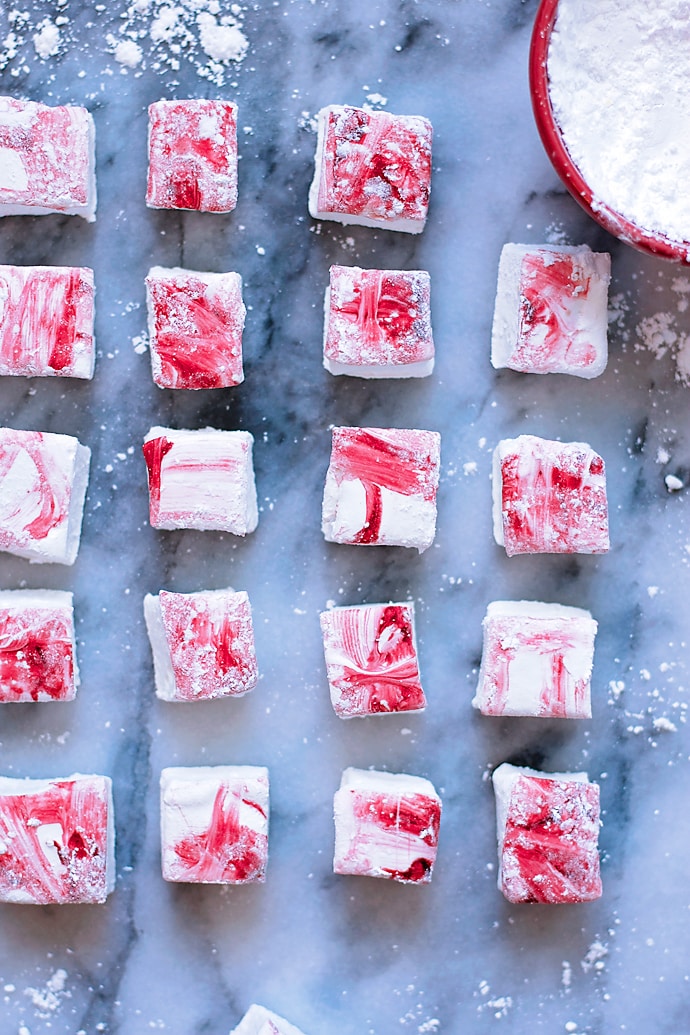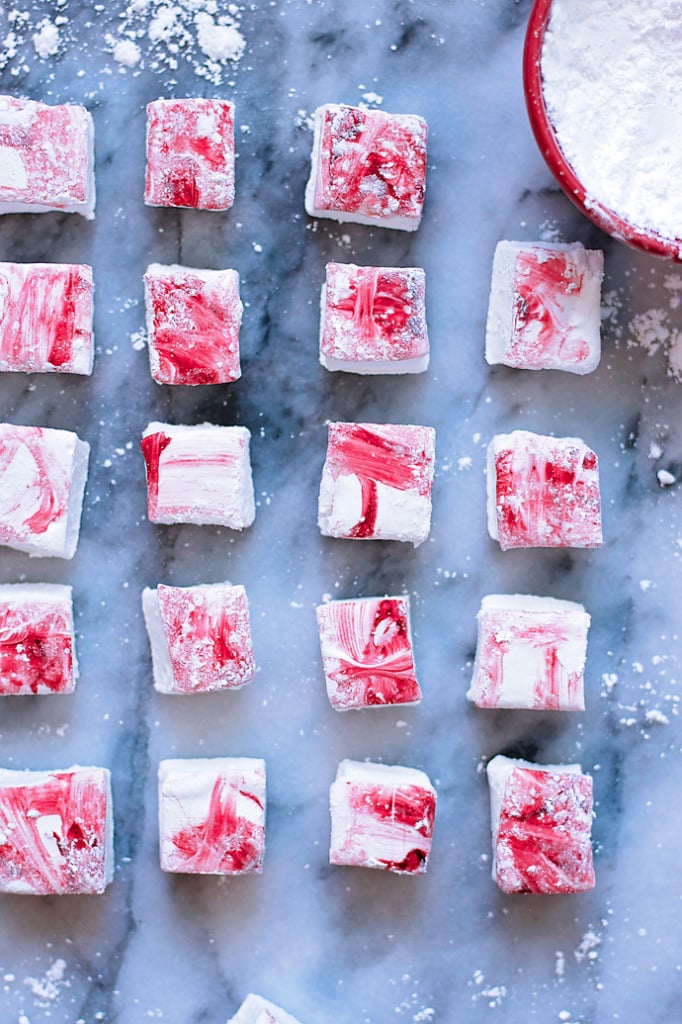 Print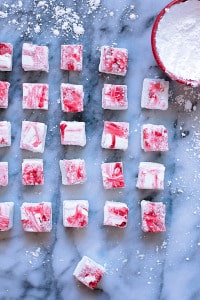 Homemade Peppermint Marshmallows
---
Total Time:

8 hours 40 minutes

Yield:

50

-

6

0

1

x
2 1/2 tablespoons

unflavored gelatin

1/3 cup

+

1 tablespoon

powdered sugar, divided that way

1/2 cup

of cold water

1 1/2 cups

of white sugar

1 cup

of corn syrup

1/4 teaspoon

of salt

1/2 cup

of water

1 teaspoon

of peppermint extract
Optional: 10-12 drops of red food coloring
---
Instructions
In the bowl of a stand mixer preferably), add in the water and sprinkle the gelatin over it. Let that sit while you prepare the syrup.
In a medium pan, heat up the white sugar, corn syrup, salt, and water over low heat, stirring constantly. Keep stirring until the sugar has completely dissolved.
Heat the mixture up to a boil and cook for up to 30 minutes without stirring at all. You want the temperature to be around 240 degree which you can check with a meat or candy thermometer. I have a not so great stove and it takes things longer to cook. If you have a gas stove, it may only take your mixture 8-10 minutes to get to the right temperature.
Remove from heat.
While mixer is on low speed, pour the syrup into the bowl with the gelatin. Increase speed to high and let beat for 8-10 minutes straight. You might need to stop the beater every couple minutes to re-position the mixture if it all gets clumped up a lot. The mixture should triple in volume by the time it is done.
Add extract and beat for about another minute.
Grease a 11×17 pan with butter and dust with 1 tablespoon of the powdered sugar. pour mixture in the greased and dusted pan. Wetting your hands lightly, pat the top of the mixture down so its even and smooth.
Drop the food coloring evenly around the top of the pan and run a knife through each drop to create a pattern or swirls. I was not very careful with this part and the end result still turned out nice.
Let sit for at least 8 hours.
On a cutting board dusted with powdered sugar, place the giant marshmallow sheet. To remove it from the pan (if it's not cooperating), butter a knife and run it along the sides of the pan in between the pan and the sides of the marshmallow. this will loosen it so you can get it out easier.
Keeping your knife buttered, use a large, sharp knife to cut the marshmallow into your desired size pieces.
Generously roll each marshmallow in the remaining powdered sugar so that they're fully coated.
ENJOY!
Prep Time:

40 minutes

Cook Time:

8 hours
This post may contain affiliate links. Please read my disclosure policy.