My Nashville Wedding Planning Experience & Advice
This post may contain affiliate links. Please read my disclosure policy.
Oh hi! I'm popping in for a rare Sunday post! I was asked by Borrowed & Blue to share a bit about my experience planning a wedding in Nashville and since I loved everything about our wedding day, I was very happy to oblige.
It was a unique experience when Stephen and I planned our wedding back in 2013, and looking back on the entire process, there's no doubt that I learned a lot. That's why Borrowed & Blue, the online resource for planning your Nashville weddings, came to ask me all about my experience as a real Nashville bride. So today, I'm here to give some tried-and-true advice to all of you also in the midst of planning your big day.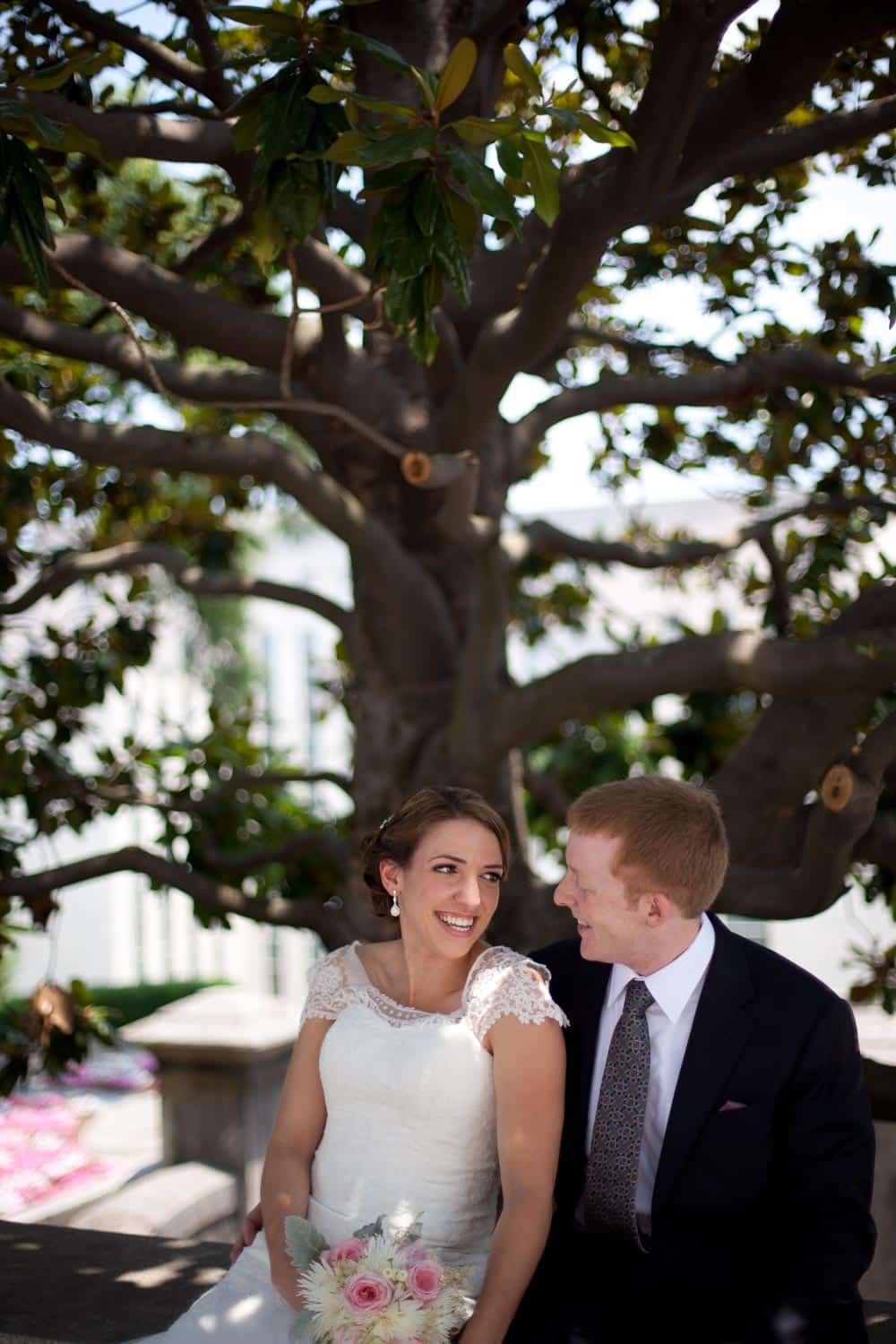 But first, a word from Borrowed & Blue.
"Not only do I find myself drooling every time I look through the recipe posts on B. Britnell (naturally), but I also was drooling just as much looking over photos from Brita's perfectly Nashville wedding. While Borrowed & Blue might have the best knowledge on Nashville wedding venues and vendors, Brita can give you a firsthand account of what it really means to plan a Nashville wedding. As a savvy, experienced, and local tastemaker in the area, we're coming to her as the expert." – Stephanie, Nashville Market Specialist
Here's the Q&A:
1) Describe your wedding in six words.
Simple . Classic. Small. Intimate. Perfect. Patriotic.
2) What was your favorite detail from your wedding day?
I work in the Tennessee State Legislature so when we decided that we wanted a small wedding, a co-worker suggested that I have the wedding in the State Capitol. I've you've ever been in the Capitol then you know what a beautiful building it is. I was super excited that they agreed to let me have the wedding there. We got married in the Senate Library and were able to use the Speakers' offices to get dressed in. It was perfect!!
3) Did you DIY any details from your wedding? How was that experience?
I DIY'd pretty much the whole thing. Stephen and I originally started planning a typical, rather elaborate wedding where we planned to invite everyone we ever met (and their moms). We pretty quickly decided that we would rather keep it small, SIMPLE, and intimate. The biggest DIY task that I took on was the flower arrangements. I had no idea what I was doing but I'm very happy with how they turned out and I'm happy to have had the experience.
I also bought my dress really cheap and had my aunt alter it for me including adding some extra lace to the top of the dress. In the end, the dress was perfect for me!
4) What advice do you have for couples who choose to have a DIY wedding?
Don't get caught up in too many of the little details. Outsource as much as you can afford. We made a list of what we felt that we HAD to have at our wedding and then prioritized that list. Having great food was really important to us and it ended up being one of the most expensive parts of our wedding but it was SO worth it. Low on the list for us was decorations. Pinterest inundates us with ALL of the cute wedding decorations and I think that many of us think that we need them. We passed on many of those but chose to have our wedding and receptions in beautiful places that needed little to no decorations at all.
5) What is your favorite and most memorable moment from that day?
I really loved the photography process. Stephen nor I are ones to be in photos often and we had a lot of fun with our photographer, Amber Smith, coming up with some fun and beautiful photos. We had a solid hour where it was just the 2 of us plus our photographer walking around the venue and taking photos. I had a lot of fun with it!
6) If you could go back and do your wedding over again, what would you change?
The ONLY thing that I would change is my hair. I did a test run of my hair and my makeup about a month before the wedding. The look was exactly what I had envisioned but against the advice of my hairstylist, I asked her to change a few aspects of how my hair looked for my wedding day. It still turned out great but I wished that I had trusted her expertise and let her do my hair as she knew best.
7) What would you keep the same?
The size!! We had a VERY intimate wedding. We had our parents, siblings and their significant others, a couple immediate aunts/ uncles, and our grandparents. In total it ended up being ~20 people. We toyed with inviting a couple of our closest friends but that instantly got complicated so we kept it just family. Our small wedding was certainly not the norm but it made the day really special to us AND it allowed us to have the wedding that we wanted without spending a ridiculous amount of money. We were able to really splurge on the food and drink since there were so few people to feed.
8) What was the most fun part of planning your wedding?
I really enjoyed putting together the flowers. I knew nothing about flower arrangements before my wedding and had a lot of fun learning about different flowers and how to assemble them in a beautiful way. I did all of the arrangements myself with included a few larger arrangements for the ceremony, my bouquet, Stephen's boutonniere, and quite a few smaller arrangements for the tables.
9) The most stressful part?
Our ultimate goal was to keep our wedding STRESS FREE. But, is that ever really possible when planning a wedding?? The biggest stress was dealing with all of the last minute little details that I didn't think about ahead of time. I ordered the roses through an online company and I didn't think about needing someone home to receive the package since June in Nashville is pretty hot. The flower arrangements took much longer to assemble than expected etc. None of it was massively stressful but everything added up and the night before the wedding was a bit chaotic.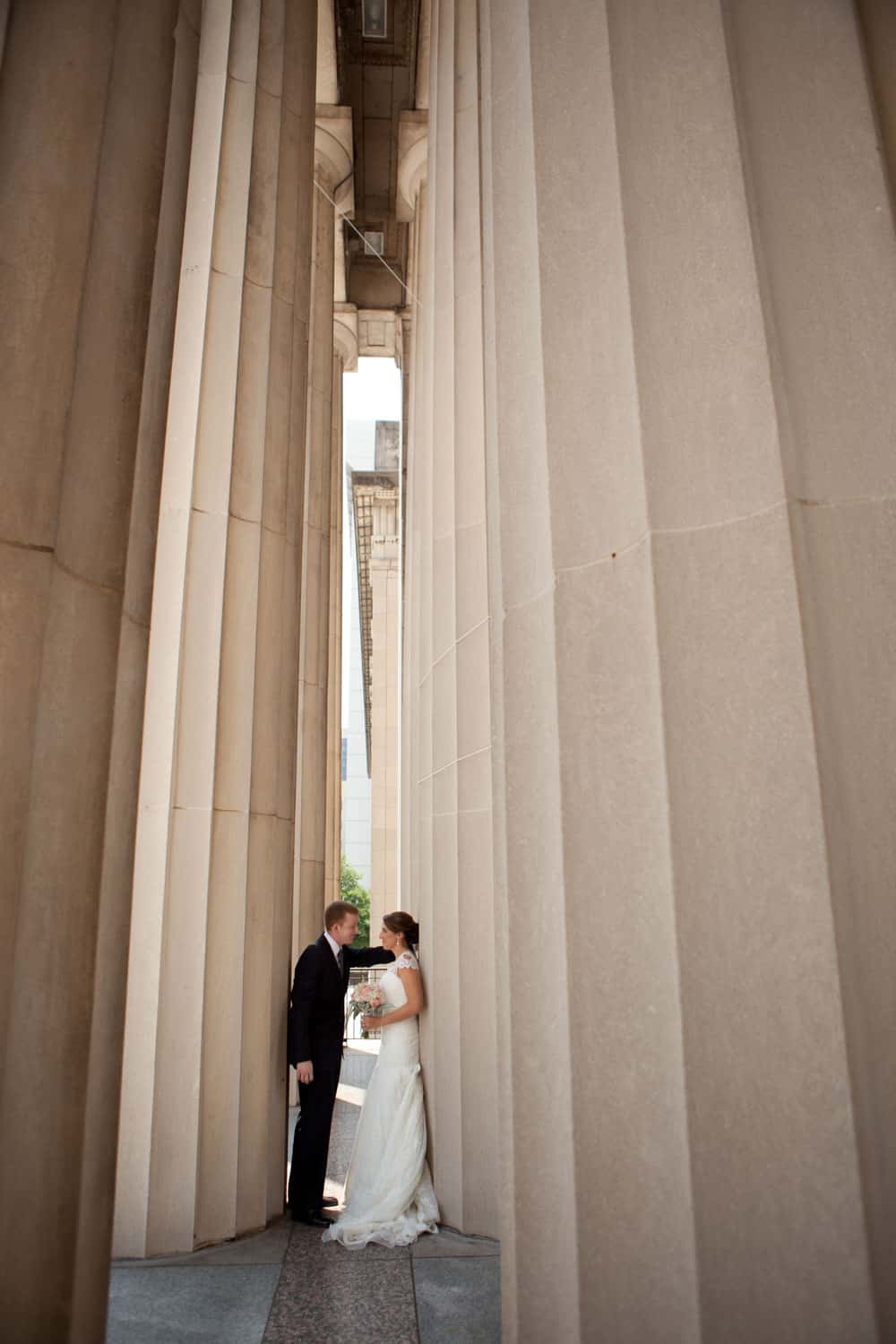 10) What do you wish you would have known before you started planning your wedding?
I have a feeling that pretty much every bride says this: I wish that I had known how incredibly expensive everything is. It's all of the little things that get you. I knew the photography would be a good chunk of money and I knew that our reception was going to be pricey but it was all the little expenses that I didn't account for such as gifts for the guests, all the extra little decorations, invitations, and the alcohol.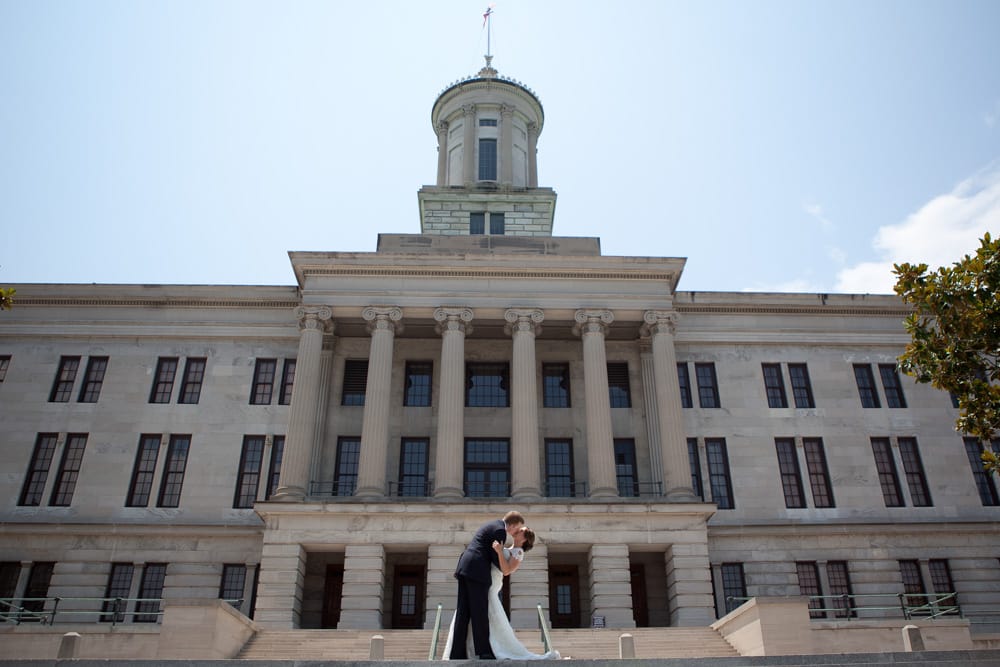 11) Which local vendors did you work with for your big day?
Once deciding that we wanted to get married in the State Capitol, there was no question that the reception would be at the Hermitage Hotel. I'm a big fan of the hotel (and the Capitol Grille) and it was just a no brainer. I met with someone from the hotel who was SO super helpful throughout the whole process. We booked the Governor's room for the meal and the staff went above and beyond to make everything perfect! The building itself is very romantic and (as previously mentioned) I'm a huge fan of everything that their kitchen cooks. Hermitage Hotel provided the perfect reception. My only regret: not getting a few wedding pictures in the world famous men's bathroom.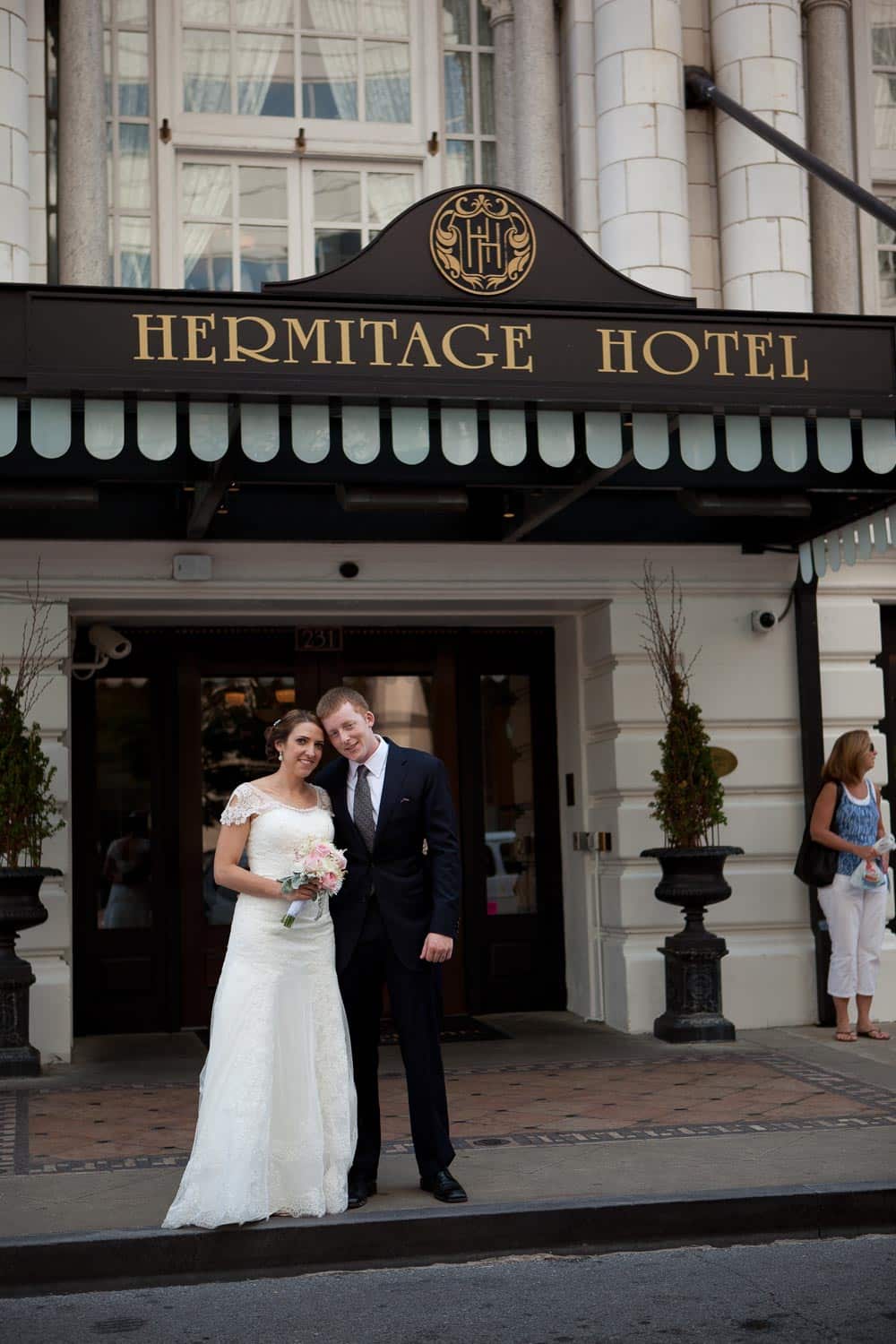 I absolutely loved my photographer, Amber Smith from Smith Studios Photography. Even though our wedding was a bit unconventional, she did such a great job just going with the flow. I sent her over a few examples of poses that I liked and she gave us those and SO much more. I was super impressed with her ability to give us direction on how to stand, where to place our hands, etc. She had so much patience with us and I really couldn't have asked for more in our wedding photography. It was one of the aspects of our wedding day that was most important to me. I HIGHLY recommend her!
12) Which of your wedding vendors would you recommend to other couples getting married in Nashville? What was great about them?
Besides the two mentioned above, I also had a great experience with my hair and makeup artist, Amy Lynn Larwig. Hiring someone to do my hair and makeup was one of the BEST decisions that I made for my wedding. Amy did a wonderful job!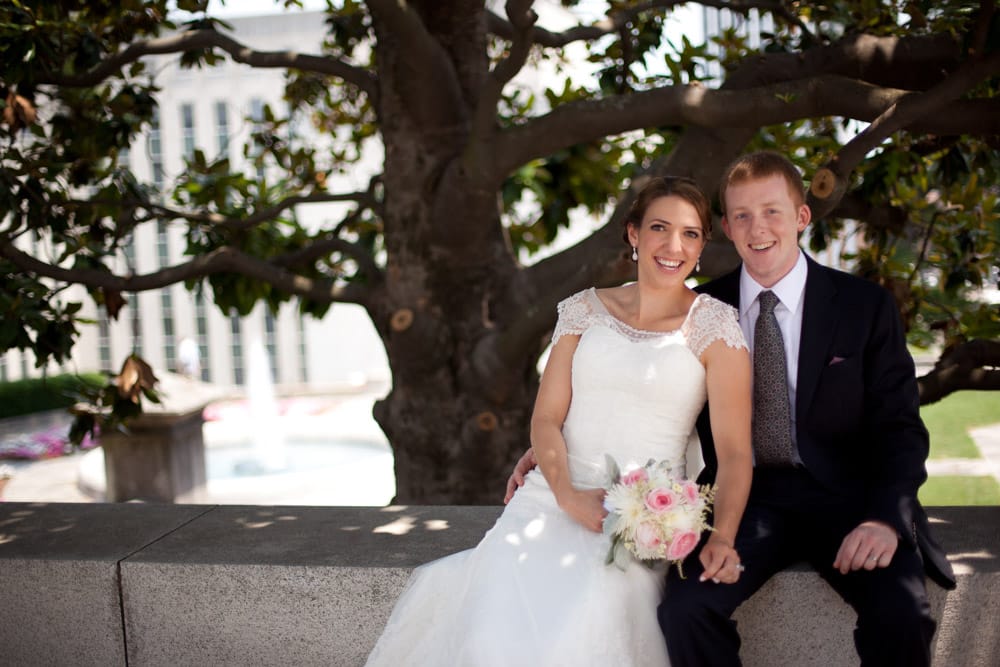 13) What advice do you have for couples just getting engaged?
I have 2 pieces of advice: 1) start planning right away! Everything takes longer than you would expect and if you put it all off until right before the wedding, you'll never get it all done. 2) Don't stress the little details. Yes, burlap runners on every single table might be pretty, but if it doesn't happen, it will have ZERO effect on your special day. Focus on the things that you'll remember in the future such as being with your family and loved ones, enjoying the day as a whole, and obviously the food (as a food photographer, it's all about the food :D).
Thanks again to Borrowed & Blue for reaching out. For all of you planning your Nashville weddings, be sure to stop by their site and check it out!
This post may contain affiliate links. Please read my disclosure policy.