Sheet Pan Baked Tofu & Veggies
Sheet Pan Tofu & Veggies- this easy sheet pan dinner is simple to throw together and a great vegan dinner!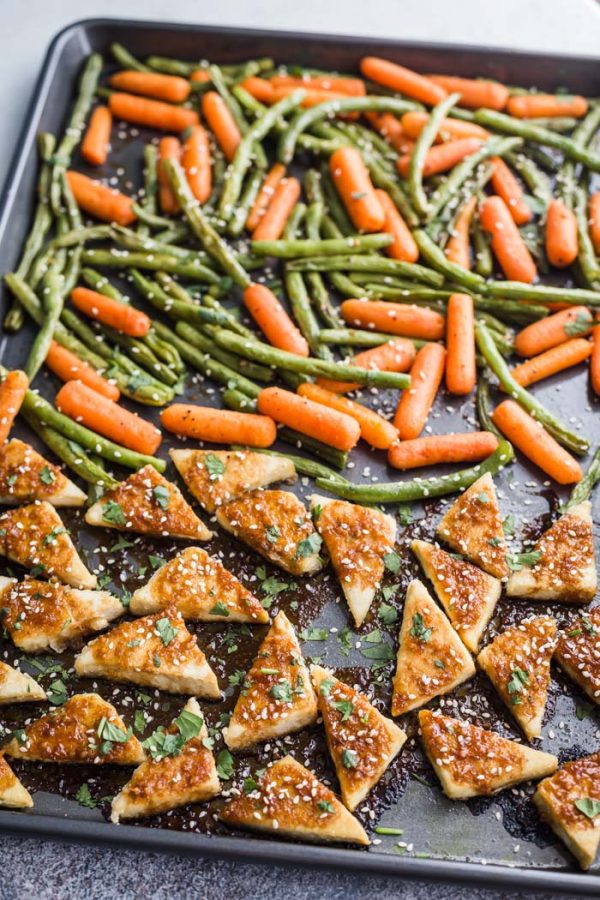 I've been ALL ABOUT the easy sheet pan dinners lately. Upon a little research, I discovered that there aren't very many vegetarian friendly sheet pan meals on the interwebs so I figured that I would make a few!
The criteria for a sheet pan meal is simple: 1) EASY 2) all on one pan for minimal clean up and effort 3) extra credit when it's a well rounded meal. I think I hit all of those points. ALSO: this just so happens to make for great leftovers or meal prep. WIN all around.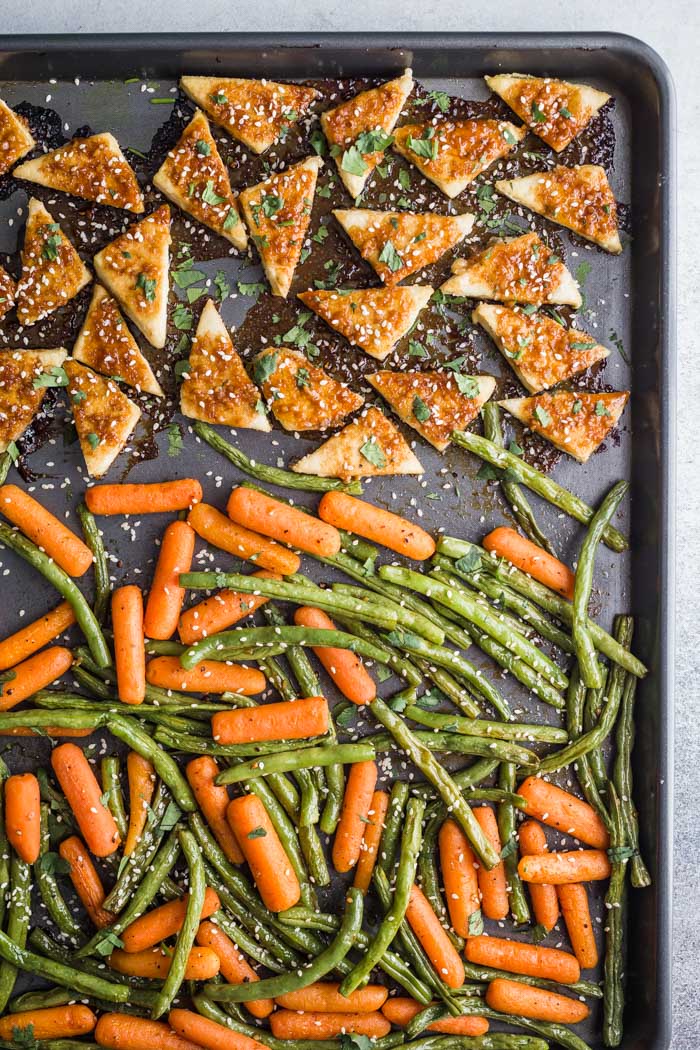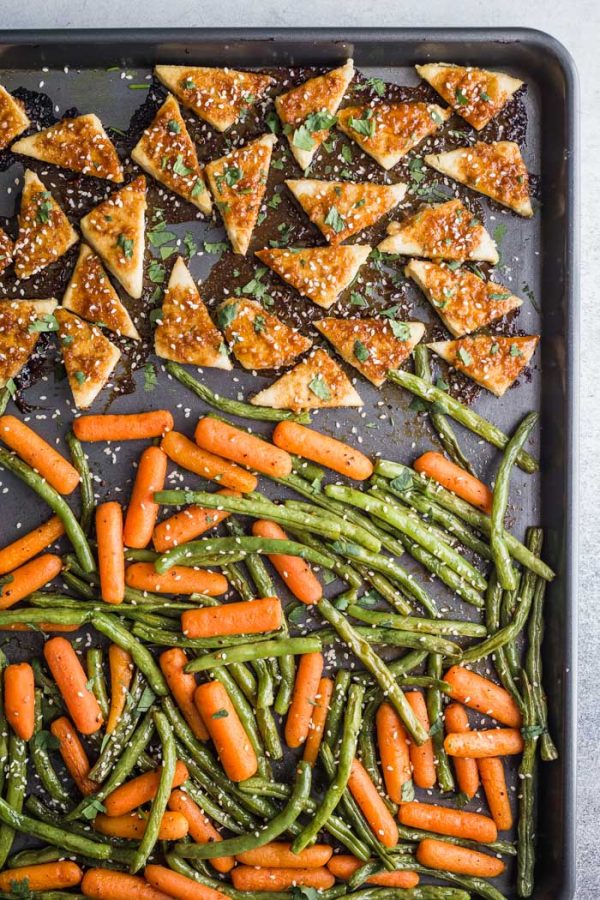 I had to test this several times to get the bake times of all the different elements just right. Everything needs to bake for different times so this simply requires adding things at different points in the cooking process. Trust me, it's still all super easy!
You can swap out the veggies used if desired, just be sure to look up how long each vegetable needs to bake for. You don't want any under done OR mushy veggies. No one ever wants that.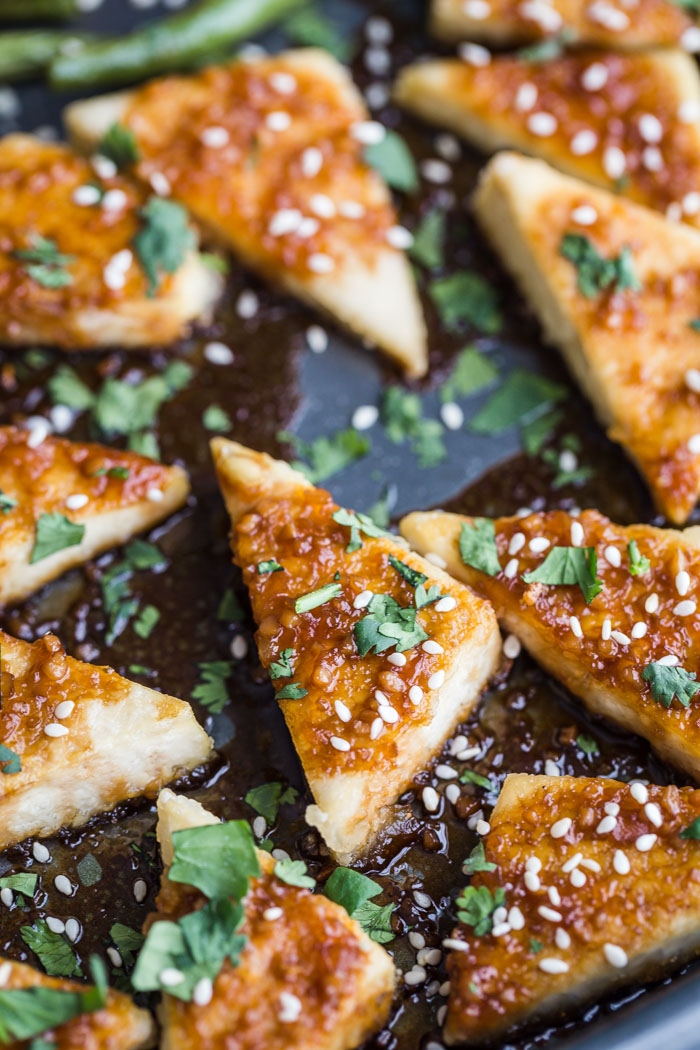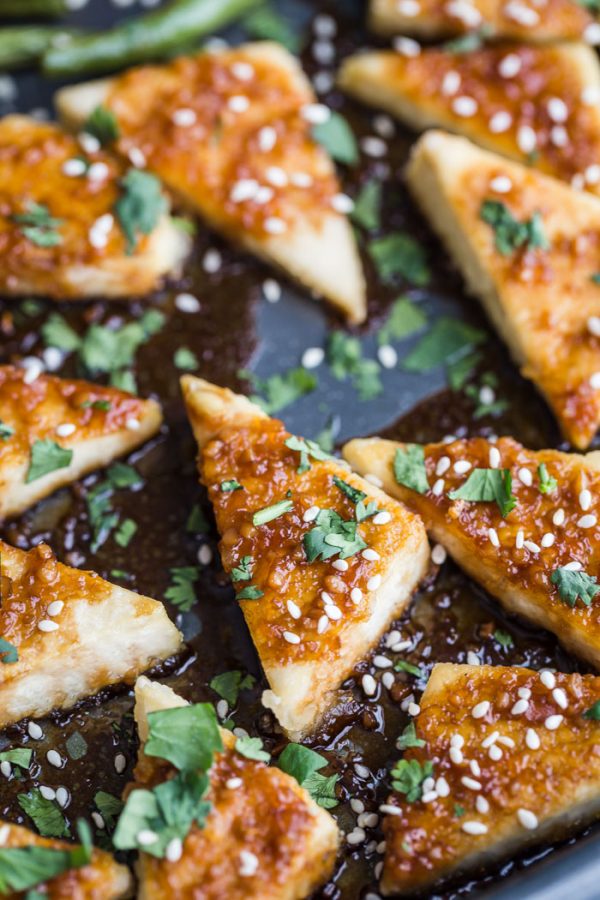 How to cut tofu into triangles:
It's not necessary to cut the tofu into these little triangles but it IS fun :)
Strips or cubes or however you feel like cutting your tofu will work just fine.
BUT if you are into cutting the tofu like this, here's how I did it: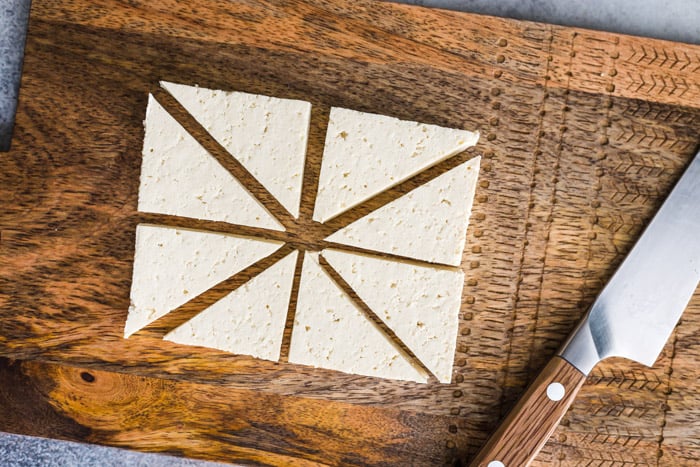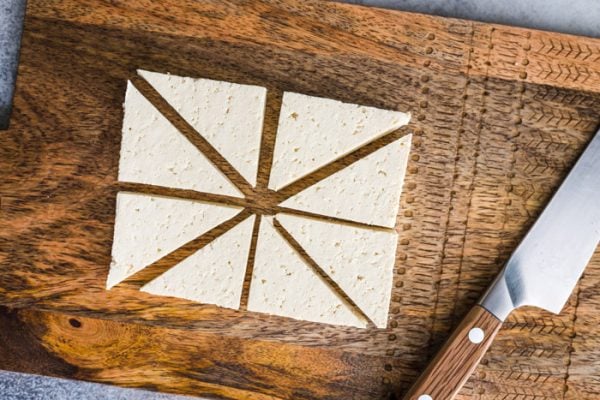 After squeezing the tofu of excess moisture, I stood the tofu on its side and cut it into three even blocks. Then cute the triangles out as pictured above. Easy peasy and makes for a fun plated presentation.
How to make this vegan sheet pan meal:
As mentioned above, I worked out the bake times of each individual element of this dish so that it can all be cooked on the same pan.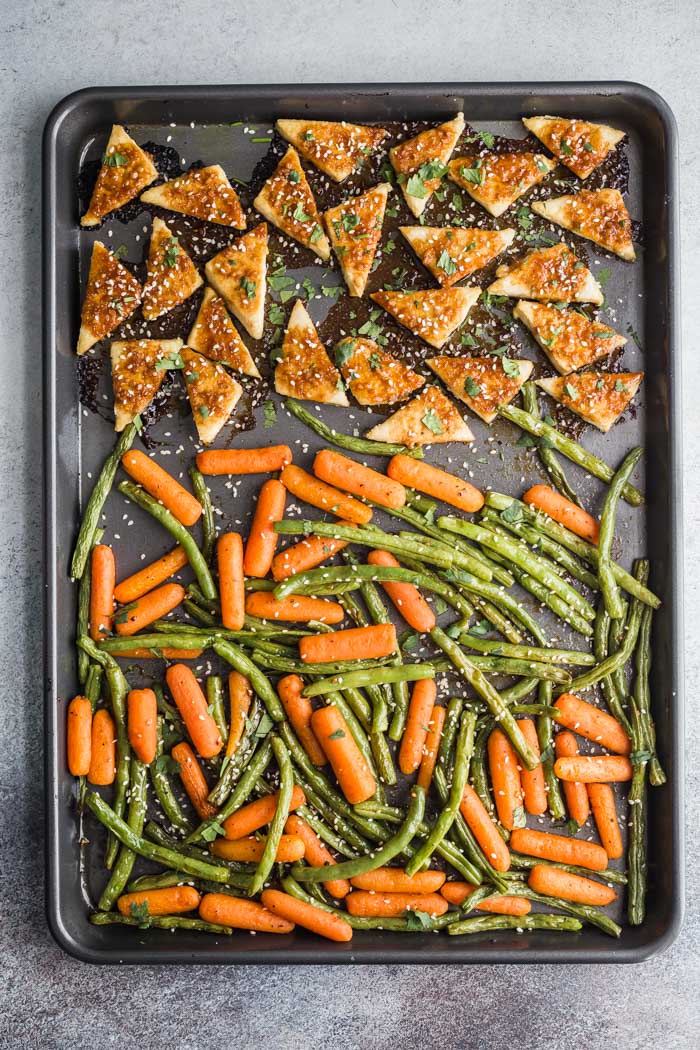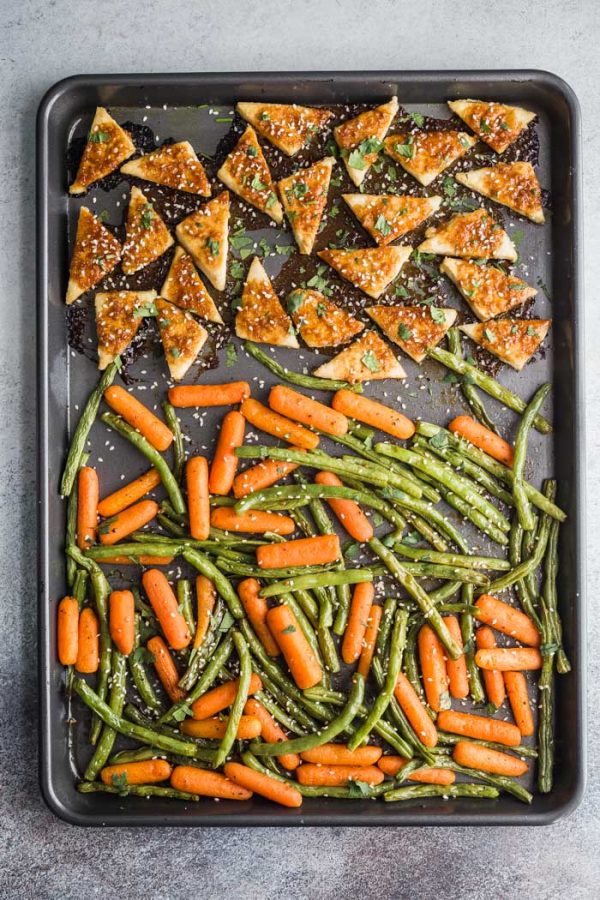 Since the carrots take the longest, I like to start there. Toss them in a little toasted sesame oil and then pop them in your pre-heated oven while you cut and prepare your tofu.
After about 5 minutes, you can line the tofu pieces up next to the carrots and bake for 15 minutes. While that bakes, whisk together the sauce which consists of soy sauce, garlic, ginger, sesame oil and honey. maple syrup.
Finally, toss the green beans in with the carrot sticks. Flip the tofu over and pour the marinade over the top. I always save about 1-2 tablespoons of the marinade to mix in with the veggies as well. Bake for about 10 additional minutes or until the veggies are crisp tender.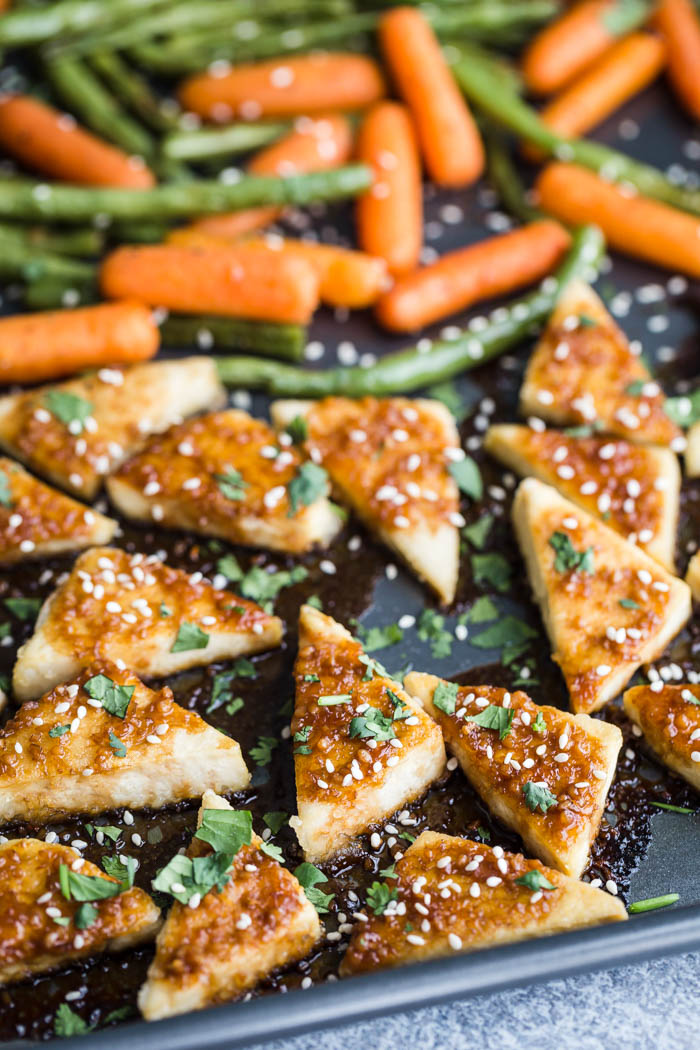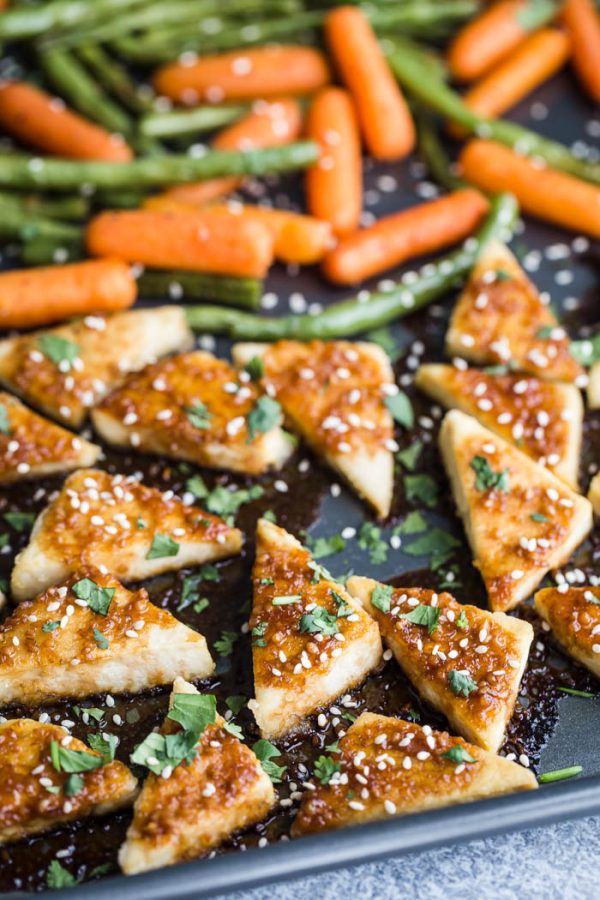 And that's IT :) If you want a lighter meal, this can be eaten all on its own. I typically eat a meal like this with a little quinoa or basmati rice.
Be on the lookout for more vegetarian sheet pan dinners because I have a lot of ideas that I can't wait to test.
More Tofu recipes you'll love:
Easy side dishes to pair with this sheet pan dinner:
See how to make this easy vegan recipe:
Print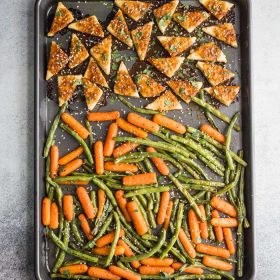 Sheet Pan Baked Tofu & Veggies
---
Author:
Prep Time: 30 minutes
Cook Time: 30 minutes
Total Time: 1 hour
Yield: 2 servings 1x
Description
Sheet Pan Tofu & Veggies- this easy sheet pan dinner is simple to throw together and a great vegan dinner!
---
Scale
Ingredients
12 ounces of carrot sticks (about a cup and a half)
15 ounces of tofu (each package is a slightly different size. Assuming yours is roughly 15 ounces, go with it)
2 tablespoons + 1 teaspoon of toasted sesame oil, divided
2 tablespoons of cornstarch
2 tablespoons of soy sauce
3 cloves of garlic, finely minced
1 inch of ginger, peeled and grated (roughly 1 tablespoon)
1 tablespoon of honey or maple syrup
12 ounces of green beans (about a cup and a half), cleaned and ends trimmed
for serving: cilantro and sesame seeds
---
Instructions
Pre-heat the oven to 400 degrees F. Lightly coat a large baking tray with cooking spray.
Prepare your tofu by wiping away any excess moisture on the outside. Wrap the tofu in a towel or several paper towels and place it on a plate. Top the tofu with something heavy (a cast iron skillet works great) and then let it sit for 15-30 minutes to release as much moisture as possible.
While the tofu is being pressed, put the carrot sticks on the baking tray and toss with 1 tablespoon of the sesame oil and a sprinkle of salt. Bake for 5 minutes.
Meanwhile, unwrap the tofu and cut it into 3 even sheets (you want it to have the same dimensions but thinner). Cut those thinner pieces into triangles (see photo above). Toss the tofu in 1 tablespoon of sesame oil and the cornstarch.
Push the carrots to one side and line the tofu pieces up on the other side. Bake for 15 minutes.
Whisk together the soy sauce, garlic, ginger, honey, and the remaining teaspoon of sesame oil.
Take the baking tray out of the oven and toss the green beans in with the carrots. Flip the tofu over and pour the sauce on top reserving 1-2 tablespoons. I found that about 1/2 teaspoon per tofu triangle is perfect. Pour the remaining 1-2 tablespoons of sauce over the veggies and toss to coat. Bake for 10 additional minutes.
Serve with cilantro and sesame seeds and ENJOY!
---
Category: Dinner
Method: Baking
Cuisine: Asian
Keywords: vegan dinner, sheet pan dinner, easy dinner