Cranberry Almond Biscotti & the Great British Bake Off Week 2
This post may contain affiliate links. Please read my disclosure policy.
It's week 2 of the Great British Bake Off (actually, I think episode 4 airs this week but hey, better late than never) and it's biscuit week! British biscuits= cookies (I keep forgetting this fact). I opted to bake the biscotti because it's something I've always wanted to try AND it's by far the easiest thing from biscuit week, so.
I invited my lovely mother-in-law and sister-in-law over to partake in the baking festivities. Since my mother-in-law is an English native, she's very familiar with the show. None of us, however, had ever baked biscotti before so we were a bit nervous how it would turn out.
Good news: it turned out great!! I found lots of fancy and fun recipes that I really wanted to try but knew that it was best to stick with a simple, classic biscotti recipe. So, we made Cranberry Almond Biscotti and (of course) topped it with dark chocolate. MMMmmmm!
I'll say, it's very nice having so many hands in the kitchen (also, multiple sets of eyes reading the recipe so we don't skip a step which I'm known to do).
The recipe called for 2 smaller loafs to be formed but we kept questioning whether or not we should just make one large loaf. In the end, we stuck with the recipe out of a deep desire for our first biscotti experience to go well.
We divided the batter up evenly and measured out the loaves with a ruler to keep them precise. On the show, part of the challenge in baking the biscotti was that all of the biscotti was supposed to be exactly the same size and shape. We tried our best…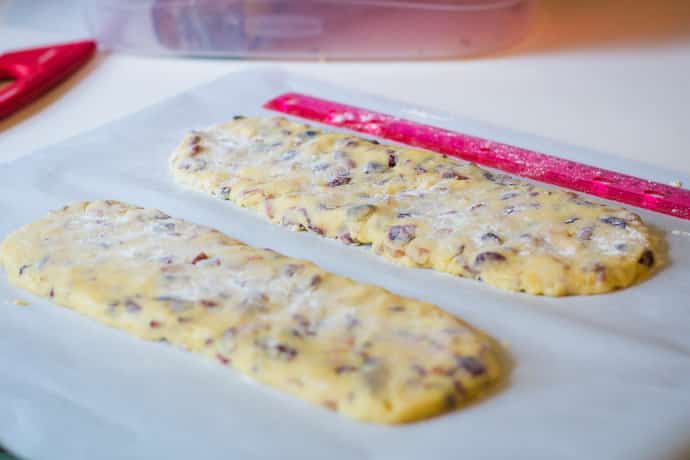 Meanwhile, during the first baking, cooling, second baking, and second cooling, we chit chatted and ate lots of food while patiently waiting for dessert to finally be ready. Biscotti, we learned, isn't very difficult to bake but it sure does take some patience.
Once it was done with the second baking, we needed to let it cool completely before drizzling it with chocolate.
Intense concentration required…
AND voila! Lots of yummy little biscotti.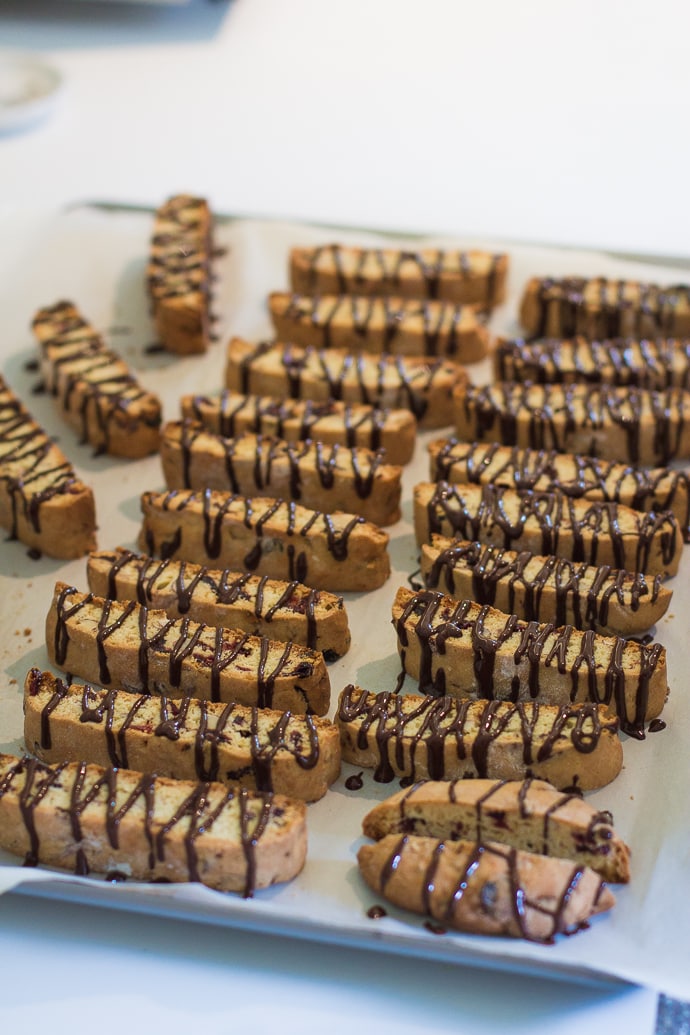 Throughout the course of the day, we had about 10 family members stop by to see our new house and help with the baking so we had no problem eating ALL of these in no time at all.
Overall, we were rather proud of how our biscotti turned out! Of course, we enjoyed them with a couple cups of tea (each). I already have plans for quite a few other biscotti recipe combinations including a savory biscotti. You could say I'm a pretty big fan.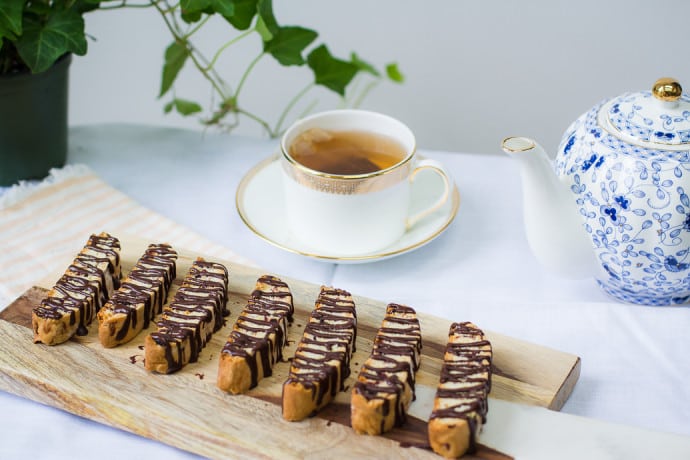 Next week is BREAD week and I might go crazy with that one. Meaning, I kind of want to bake ALL the breads.
Happy baking!
Recipe adapted (only very slightly) from Food & Wine.
Print
Cranberry Almond Biscotti & the Great British Bake Off Week 2
---
Total Time:

1 hour 25 minutes

Yield:

2

4

1

x
1 3/4 cups

all-purpose flour

1 1/2 teaspoons

baking powder

1/4 teaspoon

salt

2

large eggs

3/4 cup

sugar

3 tablespoons

unsalted butter, melted and cooled

1/4 teaspoon

almond extract

1 cup

dried cranberries, chopped

1/2 cup

almonds, coarsely chopped

2/3 cup

of dark chocolate
---
Instructions
Pre-heat oven to 350 degrees F and line a large baking sheet with parchment paper.
In a large bowl, sift together the flour, baking powder, and salt.
In a seperate, medium bowl, beat together the eggs and sugar at medium speed until pale and creamy, about 3 minutes. Beat in the butter and extract.
Pour the wet ingredients into the bowl with the flour and add in the cranberries and almonds. Stir until thoroughly combined.
Using lightly floured hands, shape the dough into 2 slightly flattened 10-inch logs on the prepared baking sheet. Bake for 30 minutes, or until golden. Once out of the oven, let cool until the biscotti loafs are almost completely cooled.
Once cool, using a serrated knife slice the biscotti into even slices that are about 2/3 of an inch wide going diagonally.
Arrange the slices on the baking sheet cut sides up and bake for about 10 minutes, or until the biscotti are lightly browned and crisp.
Let cool completely. When the biscotti is mostly cooled, melt your chocolate and pour it into a baggie/ pipping bag.
Pipe the chocolate over the biscotti drizzling it back and forth across the biscotti. Put the tray full of biscotti in the fridge to let the chocolate set.
ENJOY!!
Prep Time:

45 minutes

Cook Time:

40 minutes
This post may contain affiliate links. Please read my disclosure policy.