Most stuffed bell pepper recipes have meat in them so I wanted to create a vegetarian version that's still filling and JUST as tasty! Seriously love how this recipe turned out and I kind of want to eat them on a DAILY basis. Come summer (when bell peppers are CHEAP and abundant), I plan to make these weekly :D
I've leaving tomorrow morning for Gatlinburg, TN to spend a long weekend in a cabin with some friends. This will be our 5th year in a row going it's become one of our FAVORITE trips each year. We do pretty much nothing but eat, drink, sleep and most importantly: spend a LOT of time in the hot tub.
That being said, Im going to keep this pretty short and sweet today.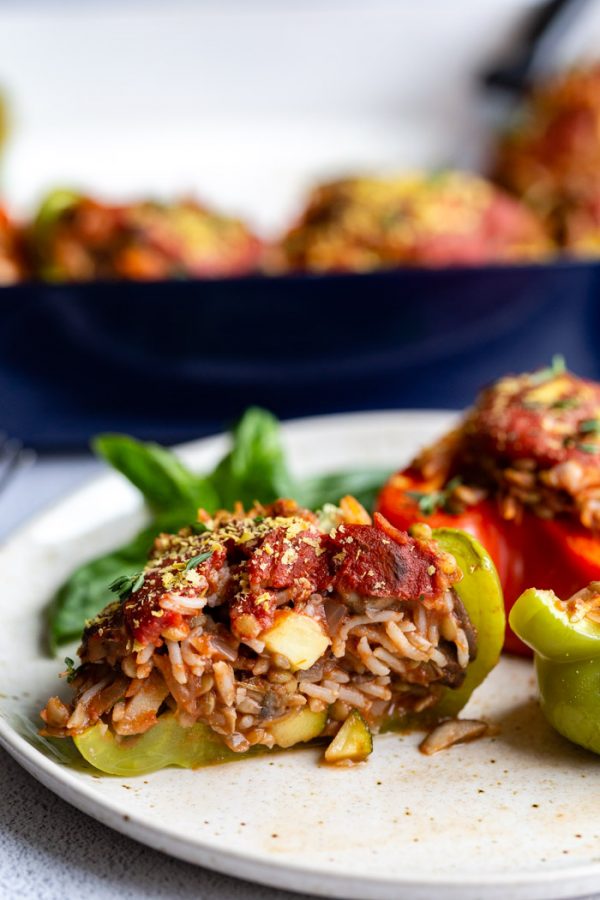 STUFFED BELL PEPPERS.
They're pretty easy to throw together (especially if you go the extra lazy route and use pre-cooked lentils and rice). They're fully vegan and vegetarian since I really wanted to create a good meat free version. MISSION ACCOMPLISHED!
The nice thing about these peppers is that they're very versatile. You can swap out the veggies if you want, use quinoa or brown rice in place of the white, and even swap the lentils for chickpeas or something like that. I'm always a fan of easily adaptable recipes so that you can use what you have on hand/ what you prefer best :D