This Easy Tofu Scramble is quick to throw together and such a fun and delicious breakfast for the tofu lovers of the world! 
Oh hey, Monday! Nice seeing your face again. We're on to another tofu recipe this week (can you tell that I'm on a huge tofu kick right now!?). This time it's an EASY Tofu Scramble!
Have you ever tried a tofu scramble? If you're not a big fan of tofu then maybe you just want to move on until the next recipe. BUT if you are a lover of tofu, like moi, you NEED to try this scramble out. It looks crazy similar to scramble eggs but I won't pretend that it was the same taste at all. The texture of this scramble is similar to a more dry scrambled egg but the flavor isn't close.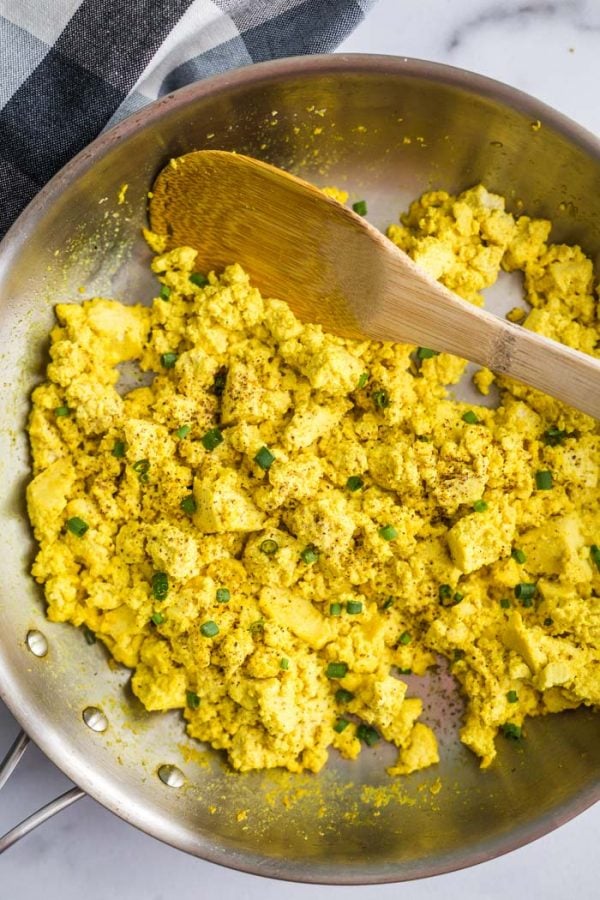 "Why is it yellow!?" was my first question the first time that I ever encountered a tofu scramble. I've seen people add mustard and other yellow things to their scramble to get that color. I went the extra easy route and just added about a 1/4 teaspoon of turmeric powder to mine. It's virtually tasteless, gives the tofu that fun egg-y color, AND it's good for you (at least that is what all of the food trend-setters are telling me these days)!
I have lots of fun recipes planned with the tofu scramble in the coming months. Think- vegan breakfast burritoes, veggie hashes, etc. GET EXCITED!