Dairy Free Creme Brulee
This post may contain affiliate links. Please read my disclosure policy.
This Dairy Free Creme Brulee recipe is made with coconut cream instead of heavy cream but it's still delicious and surprisingly easy to make at home!!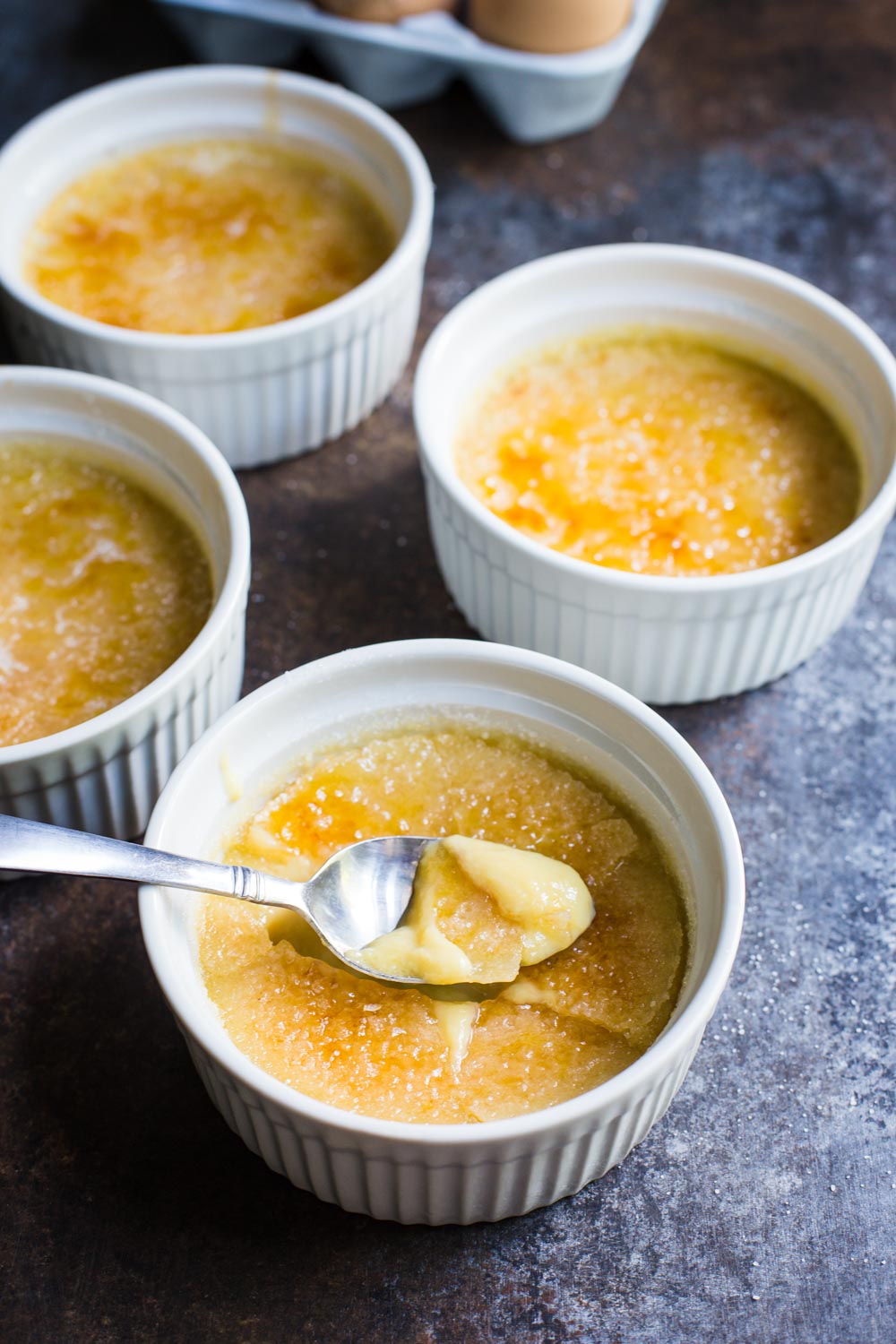 It's Friday which means celebrations are in order. I had a pretty busy week. I released TWO new videos (have you seen them yet?? Click HERE to watch :)) I'm having an absolute blast creating video.
If I'm being perfectly honest, I've been feeling a little bit stagnant with my blog the past couple months. I have still been enjoying it but I haven't had that same zeal and excitement about creating content as I usually do. Thankfully, shooting and editing these videos has 100% renewed all of that for me. I have watched HOURS and hours of food videos (which is really saying something considering each video is only about 1-2 minutes each) to watch and learn what other people are doing and which different styles I like.
I've also been getting a FLOOD of nice comments, shares, and questions about how my videos are made. Luckily, I'm so obsessed with the whole video process that I could talk about it ALL day long. I wonder what it is about a video that just totally engages people's attention and makes them want to comment and share 1000000% more than a beautiful food photo?
As I mentioned in my "Am I going vegan?" video, I'm sharing this Dairy Free Crème Brulee with you today! I'm in love with this creation SO much and am so pleased with how well it turned out. I had to try it out a few times at varying temperatures and times in the oven but I perfected!
If you've never made crème brulee at home, you're missing out! It's surprisingly easy. And, don't let the kitchen torch dissuade you either….they're super inexpensive and easy to use! I got mine as a gift but you can get them on Amazon for less than $20. And really, it's just super fun :) You'd be surprised the random uses you'll find for it (like making s'mores inside because you're too lazy to start an actual fire outside).
We start by warming the coconut cream together with the vanilla bean. Now, FULL disclosure here, I usually just use vanilla extract because…come on, vanilla beans are SO freakin' expensive. I reserve vanilla beans for special occasions and just use extract the rest of the time.
While that's doing its thing, the sugar and eggs are being creamed together.
The egg/ sugar mixture is then combined with the cream and vanilla mixture and then GUESS WHAT? The hard part is already done :)
Now all you need to do is pour the crème brulee mixture into 4 ramekins (you could also make one large crème brulee if you don't have the ramekins but you'll want to be more mindful of the cooking time as it may take longer).
And finally pour hot water into the pan so that it comes about halfway up the sides of the ramekins like so: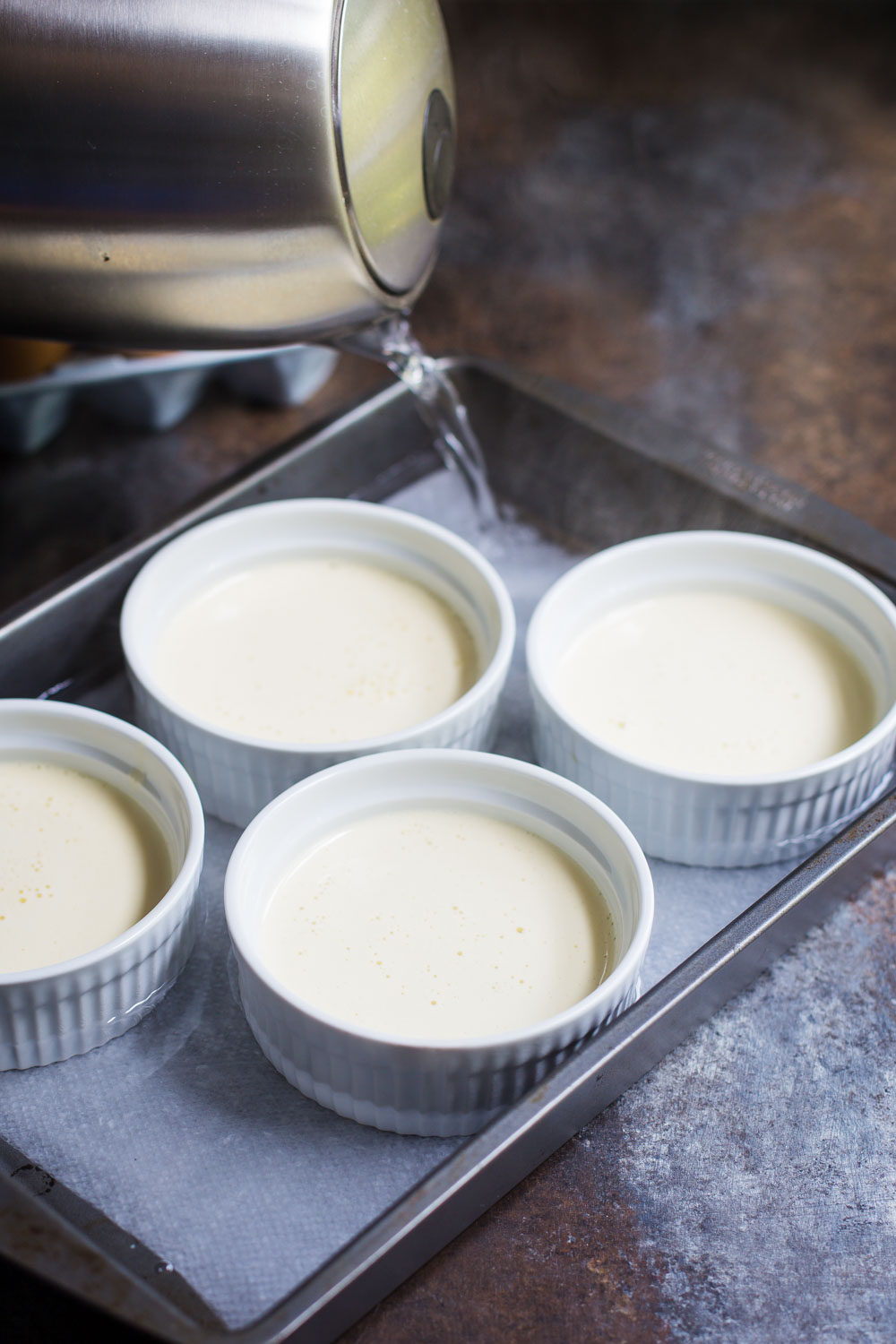 In case you're wondering, the paper towel is in the bottom of the dish to prevent the ramekins from slipping around while I'm moving the pan in and out of the oven. I've tried it before without the paper towel thinking that I could handle it, and I was wrong.
Now we bake it for a bit. The key here (and the thing that messes up many novice crème brulee makers) is that we don't want the mixture to completely solidify in the oven. You want it to still have a little bit of a jiggle to it when you take it out of the oven. ****From my experiences: Regular crème brulee (made with actual dairy cream) will harden some around the edges of the ramekin while the center will be jiggly. HOWEVER, this coconut cream crème brulee will have a slight jiggle all the way around it.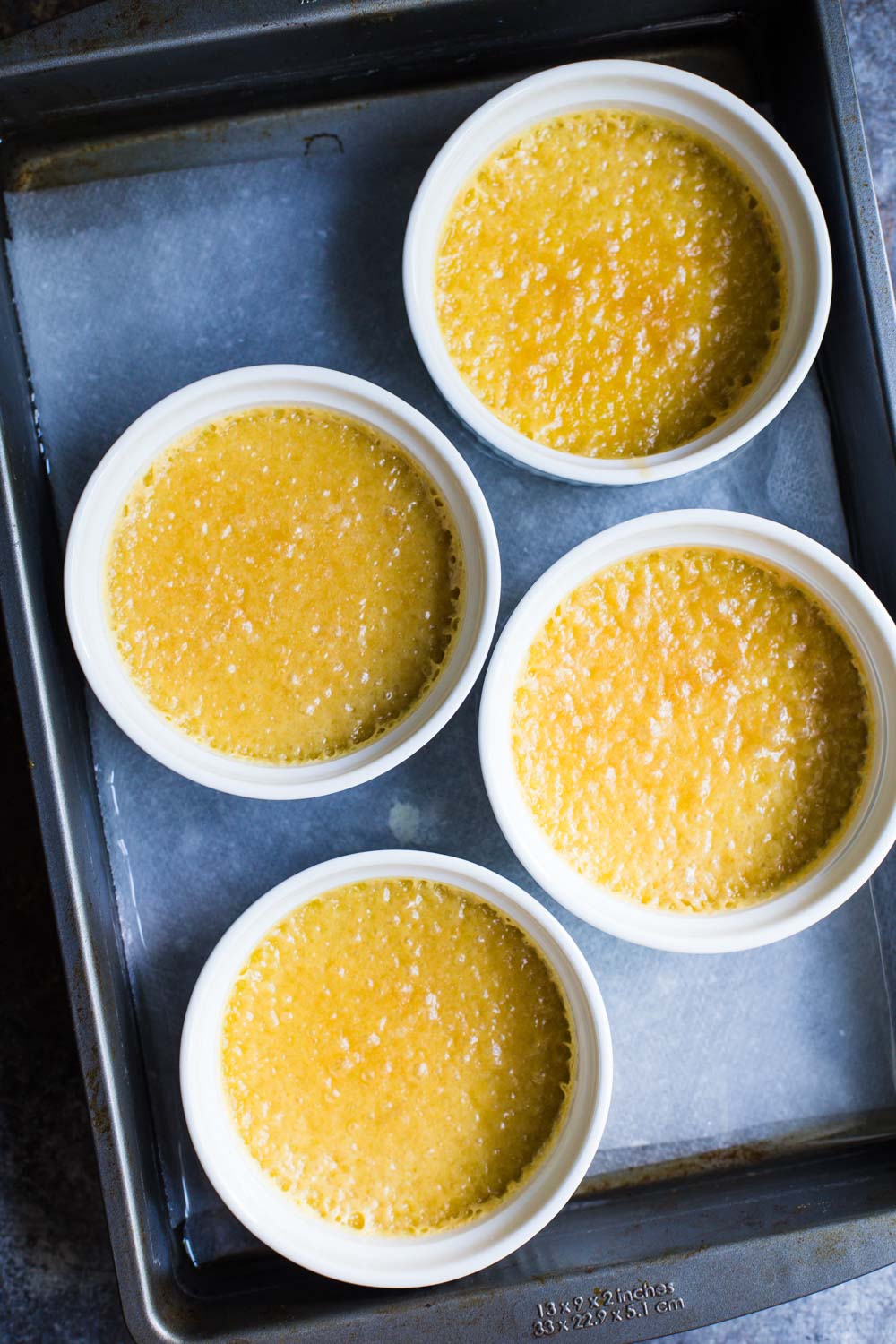 Once out of the oven, simply let the ramekins cool just enough that you're able to handle them. And now, the waiting part. Place the ramekins in the fridge for AT LEAST 3 hours. I have made this enough to know that it's much better if you make it the night before and let them sit in the fridge overnight. You can even make them a whole day before if you want. <<<<<<a huge reason that these are great for parties!
After their long rest in the fridge, we're going to cover the tops with a nice layer of sugar. I typically just pour the sugar in and then tilt the ramekin around to ensure that the sugar is even. You can also use a pastry brush to brush it around and make sure that it gets in all the corners (but, are there corners in a circular dish!?).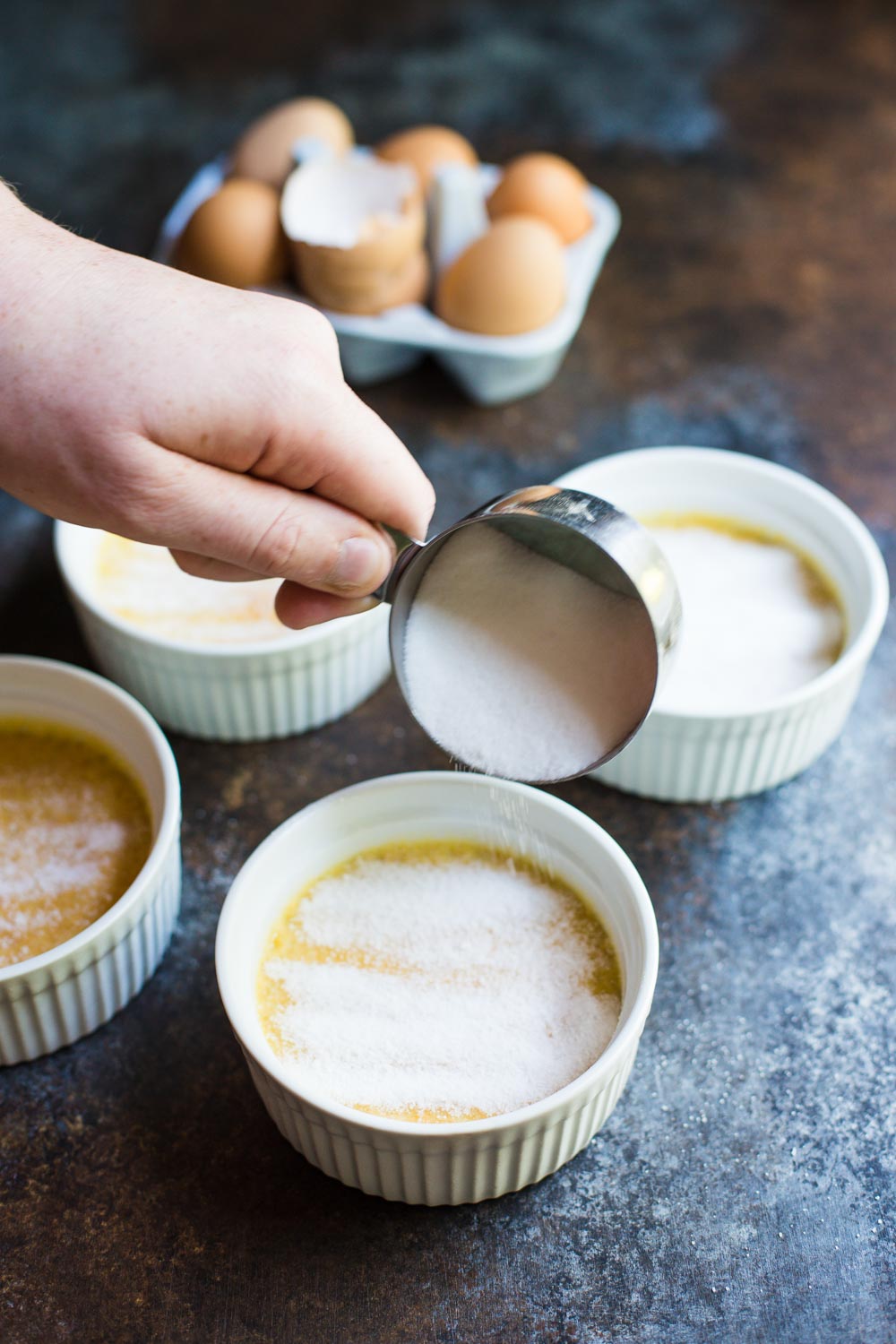 Now the FUN PART! Whipping out the kitchen torch :)
If you've never used a kitchen torch, it may take some getting used to. It seems to work best if you move the torch around a lot as opposed to focusing it in one area for a long time. I genuinely like when parts of the sugar are almost burnt but you can also just give it a nice even brownness. You'll want the torch on the medium-low setting.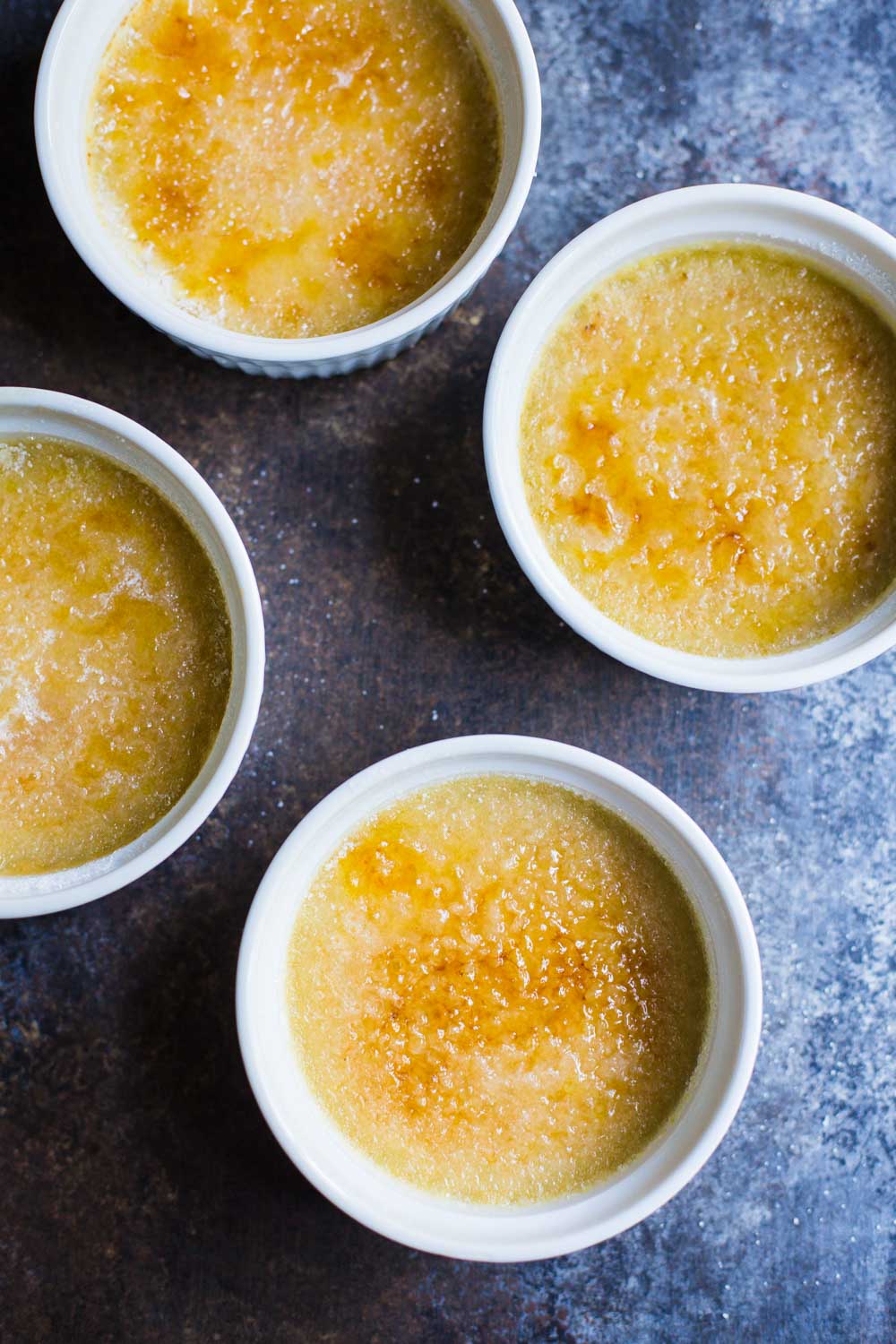 AND that's pretty much it. **These can last in the fridge for a couple days but once you've torched them, the tops won't stay nice and hard and crispy if you try and save them for later. So, don't torch the tops until you're ready to eat them!
If you try this recipe, PLEASE let me know how you like it by sending me a pic or message on facebook, snapchat, twitter, or Instagram. I can't tell you how happy it makes me to see people cooking my recipes :D
Happy weekend-ing, dear friends! I hope it's a good one!
Print
Dairy Free Creme Brulee
---
Author:

Total Time:

1 hour 5 minutes

Yield:

4

1

x
1

can of full fat coconut cream (not coconut milk!) liquid removed

3 teaspoons

of vanilla extract (can also use

1

vanilla bean)

2/3 cup

of sugar (can easily substitute this for

1 cup

of coconut sugar) + more for topping

4

egg yolks

2 quarts

of hot water
---
Instructions
Pre-heat oven to 325 degrees F.
In a medium saucepan, combine the coconut cream. It's okay if a tiny bit of the liquid gets into the pan but for the most part, you ONLY want the cream and not any of the liquid at the bottom of the can.
Stir in the vanilla extract and heat the pan over medium until it just starts to simmer. Once simmering, take off of heat, cover, and let for 15 minutes.
When the coconut cream mixture is nearly ready, cream together the egg yolks and the sugar using a stand mixer or hand mixer. Whisk until the yolks start to get lighter in color and the mixture is a bit fluffy.
While whisking, pour the coconut cream mixture into the egg mixture and stir to combine.
Prepare your baking tray by placing a couple paper towels into the bottom a baking tray with high sides (I used a 13×9 pan and it was perfect). This will prevent your ramekins from slipping while you carry the tray. See picture above if confused.
Place four ramekins into the baking tray and pour the crème brulee mixture evenly into the four ramekins.
Take your hot water and pour it into the tray so it fills it up HALF WAY up the side of the ramekins. Again, see picture above if confused. The water helps the crème brulee to cook more evenly.
Bake in the oven for 40-45 minutes. They're done once the top is solid but STILL has a good little bit of a jiggle to it…kind of like pudding.
Once out of the oven, let cool enough so that you can touch the ramekins with your hands. Place in the fridge for AT LEAST 3 hours but preferably over night. (they can sit in the fridge for up to 2 days).
When ready to serve, take out of the fridge and pour about 1-2 tablespoons onto the top of each crème brulee. Using a kitchen torch, torch the tops of each ramekin so that the sugar is fully crystalized and it has a nice deep golden brown color.
Serve immediately and ENJOY!!
Notes
These need to sit in the fridge for 3 hours or preferably over night.
Prep Time:

20 minutes

Cook Time:

45 minutes

Category:

Dessert
This post may contain affiliate links. Please read my disclosure policy.