A long journey home
This post may contain affiliate links. Please read my disclosure policy.
I love traveling, I really do, but the truth is that I'm a huge homebody and usually get more excited about getting back home than I did about the trip itself. What can I say, I just really love my bed and my dogs. Unfortunately it's impossible to take either of those things with me when I travel.
So, after our 2 week trip to England, you can imagine how excited I was to get back home. I actually changed our travel plans around a bit so that I could make it home in time for a weekend long derby boot camp that my team was having (a post on 'what is roller derby?!?' coming soon).
Unfortunately, US Airways and the Philadelphia airport had other plans. Sigh. And so, our trip home took twice as long and was twice as exhausting as it should have been.
Our morning in London started out on a positive note. We woke up early, bags already packed, got a nice breakfast and jumped in a taxi to the airport (didn't want to deal with lugging our luggage on the tube). Check in was as smooth as can be and it wasn't until we were through security that we saw our flight was delayed by over two hours due to the plane leaving Philly late. That was only the first of many travel upsets. On the positive side, I went shopping in the Hethrow airport and drank a few mimosas.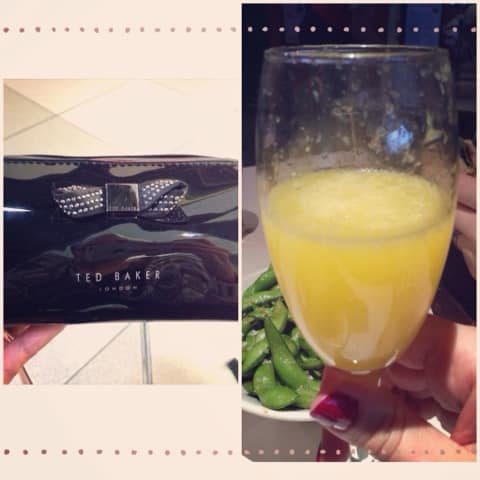 After I couldn't get the kindle app to work properly one iPad, I gave up and decided to buy a book in the airport to pass the time. That was one right thing I did as it greatly helped pass the nearly 48 hours it took us to get home. I've heard a lot of great things about this book (and now I know why). I haven't even finished it but I would highly recommend it already.
Okay, back to my long journey home. After a 3 hour delay, our flight to Philadelphia went smooth. As we had missed our connecting flight, there was a table right outside of our gate with pre-printed tickets for everyone with new flight information. Everyone except for us, that is. When we gave the lady our names she said "There's nothing for you, go ahead on". What?? Go ahead on where? We did it anyways and continued on to customs hoping more information would be given to us at that point. (Hint, it wasn't).
It took FORever to get our luggage and make it through customs and we somehow managed to get in ALL of the slowest lines possible. We weren't in a hurry to get anywhere as we missed our connecting flight and literally had no idea what was going to happen to us. But, standing in lines just sucks especially when you're tired and gross and as grumpy as I was.
We were directed to a bunch of different people who every time responded to us with "why did they send you to me?? You need to talk to so and so". UGH. Eventually we got things sorted out. I got the last seat on a direct flight to Nashville and Stephen later managed to get a seat via standby. Whew! We were going to get home THAT night. heh. wrong.
After waiting 3 hours at the airport, they packed us on the plane where we waited for about an hour for….some reason. Because of the hour wait, several members of the crew, including the pilot, maxed out their work hours and would be breaking labor laws if they continued on with the flight. And so, we all got off the plane, at a bit past midnight, and were given no information. Most people ended up having to sleep in the airport that night. Luckily we had already received a hotel voucher earlier that day before they managed to get us tickets on that flight.
To make this already long story short I'll tell you that we managed to get tickets from Philly to Charlotte and then to Nashville and even got to fly first class (score!). Both of those flights took off and landed on time and I could not have been more relieved.
I snuggled the crap out of my dog when we finally got home that night. SO much puppy cuddles. And then, I passed out.
This post may contain affiliate links. Please read my disclosure policy.