Accidental Online Shopping
This post may contain affiliate links. Please read my disclosure policy.
On Monday morning I pulled up my bloglovin' to peruse my favorite blogs in between trying to get real work done. Lacy over at Sunny + Turquoise posted about her lovely White Faux Fur Coat (it's pretty fabulous) which she got from Forever 21 at a ridiculously cheap price. She also mentioned that they were having a huge sale at the moment.
One thing led to another and next thing I know I've got 8 items in my cart (oops!). But damnit! It was just all SO cheap (50% off of already 50% off prices) and it was one of those moments where I just couldn't leave those lonely items sitting in some hypothetical warehouse somewhere out there.
I got these 4 shirts: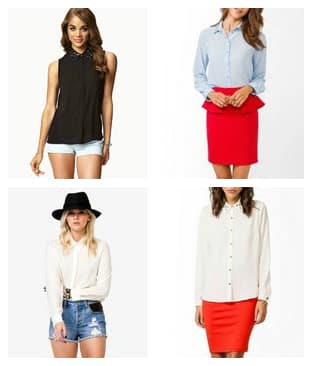 I know the quality of these pictures is rubbish and for that I apologize! I blame Forever 21's website.
The most expensive shirt of all of the above was merely $7.99. See, I told you there were some great deals. And I know that they have rather low quality but at that price, I'll be getting my moneys worth if I only wear each shirt a few times. And all of these shirts are now sold out so I'm not even going to bother trying to link them for you, sorry!
I'm excited to get these because it's basically what I wear every single day: A chiffon button down with a skirt and a blazer. Now I'll have some with a little bling! (in case you can't tell by the crappy pics, all of the above shirts have studs on the collars).
I got a few other odds and ends including a blingy belt that will be perfect for the 4th of July (random), a sweatshirt, and a few jewelry pieces including this (which wasn't on sale):
Don't you hate when items just fall into your shopping cart and then accidentally get charged to your debit card? :) Oh well.
TGIF!!
This post may contain affiliate links. Please read my disclosure policy.