3 Ingredient Sweet Potato Gnocchi
This post may contain affiliate links. Please read my disclosure policy.
If you're looking for a simple 3 INGREDIENT vegan dinner the look no further! This Sweet Potato Gnocchi comes together in no time and it's SO GOOD!
And if you like this recipe, check out my Spinach Gnocchi, and my Baked Gnocchi Casserole!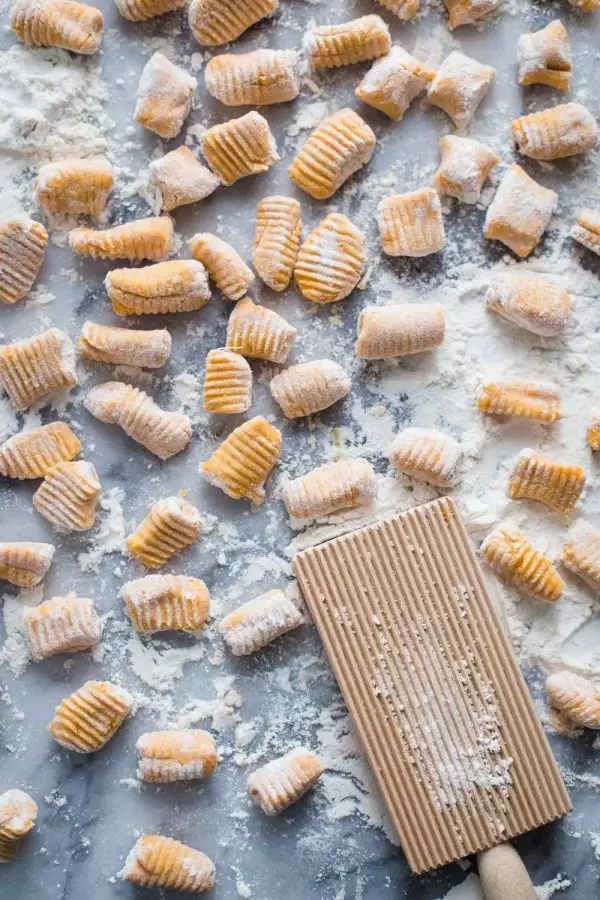 Today I'm revamping this old post of mine which has been going WILD on the blog lately! It's one of my all time favorite recipes as well so I'm glad that so many people have been making and loving it as well.
This is largely like traditional gnocchi except that we're using sweet potatoes instead of white potatoes. I also used a gluten free 1-1 flour BUT you can easily make this with plain all purpose or wheat flour
---
ORIGINAL POST:
I've wanted to make my own gnocchi for the longest time. Instead I've just been buying all the fresh gnocchi that I could find around town. I bought some really yummy gnocchi from a little pasta place here in Nashville called Nicolettos Pasta Co. and had an AMAZING bowl of sweet potato gnocchi at a Nashville Food Bloggers event at the Family Wash. But here I am with my very own HOMEMADE version!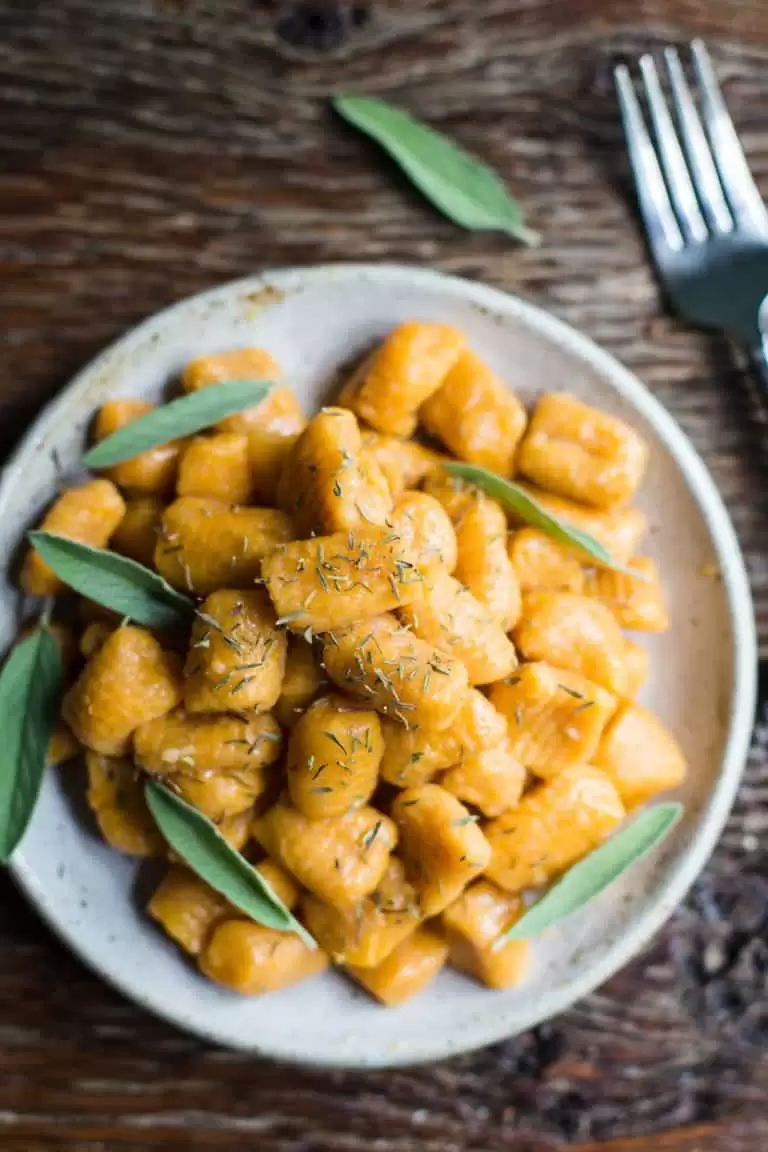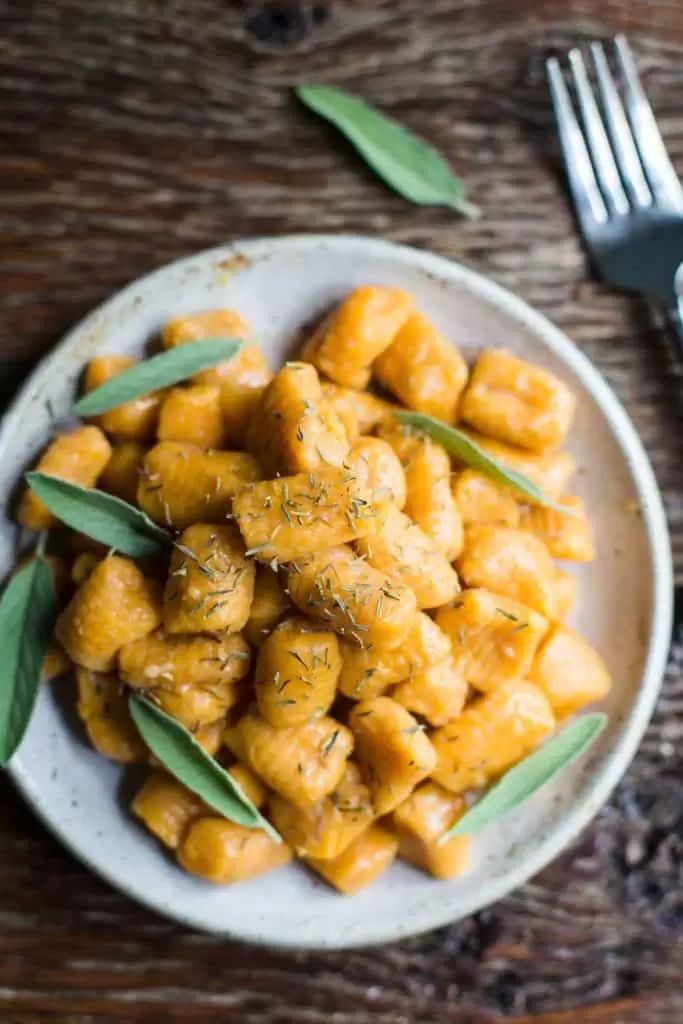 Sometimes people complicate it but making gnocchi is actually SUPER easy! I cut out all the extra ingredients that are sometimes added and kept this recipe super simple with only THREE ingredients: sweet potato, gluten free flour, and salt.
How to Make this Easy 3 Ingredient Sweet Potato Gnocchi
Here's how this works. The sweet potatoes are baked until they're fully cooked through and then left to sit until they're cool enough to hold. They're then mashed (the proper way to do this is to use a potato ricer) into a flour/ salt mixture. If you don't have a potato ricer, you can instead just mash the sweet potato in a large bowl with a fork. You just want to make sure that it very mashed with little to no lumps left in it.
Because there's really no other way to do it, the mixture is mushed together (we're using technical terms here) with your hands, flour being added when necessary, until a nice ball of dough is formed.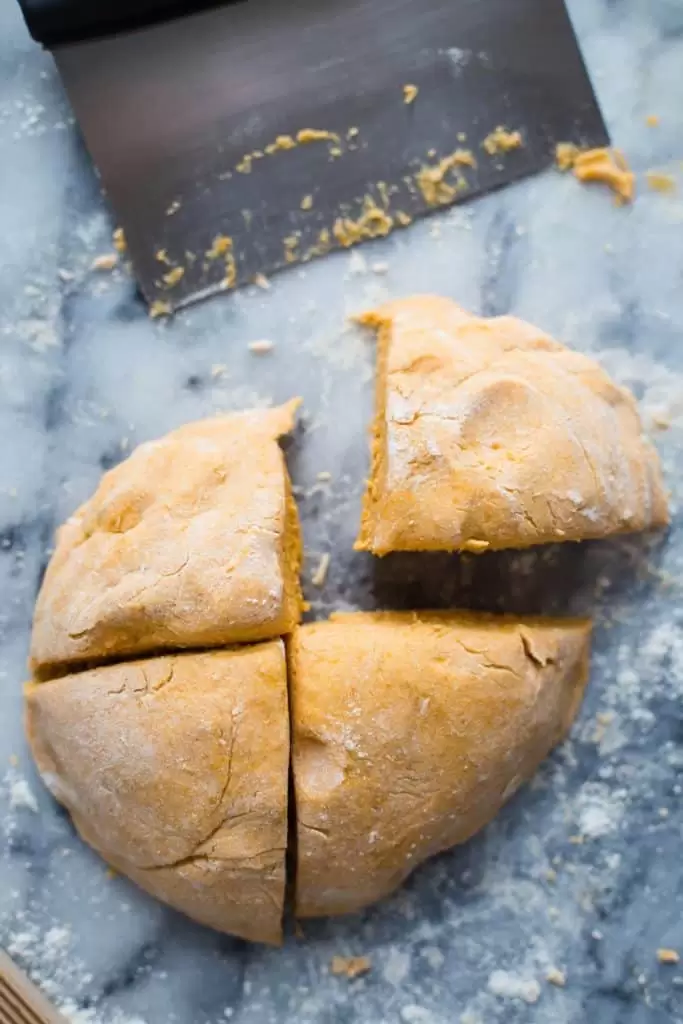 I cut mine into quarters and then eventually eighths just to make it all easier to work with. Then it's rolled into long pieces that are about half an inch thick and finally cut into little pieces about an inch long.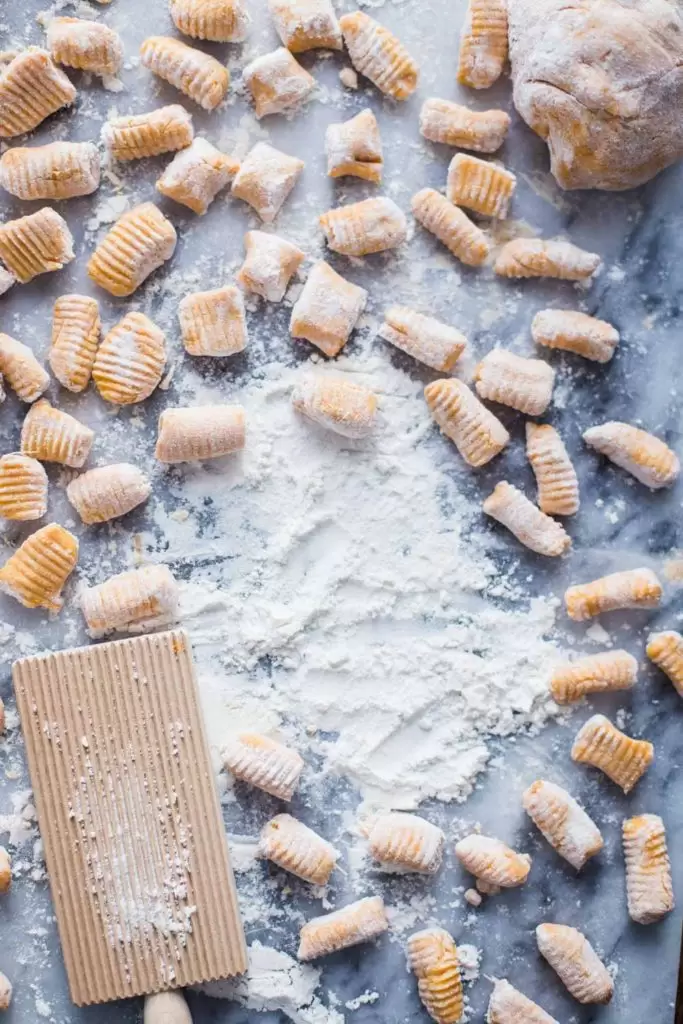 I've found that it's best to re-coat each individual piece of gnocchi in more flour which seems tedious but really only takes a few extra minutes.
I used one of these seemingly fancy gnocchi board because I wanted to be official but really it's not necessary. You could either create grooves with a fork OR not worry with them at all. The grooves are designed to trap in the flavor of whatever yummy sauce you toss your potato balls in.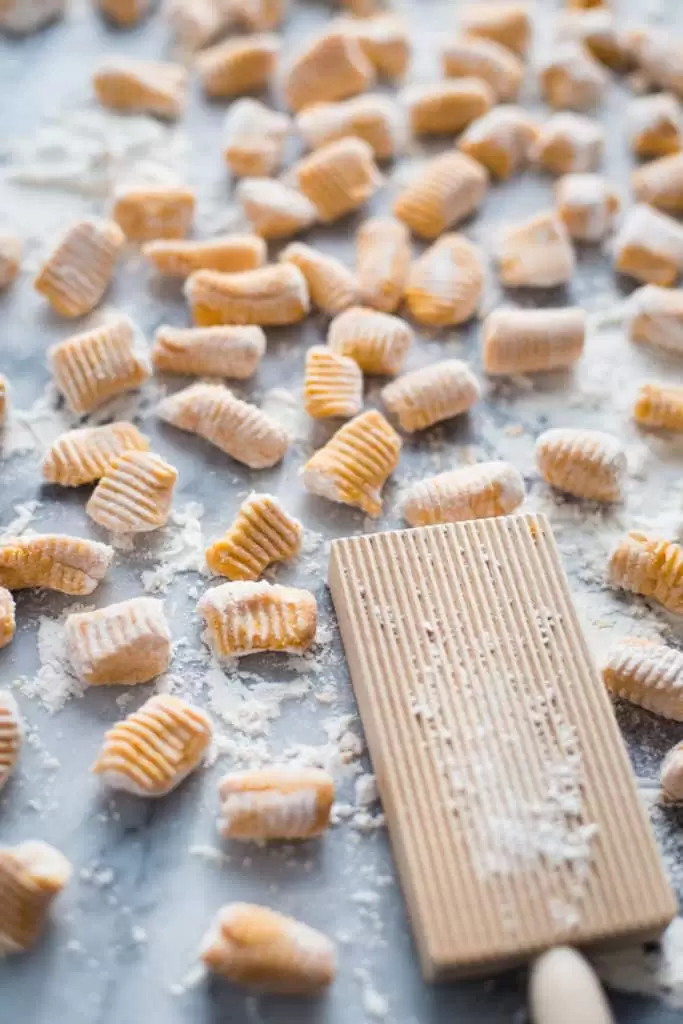 And you're pretty much done! The gnocchi can be cooked right away by tossing it in some boiling water for a few minutes and taking it out with a slotted spoon after it begins to float to the top. OR you can put it in the fridge or even the freezer to save for later. While you're at it, I suggest just making a big ole batch of it and saving some for a later, lazy dinner. Future you will be so happy that you did!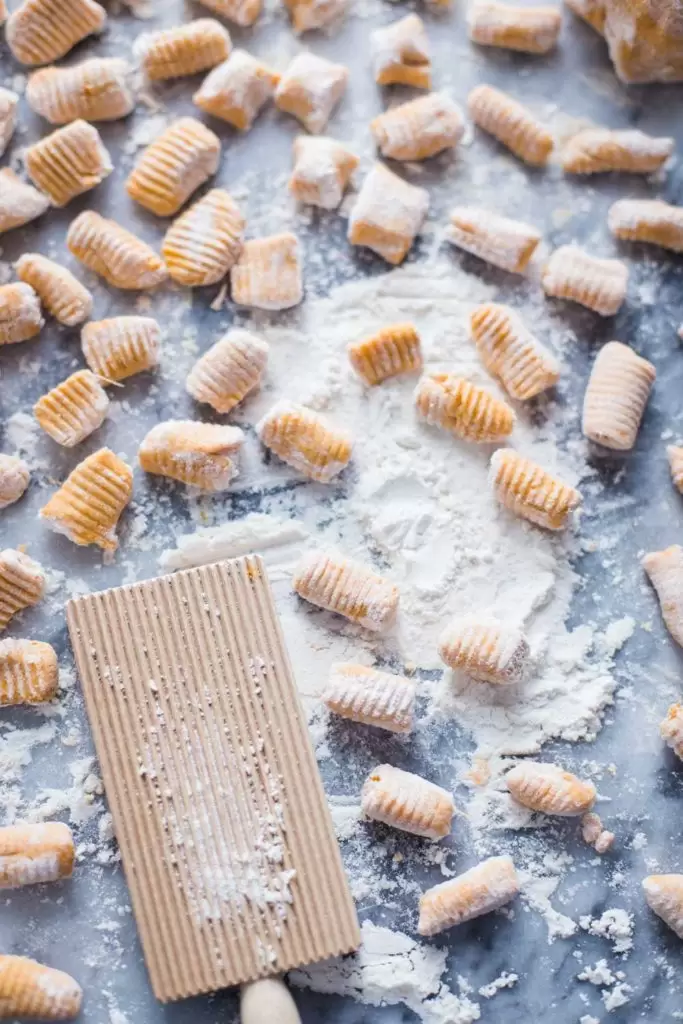 See how easy that is?! Again, I'm really not sure why gnocchi isn't a more popular dish. It's SO YUMMY!
Stephen likes his gnocchi with pasta sauce but I'm a fan of simply tossing it in a bit of melted oil or dairy free butter with a few fresh herbs and maybe a touch more salt and pepper. Mmmmmmmmmmm.
Do yourself a favor and make some gnocchi ASAP :)
See How To Make the Gnocchi:
Print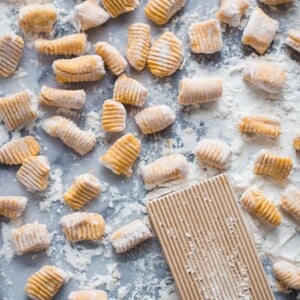 3 Ingredient Sweet Potato Gnocchi
---
Author:

Total Time:

1 hour

Yield:

2

-4

1

x

Diet:

Vegan
Description
Easy and delicious sweet potato gnocchi that comes together with just 3 ingredients and little time!
---
2

medium sweet potatoes

2 cups

of gluten free flour (all purpose flour will also work perfectly) + 1/2 a cup

2 teaspoons

of salt
---
Instructions
To make the gnocchi:
Preheat the oven to 400 degrees F. Poke a few holes in the sweet potatoes with a fork, and then bake them for 40-50 minutes or until tender. You'll know they're done when a fork can be pressed into the center rather easily. Set aside to let cool enough for you to handle them easily.
Combine the salt and 2 cups of the flour. Flour a work surface and pour your flour mixture onto the surface. Make a well in the middle of the flour.
Once the sweet potatoes are cool enough to handle, remove the skin and place them, one at a time, into the potato ricer.* Rice both of the potatoes right on top of the flour.
Once all of the potato has been riced, flour your hands and begin working the sweet potato into the flour. Continue to work the mixture until it's fully combined. You don't want the dough to be sticky so keep adding flour until you get a nice dry dough. This *could* take a decent bit of extra flour if your potatoes were on the larger side.
Once fully combined, roll the dough into a ball and cut it into eight even pieces. Roll each piece into a long log that's about 1/2 an inch thick. Cut pieces the gnocchi into 1 inch pieces. Gently toss each piece into flour to ensure that it's dry and not sticky at any edges. Continue until you've cut out pieces from all of the dough.
Optional: using a gnocchi board or fork, press grooves into each piece of gnocchi.
The gnocchi can be stored in the fridge for 3 days, the freeze for a few weeks, or cooked right away.
To cook the gnocchi:
Heat a pot of salted water to a boil. Add in the gnocchi and let cook for a couple minutes. Once the gnocchi floats to the surface of the water, let it boil for 30 more seconds and then remove it from the water using a slotted spoon.
Toss in your favorite sauce (I like toss mine in a bit of dairy free butter and fresh herbs) and ENJOY!
Notes
*If you don't have a potato ricer, you can simple mash the potatoes in a large bowl with a fork. You just want to be sure to get them nice and mashed with little to no lumps in it.
Prep Time:

20 minutes

Cook Time:

40 minutes

Category:

dinner

Method:

stove

Cuisine:

american
Keywords: sweet potato recipe, vegan recipe, italian recipe
This post may contain affiliate links. Please read my disclosure policy.