Chocolate Chip Vegan Muffins
This week has been a STRUGGLE. Just one of those weeks, ya know? The kind of week where you're late for work even though you left the house a whole 30 minutes early. And the kind of week where you smash your nose on the door to the chicken coop because you insisted on carrying all of the eggs in one hand while simultaneously trying to close the door. It's also the kind of week where you reluctantly stop at the store on the way home only to absentmindedly walk off and get all the way home before realizing you left a bag at the store container the ingredients for dinner. Yup. One of those weeks.
It's like February has come early. That dreary month that's in between the excitement of the new year and my birthday.
But, the weekend's here so I think I'll make it through the week after all. Plus, on the weekend there's muffins and chocolate chip VEGAN muffins make everything okay.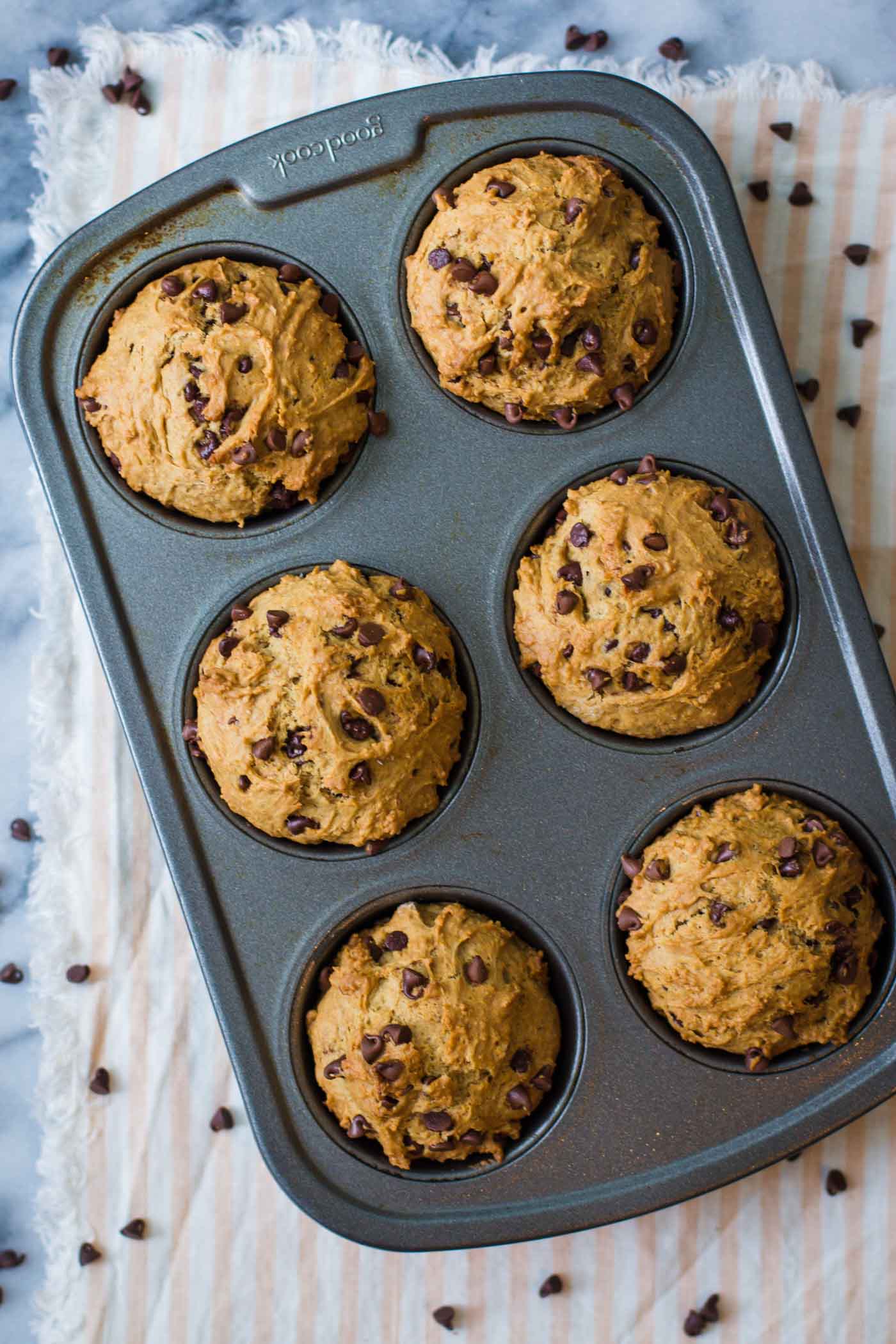 This recipe took me about 100 times to perfect. Well, at least 6 times. I take that back. These muffins took ONE time to perfect and then an additional 5 times to recreate. That's what I get for not writing things down when recipe testing. But here we are, back at a vegan muffins recipe that results in beautifully plump and delicious;y moist little chocolate chip muffins.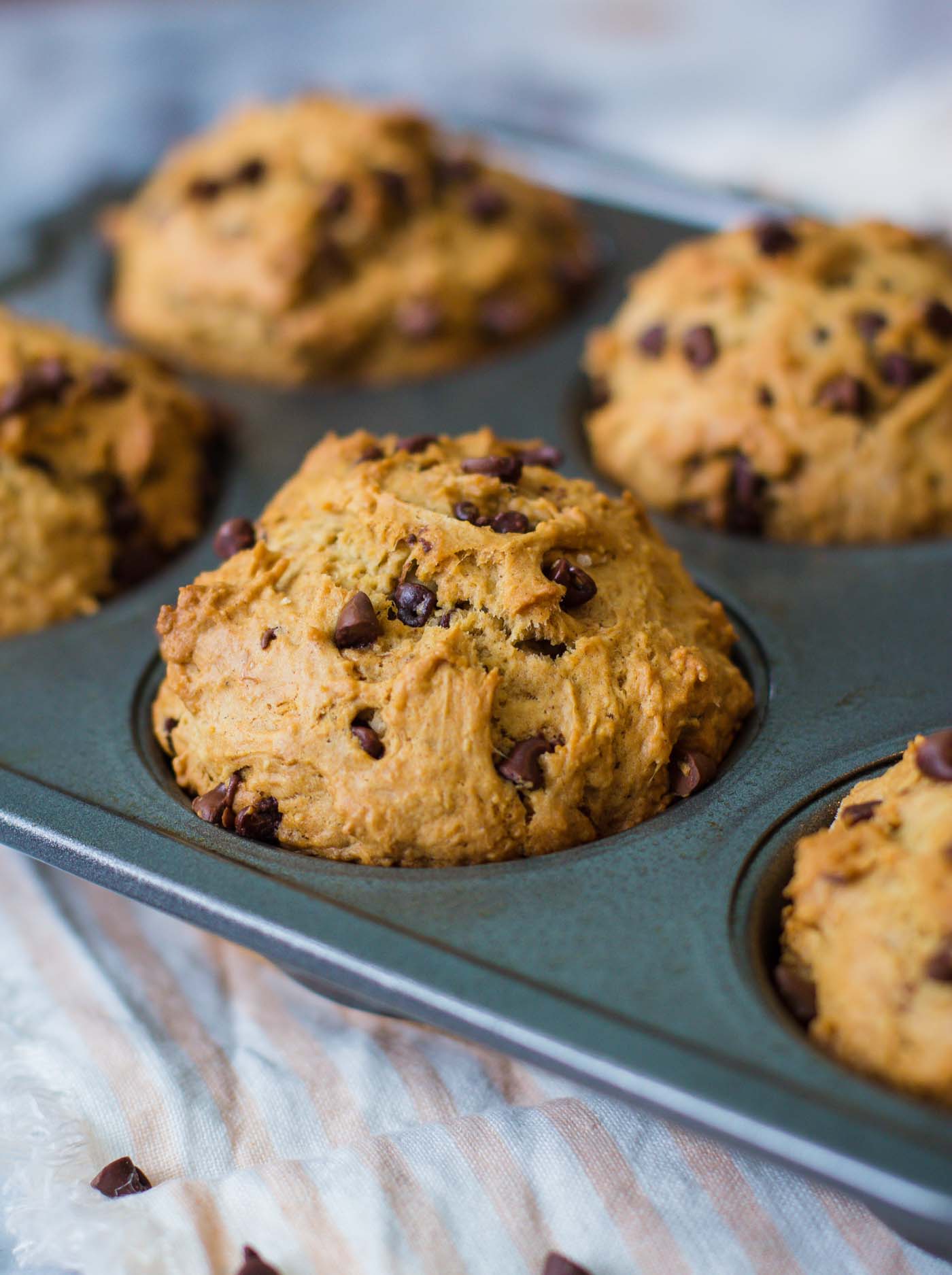 Bonus: these muffins are ridicuously easy to make. Basically just mix everything together in a big bowl and then bake it in muffin tins.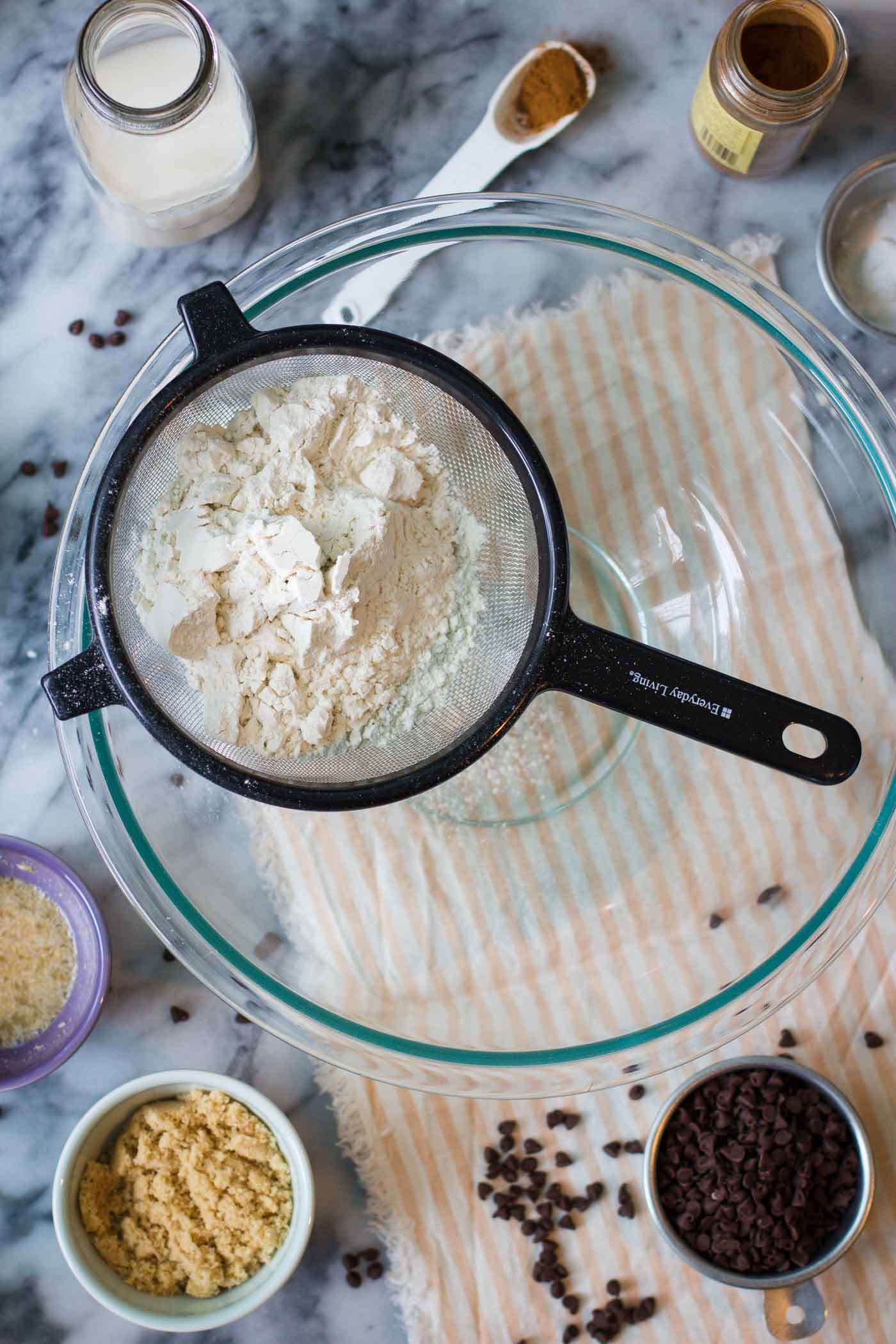 I typically sift together the dry ingredients first. Because ya know, that's the proper baker thing to do (right?).
Then the wet ingredients….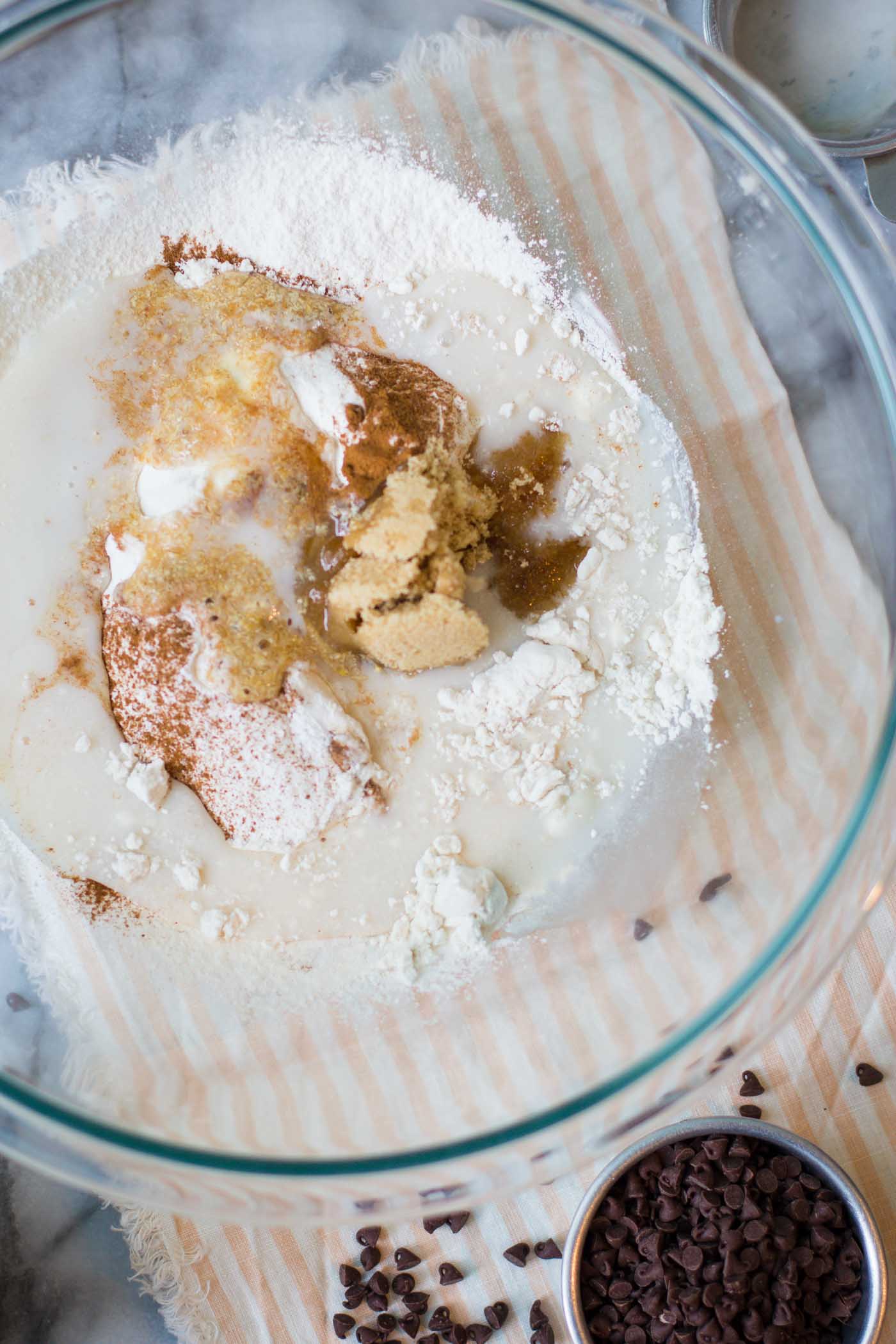 OH and the chocolate chips! duh. I went for mini chocolate chips.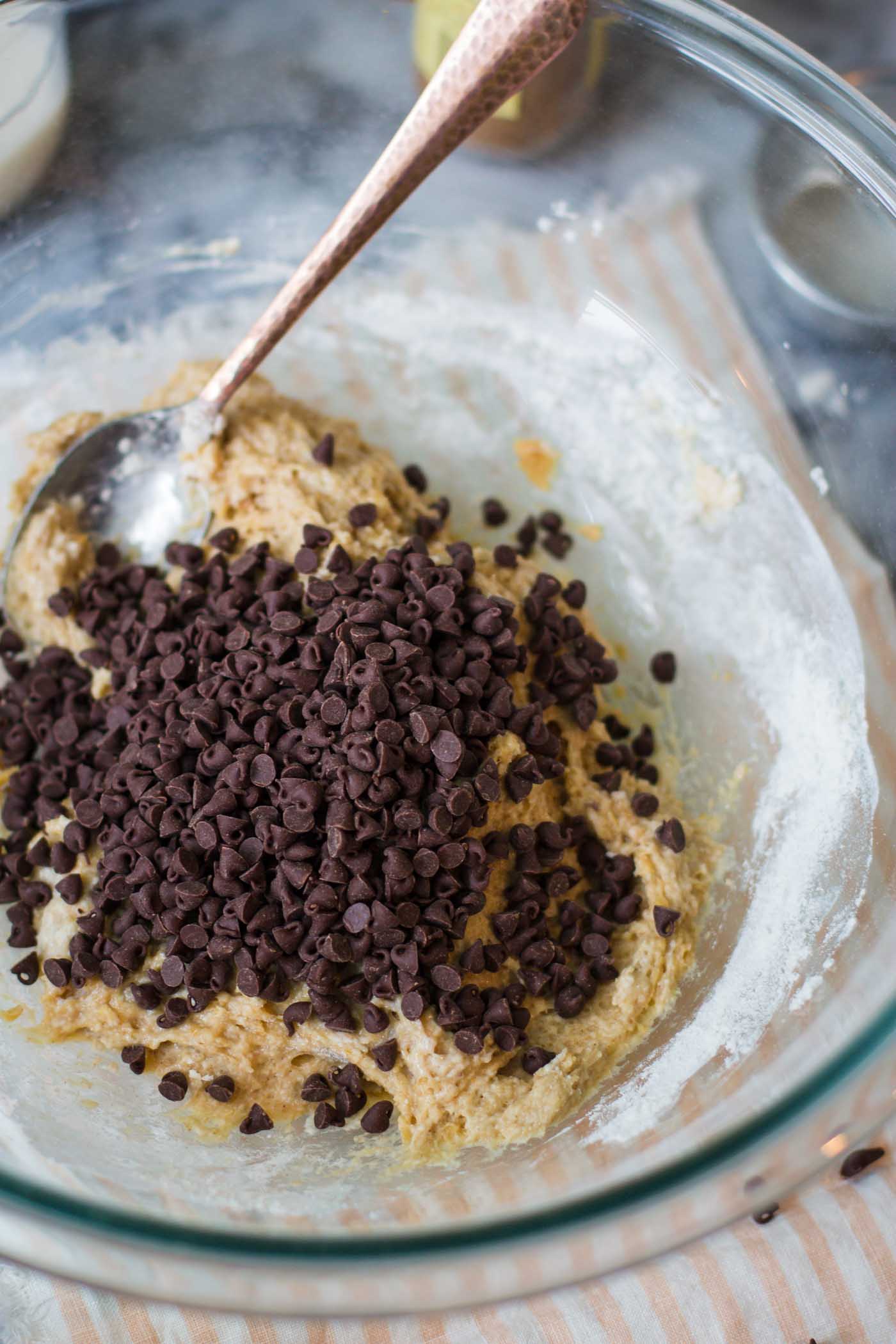 The batter is then evenly distributed among the muffin tin cups and placed in the oven to bake for about 20 minutes.
It's just enough time to brew a new pot of coffee and clean the dishes have a quick kitten cuddle.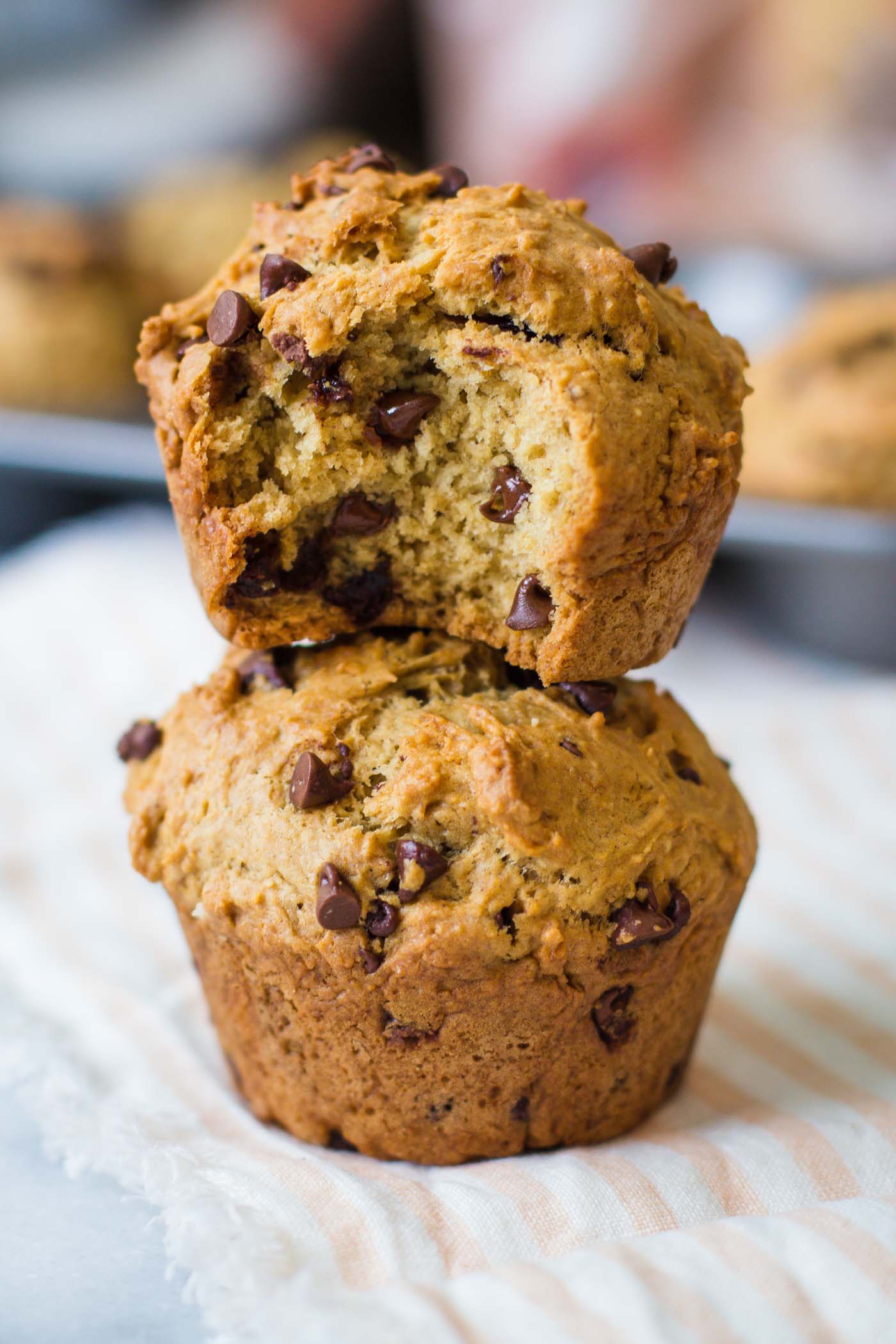 I'm going to do my best to relax this weekend and prepare to make next week much better than this one was. Have a lovely weekend (and make some of these muffins for REALS!).

B. Britnell
Yields 6
Chocolate Chip Vegan Muffins
5 minPrep Time
25 minCook Time
30 minTotal Time
Ingredients
1 cup of flour
1/2 teaspoon of baking soda
1 teaspoon of baking powder
pinch of salt
1/2 teaspoon of cinnamon
5 tablespoons of brown sugar
1/2 cup of almond milk
3 tablespoons of nut butter- I used peanut butter this time but have also made these with almond butter
1 teaspoon of vanilla extract
Instructions
Pre-heat oven to 350 degrees F. Grease a 6 cup muffin tin.
Sift together the flour, baking soda, baking powder, salt, and cinnamon. Stir in the brown sugar.
Stir in the milk, nut butter, vanilla extract, egg substitute. Stir until well combined.
Gently stir in the chocolate chips.
Evenly spoon the mixture into the 6 muffin cups.
Top with a few more chocolate chips if desired.
Bake in oven for 20-25 minutes or until golden brown.
Let cool slightly and ENJOY!!
7.6.7
145
https://foodwithfeeling.com/vegan-muffins/