Almond Butter Chocolate Chip Cookie Bars
This post may contain affiliate links. Please read my disclosure policy.
Almond Butter Chocolate Chip Cookie Bars first thing in the morning? Yes, please! Forget your diet for today, we're doing this.
One of my chickens has started doing this ridiculously cute thing where she stands on my foot and will stay there while I walk or lift my leg up. It's weird and adorable and I snapchatted it so you can see. :D My snapchat is @bbritnell or you can click here if you're on mobile.
In other relevant news, these Almond Butter Chocolate Chip Cookie Bars!
You know what makes losing weight really hard? Deciding that you're going to post a bunch of dessert recipes on your blog, all of which need to be tested and then made again to photograph. It's a very (very) hard life that I live. I've just been in a dessert kind of mood lately (hence why I could afford to lose a couple pounds). But, it's okay to have a cookie bar or two when your breakfast was a green smoothie and your lunch is a ton of root veggies.
These Almond Butter Chocolate Chip Cookie Bars are super gooey and obviously very delicious. As per the usual these days, they're vegan. People have started to ask me with great suspect if I'm going vegan now. I plan to discuss it in an upcoming video :)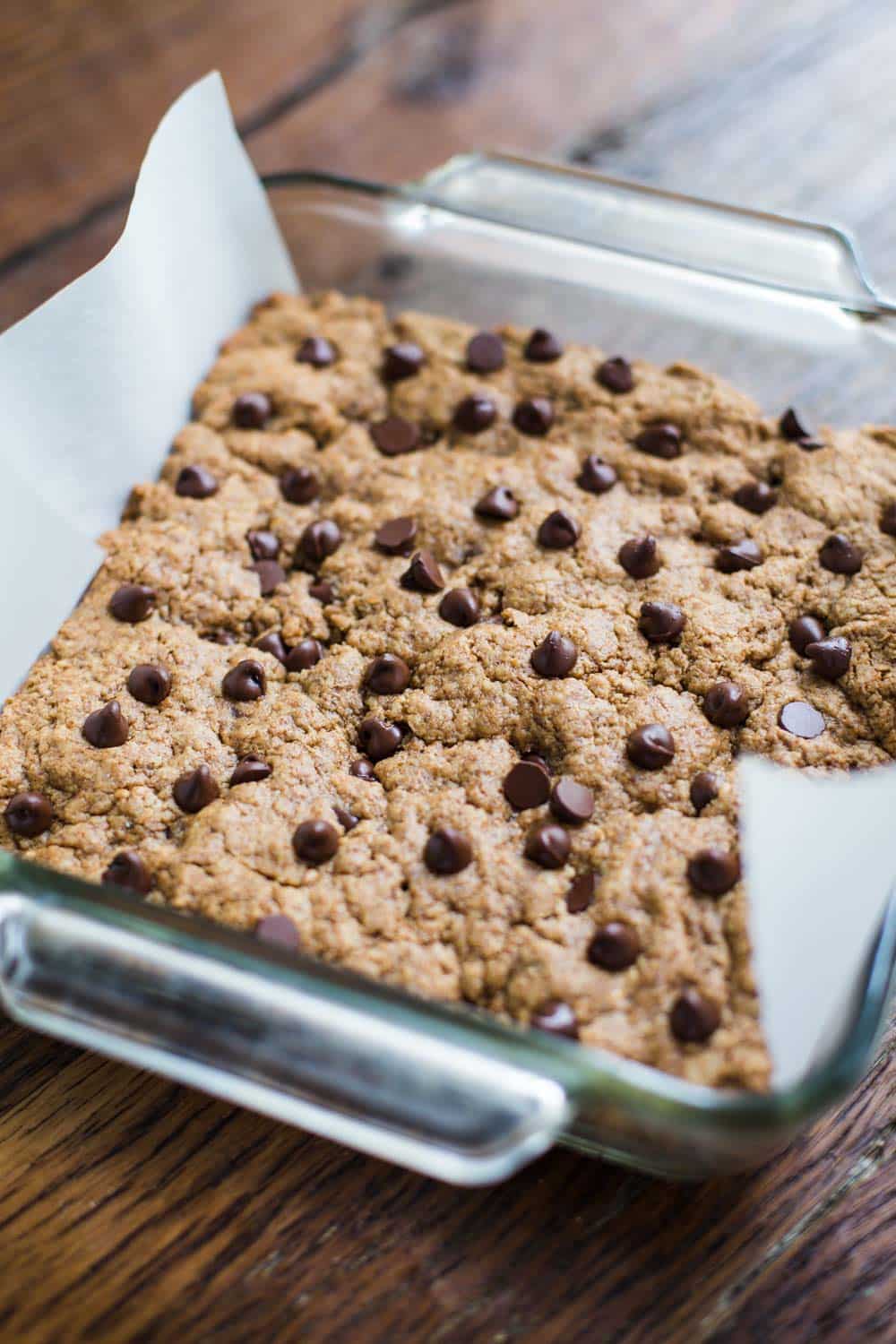 But yea, these bars. They're pretty amazing. They're dense and chocolaty and easy to justify as both breakfast and dessert (or at least if you're me it is).
These bars come together in the typical cookie fashion. The wet ingredients mixed together and then the dry ingredients before they all make friends in the same big bowl. Chocolate chips are stirred in (after a handful of them are eaten to ensure that the chocolate chips are still good).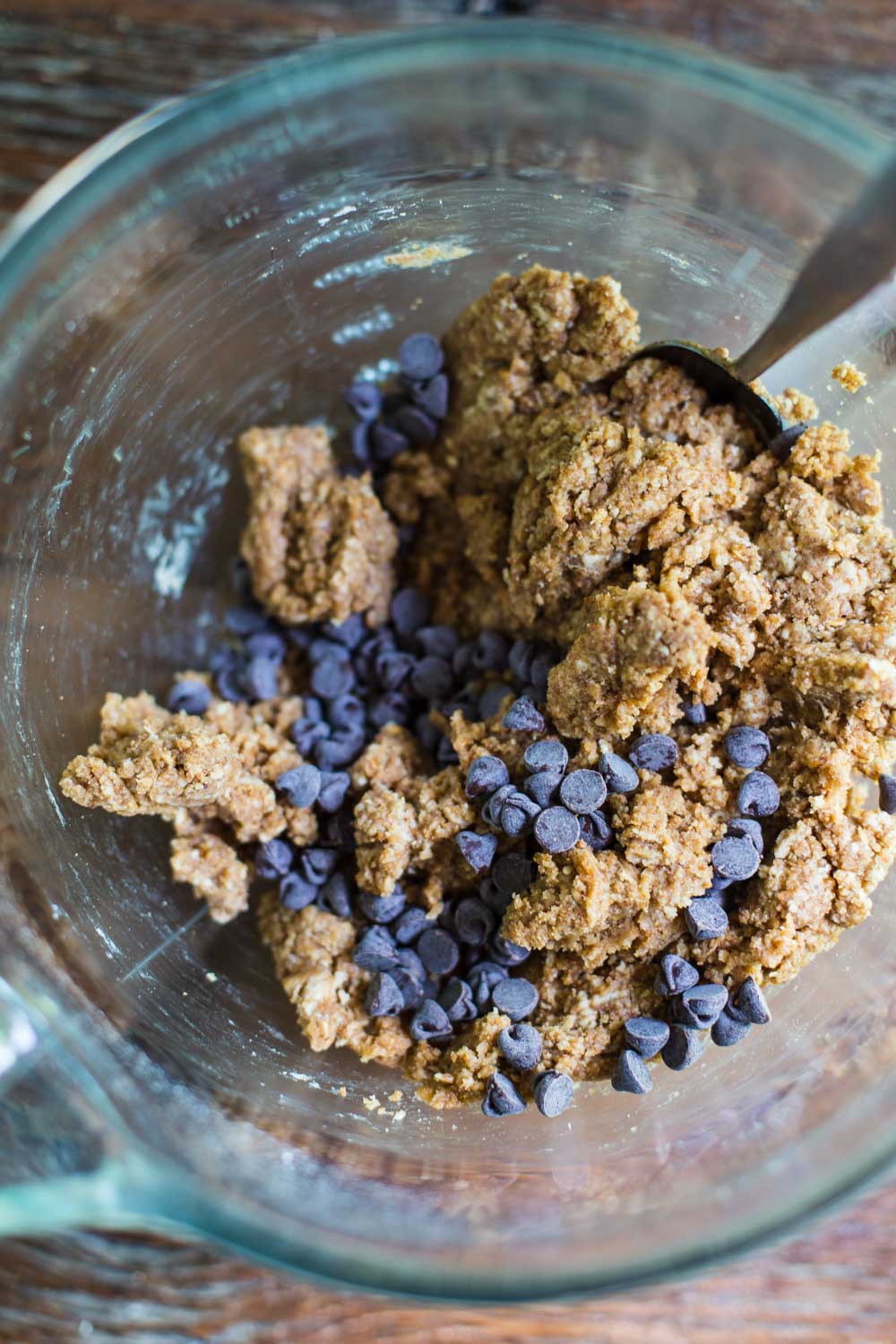 The difference with bars (as opposed to cookies) is that we don't have to get our hands (too) dirty. Just plop all of the dough into a square dish and gently pat it all done to make sure it's even. And then bake. EASY! We like easy.
Pro-tip: right before putting the dish in the oven, sprinkle a generous handful of the chocolate chips on top of the cookie bars. Not only does it add an extra dose of chocolaty goodness but it also looks MUCH prettier :)
I know from lots of experience that these bars are best enjoyed immediately. I mean, fresh out of the oven you might burn your tongue a little but it's okay because they're SO good.
That's it for today. Go make these bars asap! Happy hump day, friends!! :D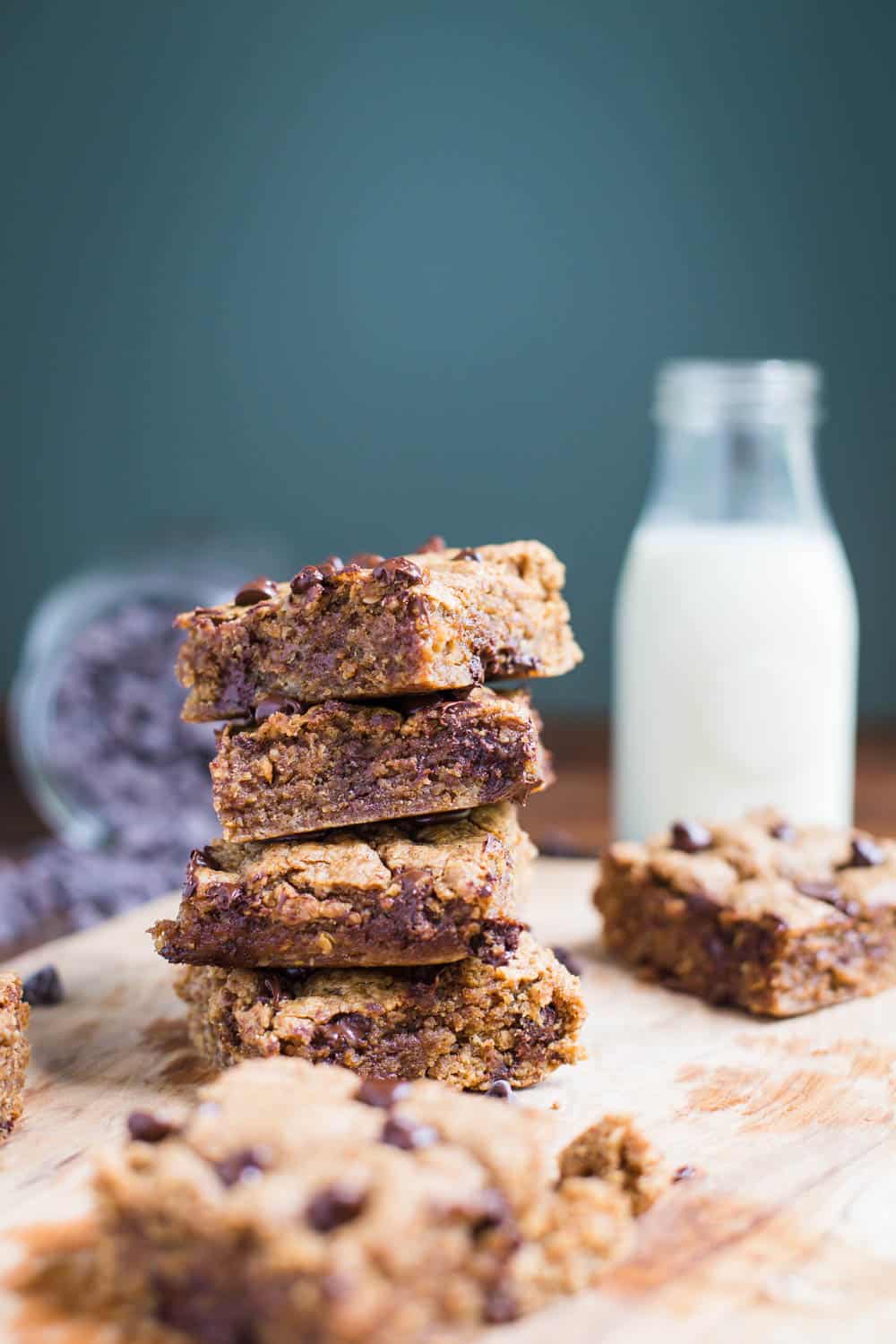 Print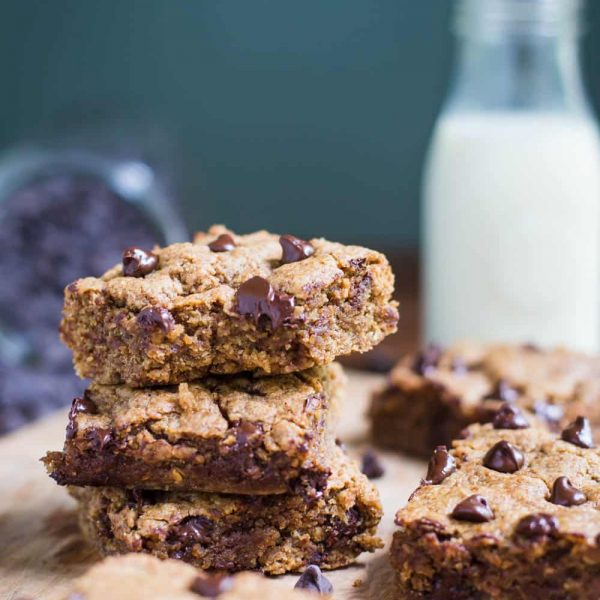 Almond Butter Chocolate Chip Cookie Bars
---
Author:

Total Time:

30 minutes

Yield:

9

bars

1

x
1 1/2 cups

of all-purpose flour (can also use

1

–

1

gluten free flour)

1 1/2 teaspoons

of baking powder
pinch of salt

1 tablespoon

of vanilla extract

1 cup

of almond butter

1 cup

of coconut sugar

1/4 cup

of almond milk (can be vanilla, I used unsweetened almond/ coco milk), plus a bit more if needed

1/2 cup

of vegan chocolate chips, plus more for topping if desired
---
Instructions
Pre-heat the oven to 350 degrees F and prepare a square baking dish by generously greasing it OR by lining it with parchment paper.
In a medium bowl, sift together the flour, baking powder, and salt.
In a stand mixer or large bowl (with a hand mixer), cream together the vanilla, almond butter, almond milk, and coconut sugar until light and fluffy. This will take about 60 seconds. If your almond butter is a bit dryer (like sometimes happens at the bottom of the jar) add in an additional 2-3 tablespoons of almond milk.
Add the flour mixture into the large bowl with the wet ingredients. Stir (or beat) to combine until the ingredients are just incorporated but being sure not to over mix. The dough is ready when it starts to form one large clump in the bowl.
Add in the chocolate chips and gently stir to combine.
Pour the dough into your prepared baking dish and pat down into the pan gently to ensure that it's even and lightly packed in. Optional: sprinkle the top with a bit more chocolate chips (highly recommended!! :))
For extra gooey bars, bake for 20-25 minutes. For bars that are a bit drier, bake for 25-30 minutes.
Once done, let cool slightly and ENJOY!!
Prep Time:

5 minutes

Cook Time:

25 minutes

Category:

dessert
This post may contain affiliate links. Please read my disclosure policy.