Easy Creamy Lentil Soup
This post may contain affiliate links. Please read my disclosure policy.
Oh hey, Friday!! I'm so very glad to see you again. This weekend bring with it the beginning of my BIRTHDAY week.
I've honestly never been one to make a big deal of my birthday. I'm that person that for the longest time didn't have my birthday on facebook because…I don't know why really. I think posting all about my personal life on this here blog has brought me out of my shell a lot the past few years. SO THIS YEAR we're celebrating birthday WEEK which actually spans for 9 days, but who's counting really.
I've made reservations at quite a few different restaurants in Nashville ALL of which I've never been to but and all of which I've been dying to try for a long time. SUPER excited. We're eating dinner out every single day next week and will then be spending the weekend in a cabin where we plan to do pretty much nothing but eat. I clearly live a hard life.
I plan to snapchat the hell out of my culinary adventures next week SO if you want to see ALL the food that I'm consuming, follow me on snapchat! @bbritnell. I might even do a whole post about it all but we'll see if I actually manage to take any good pictures in between all of the eating.
OH, it's also worth noting that this birthday marks the beginning of the end of my 20s. I'm not sure how I feel about that. Alternatively I could just look at it as this being the first year, of many years, that I'll turn 29.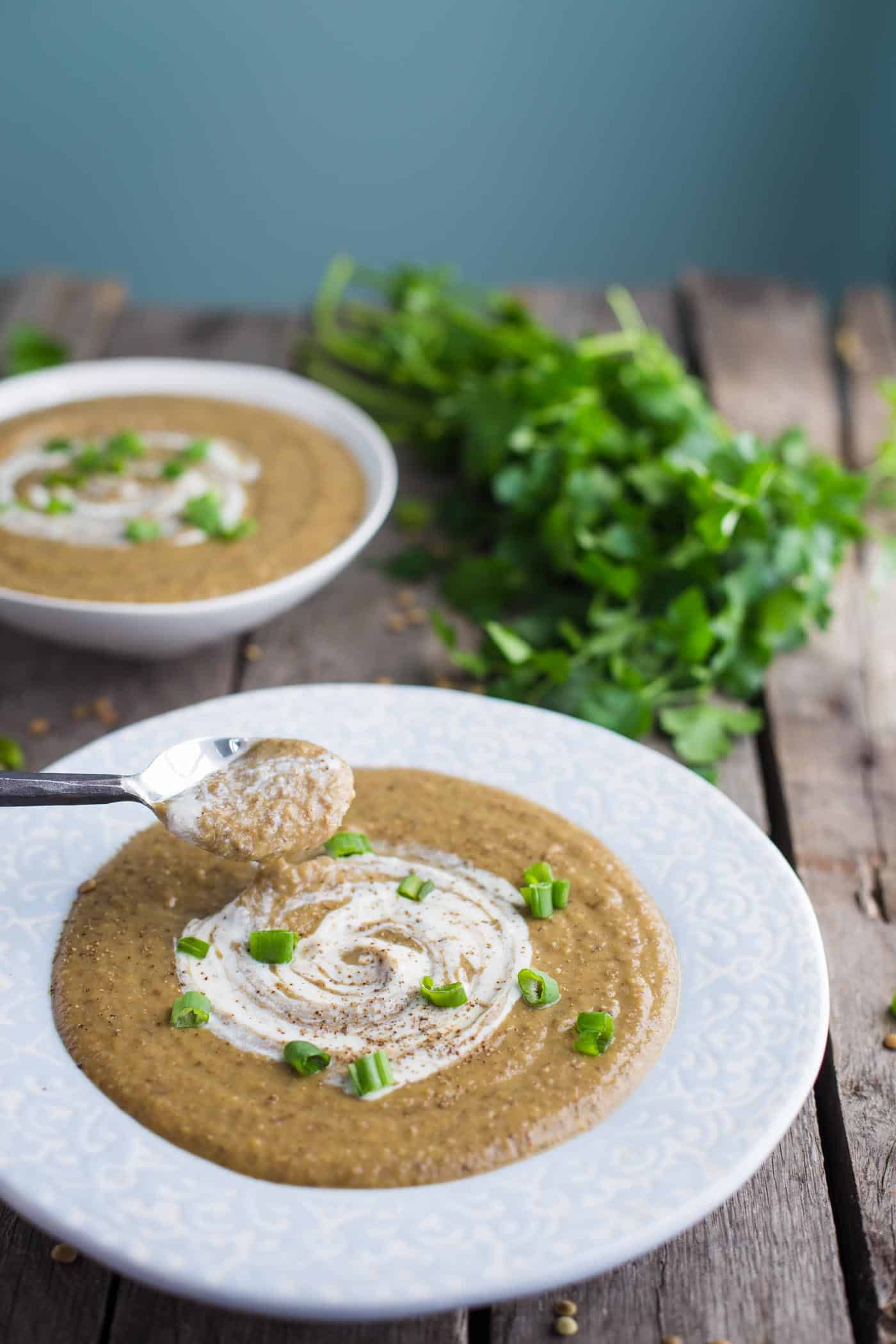 Today I'm bringing you a recipe that is quite possible the most unattractive recipe on my blog while simultaneously being one of the tastiest recipes on my blog. Stephen was sitting next to me on the couch while I was editing these photos and he had some…fun descriptors for this soup.
This Easy Creamy Lentil Soup is all about comfort. It's full of veggies, VEGAN, and yet still SUPER filling and tasty. Coincidentally, the day that I cooked this to photograph it happened to also be the warmest day of the year. I'm in the camp of people who love soup no matter what time of year it is.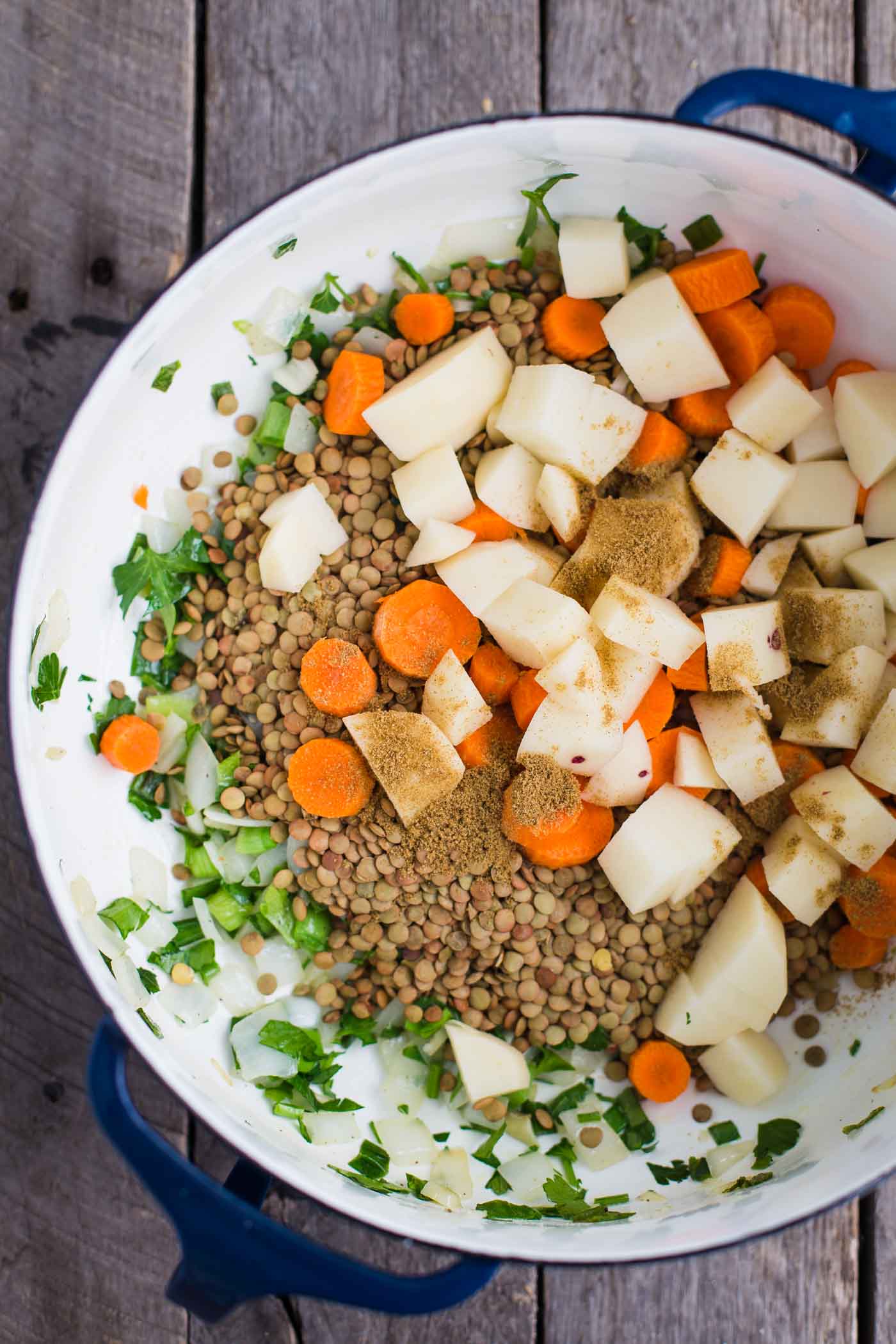 This soup goes something like all of my soups go: sauté some veggies in a big pot and then add in more veggies, the lentils, and a bunch of broth.
The picture on the left is right when I added the broth while the picture on the right is after it has all simmered down for a good half an hour. The veggies and the lentils soaked up ALL of the yummy broth.
This soup can be eaten chunky style as seen in the photo above. OR, you can puree it like I did. The pureeing is what causes the soup to look…not so purty. BUT it's SO tasty (I promise!!) and I'm a big fan of creamy soups.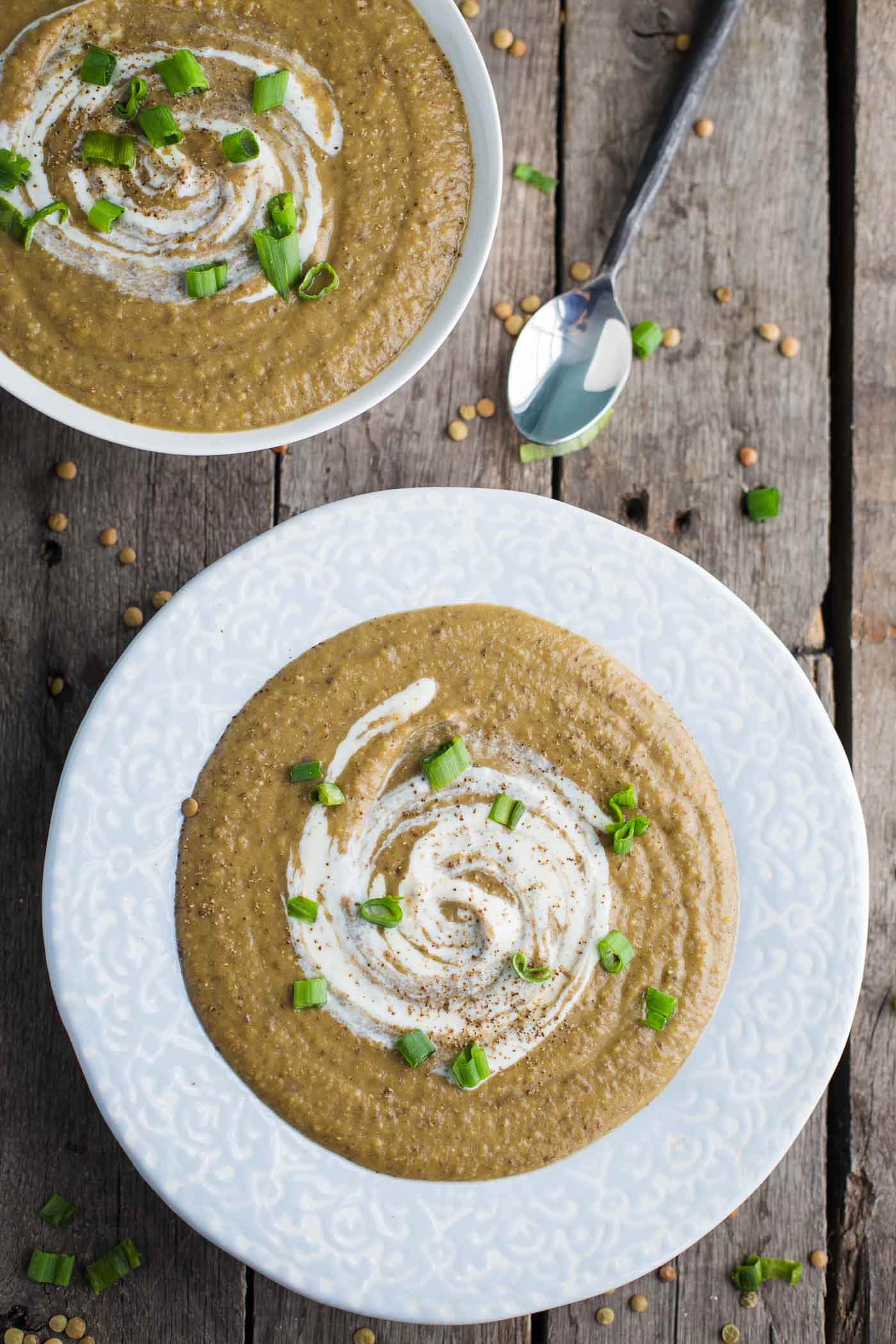 I hope that you all have very lovely weekends and that, as usual, it's filled with lots of yummy foods! Don't forget to follow me on snapchat for lots of birthday foodie snaps @bbritnell!!
Print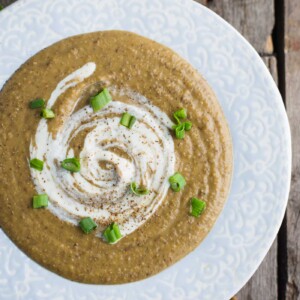 Easy Creamy Lentil Soup
---
Author:

Total Time:

40 minutes

Yield:

4

1

x
1

tbs olive oil

1 cup

chopped white onion

3/4 cup

chopped green onion

2

garlic cloves, minced

1/4 cup

plus 2 tbsp fresh parsley chopped

1/2 tsp

cumin powder

1 1/4 cup

dried lentils

2

small red potato, peeled and diced

3/4 cup

chopped carrot

4 cups

reduced sodium vegetable broth

1/2 teaspoon

salt

1/4 teaspoon

black pepper

1 cup

milk, non-dairy (plain) or regular
for topping: vegan sour cream (or regular if you wish), extra green onion
---
Instructions
Heat oil in large pot. Add in onion, green onion, and garlic. Sauté for 5 minutes.
Stir in 1/4 cup parsley and the cumin, cook for an additional 2 minutes.
Add the lentils, potatoes, carrots, broth, and salt and pepper. Bring to boil and then reduce to simmer. Cook covered for 30- 40 minutes or until lentils become tender.
Optional: in several batches, puree the soup until it's creamy and smooth.
Stir in the milk.
Serve and top with a bit of vegan sour cream and green onion.
ENJOY!!
Prep Time:

10 minutes

Cook Time:

30 minutes

Category:

Dinner
This post may contain affiliate links. Please read my disclosure policy.