Fajita Pizza
This post may contain affiliate links. Please read my disclosure policy.
Fajita Vegan Pizza?? YES please! This pizza is free of traditional cheese but still SO so delicious! Packed with veggies and flavor :) Lets do this.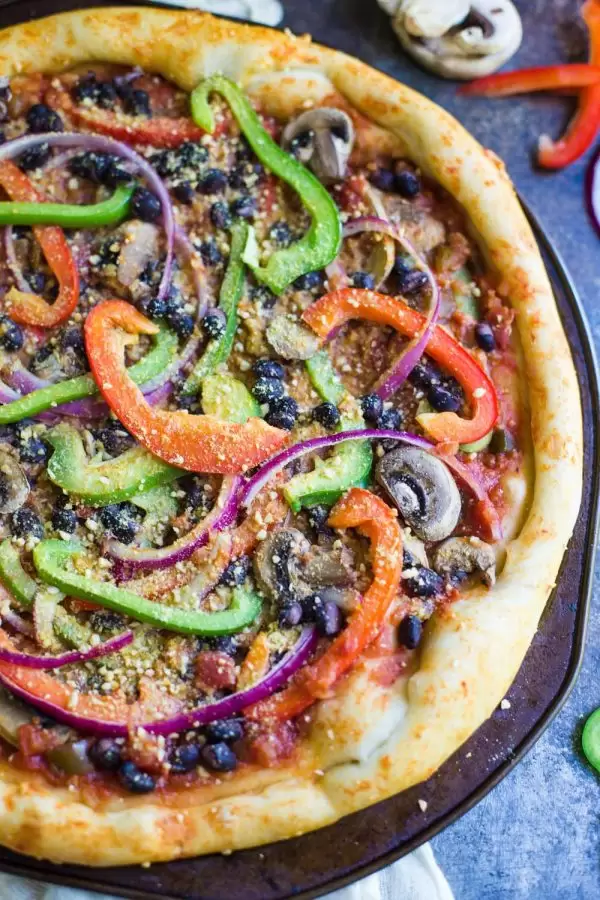 As I type this, I'm drugged up on Benadryl after being stung 7 times by…wasps? bees maybe? I'm not really sure actually. We had a few big storms here this week and my theory is that the storms knocked a nest out of the tree. I walked to the side of the yard, in an area that I walk daily, and ended up running and screaming across the yard like a mad person. Man did those stings hurt! I was shaking for awhile which I think was partially from the pain and partially the adrenaline.
So anyways, it has been 36 hours since those stings and all of the spots are swollen more than they were when it first happened. One of the stings is on my right hand and another RIGHT on my forehead. So, that's fun.
Benadryl knocks me OUT so as soon as I finish this, I'll be promptly passing out cold.
Fajita Vegan Pizza. Lets do this. I didn't actually get it but I saw fajita pizza on the menu of a super hip restaurant once and knew that I needed to try that at home. Challenge accepted!
Here's the deal with the cheese. If you saw my snapchat last weekend (@bbritnell btw) I bought a few different kinds of vegan cheese with the intention of putting it on this pizza. I tried it out and let me just save you the trouble: store bought vegan cheese is mostly just BLEH. It is better when its been heated up and melted but still. I would rather just pass. If you have a favorite brand of vegan cheese that you can recommend, please share!!
So instead, I used THIS Homemade Vegan Parmesan Cheese from Minimalist Baker. It was perfect. Just do it.
The sauce for this vegan pizza recipe is simply salsa. Yes!! Covered in the vegan parm. And then topped with ALL the veggies. I threw in mushroom and black beans to my fajita mix because, why not? Plus, a bit more protein never hurts, right?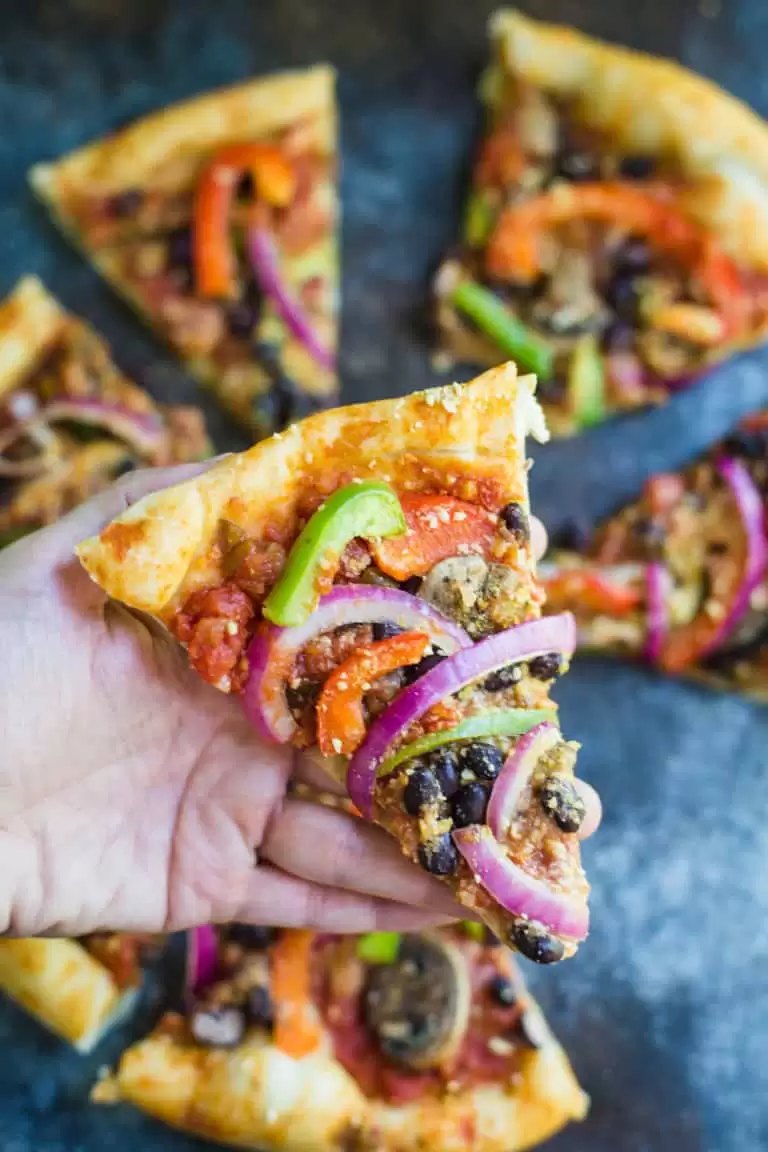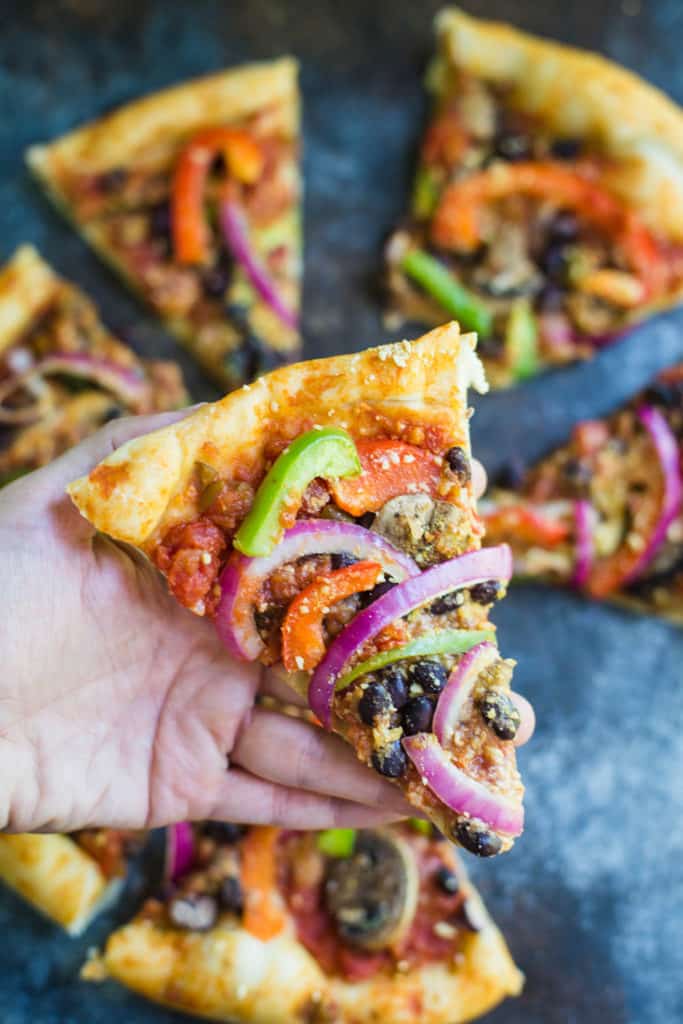 Once the toppings are on and the cheese added, you just pop it in the oven (like any other pizza) and bake until it reaches your desired level of doneness.
This pizza is serious. And, you need to make one ASAP. okay?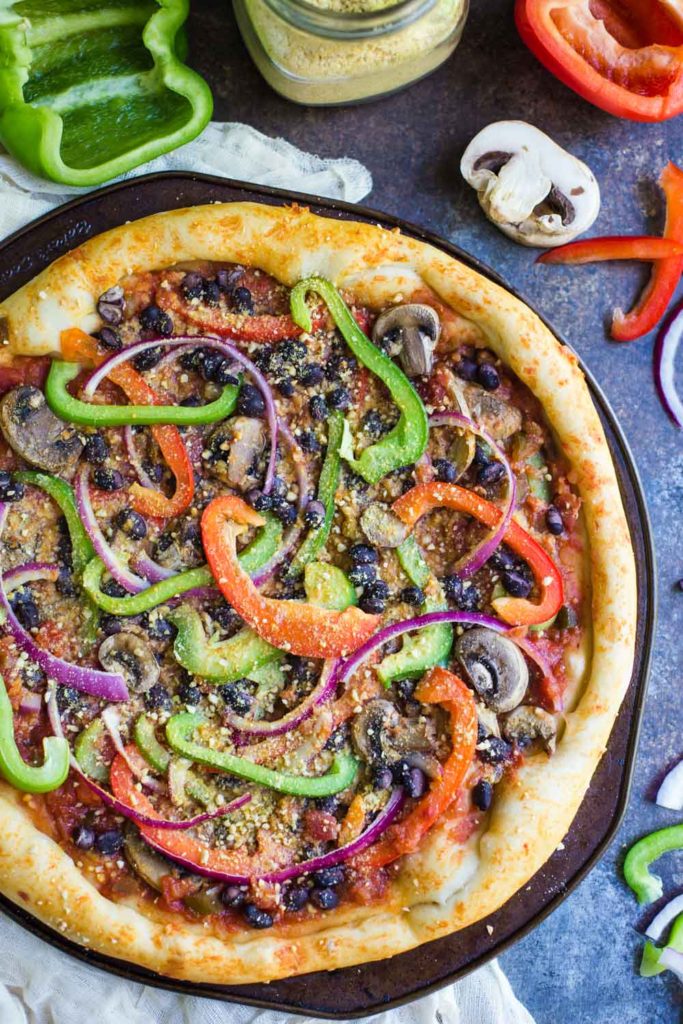 Print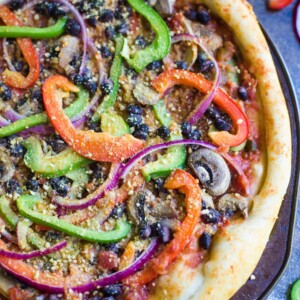 Fajita Pizza
---
1

pizza crust

1

bell pepper (i used half red and half green), thinly sliced

1/2

red onion, thinly sliced

1/2 cup

of black beans, rinsed and patted dry

1/2 cup

of mushrooms, thinly sliced
Olive oil spray

2 cups

(give or take) of your favorite chunks salsa

2/3 cup

of Vegan parmesan cheese
---
Instructions
Prepare your pizza crust as directed.
Spread the sauce evenly out on the pizza crust and top with half of the cheese.
Top with the veggies, spreading them out evenly across the pizza.
Top with the remaining cheese.
Bake for 10-15 minutes or until the dough is nice and golden brown and cooked through in the center.
Optional: top with more vegan parmesan cheese and ENJOY!
This post may contain affiliate links. Please read my disclosure policy.