Friday the 13th
This post may contain affiliate links. Please read my disclosure policy.
Dun dunn dunnnnnnnn.
It feels like a Friday the 13th. I can't explain to you what that means but it just….today is just a Friday the 13th kind of day.
Here are some things:
1) I concocted a wonderful comfort drink this week and I've made it every single day. It's one part coffee, one part hot chocolate, and one part heavy cream. Go ahead, judge me, I don't care. It's flippin' delicious and has made hours and HOURS of statistics work seem a tiny bit better. Last night my husband and I gave this concoction a name: Hot Chocoffee. it has a nice ring to it I think.
2) On Monday I had a 30 minute conversation about big fluffy dogs with a random stranger who wandered into my office for directions. He convinced me that I'm not getting my dogs enough exercise and encouraged me to walk them more. My husband and I specifically got 2 dogs so that we could let them outside and they would walk each other (aka, sprint in circles around the yard chasing each other). None the less, I still felt guilty and have twice suffered the cold for the betterment of my puppies' health. At least they love the cold.
3) I turned in a take home final last night and now I'm obsessively checking my grades online to see if my professor has posted it yet. In case you don't know, I'm not a very patient person and need to know my grade NOW!
4) I've been wearing fluffy, cozy, warm xmas socks ALL week and it's love(r)ly. Look, more hot chocoffee (and socks in the background).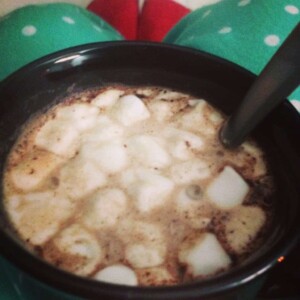 5) I wanted to participate in I Wore Yoga Pants' #backthatazzup linkup today and instantly thought of 1,000 songs to share. I was going to Share the song Timber which is a much more 'back to azz up' appropriate song. But instead, I leave you with this.
Happy Friday the 13th!
Participating in these linkups today: Five on Friday with The Good Life, Fresh Face Friday Blog Hop with We Took the Road Less Traveled, That Friday Blog Hop with xoxoRebecca, and Stylelixer.
This post may contain affiliate links. Please read my disclosure policy.