Fruity Ice Cubes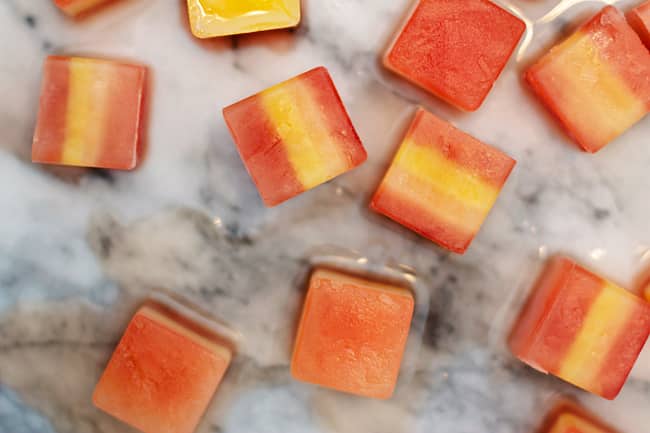 Summer in Nashville has been a little…confusing this year. Right now it's crazy nice outside; like 75 degrees. Just a few days ago it was unbearably hot with a heat index of well over 100. I don't remember summer weather being so inconsistent, but I'll take it.
Maybe this is just me but no matter how thirsty or dehydrated I am, I have a difficult time drinking plain water. I almost always put a teeny bit of fresh lime juice in my water.
Enter these cute little fruity ice cubes. I made a big batch of these a few weeks ago and I've been putting a couple in my water to sweeten it up a bit. I bought about 7 different kinds of juices and made several different flavor combinations with them. I'd have to say that the lemon lime ice cubes were my favorite!
They don't look quite as nice but they tasted great! 1/3 of the cube is lemon, the middle section is a simple syrup, and the other 1/3 is lime juice.
I made the stripes by pouring in one layer of juice, freezing for at least an hour, and then pouring in another layer of juice. Repeat this until your ice tray is full.
The ice cubes below were made with cranberry juice, grapefruit juice, and orange juice.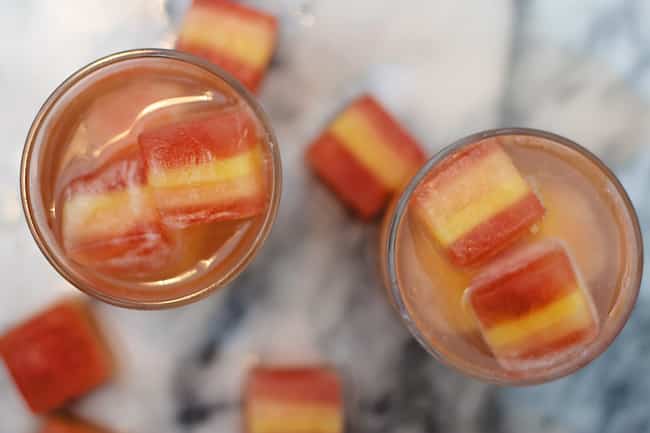 How do you drink your water? Any tricks on drinking enough throughout the day??