Grilled Fruit Skewers
This post may contain affiliate links. Please read my disclosure policy.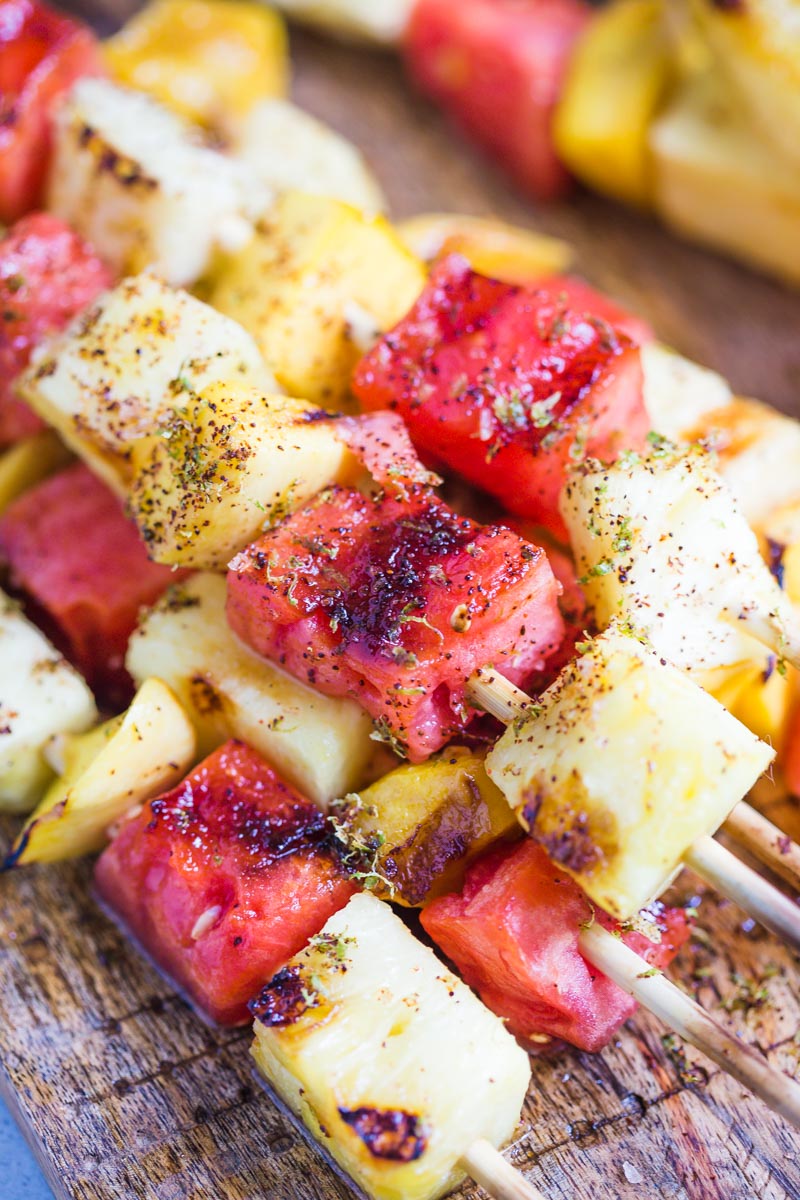 Oh HEY! It's been a minute. Video work + being pregnant have kind of taken OVER my life. I thought the intense pregnancy hormones and side effects were finally starting to kick in this past week but as it turns out, I just got a really bad cold that had me a bit down. Who even gets a cold in mid June?
Luckily I'm 90% over the cold and doing my best to get all caught up on my video work. I've been trying to cram 3 months worth of client work into 6 weeks. That way, I can spend the the last month of my pregnancy off of my feet (and out of the heat) just editing the massive quantity of videos that I have been shooting. So far I'm managed to stay on schedule with all the work and considering I'm 32 weeks pregnant, I feel VERY proud of that :)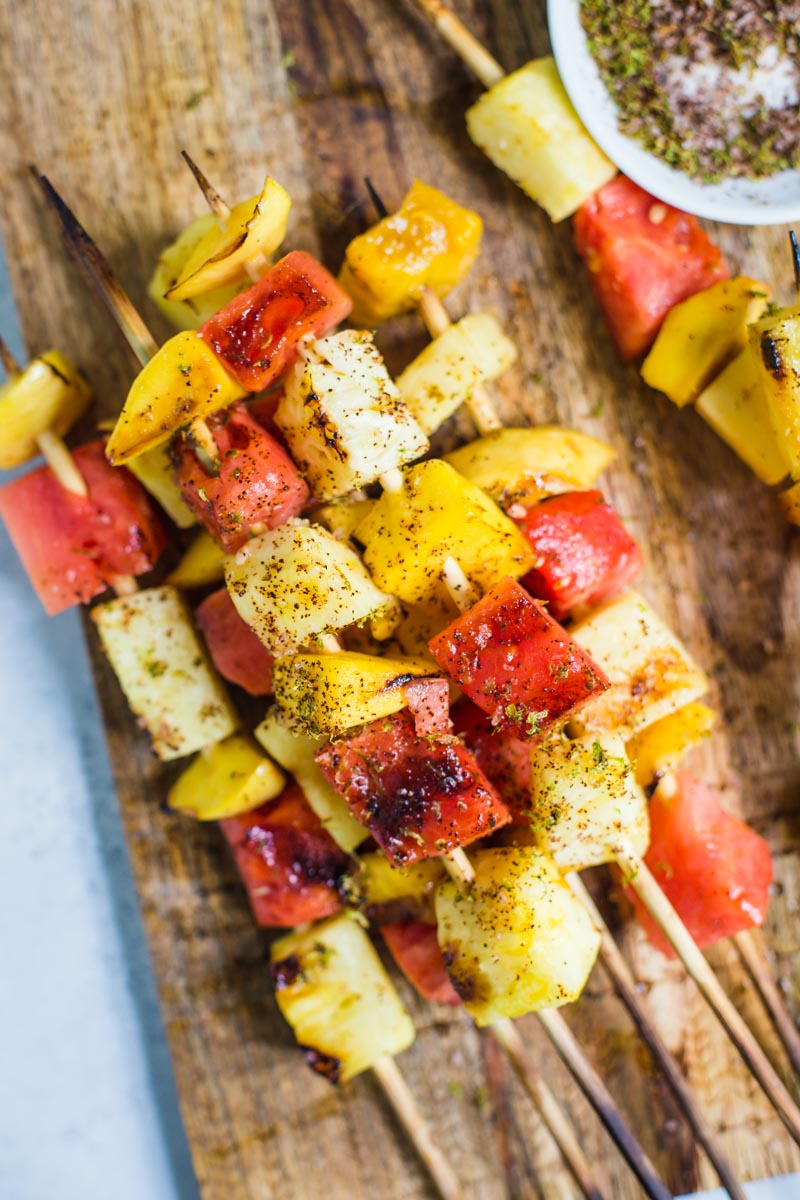 SO, we're taking it easy with this incredibly simple Grilled Fruit Skewers recipe today. The hardest/ most time consuming part is simply chopping all the fruit. But if you eat one piece for every cut that you make, the whole process becomes much more enjoyable! Have I mentioned yet how MUCH fruit I've been eating over the past few months. I basically can't function right now without my daily (hefty) dose of watermelon.
It only felt natural to find new and fun ways to enjoy my fruit obsession. I picked my 3 favorite summer fruits, threw them on skewers with a bit of lime juice and chili powder, and grilled them up. It's super easy and ridiculously tasty! If you're feeling a bit lazy, you can cut the fruit into large chunks and just grill them directly on the grill (skipping the whole skewer process). But the skewers are fun and especially perfect for summer parties to impress your friends.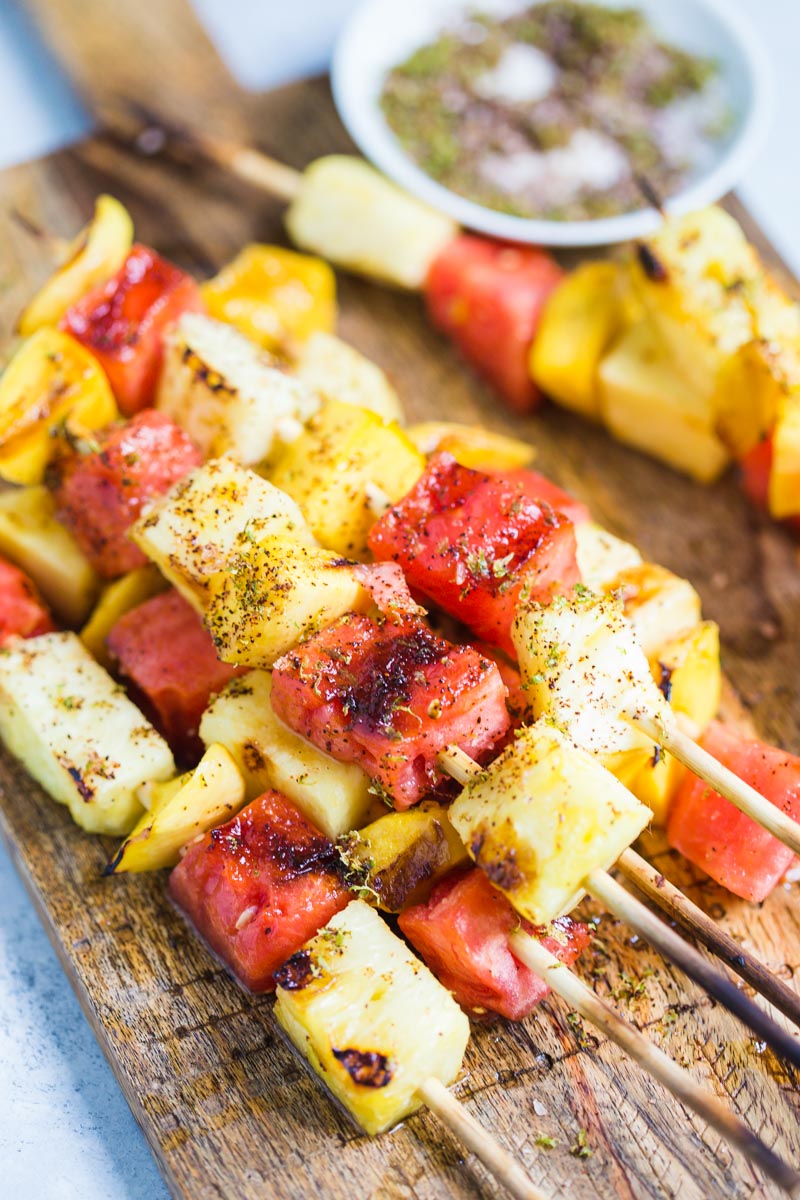 Hope y'all are having a very lovely weekend and have a great start to the week! (eat lots of fruit!!)
happy Sunday!
Print
Grilled Fruit Skewers
---
Author:

Total Time:

16 minutes

Yield:

8

skewers

1

x
1/2 pineapple, peeled, cored, and cut into 1 inch cubes

2 ripe mangoes, peeled and cut into 1 inch pieces

~3 cups of watermelon, cut into 1 inch pieces

Juice and zest of 1 lime

1 teaspoon of chili powder

Oil for brushing on the skewers, I used avocado oil but vegetable or olive oil would work well

2 teaspoons of sea salt

8–10 skewers

---
Instructions
If using wooden skewers, soak them in water for 15 minutes.
Make the fruit skewers by adding the fruit (about 6 pieces of fruit total each) to the skewers, alternating between the mango, pineapple, and watermelon.
Squeeze the lime juice on top of the skewers and let marinate for about 10 minutes while you heat your grill to 400 degrees F.
When ready to grill, brush both sides of the skewers with oil and place the skewers on the grill. Grill for about 3-4 minutes on each side and remove from grill to a large plate.
In a small bowl, mix together the lime zest, chili powder, and sea salt. Sprinkle over top of the skewers and ENJOY!!
Prep Time:

10 minutes

Cook Time:

6 minutes
This post may contain affiliate links. Please read my disclosure policy.