How to Make Apple Butter
This post may contain affiliate links. Please read my disclosure policy.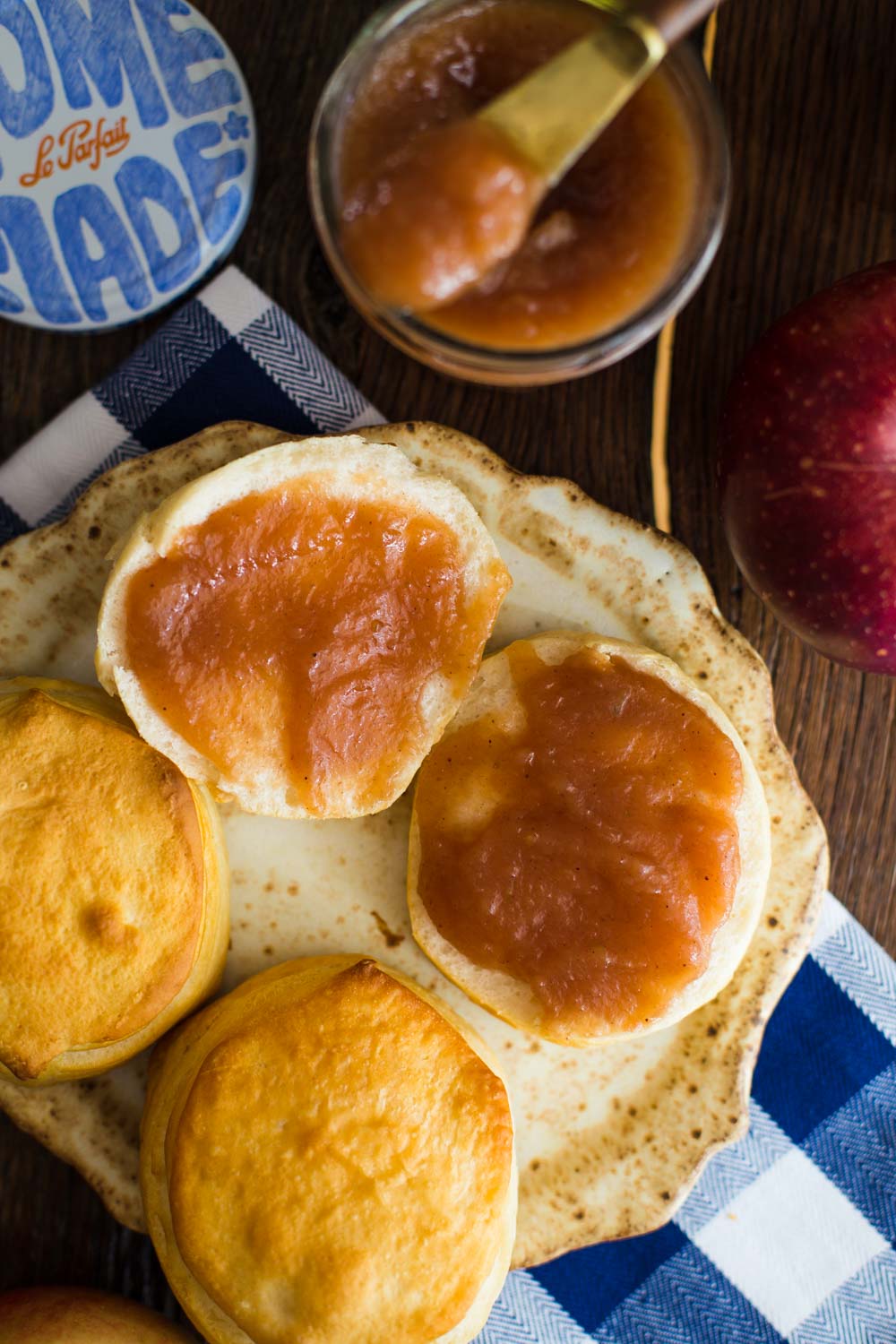 Guys! My diet lately has consisted LARGELY of apple cider and this Homemade Apple Butter and I simply couldn't be happier about it. I've been telling myself that I wouldn't miss apple picking season this year but then life happened, my go-to orchard here in Nashville closed down (womp womp) and I just didn't make it happen. I mean, it's technically still apple picking season but I'd have to find a new favorite orchard and….more excuses.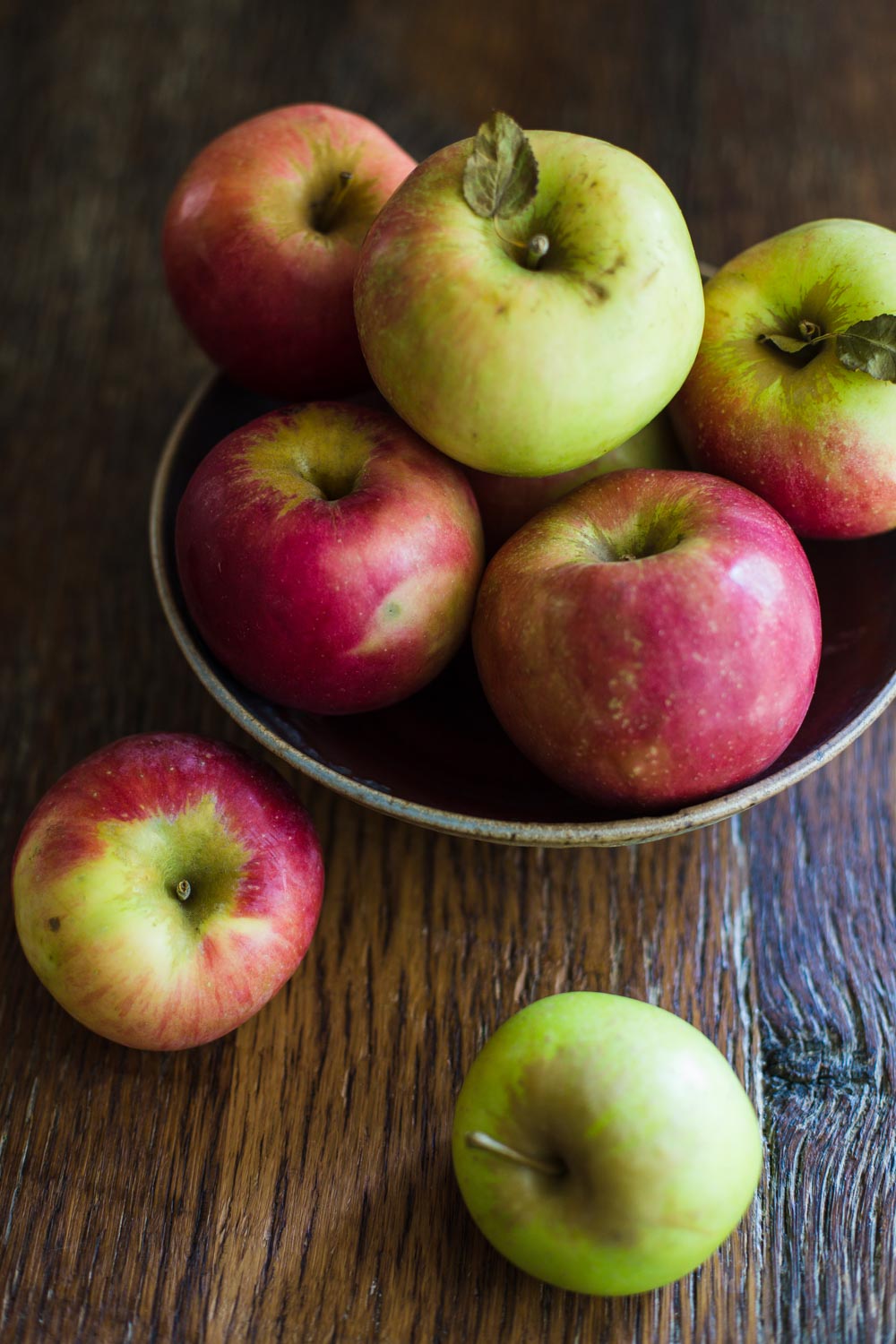 SO, our featured apples today are courtesy of a local Tennessee farm via the farmers market. The Nashville Farmer's Market is within walking distance to where I work and it's on my direct route home so I try and stop there quite often. Right now, as you can imagine, it's filled with all of the best parts of Autumn: pumpkins and squash and TONS of apples. I got a whole bushel of apples for just $14. A bushel is really more than any one family of 2 can ever consume BUT I'm just trying to prepare us for the coming years when my 3 apple trees will (hopefully) be producing TONS of apples.
And at that point, it is my intention to make and jar apple butter every. single. year. I can't wait :)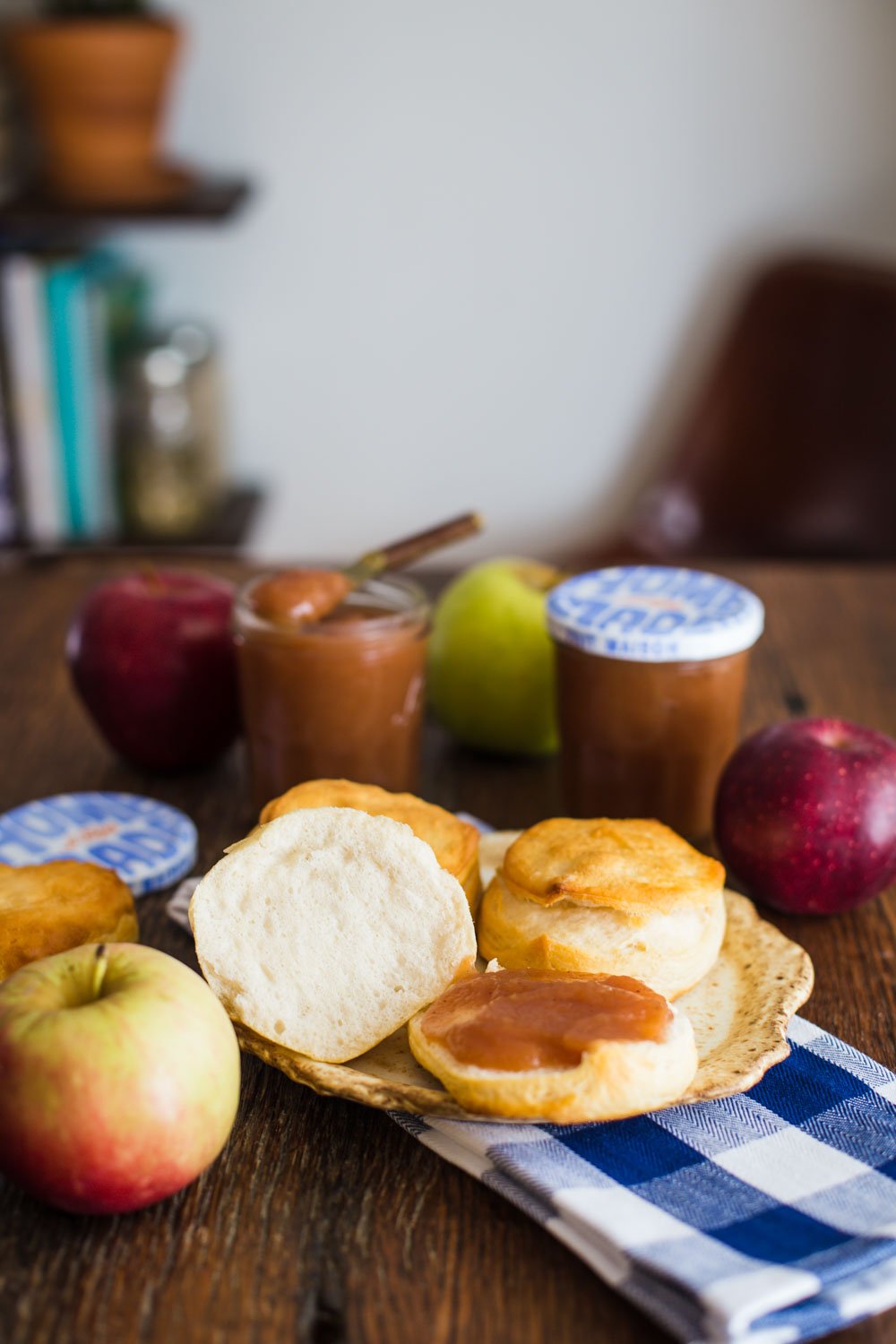 So yea, Homemade Apple Butter. Have you ever made it? Turns out, it's ridiculously easy to make! The most time consuming part is simply peeling and slicing the apples. From there it all just simmers in a pot for about 30 minutes and THEN hangs out in the oven for 3 hours.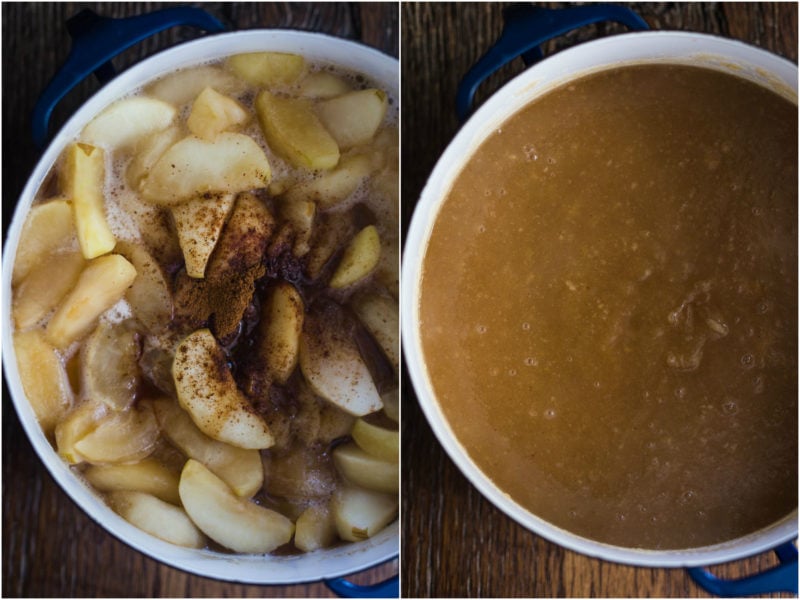 For the first couple of hours you're going to think that you've created nothing but really tasty apple sauce, but in the last hour (or maybe a bit more depending on your apples and your oven) it really thickens and turns into the yummiest, buttery jam that you ever did have! So far I've only managed to eat it on top of biscuits BUT I plan to spread it on some waffles this weekend. I've also been told that it makes a delicious substitute for jelly in a PB&J. I'll have to be the judge of that (I'll report back my findings).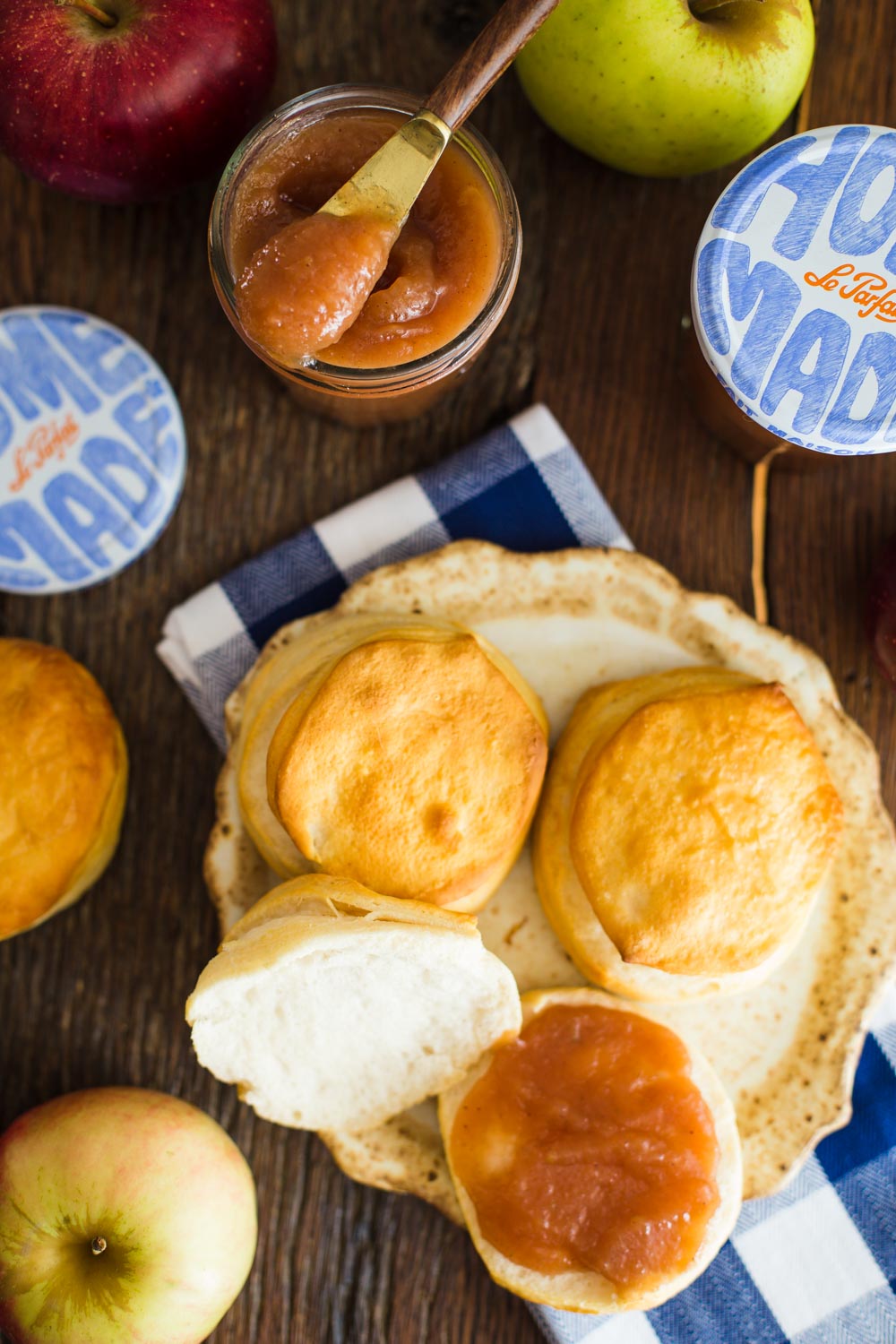 Print
How to Make Apple Butter
---
Author:

Total Time:

3 hours 10 minutes

Yield:

~40 ounces
4

pounds of apples** see note for varieties

3 cups

apple cider

1 1/4 cup

packed light brown sugar

1/2 teaspoon

of salt

1 tablespoon

of lemon juice

1 teaspoon

of cinnamon

1 teaspoon

of vanilla extract

1/4 teaspoon

of nutmeg
---
Instructions
Pre-heat your oven to 250 degrees F.
In a large, oven safe pot, combine the apples, apple cider, brown sugar and salt over medium heat. Bring the mixture to a simmer, cover, and let cook for 30 minutes, stirring every few minutes.
Remove from the heat and stir in the lemon juice, cinnamon, nutmeg, and vanilla.
Using an immersion blender, puree the apples until no chunks are left (unless you want small chunks of apple in your butter). You can also carefully transfer the mixture to a blender and puree it that way.
Place the uncovered pot in the oven and bake for 3-4 hours, stirring about every half hour. The baking time is really up to you, your apples, and your oven. I found that the longer I bake it, the thicker and darker the butter becomes. Mine was baked for just over 3 hours.
Once done, remove from oven, let cool, and store in an airtight container in the fridge for up to 2 weeks.
Notes
**I used Ida Red apples with a few Cortland thrown in as well. You can use a variety of different apples and you can use several different kinds of apples in one apple butter recipe. Other varieties that work well: braeburn, Cortland, Fuji, grimes golden, jonamac, liberty, and McIntosh
Lightly adapted from http://www.foodnetwork.com/recipes/food-network-kitchens/homemade-apple-butter.html?oc=linkback
Prep Time:

10 minutes

Cook Time:

3 hours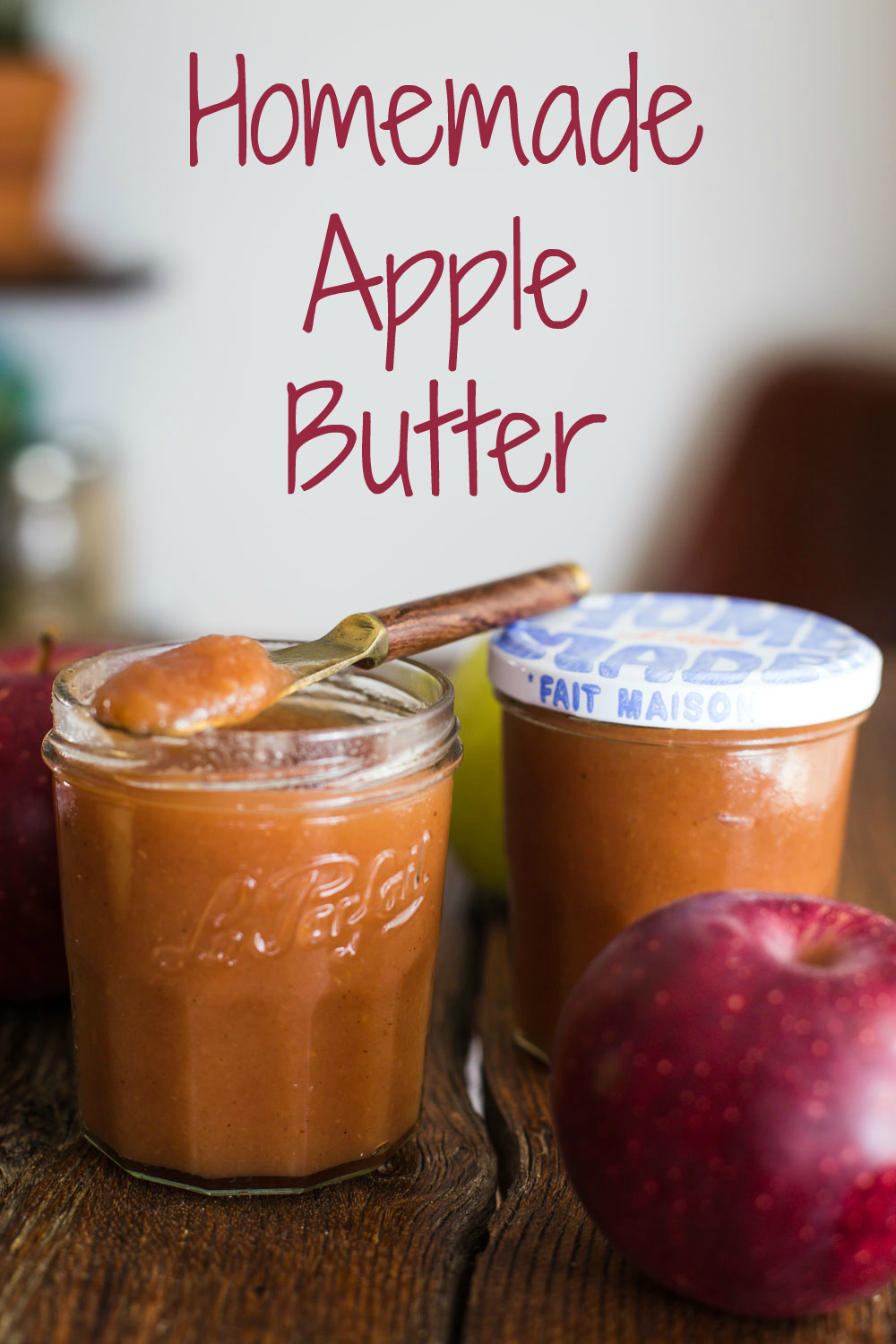 This post may contain affiliate links. Please read my disclosure policy.