Seitan (Tiktok Viral!)
This post may contain affiliate links. Please read my disclosure policy.
Making Seitan at home is SO simple and makes for a delicious and versatile meat substitute! It's high in protein and can be used in so many delicious dishes. I can't wait for you all to try this one!
I can't tell you HOW excited I was to se homemade Seitan blowing UP on tiktok over the past week. It's most certainly not a new recipe (it's been around for many centuries) but I'm thrilled to see more people trying it.
I have a good friend who swears by seitan and bugged me to finally try it for quite a few years before I finally gave in. My first introduction to it was a store bought seitan but I was thrilled to see how easy it is to make at home as well.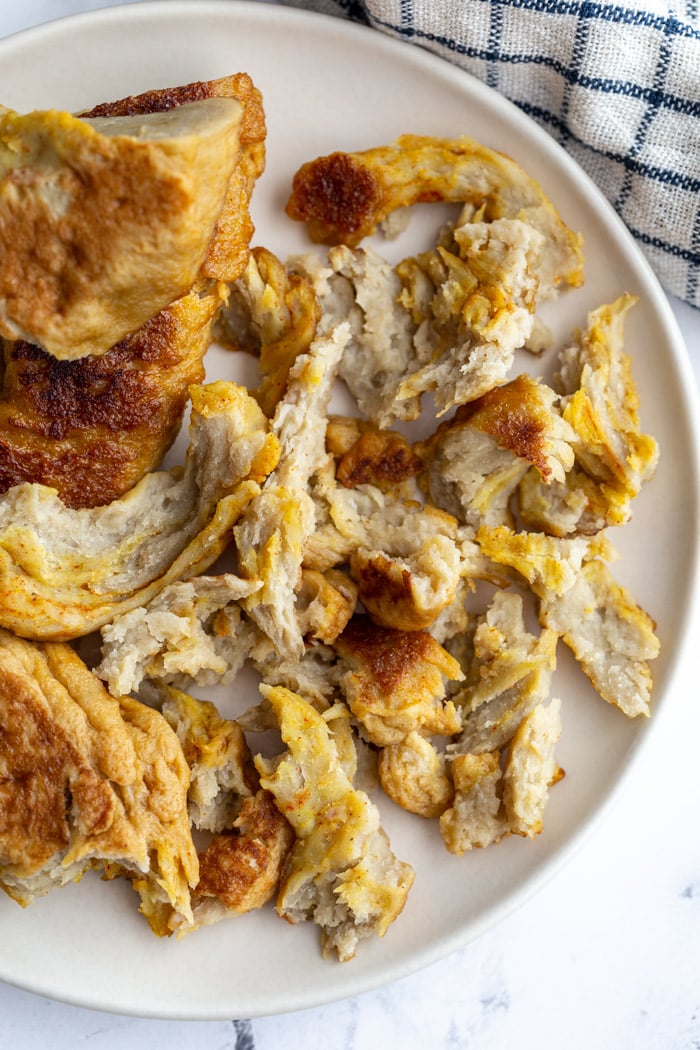 What is Seitan?
Seitan is often referred to as "wheat meat" since it's a meat substitute that is made out of wheat. Fun, huh?
It is a chicken/ meat like substance that is made by washing flour to remove the starch graduals, leaving behind a high concentration of PROTEIN. As such, used in many ways to make different kinds of vegan meats. It's very versatile and takes on the flavor of whatever it's mixed with (seasonings, broth, soy sauce, etc).
BUT FIRST! Let's go over something:
If you're here because you saw the video of flour being washed in water then you're only KIND OF in the right place. Let's break this down.
Vital Wheat Gluten vs. the "washed flour" method: The first video to really blow up making seitan on TikTok is using the "washed flour" method. This takes PLAIN flour (such as all purpose flour) and washed it to remove all of the starch and leaving behind just the protein.
My video and THIS RECIPE that I'm sharing use VITAL WHEAT GLUTEN. This is essentially flour that has ALREADY been washed. So, it contains 70-80% protein already. As a result, when you're using vital wheat gluten, you DO NOT need to wash the dough as you're making your seitan.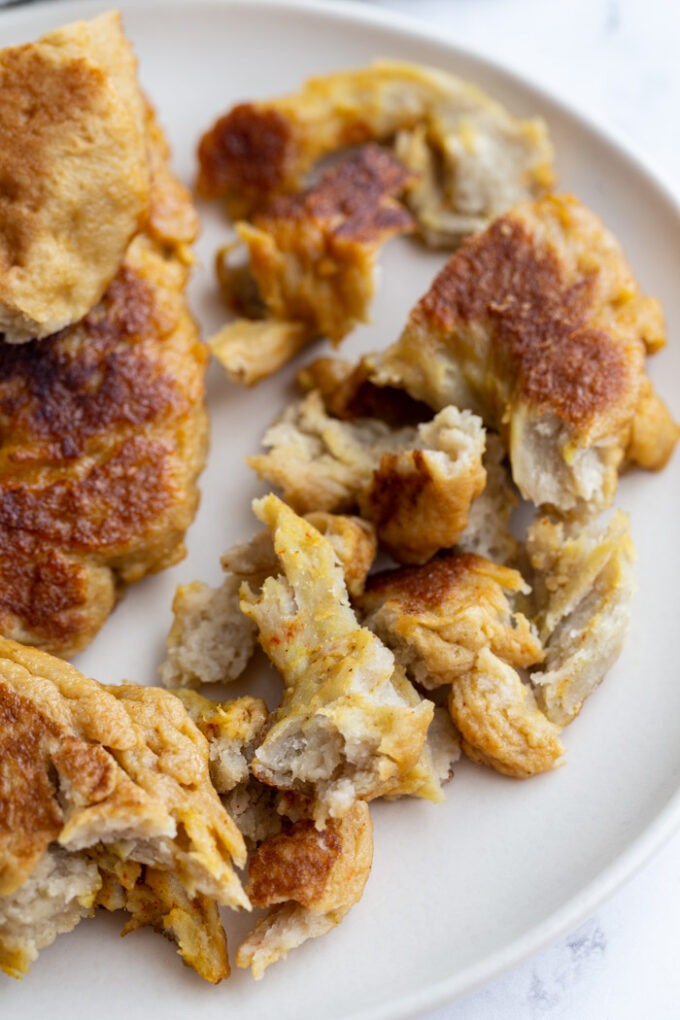 What is Seitan made of?
As mentioned, Seitan is made of vital wheat gluten, flour, and water and then boiled in broth. To give the seitan some flavor, spices and other seasonings are added depending on how you're going to serve it. It's very versatile and can take on many different flavors!
Seitan Nutrition:
There are TWO things that people immediately want to know when it comes to the nutritional info of seitan: how much protein and how many carbs. Let's quickly break this down (more nutritional info below in the recipe card!):
These numbers are based on my recipes that makes 2 large servings. Imagine 2 large chicken breasts and that's about the equivalent here.
Seitan protein: 1 serving (half of the recipe written below) has 47.8g of protein
Seitan carbs: 1 serving (half of the recipe written below) has 26.7 total carbohydrates
See my video on how to make Seitan:
Print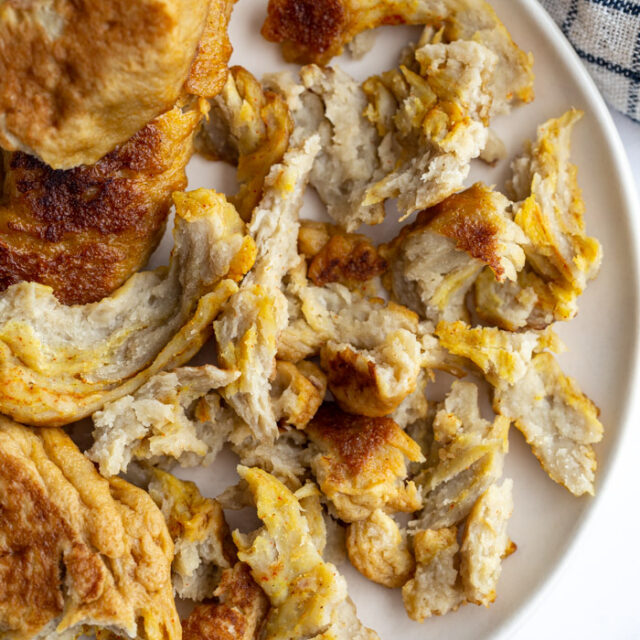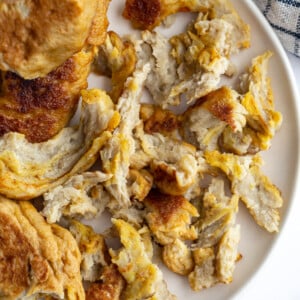 Seitan (Tiktok Viral!)
---
Author:

Total Time:

1 hour 35 minutes

Yield:

2

servings

1

x

Diet:

Vegan
Description
This Seitan is very simple to make and a delicious and nutritious meat substitute!
---
1 cup

of vital wheat gluten

1/4 cup

of flour (all purpose, wheat, or even chickpea flour)

1 cup

of lukewarm water

1 teaspoon

of chicken/ poultry seasoning

1/2 teaspoon

of paprika (or smoked paprika)

1 teaspoon

of olive oil

4

–

6

cups of vegetable broth
---
Instructions
In a large bowl, whisk together the vital wheat gluten, flour, chicken seasoning, and paprika. Stir in the water until a dough forms. Knead for 1 minute, form into a ball and then leave in the bowl. Cover and let sit for 20 minutes.
Knead for another minute and then divide the dough in half. Working with one piece at a time, twist the dough into a tight twist and then tie it into a knot. This gives the seitan texture similar to chicken and makes it more shreddable (if that's what you're going for). You can also skip the twisting and just put it directly into the pan as it is.
In a large skillet, heat the oil over medium heat. Once hot, Add in the dough knots and sear on each side for 3-4 minutes or until a nice crust forms.
Add in the broth so that the seitan is about 1/2-2/3 covered. Bring to a boil, lower to a gentle simmer, cover and cook for 1 hour. No need to stir but I like to check mine to make sure it's not boiling at all (just maintaining a very gentle simmer).
Once done, you can east immediately or keep for later. If storing in the fridge, I suggest pouring the broth over top and storing it in the liquid.
Notes
To freeze: I suggest going ahead and shredding/ cutting it into strips before freezing and do not do this in the liquid at all.
Prep Time:

5 minutes

Cook Time:

1 hour 30 minutes

Category:

dinner

Method:

simmer

Cuisine:

american
Keywords: vegan meat, seitan, how to make seitan
This post may contain affiliate links. Please read my disclosure policy.