Lavender Cinnamon Rolls
This post may contain affiliate links. Please read my disclosure policy.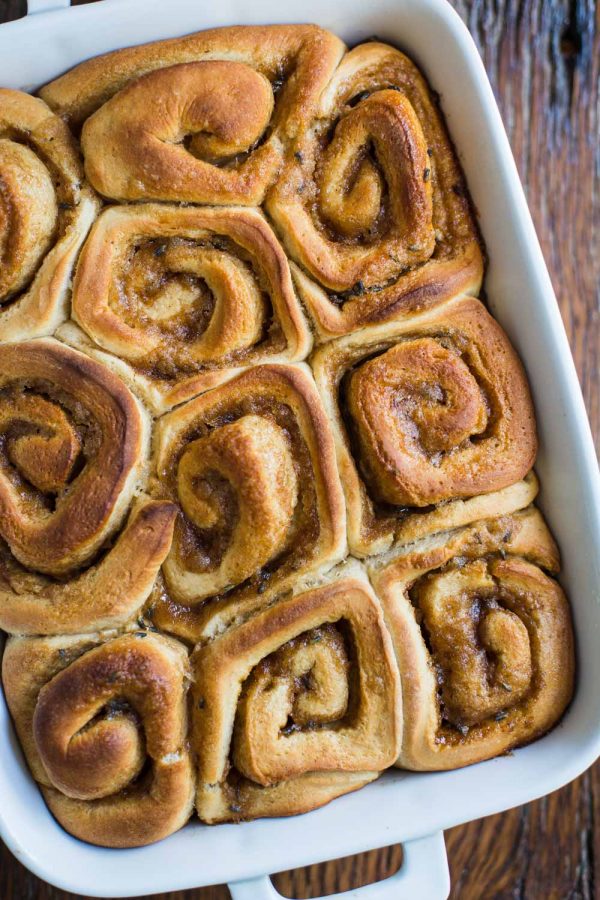 There once was a time when every. single. Monday. morning. here on B.Britnell started with a breakfast recipe. That was until my breakfasts consisted mostly of a giant smoothie or a huge bowl of fruit/granola. My bfasts, while still filling and delicious, are pretty boring these days. So, I thought it was time to mix it up a bit and share a super yummy and fun breakfast recipes with you today. Welcome to the world THESE Vegan Lavender Cinnamon rolls!!!!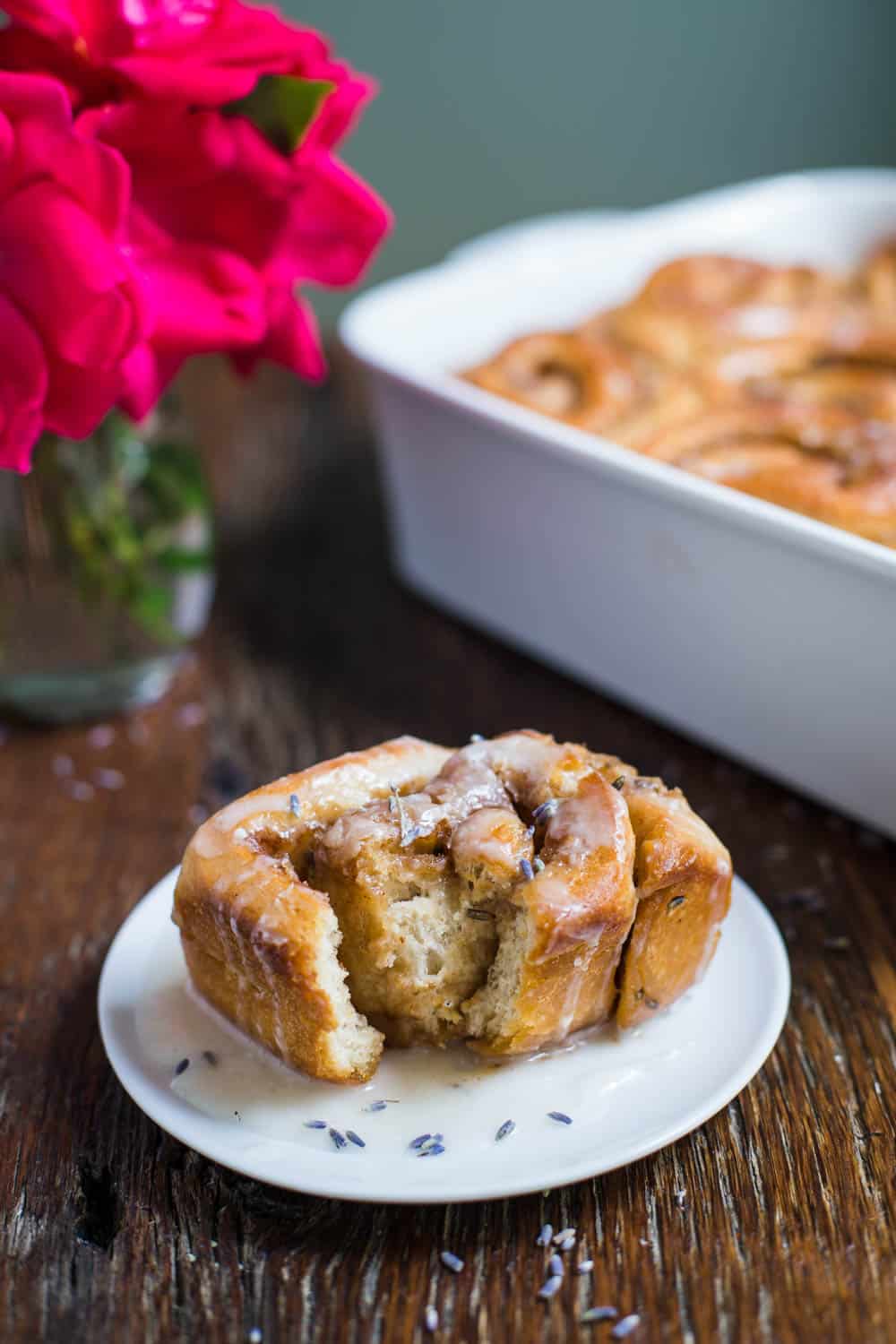 I bought a little packet of dried lavender at World Market about 6 months ago and I've just been holding onto it until the right recipes came to mind. I think my logic was that I really wanted to make and post cinnamon rolls BUT the world already has a ridiculous amount of cinnamon roll recipes. So, I changed it up a bit.
I'm a pretty big fan of the end result!
These cinnamon rolls are made in the typical cinnamon roll fashion.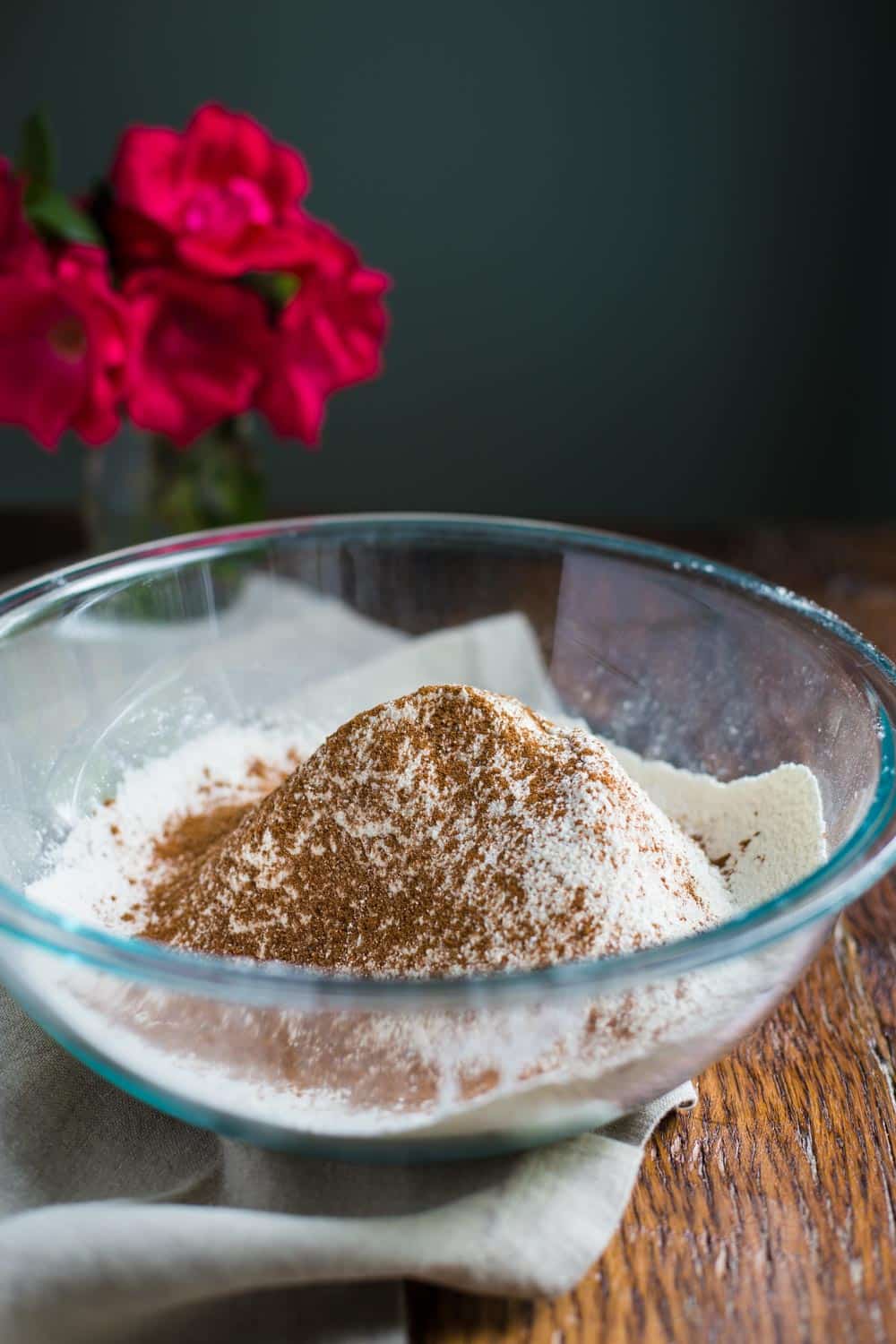 Because I wanted them to be gluten-free, I used THIS 1 to 1 gluten free flour that I've been LOVING from Bob's Red Mill (not a sponsorship…I just love their products). All-purpose flour would work just as well, though.
The ingredients are mixed together, the dough is kneaded, and eventually left to rise.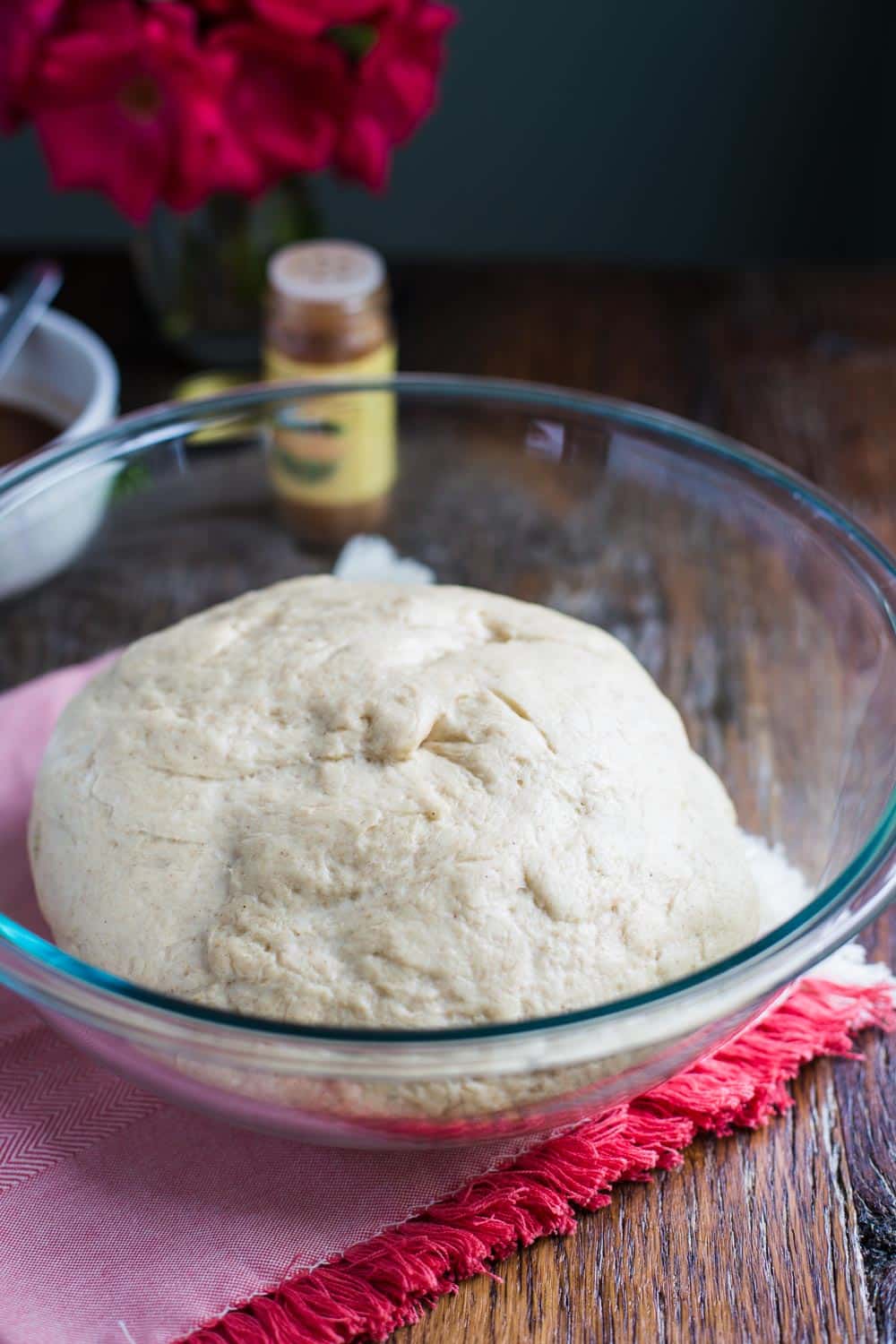 The big ball o dough is then punched down a bit to ensure that it knows its place in the world.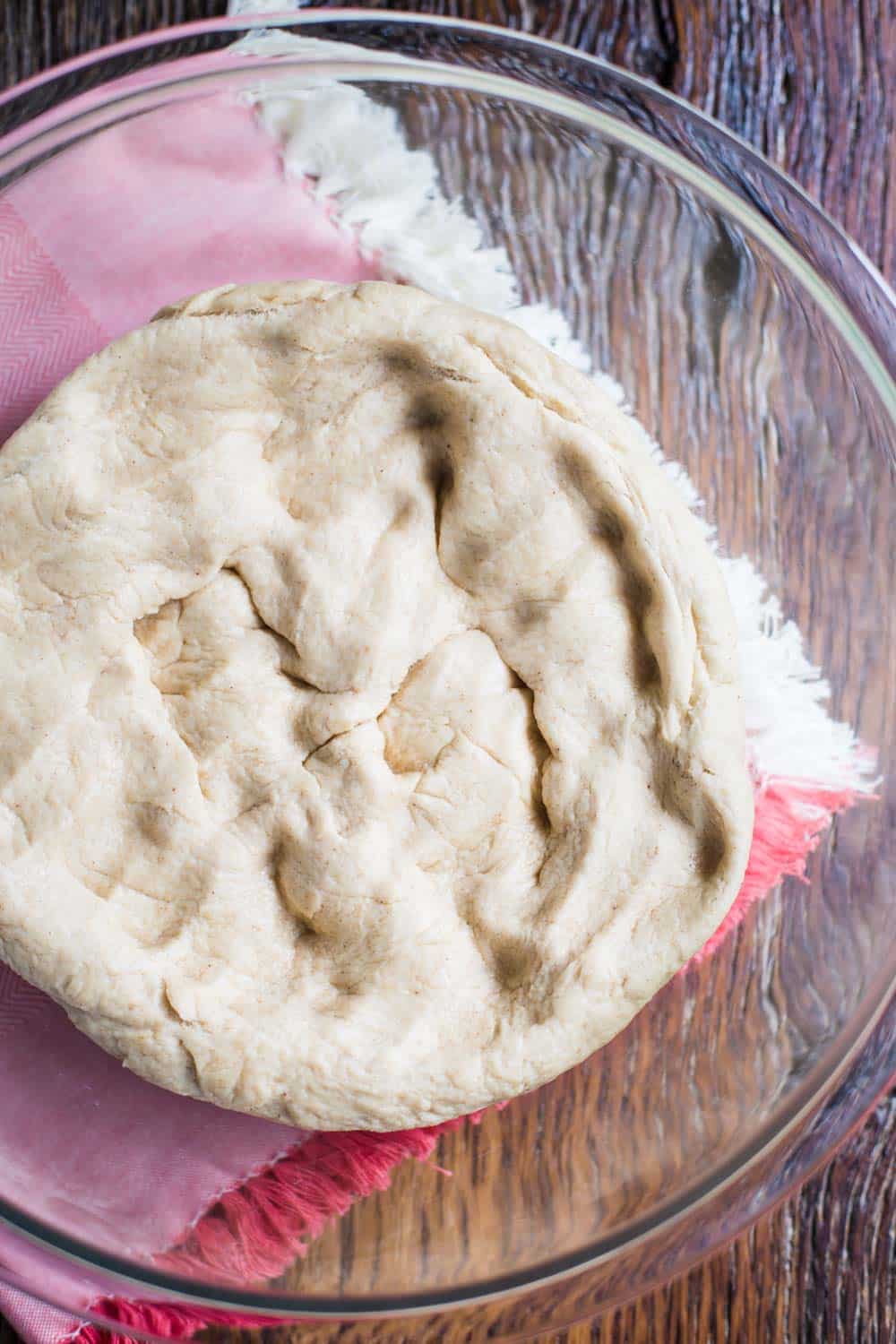 Then it's rolled out and topped with sugary cinnamon yumminess. Like so:
All that's left now is to simple cut the dough into slices, let them rise for a second time, and then bake em up.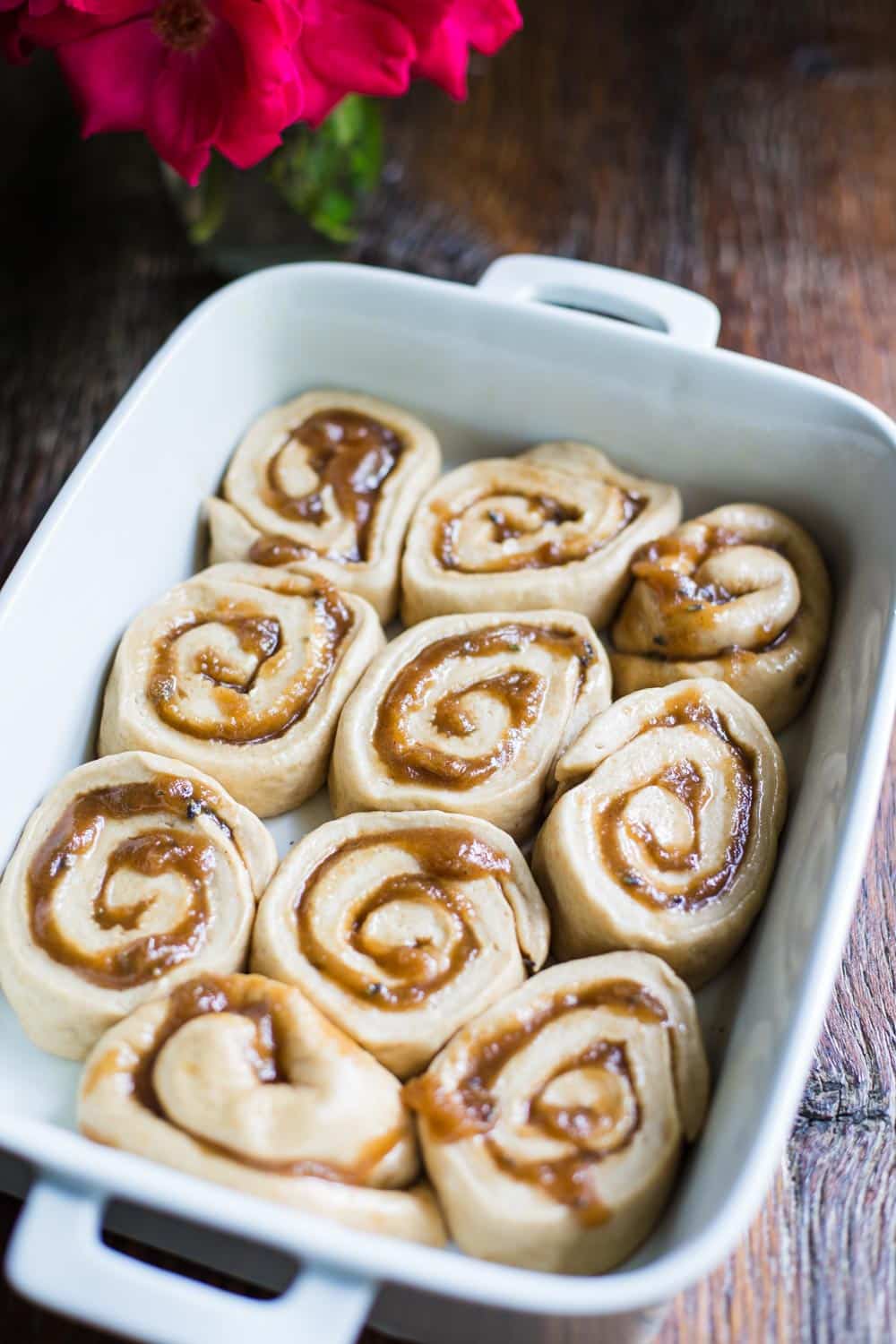 After all the rising, luckily these only need to bake for about 15-20 minutes. (thankgoodness!)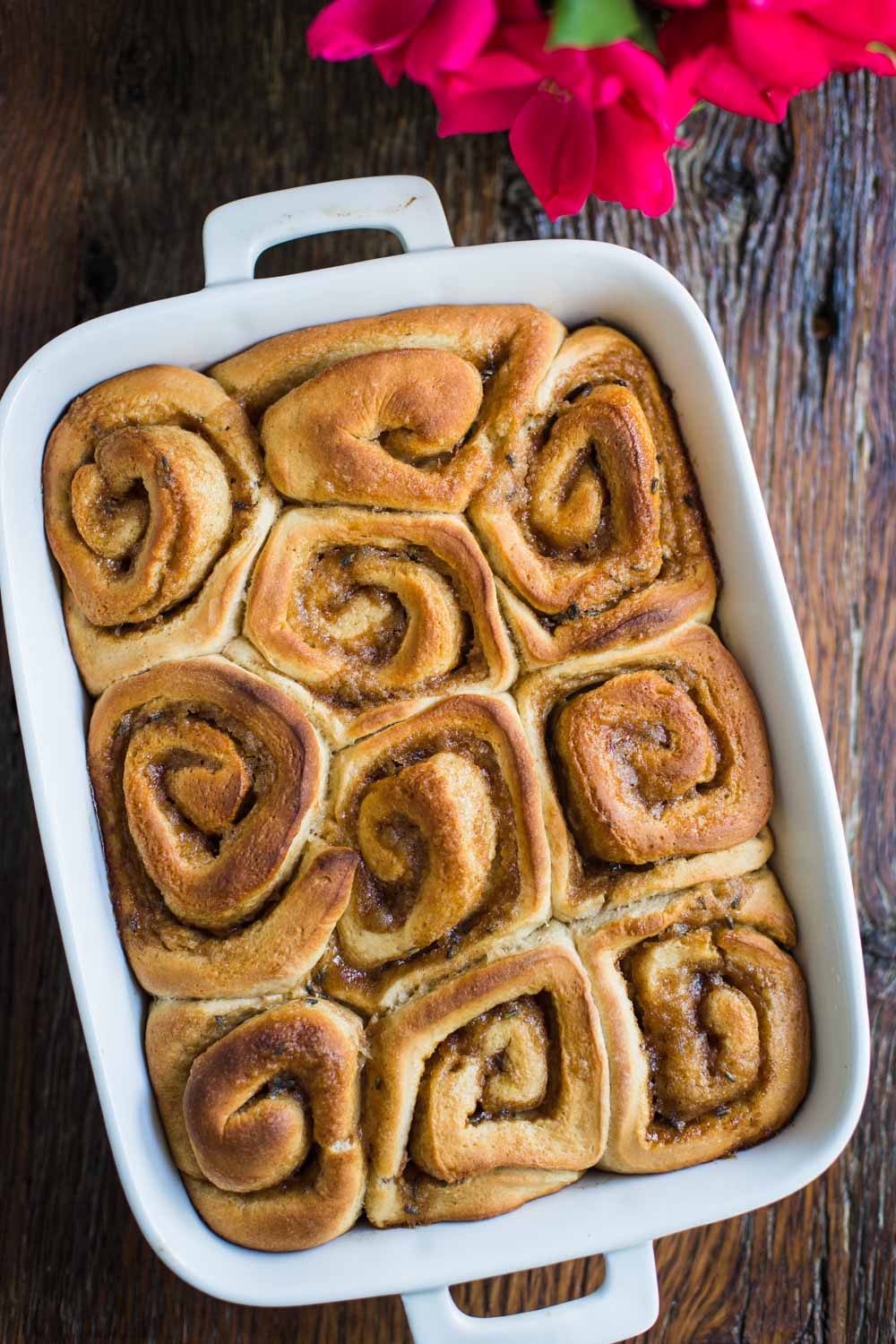 Oh yea, and then we obviously have to cover them in a bit of icing, right?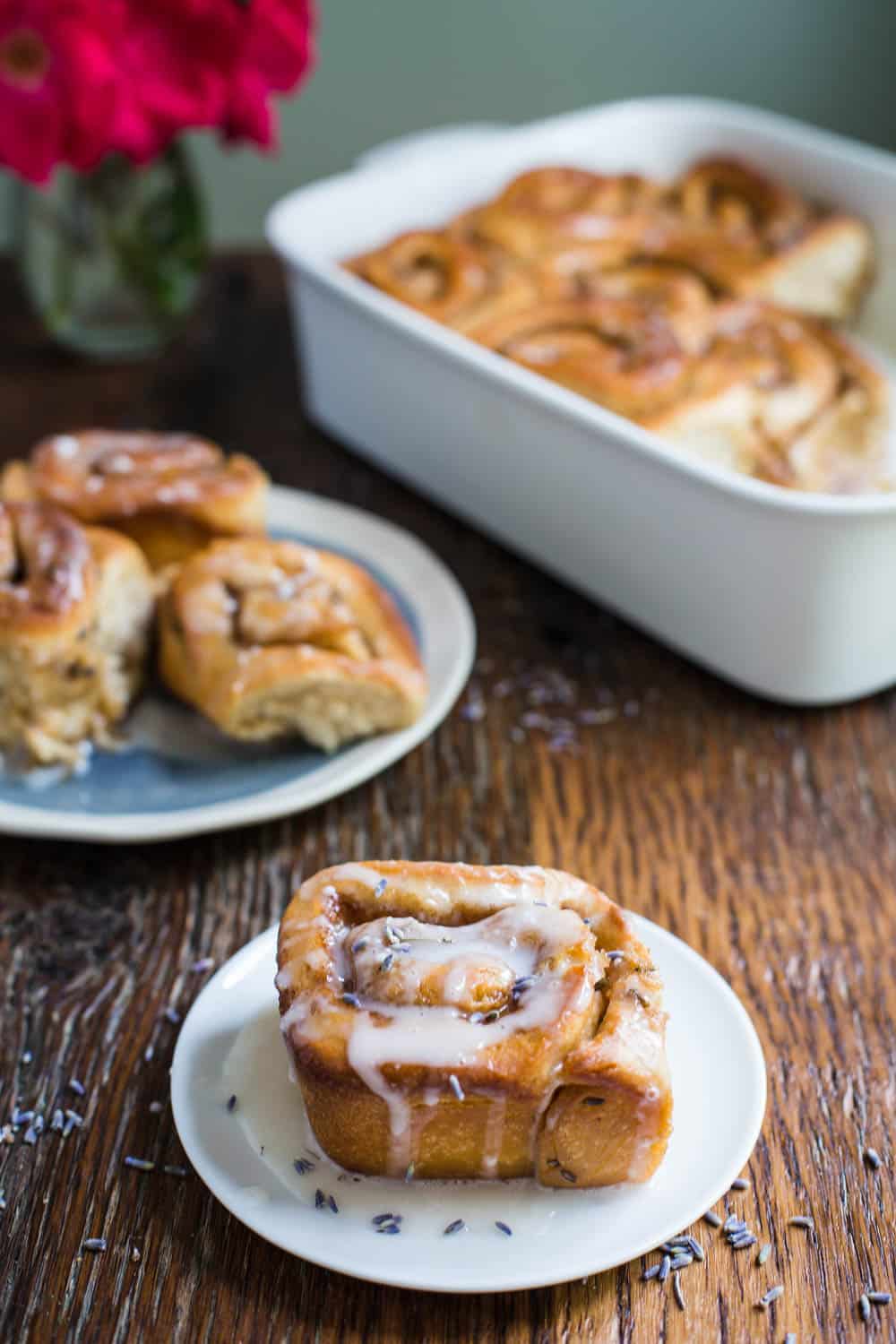 Lets have more Monday morning breakfast chats, mkay?
Print
Lavender Cinnamon Rolls
---
Author:

Total Time:

2 hours 15 minutes

Yield:

6

1

x
For rolls:
2

envelopes active dry yeast

1 cup

of warm water
Heaping

1/2 cup

of sugar, divided

3 cups

of flour (I used THIS gluten-free blendbut all-purpose will also work)

1/2 teaspoon

of cinnamon

1 teaspoon

of vanilla extract

2 tablespoons

of vegan butter, melted

1/2 teaspoon

of coconut oil

1 1/2 cups

of packed light brown sugar

1 tablespoon

of cinnamon

1/4 cup

of vegan butter, softened

2 tablespoons

ofdried lavender, plus more for topping
For icing:
2 cups

of icing sugar (powdered sugar)

2 tablespoons

of water or non-dairy milk
---
Instructions
In a small bowl, dissolve the yeast in the cup of warm water. Let sit for 5 minutes or until it begins to foam.
In a large bowl, sift together the sugar, flour, and cinnamon.
In a separate bowl, mix together the foaming yeast, melted butter, and vanilla. Pour the wet ingredients into the dry ingredients and mix together with your hands until a nice dough ball forms. You can add a touch more flour if the dough is too sticky or a bit more water if it seems too dry.
On a well floured surface, knead the dough for 5 minutes.
Very lightly oil a large bowl and place the ball of dough into the bowl. Cover with plastic wrap and let sit for an hour to rise.
When the dough is nearly done rising, make the cinnamon filling by mixing together the brown sugar, cinnamon, and butter. Set aside.
In the bowl, deflate the dough by punching it down a bit. Take it out of the bowl and place it on a well floured surface. Press the dough out into a rectangle that's about 9×12 inches. I use my hands for this but you can also use a rolling pin.
Spread your cinnamon mixture evenly across the dough leaving about 1/2 an inch border on the 2 shorter edges. Sprinkle on the lavender.
Starting on one of the short ends, roll the dough up until you get to the other end. Crimp the dough together to seal it.
Using a sharp knife, cut the dough into 9-12 pieces depending on your preference and dish size. I ended up with 10.
In a large, greased baking dish, place the cinnamon rolls equally spaced. Let sit for an additional 45 minutes to rise once more.
Near the end of the second rise, pre-heat the oven to 400 degrees F.
Bake for 15-20 minutes or until your rolls are a nice golden brown color. Once out of the oven, let rest for 5-10 minutes before putting on the icing.
Make the icing while the rolls cool. Whisk together the sugar and 1 tablespoon of the liquid. Continue adding more liquid, a little at a time, until the icing is at your desired consistency.
Pour the icing over top of the rolls and ENJOY!!
Prep Time:

2 hours

Cook Time:

15 minutes

Category:

Breakfast

Cuisine:

American
This post may contain affiliate links. Please read my disclosure policy.