Lightened Up Sweet Potato Casserole
This post may contain affiliate links. Please read my disclosure policy.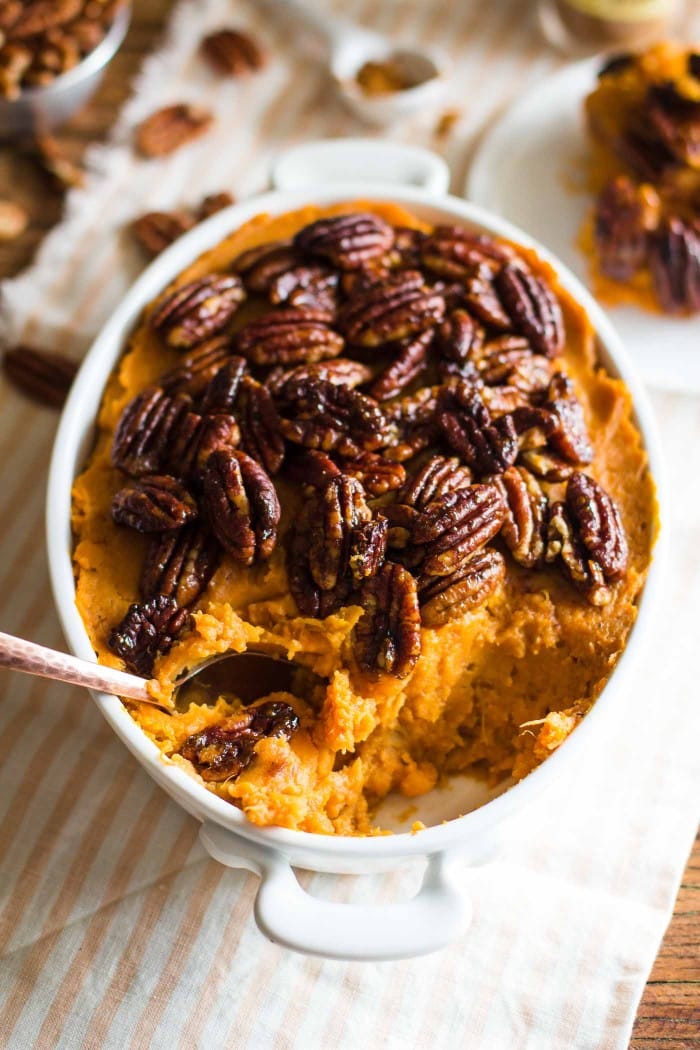 I'm finally kind of getting in Thanksgiving mode. I'm that person that typically celebrates Halloween and then instantly (like as I'm taking my costume off) starts planning for christmas decorations. I did a little xmas decorating in the past but my little house was too small to really have a tree SO I'm super excited to have a tree this year in our new house!
But yea, Thanksgiving! I talked to my mom on the phone extensively yesterday about our Thanksgiving menu. We listed out all of the things that we wanted and then realized that our list had about 5 different kinds of potato dishes on it. We're only feeding 8 people (one of which is a very small child) so we figure 5 potato dishes is a bit excessive. Right?
But of those 5 potato dishes, Sweet Potato Casserole is an absolute MUST. At least in my house in the south.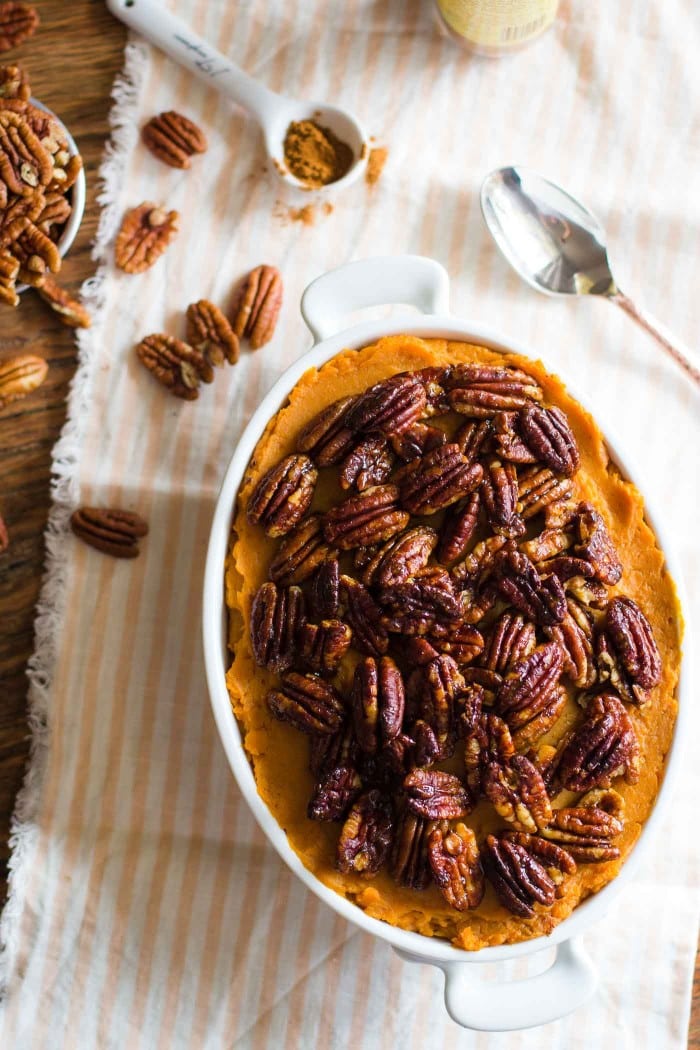 Typically I make my sweet potato casserole loaded with butter, milk, and topped with a ridiculous amount of marshmallows. Like, "do you want some sweet potatoes with that marshmallow fluff!?" kind of ridiculous.
However, I'm trying to lighten up my Thanksgiving dinner a bit this year. Just a little. So, I tested out this recipe with the end goal of making it completely dairy free. I swapped out the massive amounts of butter with just a little bit of vegan butter and I swapped out the whole milk for a smaller portion of almond milk. I also put quite a bit less sugar in than usual and relied on the natural sweetness of the sweet potatoes to do the job (although, don't get me wrong, there's a little maple syrup and brown sugar in there :D).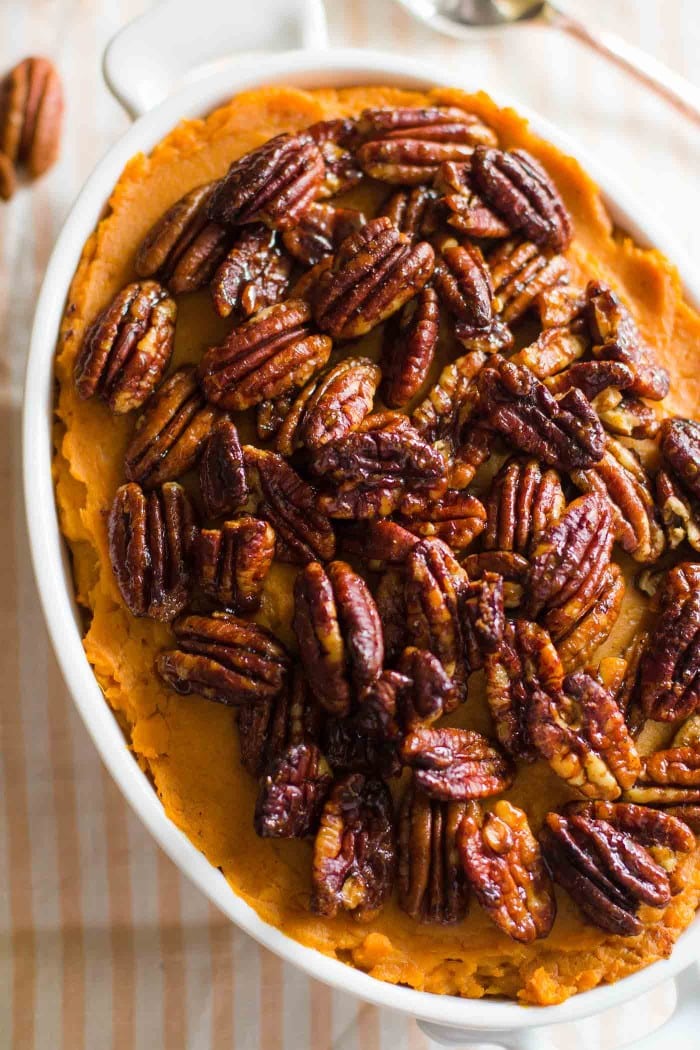 The end result is SO supper yummy and I'm pretty sure that no one will even know that it's a little bit healthier for them. Sneaky!
This Lightened Up Sweet Potato Casserole reheats SUPER well so if you need to lessen your thanksgiving day load and makes this ahead of time, it'll work!
It's also (no surprise here) very easy to make! First the potatoes are peeled and chopped.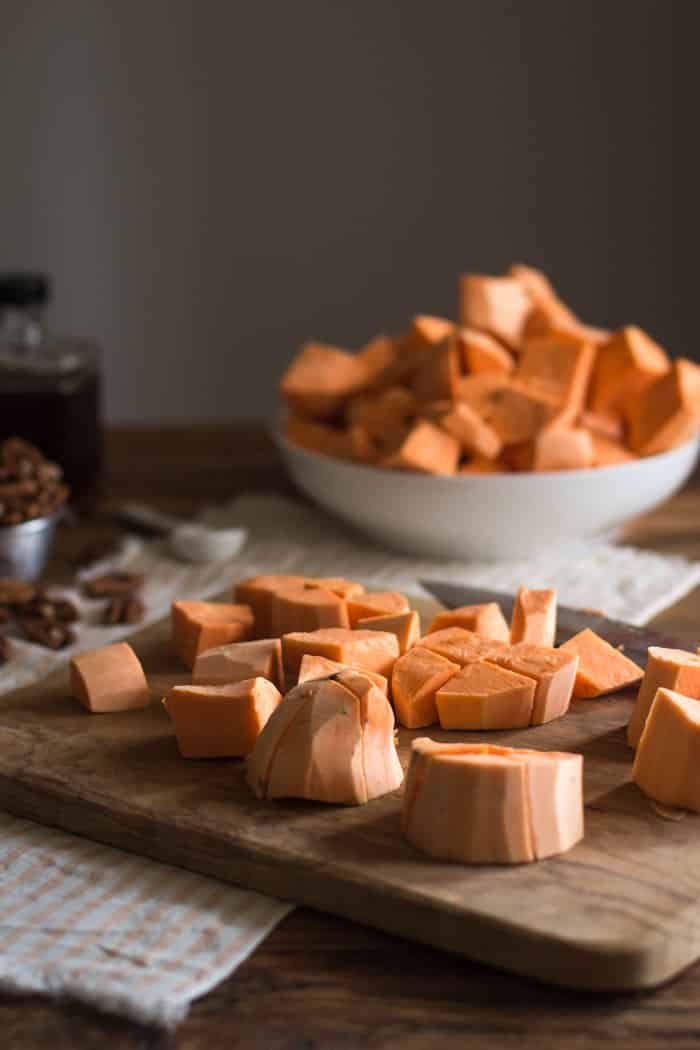 Covered with water and put on the stove to boil.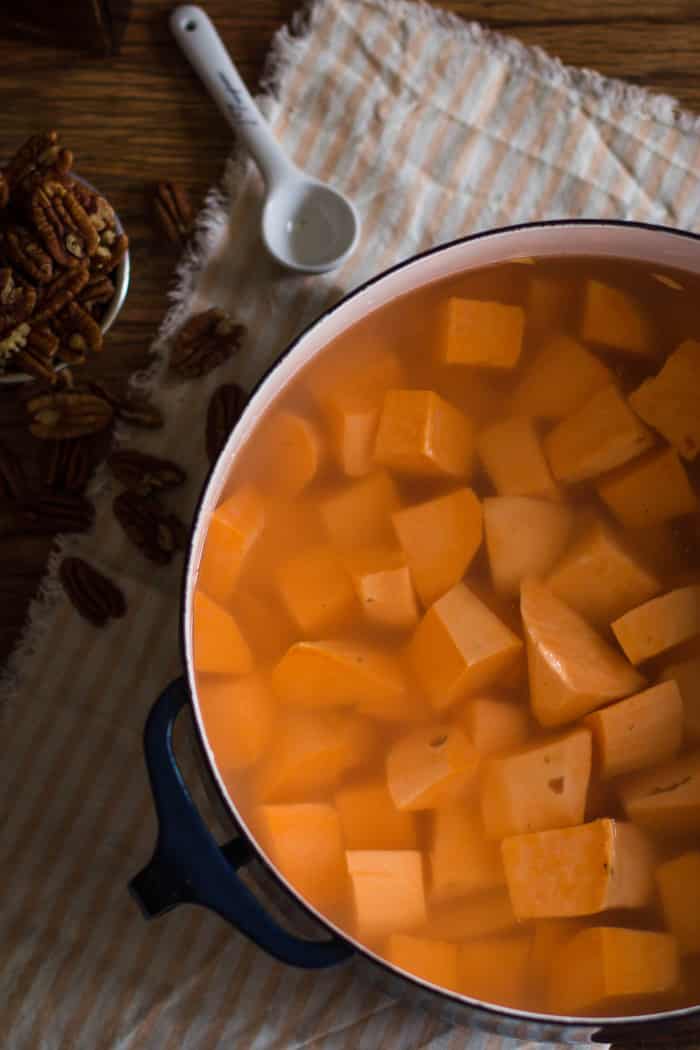 While that cooks, the pecans are toasted (whole or chopped, your choice) and candied with a bit of syrup, coconut oil, and brown sugar. Then they're set aside until we need em again.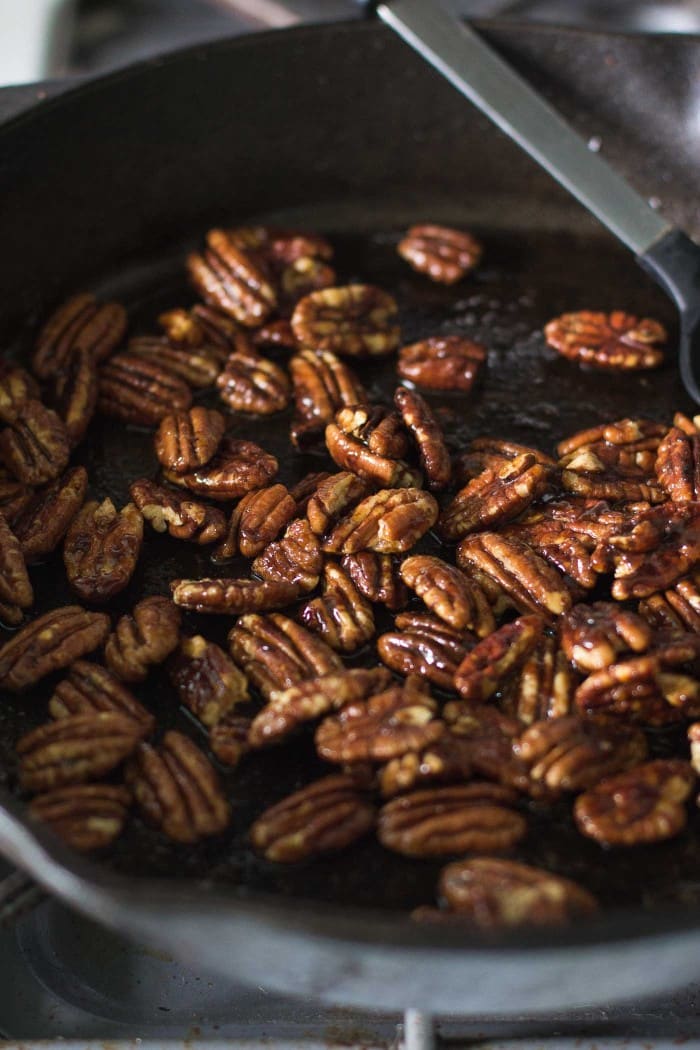 Once tender, the potatoes are drained and let to cool just a bit.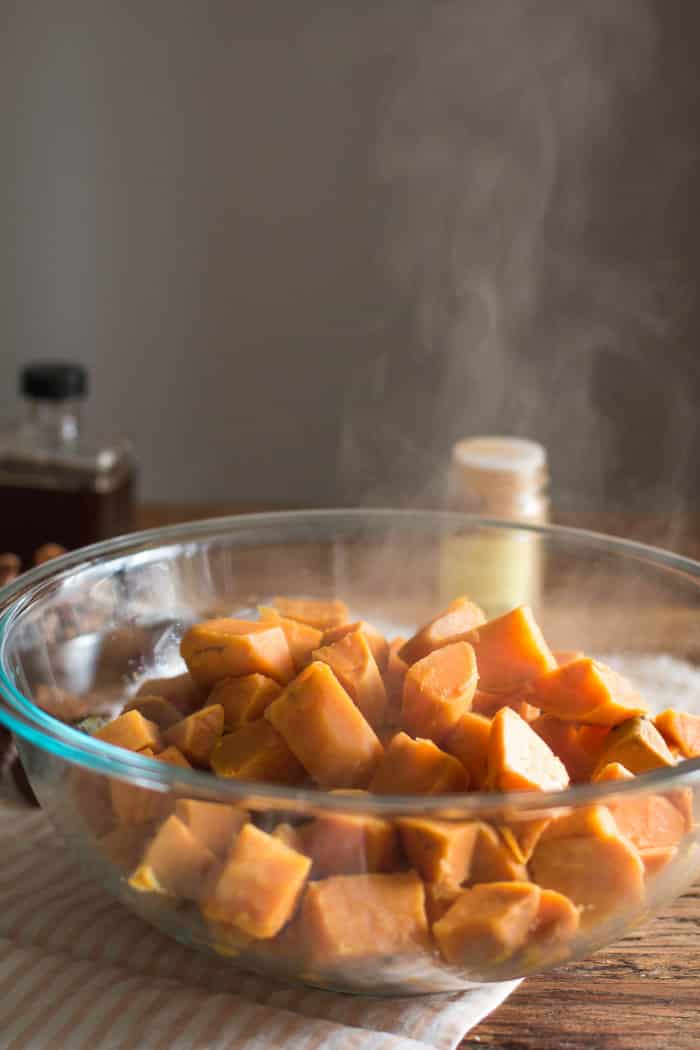 They're then fully mashed up. I don't have one of those fancy potato mashers (I've been meaning to get one) so I just use a fork. If you're sweet potatoes are properly tender then a fork gets the job done just fine.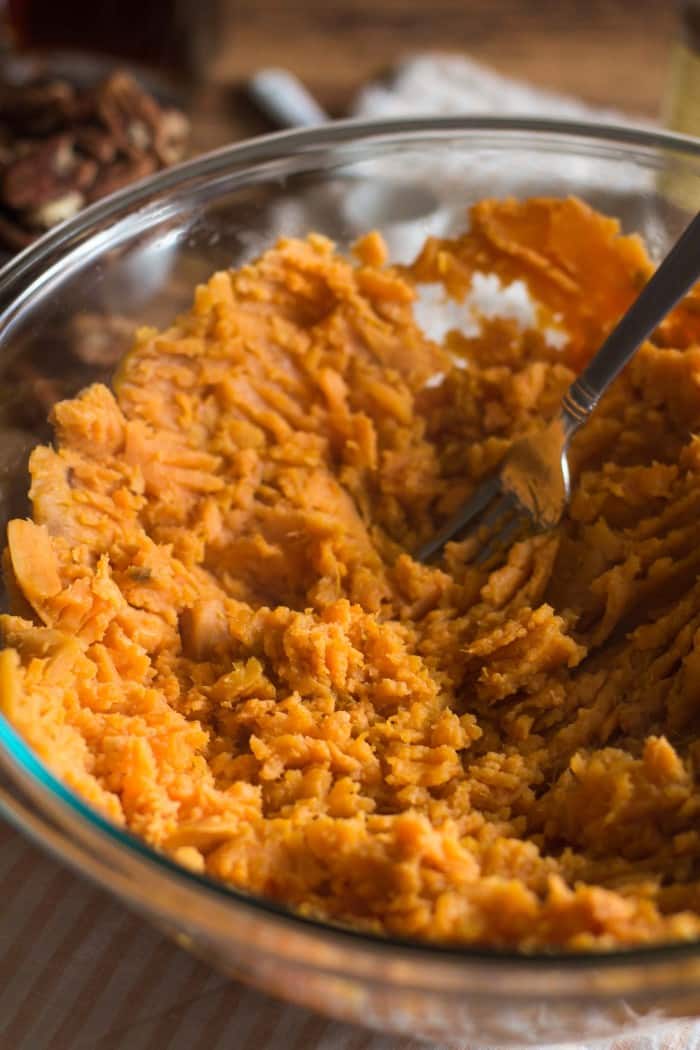 Now just mix in the remaining ingredients (excluding the pecans) and spoon it all into a casserole dish.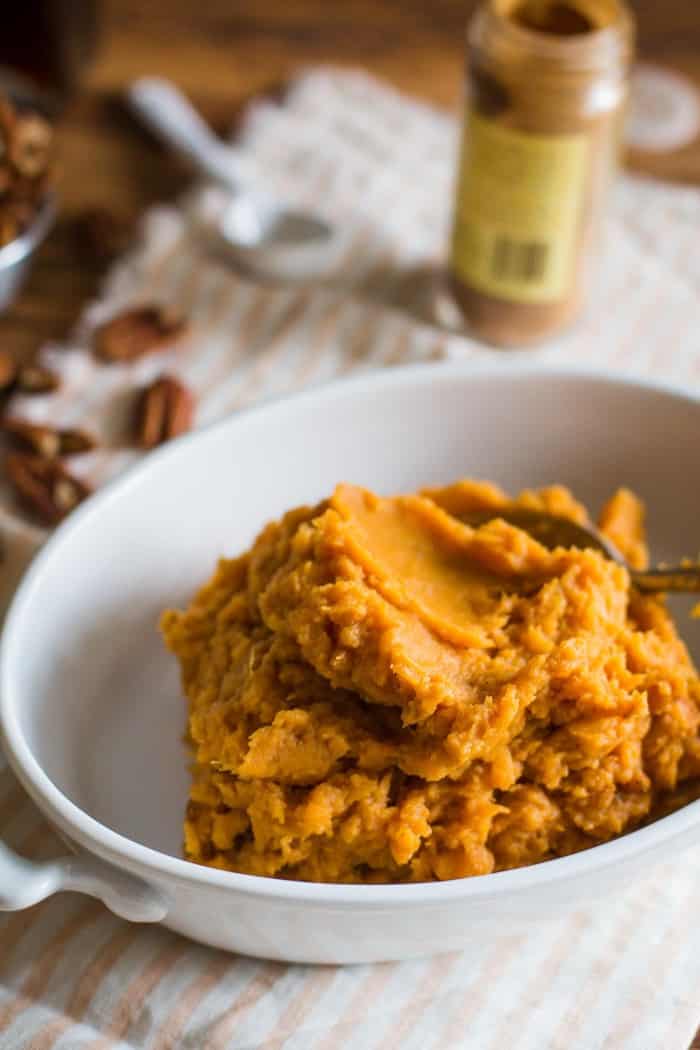 Smooth it out, top with the pecans, and stick that casserole in the oven for a bit to seal in the flavors.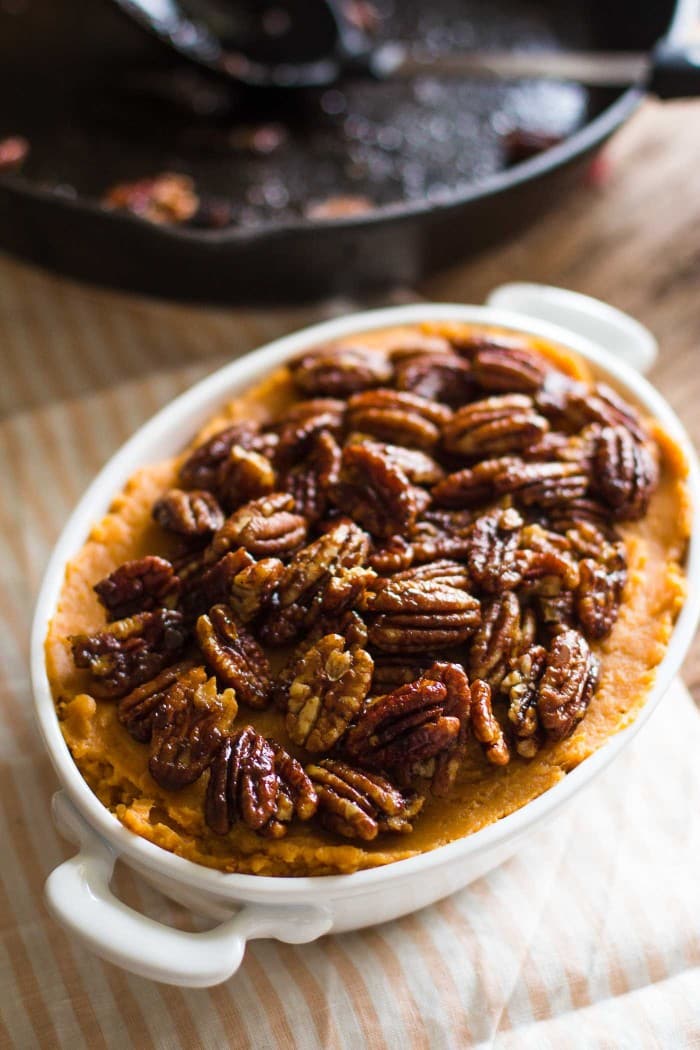 If you really want marshmallows on this, they could easily be squeezed in there between the sweet potato mash and the pecans.
Mmmm. I already can't wait to eat this again next week!! What's your favorite, must-have thanksgiving potato dish??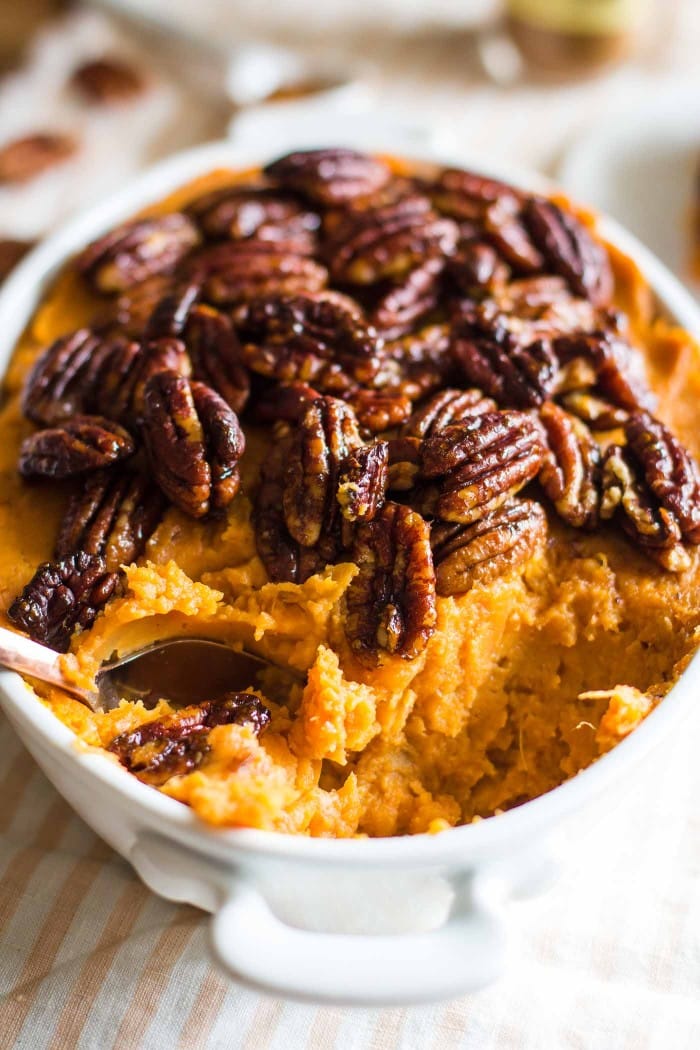 UPDATE: the recipe has moved HERE. I created a whole new page because I greatly changed the original recipe and made it SO MUCH BETTER and fully vegan!
This post may contain affiliate links. Please read my disclosure policy.