My First Playoff Tournament
Tomorrow I leave for Asheville, NC to participate in my first ever playoff tournament. I'm excited to play but I'm even more excited to be with my team and see the things that we can accomplish after all of the hard work that we have put into making it to this tournament. I don't think it had quite sunk in for me that the tournament was THIS weekend until I received this in the mail: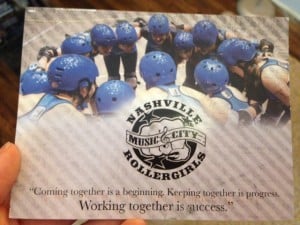 These postcards were anonymously sent to the whole charter roster although I have a sneaky suspicion that I know who sent them :)
We have worked hard and we are ready. Everything that we have will be laid on the track on Friday morning. I have been so very inspired by every single person on our team lately and I am proud to be making this trip with them. So many feelings!! I'm sure I'll have much more to say once the tournament is over but for now, I need to pack!
Our first game is Friday morning at 10 am eastern time. You can watch us live at wftda.tv with a $12 weekend pass.
After the tournament, we'll have a 2 week break with no practice. What will I do with myself!!? On the agenda for those couple of weeks: a 50 mile bike race, rekindling my love for crossfit (already thinking ahead to the 2014 season of derby:)), revamping my garden, and maybe painting my coffee table.