On The Go Yogurt Parfait
This post has been sponsored by General Mills. All thoughts and opinions are my own.
These delicious On the go Yogurt Parfaits are perfect for healthy snacking when you're in a hurry! Assemble quickly in the morning for a healthy snack later in the day.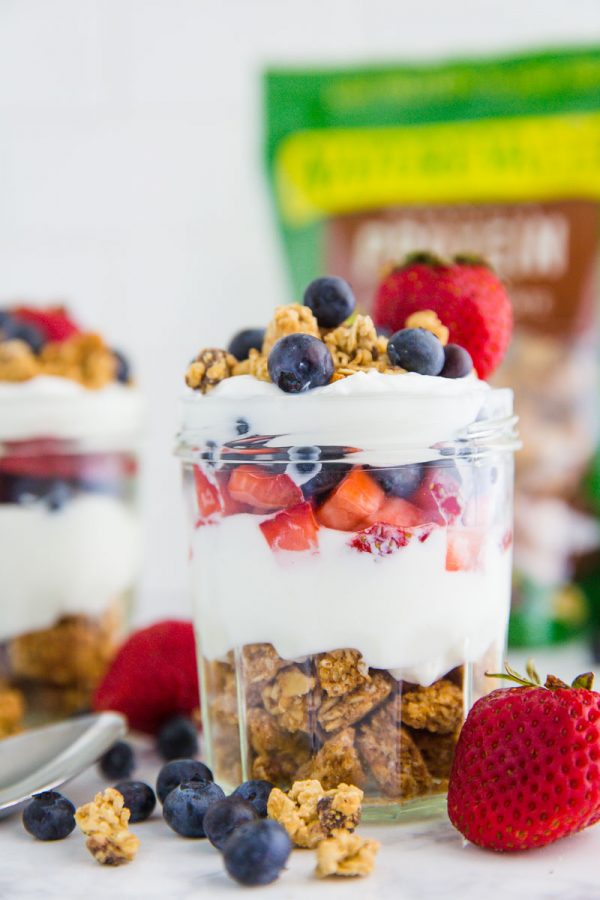 I'm so excited to be partnering with Nature Valley today for these yogurt parfaits! I ate their crunchy granola bars religiously when I was in high school. I ALWAYS had at least a few of them in my backpack at all times and still try and keep them on hand.
So I was very excited to see that you could buy the Nature Valley Granola Crunch Clusters in the Oats 'n Honey flavor. I actually used to break up the granola bars into a bowl to eat as granola. Happy they're doing the hard work for me now :D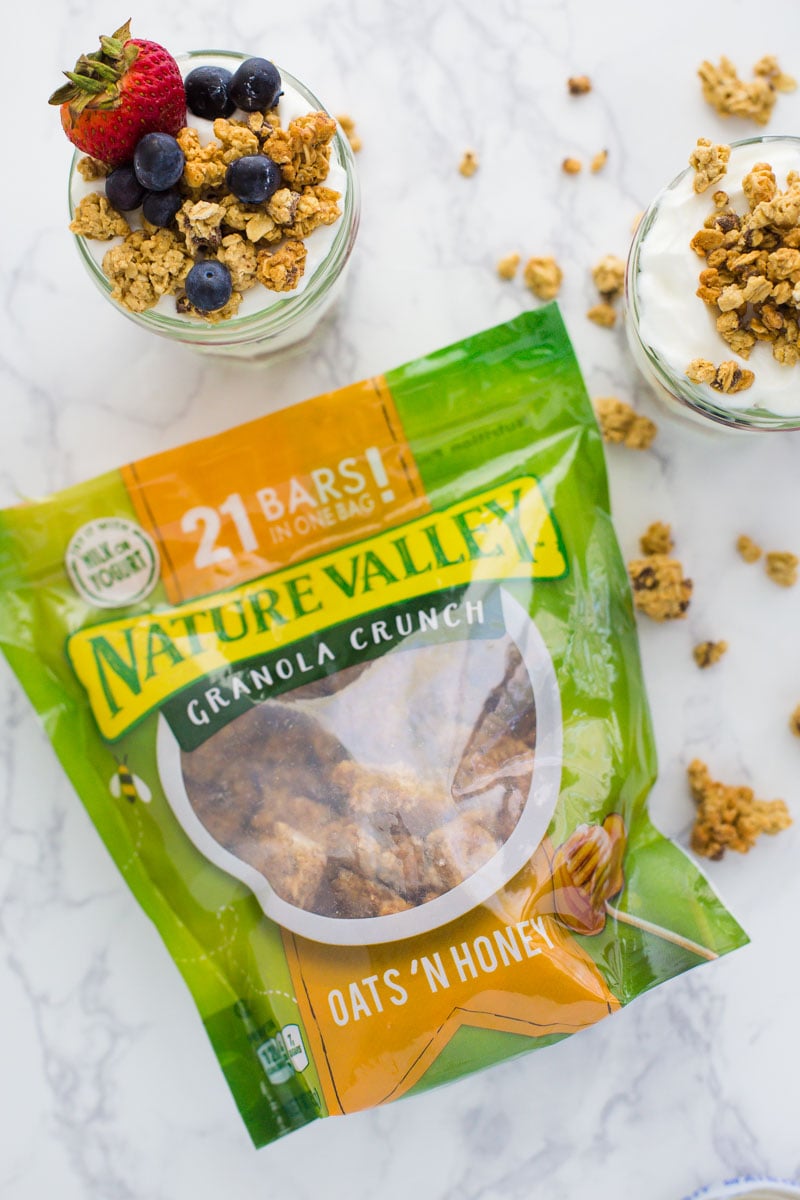 Today I'm using these Oats 'n Honey Granola Crunch clusters to make a simple on the go parfait snack bowl. I also topped it with a bit of their Nature Valley Granola Protein Oats N' Dark Chocolate. The granola plus the greek yogurt that I used make this a delightfully high protein snack! As we've been working out more lately, I've tried to be more cognizant of my protein intake and Nature Valley's  Granola Protein has been great for that!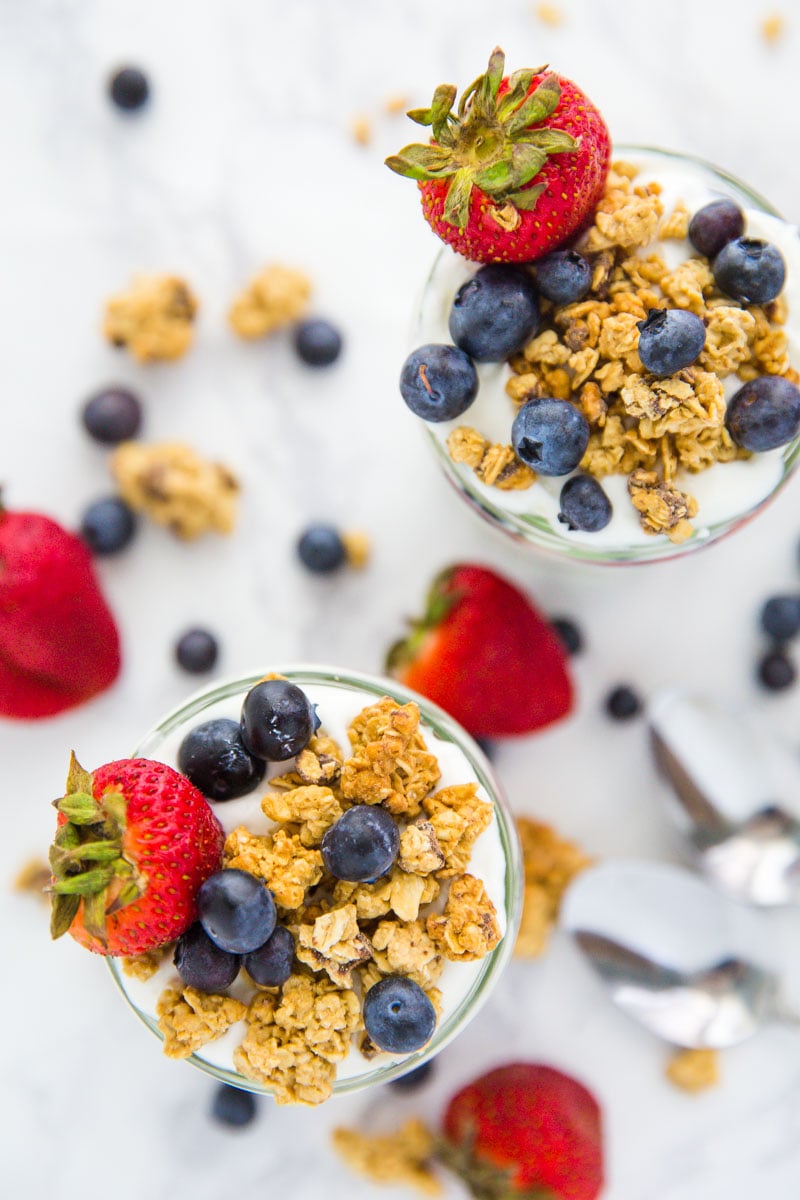 I bought the Nature Valley granola at Walmart which had a great selection of their other granolas in their flavors found easily in the cereal isle! I've been shopping at Walmart a lot more lately and have been loving it. The day I went to buy this granola, it was all I needed but I still walked out with a whole new dinnerware and glassware set and a cute outfit for Jemma :) Oops. At least I had this Ibotta offer buy 2, get 1 free on the Nature Valley granola, though, right?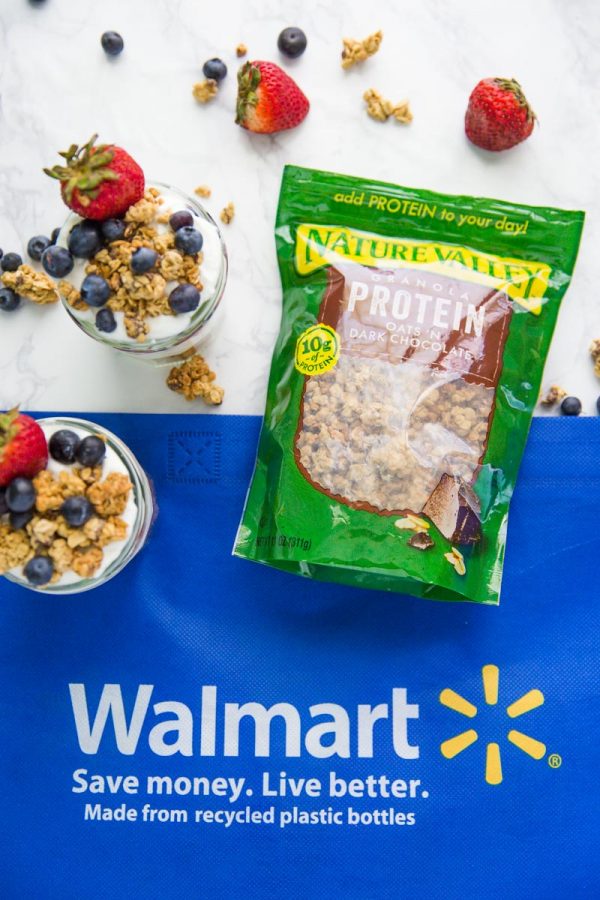 How to make these On The Go Yogurt Parfaits
Making the parfaits is SUPER easy and way cheaper than buying them. I start with a base of the Nature Valley Granola Crunch Cluster inOats 'n Honey. Top that with your favorite yogurt. I've been really into greek yogurt lately so I used a vanilla flavored low fat greek yogurt and topped it with some berries and a bit of the Nature Valley Granola Protein Oats N' Dark Chocolate. SUPER easy and ridiculously tasty!
You won't want to make these the night before as it'll make the granola a bit soggy from the yogurt sitting on it for a while. BUT if you make it morning of to enjoy by early afternoon, it's perfect! You could also have your granola and berries in the jar and ready to go with an on the go yogurt container. Then just combine it all right before eating. EASY!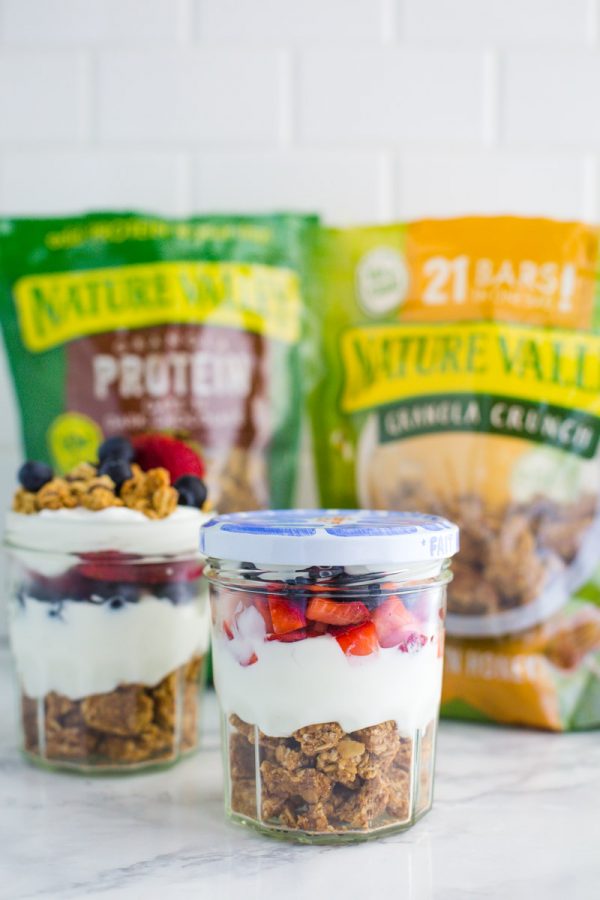 Print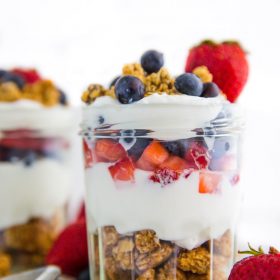 On The Go Yogurt Parfait
---
Author:
Yield: 2 servings 1x
Scale
Ingredients
1 cup of your favorite yogurt
1 cup of assorted berries/ fruit of choice
1 cup of Nature Valley Granola Crunch, Clusters, Oats 'n Honey
1/4 cup of Nature Valley Protein Oats N' Dark Chocolate Granola for topping
---
Instructions
Assemble the parfait cups by dividing the Nature Valley Granola Crunch, Clusters, Oats 'n Honey evenly among 2 on-the-go containers.
Placing it on top of the granola, divide the yogurt evenly among the containers and top with the fruit, divided evenly. If desired, you can add in part of the yogurt, some fruit, and then add a bit more yogurt on top of the fruit.
Top the parfaits off with a bit of the Nature Valley Protein Oats N' Dark Chocolate Granola. This can be added on right before serving if desired.
ENJOY!
---
Category: Breakfast
Cuisine: American
Keywords: breakfast, on the go, parfait, granola