Strawberry Shortcake Cupcakes
This post may contain affiliate links. Please read my disclosure policy.
This is a recipe that I'm truly proud of. First because it was my first real step in overcoming my fear of baking and second because I actually experimented with it and it ended up SUPER tasty. So, I'm pretty excited to share this recipe today. So excited, in fact, that I felt the above gif was just absolutely necessary. You're welcome. Oh, and I should also warn you that this post is FULL of pictures. I couldn't cut any of the deliciousness out. I just couldn't.
Behold the Strawberry Shortcake Cupcake with homemade whipped cream frosting and a strawberry on top. Isn't it beautiful??
These cupcakes were inspired solely by the strawberry. A few weeks ago I was walking past a candy and pastry shop downtown and saw chocolate dipped strawberries cut in the shape of a rose. I thought this was the best thing ever and instantly knew that I NEEDED to incorporate that into a recipe somehow. And thus, the strawberry shortcake cupcakes. I love them so much.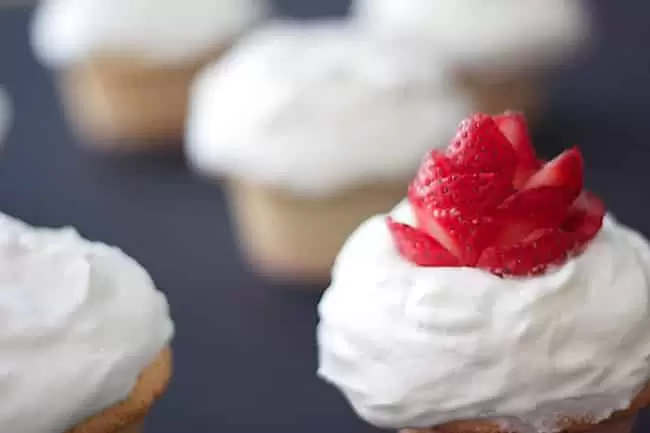 6 large eggs, yolks and white separated in 2 different bowls.
1 cup cake flour, sifted
I cup white sugar
1/4 teaspoon salt
1/4 teaspoon baking powder
1 teaspoon vanilla extract
2 tablespoons water
2/4 teaspoon cream of tartar
zest of 1 lemon
3 cups heavy whipping cream
5 tablespoons white sugar
1 1/2 teaspoons vanilla extract
1) Sift together the flour, baking powder, and salt and then set aside.
3) With a whisk, beat in the lemon zest, vanilla extract, and water into the egg and sugar mixture. Set aside.
4) In a different bowl, using the whisk attachment of the stand mixer, whisk the egg whites until they begin to foam.
5) Add the cream of tartar to the egg whites and continue beating until soft peaks form. Slowly add 1/3 cup of sugar while continuing to beat the egg whites. Continue to beat the egg whites until they form stiff peaks and have a bit of a shine to them.
7) Once it is thoroughly mixed together, begin to fold in the egg whites mixture in a similar fashion: gradually and gently. Only mix the batter enough so that it is thoroughly combined but do not over mix it.
8) Pour your batter evenly into cupcake liners. I wanted mine rather large so I filled the cups up almost to the top.
9) Bake for about 15 minutes. You'll know the cupcakes are done once you can place a toothpick in the center and it comes out clean. Let cool.
1) Chill metal bowl and whisk of mixer in the freezer for 5 minutes.
2) Whisk heavy whipping cream on medium-high speed until the cream begins to thicken.
3) Gradually add the sugar while continuing to mix on medium.
4) Mix until the mixture forms stiff peaks and has the thick consistency that you want. I wanted mine extra thick and stiff so that it would stand up on the cupcakes nicely.
Keep refrigerated until you're ready to put it on your cupcakes.
Finally, spoon (or pipe) a generous serving of whipped cream on each cupcake and top with a strawberry and ENJOY! I may or may not have "taste tested" several of these. You know, to make sure that they were good enough for you guys. It happened.
Thanks to this guy for helping me get through the challenges of baking. He stayed by my side the whole time.
This post may contain affiliate links. Please read my disclosure policy.