Sweet and Sour Tofu
This post may contain affiliate links. Please read my disclosure policy.
Thank you to Veetee for sponsoring this post! You can read more about their ready to eat rices later in the post!!
Oh hey, Monday. So very good to see you again.
It's honestly SUCH a relief to have officially announced that I'm pregnant because now I can tell you whats really going on in my life :) Getting pregnant and starting a new business in the same couple months (while not planned) has been an adventure! Luckily, I had VERY little sickness throughout my first trimester which I feel very grateful for. I did, however, get quite tired quite often which proved difficult when I suddenly had a lot more work to accomplish.
Dinners often consisted of whatever leftovers were in the fridge from client videos (the leftovers are constant and so daunting! (first world problems)) OR rice. Mr. Britnell is more a fan of balanced meals so often he would have to improvise. I, on the other hand, could eat rice for every meal and sometimes all on it's own. CRAZY amounts of rice have been consumed during this pregnancy and I'm totally okay with that.
The rice always fills me up, never makes me nauseas, and totally satisfies me (<<<the main criteria in food over the past couple months).
When I'm feeling extra fancy, this Sweet and Sour Tofu goes on top of the rice.
Lately, this Veetee rice has been my savior. I've been able to find it at pretty much any grocery store in my area and it's ready to eat in 2 minutes! That speediness comes in handy when pregnancy hunger strikes out of NO WHERE!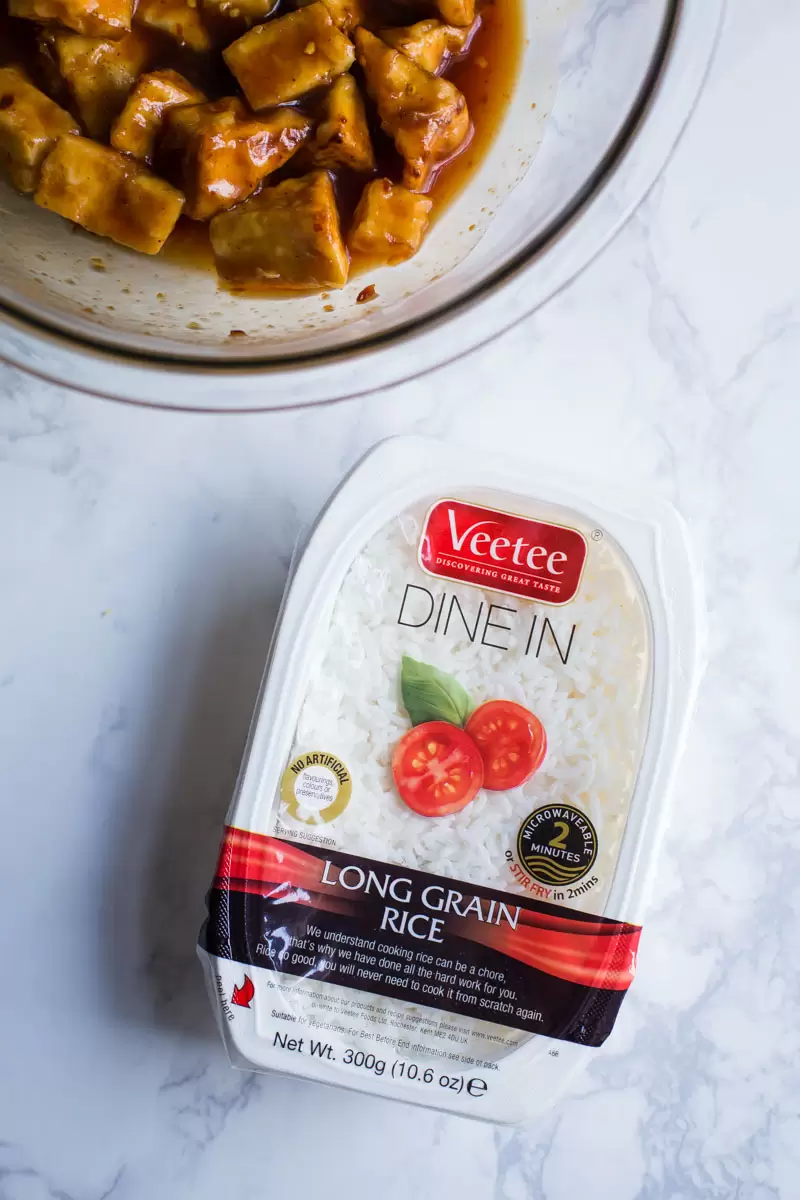 While I don't pack lunches anymore (benefit of working from home), Mr. Britnell does and these are SO perfect for throwing in with his other food.
Oh, and the Tofu. SO GOOD. It's a recipe that I've lightly adapted from THIS vegan cookbook which is basically my vegan bible of recipes. I use it so often. I originally checked it out from the library and quickly realized it was a book worth owning.
Anyways, this Sweet n' Sour Tofu: you need to make it asap because it's so yummy! I've tried a baked version of it as well which is also tasty and maybe a little healthier :) But we're going with the fried version today.
It's also conveniently super easy to make. The sauce is made in one little pan over some heat. The tofu is drenched in a flour mixture and then fried for a few minutes. Sauce + tofu get tossed together and you're DONE.
Serve it over some of this Veetee rice that took you 2 minutes to make and you have dinner in 15 minutes flat!
I suggest you add this dish to your dinner plans for the week. You won't regret it!!
Print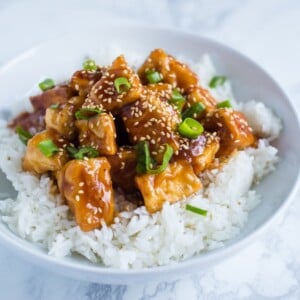 Sweet n' Sour Tofu
---
Author:

Total Time:

15 minutes

Yield:

4

servings

1

x
For the sauce:
1/4 cup

of water

1 tablespoon

of cornstarch

2 tablespoons

of ketchup

2 tablespoons

of low sodium soy sauce

2 tablespoons

of sugar

2 tablespoons

of rice wine vinegar

3/4 cup

of pineapple juice (I like to buy a can of pineapple chunks and eat them with the meal tossed in the sauce!)

1/4 teaspoon

of salt

1 teaspoon

of red pepper flakes
For the Tofu:
~12-15 ounces of extra firm tofu, patted dry and cut into 1/2 inch squares or triangles

1/2 cup

of all purpose flour

1/2 teaspoon

of salt

1/2 teaspoon

of pepper
oil for frying, I used vegetable oil

2

ten ounce packages of Veetee long grain rice
---
Instructions
In a small bowl, combine the cornstarch and water. Mix thoroughly and leave to dissolve while you make the sauce.
In a small saucepan, combine the ketchup, soy sauce, sugar, vinegar, pineapple juice, salt, and red pepper flakes. Bring to a boil, reduce heat, and simmer for about 10 minutes. Remove from hear and immediately stir in the cornstarch mixture. Set aside.
Begin heating your oil in a medium skillet and filling it up about 1/4 inch. You want the oil to reach roughly 375 degrees F.
In a shallow bowl, whisk together the flour, salt, and pepper. Dip each piece of tofu in the flour mixture and set aside until the oil is ready.
Once ready, fry the tofu for 2-3 minutes on each side, remove from pan, and let cool slightly on a paper towel to soak up the excess oil. Repeat until all of the tofu has been fried.
Once cooled slightly, toss the tofu (and the pineapple if using) in the sauce. Serve over your prepared Veetee rice and ENJOY!! This is also great served with some lightly sautéed bell peppers and onions!
Notes
Lightly adapted from 500 Vegan Recipes
Prep Time:

5 minutes

Cook Time:

10 minutes
This post may contain affiliate links. Please read my disclosure policy.