Vegan Crispy Chick'n Tacos
This post may contain affiliate links. Please read my disclosure policy.
"This post has been sponsored by Gardein and Earth Balance products. All thoughts and opinions are my own."
Can you tell I've been on a big taco kick lately? I'm not sure that it's EVER possible to get sick of tacos.
And today, we're rocking some VEGAN Crispy Chicken Tacos. (!!!!!)
I got all of the ingredients for these tacos at Whole Foods, one of our partners for today's post! I've been shopping there more lately and have loved finding new products that I can't find at many of my other local stores. Am I the only one that can't manage to walk out of Whole Foods without a bouquet of flowers and at least one freshly squeezed juice? (and often a macaron as well).
Side note: my Whole Foods has a section in the store for local products and it's where I get most of my coffee as well as quite a few gifts (because all gifts should have an edible element to them).
Let's break down these Vegan Crispy Chick'n Tacos:
VEGAN CHICKEN. I know! You've probably tried some meat substitutes for chicken before and they were….meh? NOT THESE Gardein™ Seven Grain Crispy Tenders! I think it's because I have pet chickens but I of all the meats, chicken is the one I enjoy eating the absolute least. Needless to say, I'm VERY happy to have found this delicious alternative!
I swear you would never be able to differentiate these crispy tenders from the real deal. SO good, SO simple to make. I mean, look at this!: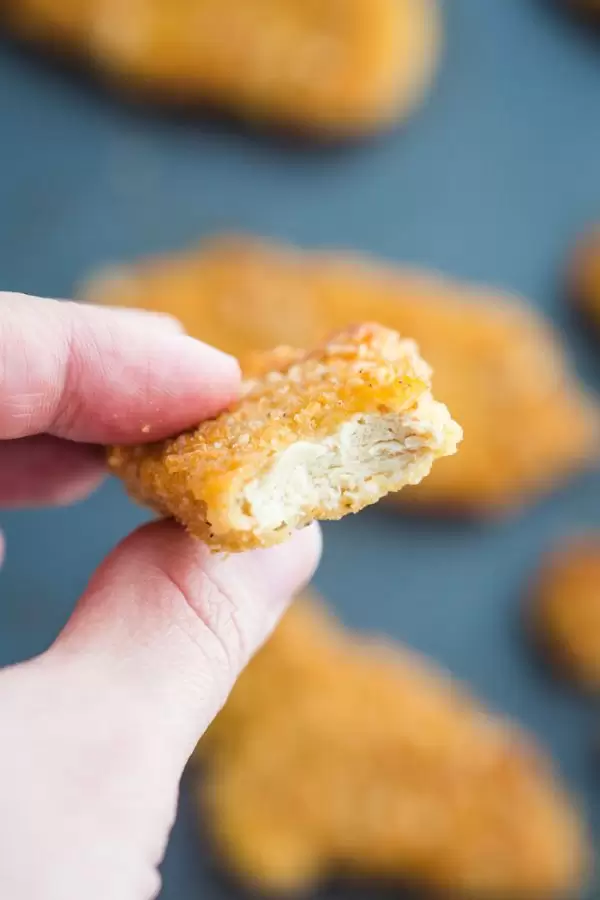 I got these at Whole Foods in the freezer section and would 1000% buy these crispy tenders again to make these tacos. BUT would also love to just eat them all by themselves, straight off of the baking tray (maybe did that already ?).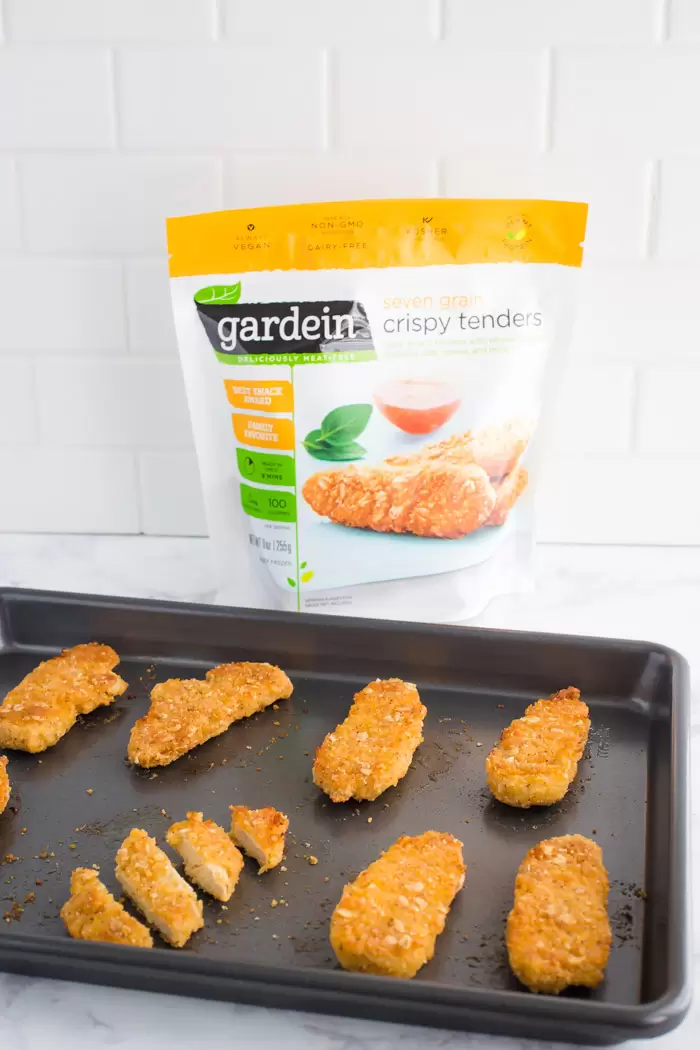 THE SPICY SAUCE: you know I LOVE a good spicy sauce on my tacos (and on everything for that matter!). For this sauce, we're using 1/4 cup of Earth Balance Original Buttery Spread that I also got at Whole Foods.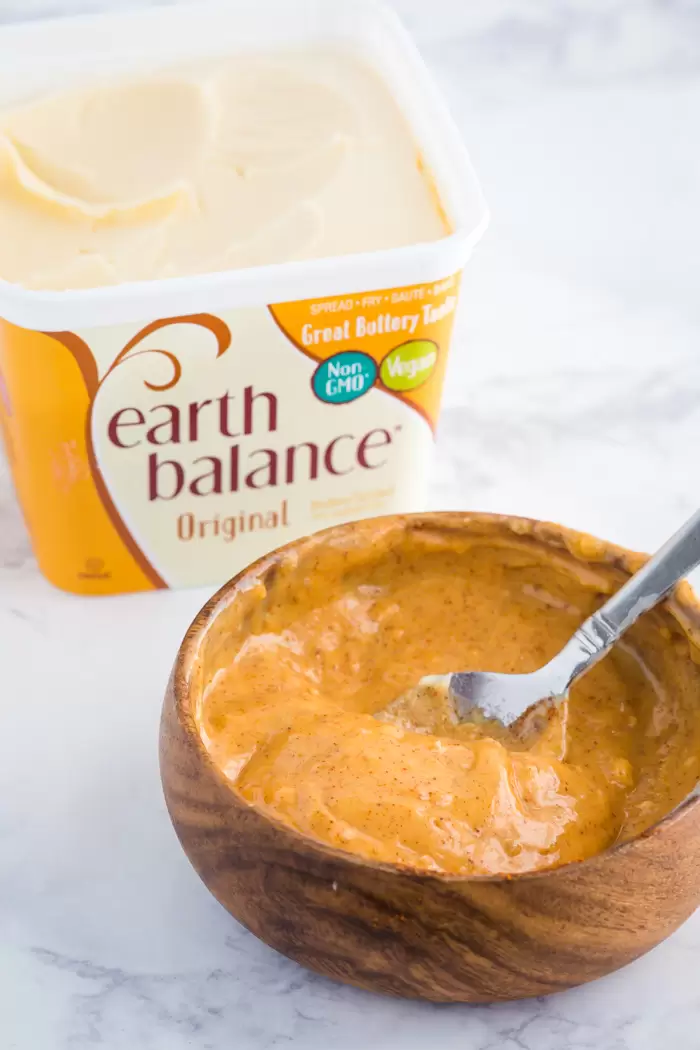 I first tried the sauce out with sriracha, but that didn't work out so well. Instead, we're mixing the buttery spread with something sweet (maple syrup or honey), paprika, cayenne, and garlic. TRY IT! It's one of those things you don't know you'll love until you give it a go. I'm obsessed. I made a big batch and ate it on quite a few things until it was all gone :)
FOR THE VEGGIES: I sauteed the peppers and not the onion. Really you can do whatever works for you. Saute it all or none of it. I really like the warm, tender peppers in these tacos! Jalapeno is obviously optional if you need a little extra spice in your tacos.
OKAY. That's all I have for you on this Taco Tuesday. Please be sure to make your way over to your local Whole Foods and pick up everything you need to make these delicious Vegan Crispy Chick'n Tacos ASAP! Thankfully, Earth Balance and Gardein make it easier to choose plant-based food without giving up taste, convenience, or quality!
Make sure to use these coupons during your next visit to Whole Foods for the Gardein crispy tenders and Earth Balance buttery spread!
iBotta Offer—> https://ibotta.com/rebates?q=GardeinEarthBalance
Print
Vegan Crispy Chick'n Tacos
---
For the spicy sauce:
¼ cup

of Earth Balance Original Buttery Spread

1

of clove garlic, finely minced

1 tablespoon

of honey, or maple syrup to keep the sauce vegan

¼ teaspoon

of cayenne

¼ teaspoon

of paprika

Pinch of salt to taste
For the tacos:
1

package of Gardein Seven Grain Crispy Tenders

1

large bell pepper (I actually used 4 mini bell peppers which is about the same quantity), thinly sliced

1 tablespoon

of olive oil

¼ cup

of red onion, finely chopped

1

jalapeno, thinly sliced

6

corn tortillas
---
Instructions
Cook the Gardein Seven Grain Crispy Tenders according to package instructions.

While the crispy tenders are cooking, heat the olive oil in a medium skillet over medium heat. Once hot, add in the bell pepper slices and season with salt and pepper. Saute for about 8 minutes or until tender and to your liking.

Make the sauce by first microwaving the Earth Balance Original Buttery Spread in a small bowl in 10 second increments. You want it to be spreadable but NOT completely melted. I found 20 seconds to be perfect. Add in the remaining sauce ingredients and mix thoroughly.

Assemble your tacos by dividing the sauteed peppers and Gardein Seven Grain Crispy Tenders evenly among the tortillas. Top each taco with red onion, jalapeno, and the spicy sauce (I put my sauce in a little plastic baggie with a corner cut out to get it on the tacos nice and pretty!).
This post may contain affiliate links. Please read my disclosure policy.