Quick & Easy Pasta Salad
Vegan Pasta Salad JUST in time for quick, lazy summer meals. Anytime I can avoid turning on the hot stove in the summer, I'm a happy camper :)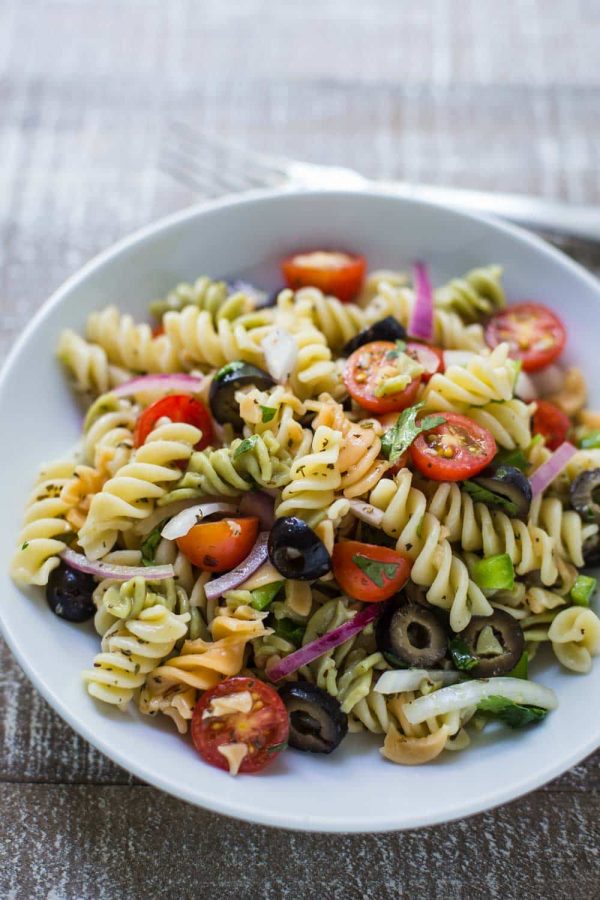 Welcome to the warm lazy days of summer where dinner is typically a big salad that I threw together largely just because my garden is bursting and all my lettuce/ veggies are going to go bad if I don't eat them soon. My lettuce plants are at the point where we have to eat at least a salad a night to keep up with it or else I'm throwing lettuce away. No complaints there though. Besides the lettuce, nothing else is actually ripe but I have baby zucchinis and butternut squash coming in which makes me VERY happy.
I have been and always will be a summer girl. I'll take hot humid weather ANY DAY over snow and cool weather.
So yea, it's basically summer and I plan to eat lots of pasta salads similar to this one. Also, this pasta salad is my attempt to replicate my moms pasta salad which is a highly requested dish at ALL family functions.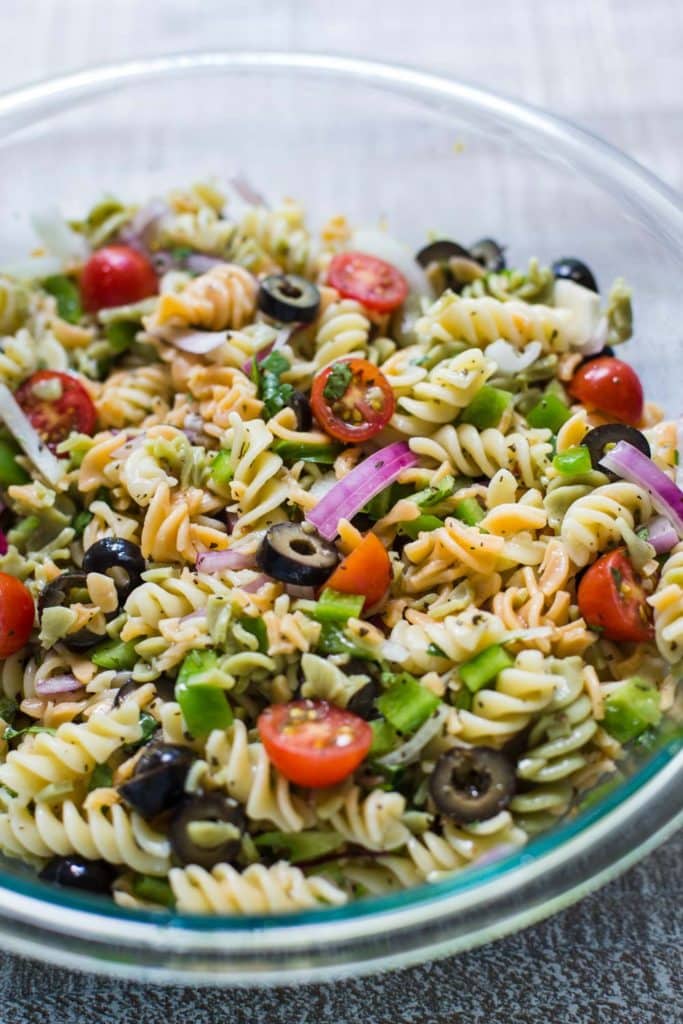 Pasta is cooked, veggies are chopped, a super simple dressing is made and then it's ALL mixed together.
I tried out a few combos to decide which dressing to use for this pasta salad. I ended up going with a simple Italian dressing using ingredients I already had in the house.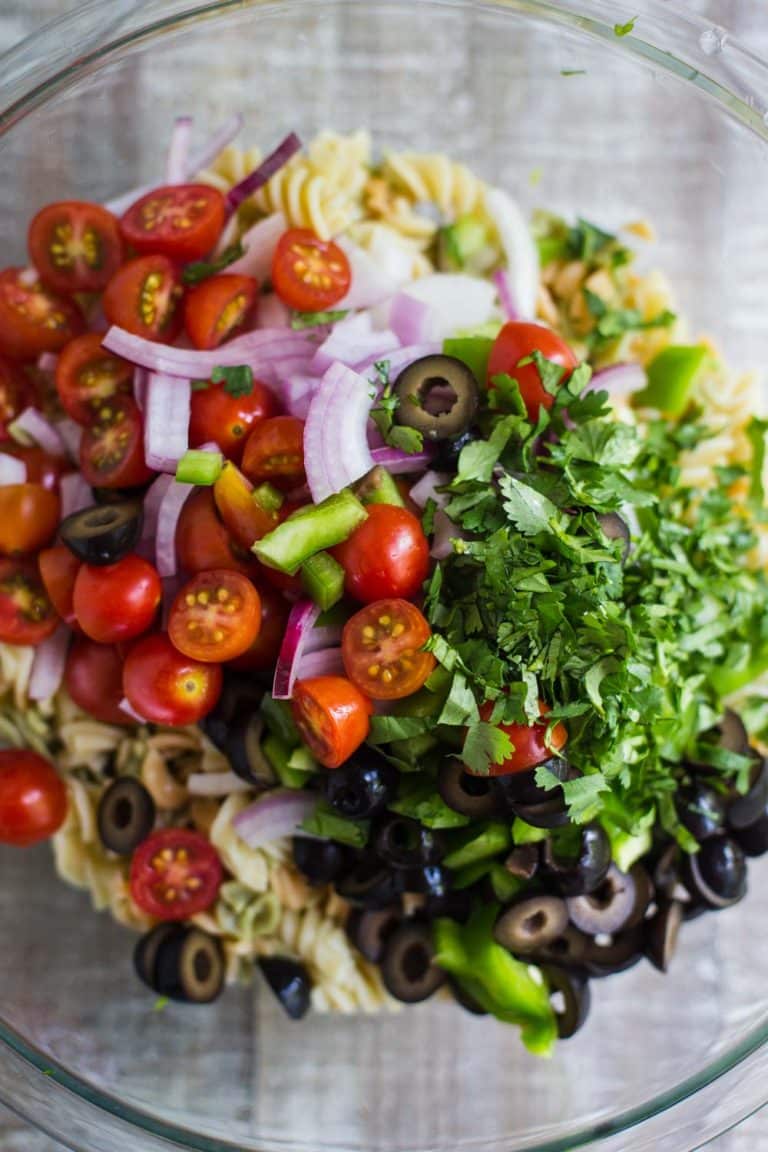 You can serve it warm but I typically prefer my pasta salad cold. Simply rinse your cooked pasta under cold water to cool in down before mixing it with the veggies and the dressing. Easy peasy.
Needless to say, I'm a huge fan!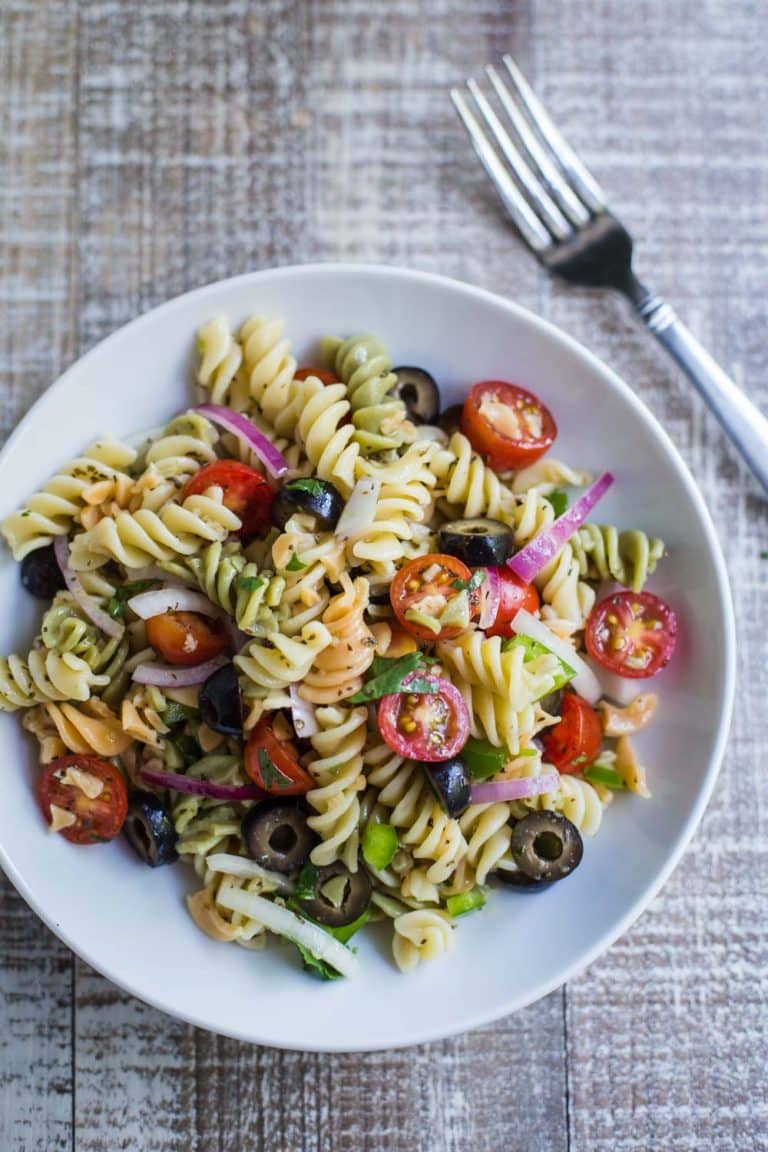 I made this pasta salad on a Sunday and ate on it for pretty much the entire week. So, if you're wondering how long this pasta salad is good for, I'd say you're good for about 4-5 days at least.
Other Plant Based Pasta Salads:
See How To Make the Pasta Salad:
Print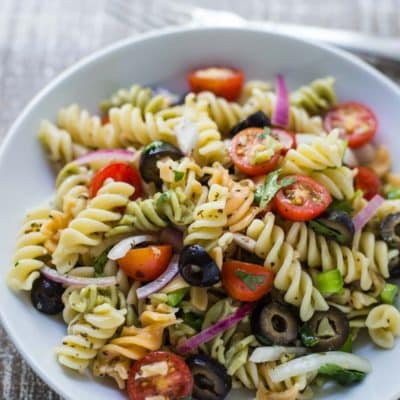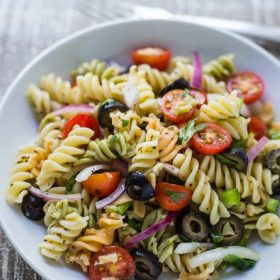 Vegan Pasta Salad
---
Author:
Prep Time: 15 minutes
Cook Time: 10 minutes
Total Time: 25 minutes
Yield: 8 servings 1x
Description
Easy and Delicious Vegan Pasta Salad!
---
Scale
Ingredients
1 pound of pasta ( I used spirals)
1/2 red onion, thinly sliced
1/2 cup of grape or cherry tomatoes, halved or quartered
1 small green bell pepper, chopped (about 1 cup)
1 can of sliced black olives (mine was 6 ounces)
1/4 cup of chopped fresh parsley or cilantro (I used parsley)
Salt and pepper to taste
1/3 cup of olive oil
2 tablespoons of white balsamic vinegar
1/2 teaspoon of oregano
1 teaspoon of garlic powder
1 teaspoon of onion powder
1/4 teaspoon of crushed red pepper
Good pinch of sugar
---
Instructions
Cook pasta according to directions to your desired doneness. Drain and let cool. If serving the pasta salad cold, run the cooked pasta under cold water to cool it off quite a bit.
While the pasta cooks, chop up your veggies and make your dressing.
Make the dressing by combining the olive oil, vinegar, spices, and sugar. Whisk until fully combined and set aside.
In a large bowl, combine the pasta, chopped veggies, parsley (or cilantro) and dressing. Toss until the pasta and veggies are fully coated in the dressing.
Salt and pepper to taste and ENJOY!!!
---
Category: Pasta
Method: Cooking
Cuisine: American
Keywords: pasta salad, summer recipes, vegan salad