What's in my Purse?!
This post may contain affiliate links. Please read my disclosure policy.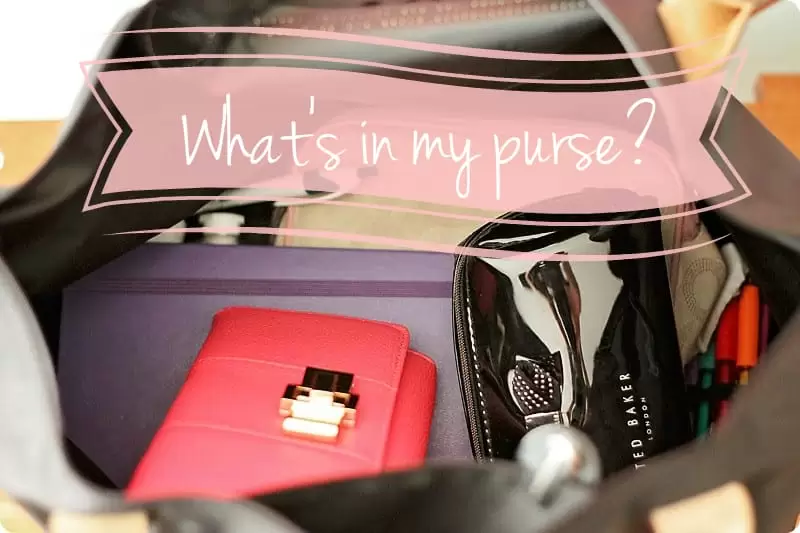 Hello! I'm very excited to be joining Ashley on her blog today for the "What's in my pocketbook" series that she's been running. I always enjoy getting to see the random things that people carry in their purse and I'm glad to get to share mine.

And just for the record: I refer to my pocketbook as a plain ole purse.

I seriously debated changing purses just for this post but in the end decided to go with the purse I'm using now: a large Longechamp tote. I got it while in London last month and have been loving it! It fits SO much in it with room to spare which is my favorite style of bag: BIG. I like to be able to fit all of my "necessities" in it while still having room to throw in some files for work and a large water bottle.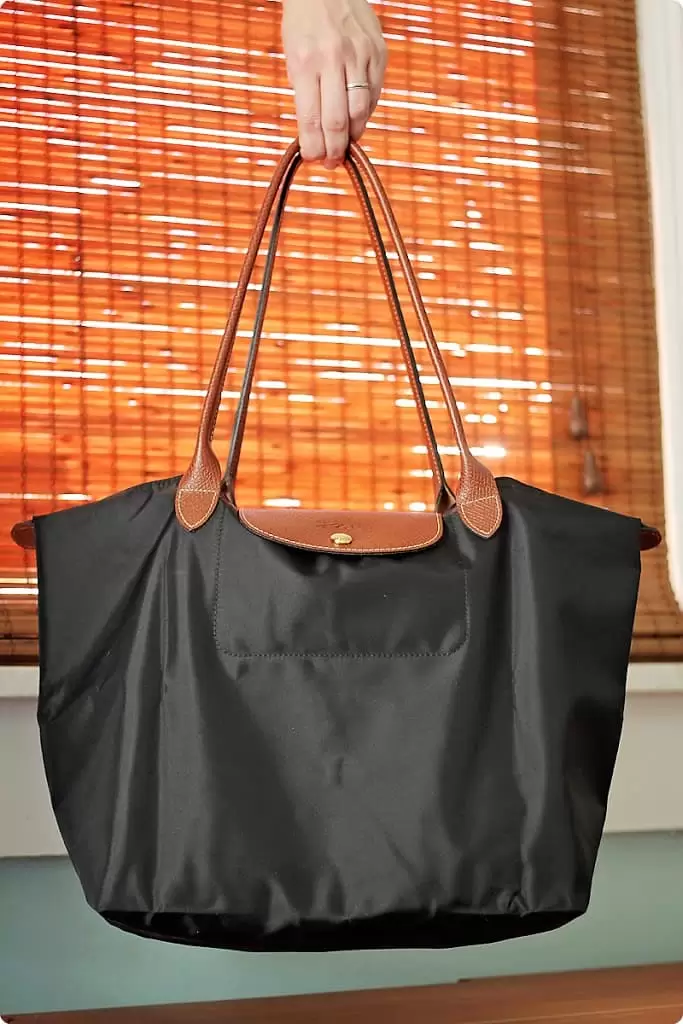 I change out my purse probably about every 6 weeks. There's really no rhyme or reason to it. I just change it up when I get bored.
I'd say that the contents of my purse are pretty conventional. The weirdest thing I carry around with me is probably the $70 flashlight that my husband insisted I have and carry with me at all times. At least I'll be able to see when the apocalypse comes I guess. I will admit though, I've found good use for it a few times.
Here are the main contents of my purse laid out: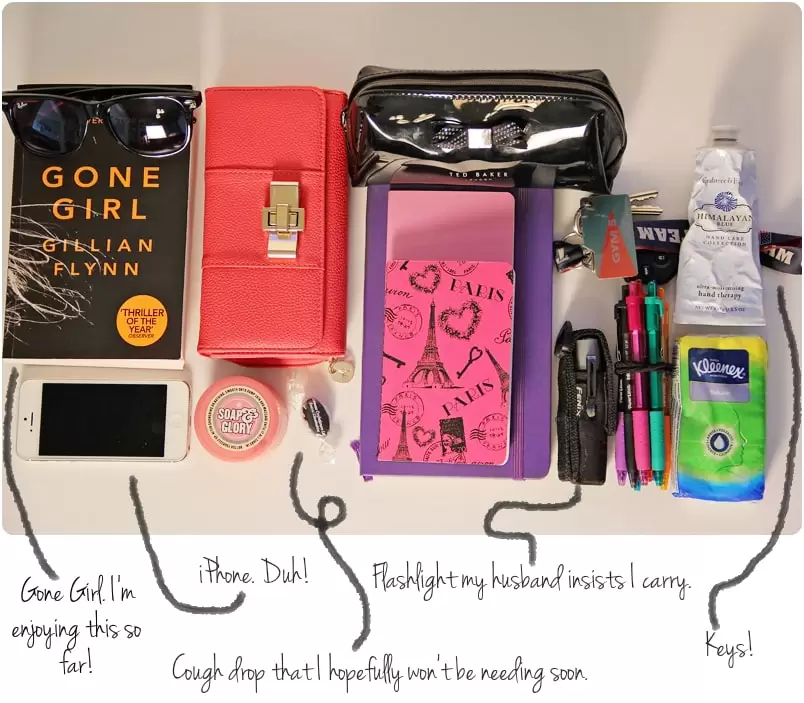 Above is my planner and two small notebooks that I use to write down random thoughts and keep track of my weights at the gym. And yes, it's necessary for me to carry around all of those pens so that my planner can stay neatly color coordinated, duh.
I got this Ted Baker bag while stuck at the airport in London. Ted Baker is one of my new obsessions and although simple, I love this little cosmetics case! Here's what's inside: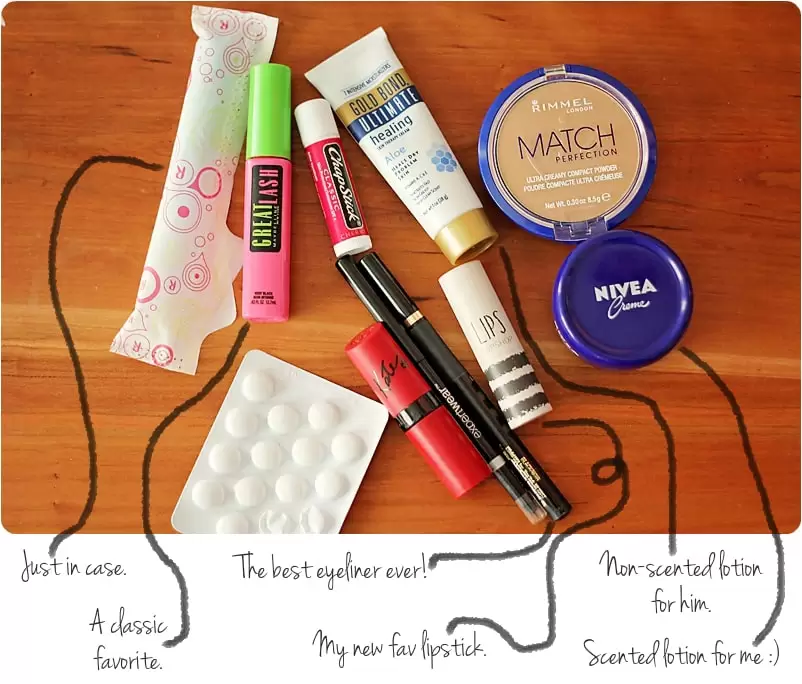 These are all products that I use pretty much on a daily basis (minus the tampon and ibuprofen). I try and keep it simple while having everything I would need throughout the day. Many days I'm in such a hurry to get to work that I wait until I get to my office to put on my eye makeup. Hence the multiple eyeliners and mascara that I rarely go a day without using.
One of the eyeliners is my absolute favorite liquid eyeliner from L'oreal called the Infallible Super Slim Eyeliner. I've re-bought this eyeliner at least 10 times! I highly recommend it!
The lipsticks I carry with me are 2 of my favorite brands: Kate by Rimmel and Topshop Lips.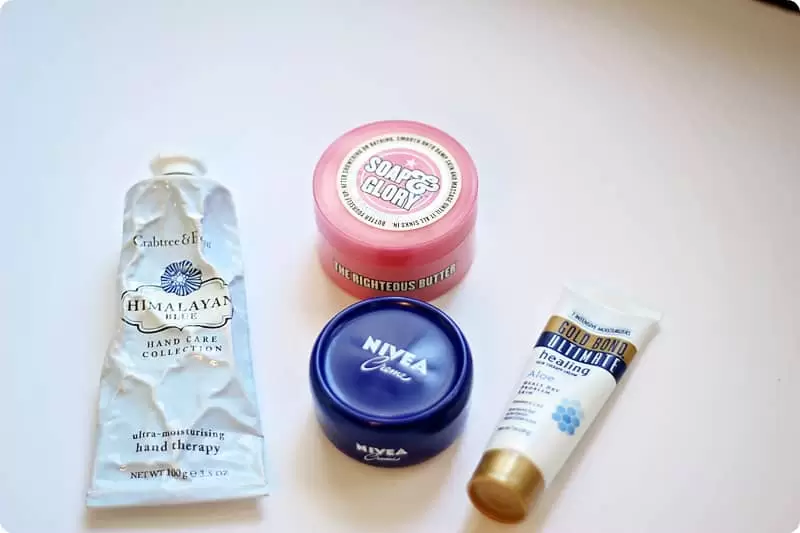 Besides my iPhone and eye makeup, lotion is the one thing I must have in my purse at all times! And this might seem like a lot of lotion but it's actually much better than the 7 bottles I used to carry around! I guess you could say that keeping my skin moisturized is one of my top priorities. And these are 4 of my FAVorite lotions! The one from Crabtree and Evelyn kind of smells like a grandma but I kind of dig those scents. The Soap and Glory Righteous Butter is new to me and I LOVE it. I had heard a lot about it and rightfully so!
I hope you enjoyed seeing what's in my purse as much as I enjoyed putting this all together. Thanks to Ashley for having me on her lovely little blog today! Click here to see the rest of the series (or just to check out Ashley's sweet blog!)
This post may contain affiliate links. Please read my disclosure policy.