Spinach Gnocchi
This post may contain affiliate links. Please read my disclosure policy.
The most common question I've received over the past couple weeks: how is self employment treating you!? Answer: great and simultaneously very challenging. When I had to get all of my work done on nights and weekends, I was good at being disciplined and getting it done promptly because if I didn't then it just wouldn't get done. However, now it feels like I have ALL the time in the world to get my work done and so….I'm already finding procrastination a serious struggle. Help!
But all in all, I really can't complain! I'm loving the quiet (although sometimes being home all day can seem a little too quiet at times). I love the extra time I have to finally start some new projects that I've had on my to-do list for months. AND, I'm really just loving being my own boss, making my own schedule, and working permanently from yoga pants and the fleece lined flannel shirt that I bought Mr. Britnell for xmas but have claimed as my own (he's never getting it back!).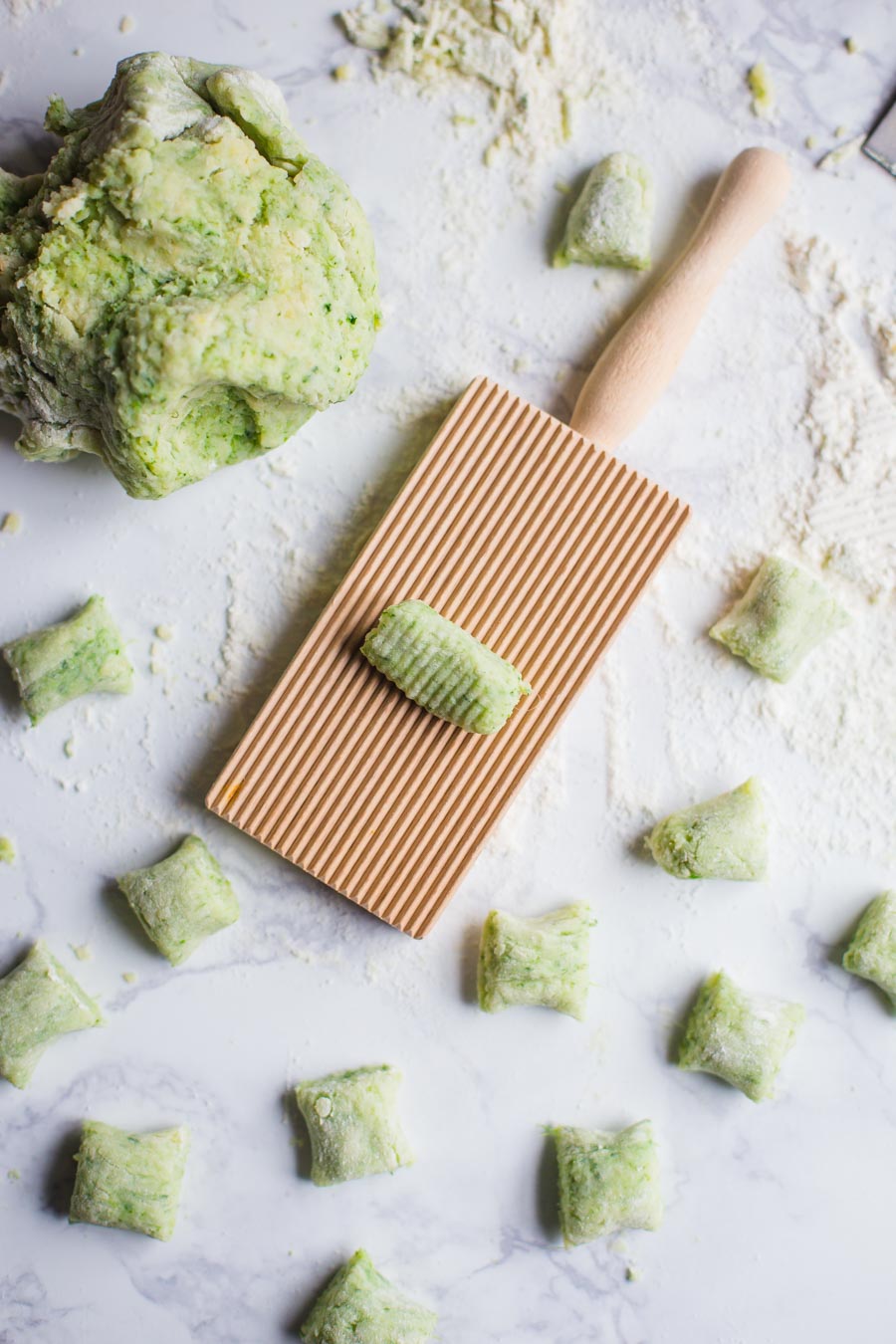 So, have you ever tried making gnocchi from scratch before?? It's super easy and even kind of fun (if you're the kind of person who just generally enjoys being in the kitchen that is).
I make it often enough that I made the very small invested in a potato ricer and a gnocchi board (both linked below if you're interested) BUT neither of them are actually necessary. Instead of the ricer, you can just use a fork to mash the potatoes up and instead of the gnocchi board, you can either use a fork or just leave them plain. Super easy I tell ya!
This gnocchi recipe is essentially plain gnocchi WITH a bit of spinach puree blended into the mix. It's step #2 on my journey to creating a gnocchi rainbow. Step #1 was the Sweet Potato Gnocchi that I posted last year :) Up next: Beet Gnocchi?? Carrot Gnocchi?? Blueberry gnocchi!? Mmmmm…..that might be a little too weird even if the color would be pretty.
Now, I know that I said a potato ricer isn't necessary, and it's not. BUT, it is one of those things that is RIDICULOUSLY satisfying to do. Squishing the potatoes through the ricer is maybe one of my favorite things ever. On a scale of 1-10, how strange is that?
After the potatoes are riced, you simply mix in flour, spinach puree, and a bit of salt if you so desire. Mix it all together into a barely sticky dough and you're practically there. The dough is then rolled into long strips before being cut into small pieces and rolled on the gnocchi board to make the pretty lines.
The uncooked gnocchi can be stored in the fridge OR boiled right away. Cooking it is super easy. Just throw them into boiling water and once they start to float to the top (takes about 5 minutes), they're done!
For this particular type of gnocchi, I've found a simple garlic tomato sauce is my favorite way to enjoy them. With a little bit of THIS vegan parmesan cheese sprinkled on top as well!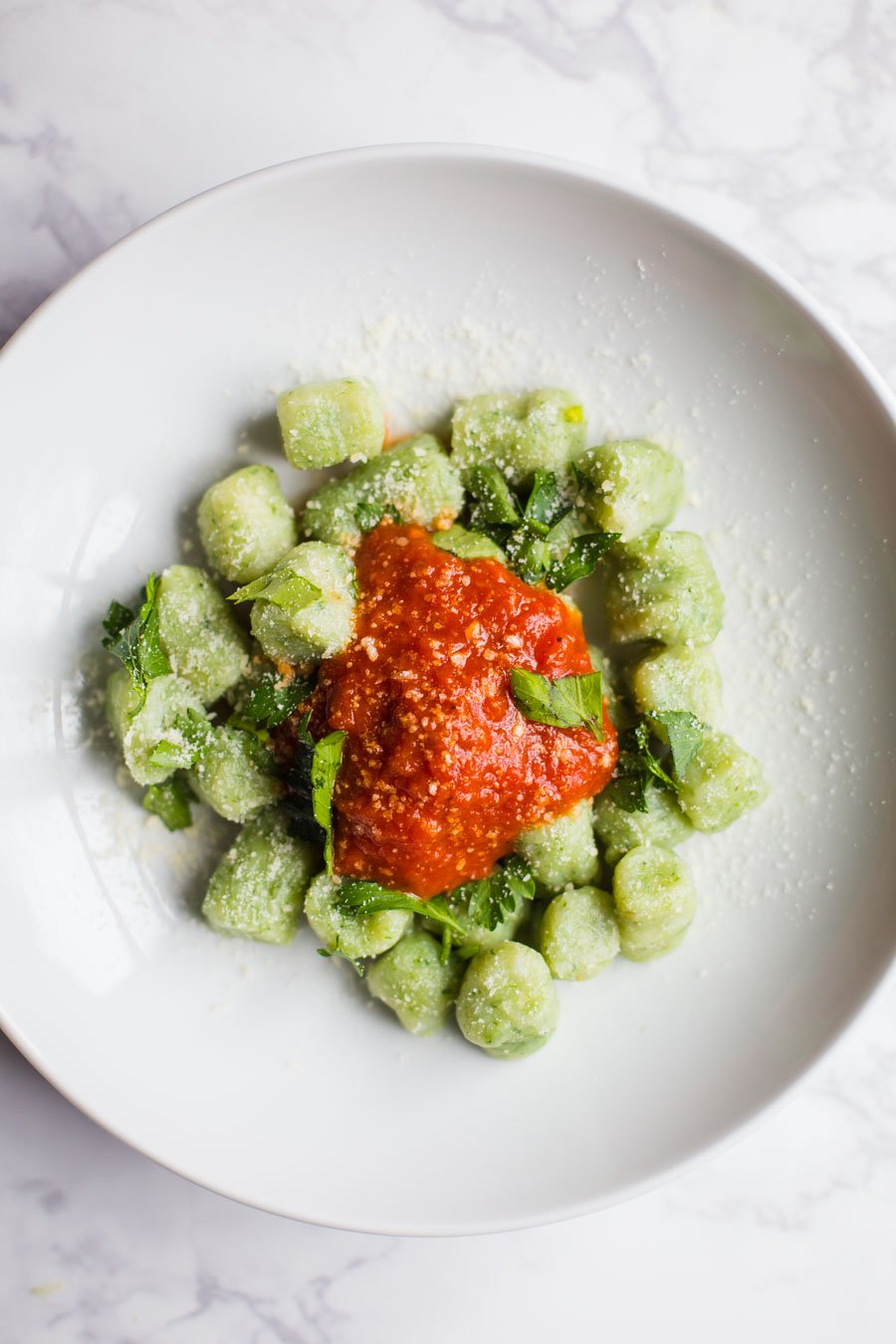 Happy hump day, friends. I hope the weather is agreeable where you are. It's a bit rainy here in Nashville BUT it's almost 60 degrees which is how I like it :D
Print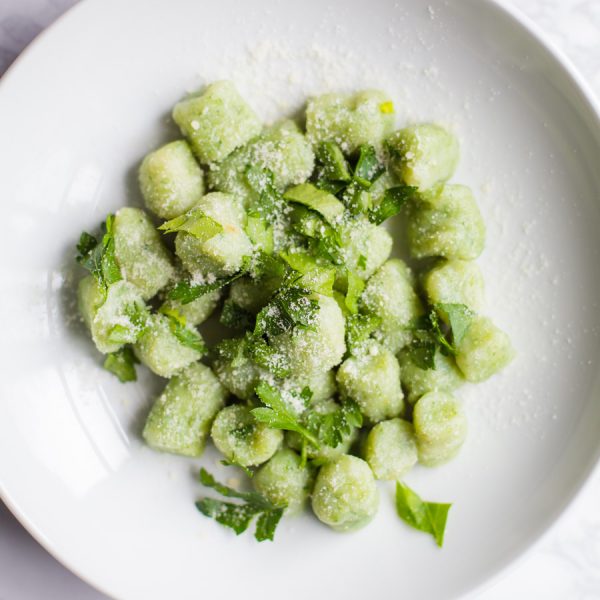 Spinach Gnocchi
---
Author:

Total Time:

1 hour 10 minutes
2

pounds of golden potatoes

3 ounces

of fresh spinach (can also use frozen), for the fresh spinach it ends up being about 4 tightly packed cups of spinach

1/2 teaspoon

of salt (optional)

1 1/4 cups

of all purpose flour- if gluten free, Iove using THIS gluten free flour!
---
Instructions
Pre-heat the oven to 400 degree F. Using a fork, pierce the potatoes all around and place on a foil lined baking sheet. Bake for 50-60 minutes or until the potatoes are very tender in the center.
Once out of the oven, let the potatoes cool until you can handle them. Scoop the potatoes out of the skins and place into a potato ricer (THIS thing). If you don't have a ricer, then mash the potatoes with a fork until well combined and broken down. Let sit to cool.
In a medium pot, boil water. Place the spinach into boil for 3 minutes. Drain and place the spinach in a food processor or high speed blender and blend until pureed. If needed, add a splash of water in to help the spinach blend.
Once the potatoes are completely cooled, pour half of the pureed spinach onto the riced potatoes. Pour the flour and all of the salt on top of the spinach. Using a fork or your hands, mix it all together. Add in a bit more spinach, a few tablespoons at a time, until it is all added. The finished dough should resemble cookie dough that's just slightly sticky but easy to handle. If it's too sticky, add a bit more flour.
Once fully combined, roll the dough into a ball and cut it into eight even pieces. Roll each piece into a long log that's about 1/2 an inch thick. Cut the gnocchi into 1 inch pieces. Gently toss each piece into flour to ensure that it's dry and not sticky at any edges. Continue until you've cut out pieces from all of the dough.
Optional: using a gnocchi board or fork, press grooves into each piece of gnocchi.
The gnocchi can be stored in the fridge for 3 days, the freeze for a few weeks, or cooked right away.
To cook the gnocchi:
Heat a pot of salted water to a boil. Add in the gnocchi and let cook for a couple minutes. Once the gnocchi floats to the surface of the water, let it boil for 30 more seconds and then remove it from the water using a slotted spoon.
Toss in your favorite sauce and ENJOY! For spinach gnocchi, I really like to eat it with some simple tomato sauce and a bit of vegan parmesan cheese!! YUM!
Prep Time:

20 minutes

Cook Time:

50 minutes
This post may contain affiliate links. Please read my disclosure policy.