5 Ingredient Peanut Butter Granola
This post has been sponsored by Dannon® Oikos® Whole Milk Greek Yogurt. All thoughts and opinions are my own. Thank you for supporting the brands that make my blog possible!
Today I'm partnering with Dannon® Oikos® Whole Milk Greek Yogurt to share with you one of my FAVORITE easy, indulgent, and full on flavor snacks: my 5 Ingredient Peanut Butter Granola paired with Dannon® Oikos® Whole Milk Greek Yogurt. It's such a delicious combo and the granola is SO easy to throw together. We like to make a BIG batch each week to have on hand for easy snacking.
I've always loved Greek yogurt and when I first started eating it, maybe about 8 years ago, Oikos was (and still is) my go to brand. I'm a sucker for their traditional strawberry and key lime pie flavors BUT they've recently released some super fun new indulgent flavors such as "Oh-So Dreamy Orange Cream" and "Lip-Smacking Lemon Meringue" <<<I'm a huge fan!!
Having a toddler, we also love that this yogurt is whole milk (and Jemma loves it too :)). Now that she has enough teeth to really chew, she's also been enjoying this peanut butter granola + yogurt combo. It makes packing snacks for school a LOT easier when I can grab an Dannon® Oikos® Whole Milk Greek Yogurt and shove it in her bag with a little tin of granola to go with it.
How to make this 5 Ingredient Peanut Butter Granola:
If you've never made granola at home, you'll probably be surprised HOW easy it is (and never want to buy it at the store again).
To make it all easier to stir, I heat the peanut butter and maple syrup in a large bowl so that it's extra creamy and smooth. Then the remaining 3 ingredients get stirred into the same bowl until all of the oats are coated in the peanut butter mixture.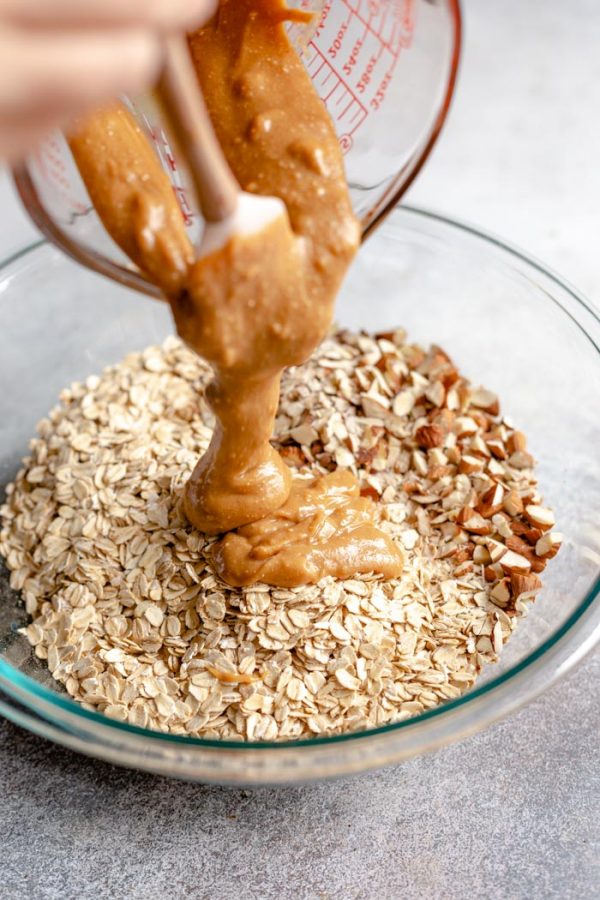 All of the oats then get poured onto a big rimmed baking sheet which is popped in the oven for 30 minutes. I like to take it out every 10 minutes to give it a quick stir so that it toasts evenly and all of the oats get nice and crispy.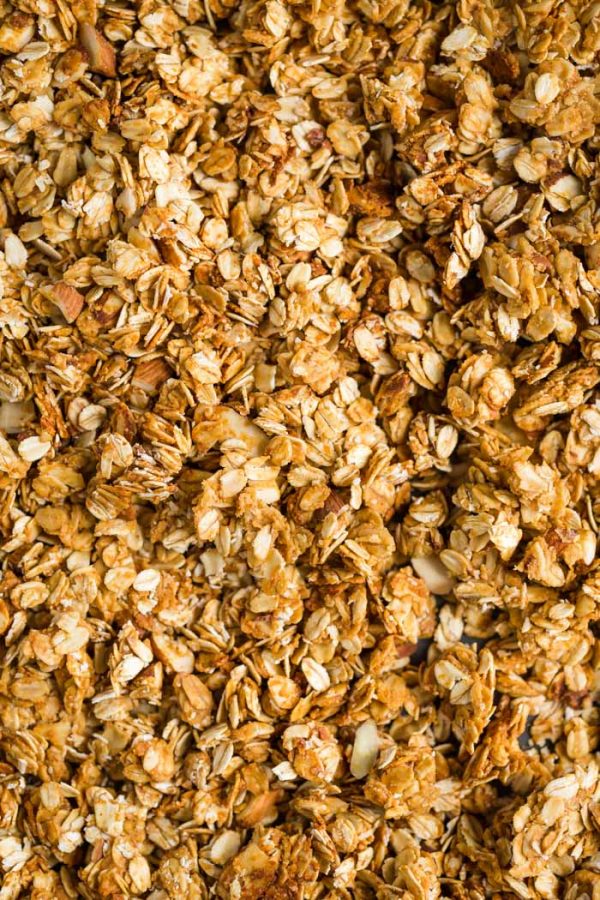 When you first take it out of the oven, it will still feel a bit soft but don't worry! After cooling to room temperature, it will be crunchy and delicious! Store it in an airtight container at room temperature and you've got easy snacks + breakfast for a week!
And that's pretty much it!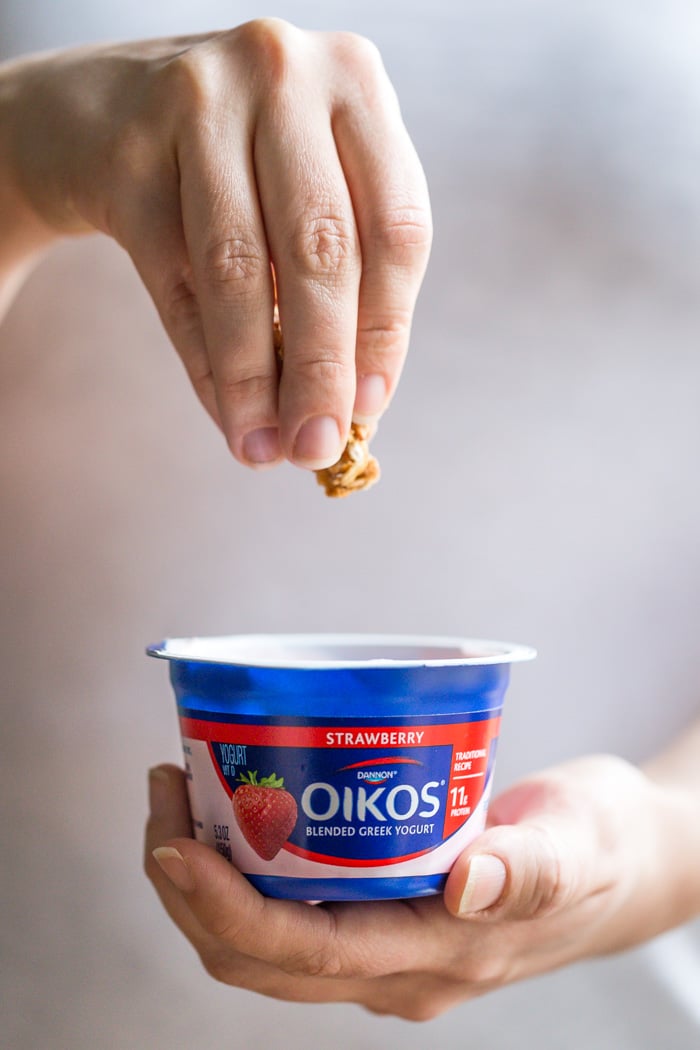 I highly recommend this Peanut Butter granola + Dannon® Oikos® Whole Milk Greek Yogurt combo when you're looking for an indulgent treat that will leave you feeling GOOD. It's our go to, and I'm pretty sure that I could never get sick of it. Their classic strawberry flavor will always be my favorite, and it's available at Walmart.
Save now on Dannon® Oikos® Whole Milk Greek Yogurt using this ibotta offer. You can find more Dannon® Oikos® Whole Milk Greek Yogurt recipe inspiration on their website HERE!
Print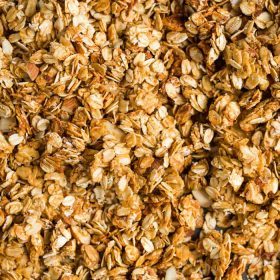 5 Ingredient Peanut Butter Granola
---
Author:
Prep Time: 5 minutes
Cook Time: 30 minutes
Total Time: 35 minutes
Scale
Ingredients
5 cups of old-fashioned oats
½ cup of maple syrup or honey
½ cup of peanut butter
1 teaspoon vanilla extract
⅔ cup of chopped or slivered almonds
---
Instructions
Pre-heat your oven to 300 degrees F.
Combine the maple syrup, peanut butter, and vanilla in a medium bowl and microwave for 30 seconds, stir, and microwave a bit more until creamy and completely combined.
Pour the oats and almonds in a large bowl and mix in the peanut butter mixture. Stir until the oats are completely covered in the liquid.
Spread the oats out evenly on a rimmed baking sheet and bake for 30 minutes, stirring a couple times, until a light golden brown. I like to stir mine at the 10 minute mark and the 20 minute mark. The edges of the pan will get the most crispy so I like to rotate the oats in the pan so that it all gets evenly crispy.
Once out of the oven, let cool and ENJOY! Store leftovers in an airtight container.
---
Category: breakfast
Method: baking
Cuisine: american
Keywords: granola, homemade, healthy, breakfast