Apple Pie Cinnamon Rolls
This post may contain affiliate links. Please read my disclosure policy.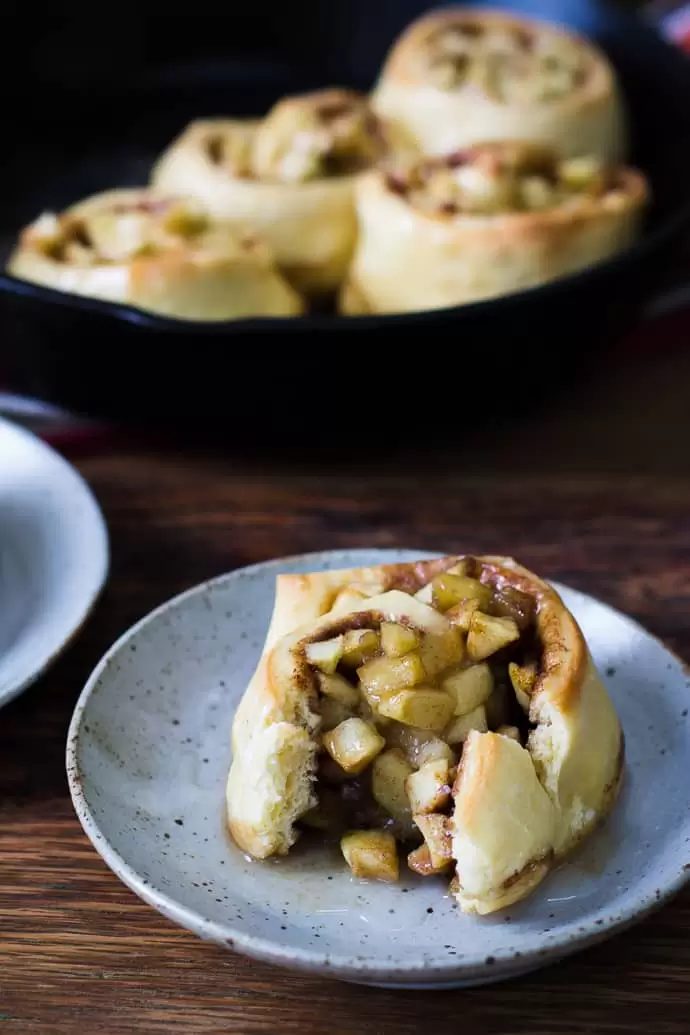 Well, it's official. I have accepted the reality that is Autumn and even kind of embraced it, a little (even if it is still 90 degrees on some days here in Nashville).
I made lots of autumnal things in the kitchen this past weekend, such as these Apple Pie Cinnamon Rolls, and have been burning the hell out of some fall scented candles. Thanks to Bath & Body Works, my house now smells like 50 different variations of pumpkin including cranberry pumpkin (which happens to be burning next to me as I type), sweet cinnamon pumpkin, pumpkin apple, and just plain pumpkin pie. Interestingly enough, that's only ONE THIRD of the pumpkin scents available at the store. I find this very interesting indeed. Maybe my house also needs the Pumpkin Pecan Waffles candle? No. But, maybe.
And just for the record (that I know all of you are keeping): none of those pumpkin scents are even my favorite for the fall. My favorite is Sweater Weather. That's a candle. What are we talking about? I digress.
Oh yes, that's right. We were talking about these Apple Pie Cinnamon Rolls!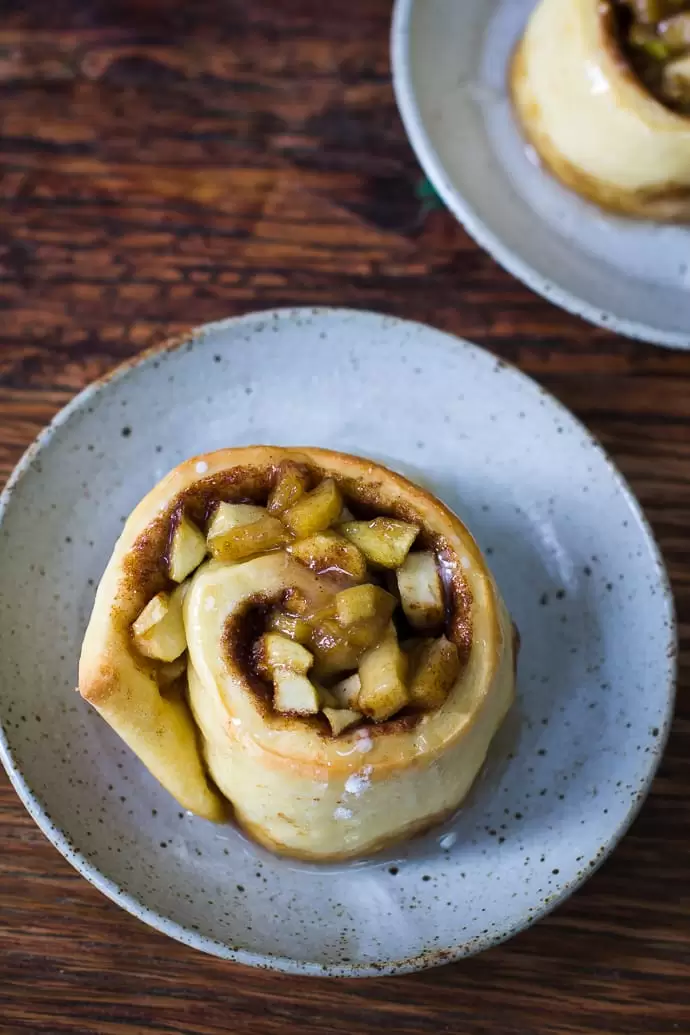 Last year I made Apple Pie French Toast and decided that 2015 needed its own Apple Pie themed breakfast recipe. I also decided that the apples for these cinnamon rolls should be hand picked, by me, from a local orchard. However, the apples you see are only from the grocery store since I ran out of time. But next weekend……me + an apple orchard are happening.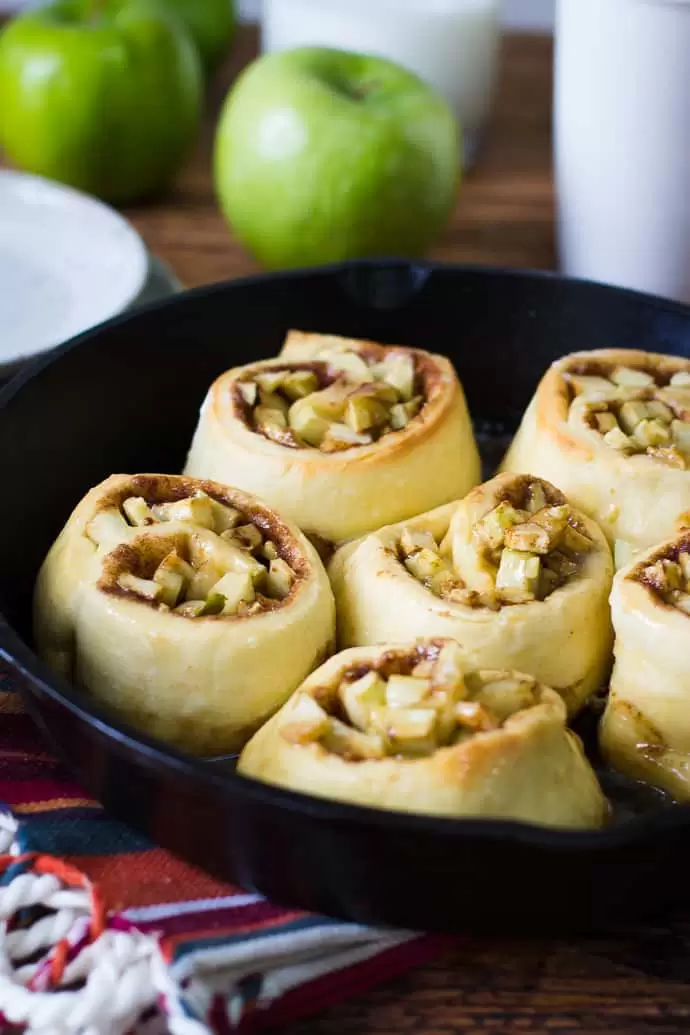 I also decided that I wanted these cinnamon rolls to be a bit quicker than usual. I simply don't have time (or nearly enough patience) to wait for the dough to rise for 90 minutes. Who has time for that at 7 in the morning when you're hungry and determined to pack lots of fun things into your Saturday?
So, for the base of this recipe, the dough part, I used Joy the Baker's quick and dirty cinnamon roll recipe. I like it because not only is it quick but it also makes a slightly smaller number of cinnamon rolls than the average recipe. It makes 6 cinnamon rolls which is perfect for 3-4 people OR 2 realllllly hungry people.
The dough itself comes together rather quickly and is left to rest for just 10 minutes while you prepare the filling.
After a very short rising period, the dough is rolled out and covered in loads of butter and cinnamon and brown sugar.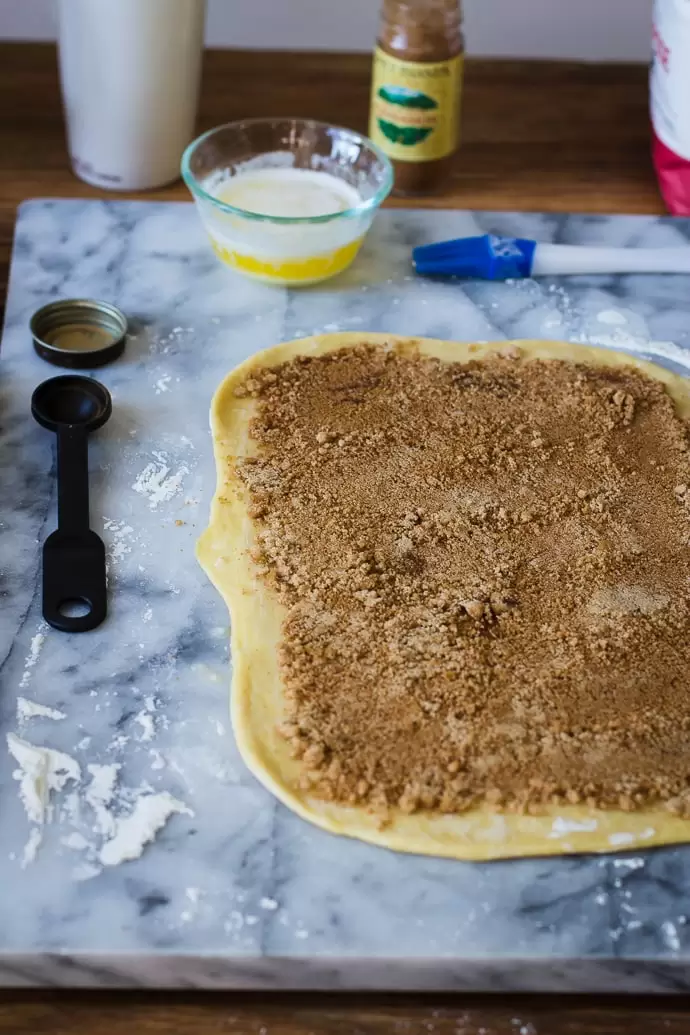 And then topped with what seems like just too many apples (it's not too many, trust me).
Then, with very firm hands, the dough is rolled up real tight making sure that the apples roll with the dough. This might take a little tucking and placing of the apples. Some will fall out the sides, and that's okay. Just shove em in any little opening that you find.
The rolls are then sliced. Start in the very middle, to increase evenness of the rolls, and then work your way out.
Place them in your greased skillet or pan, cover them with a bit of cling wrap or foil and let them sit for another 30 minutes. Still a little bit of waiting but it's just enough time to brew your coffee, pour yourself a very large cup, and catch up on your instagram.
Now all that's left is to throw em in the oven for about 20 minutes.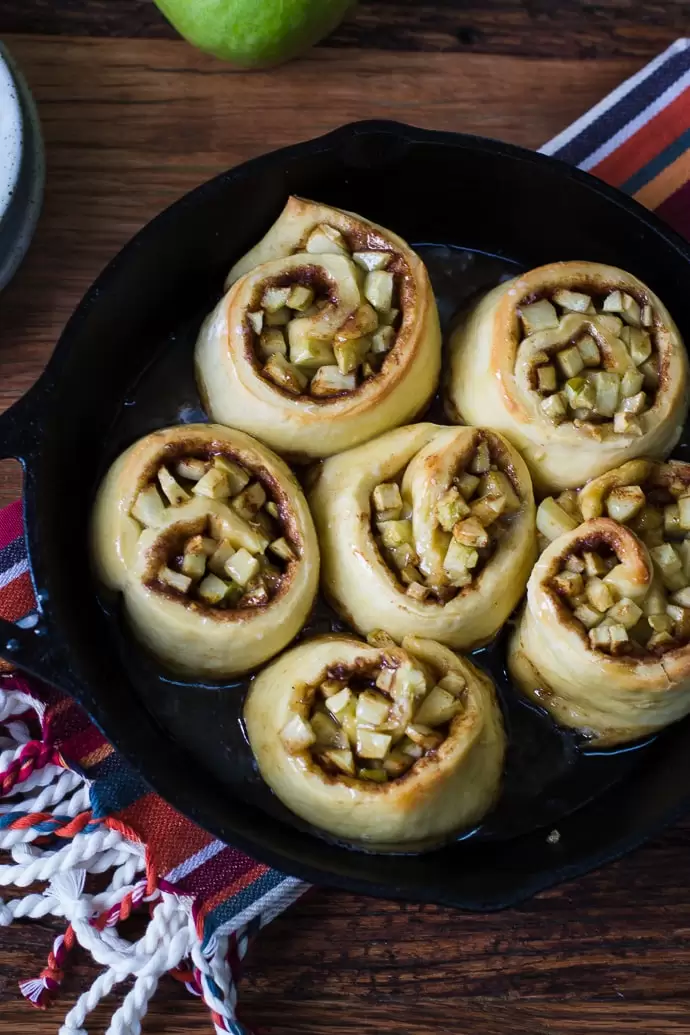 It is my opinion that these cinnamon rolls are delicious and juicy all on their own. HOWEVER, if you're of the belief that cinnamon rolls HAVE to have some kind of a glaze, then I'll allow it. I made a super simple, thin glaze to pour over mine.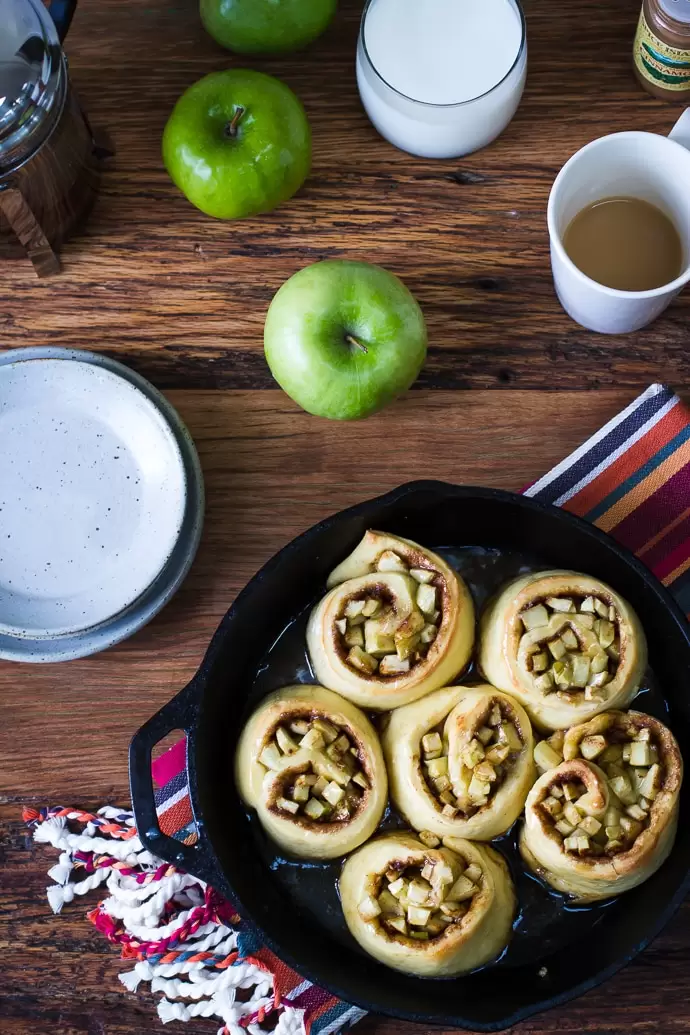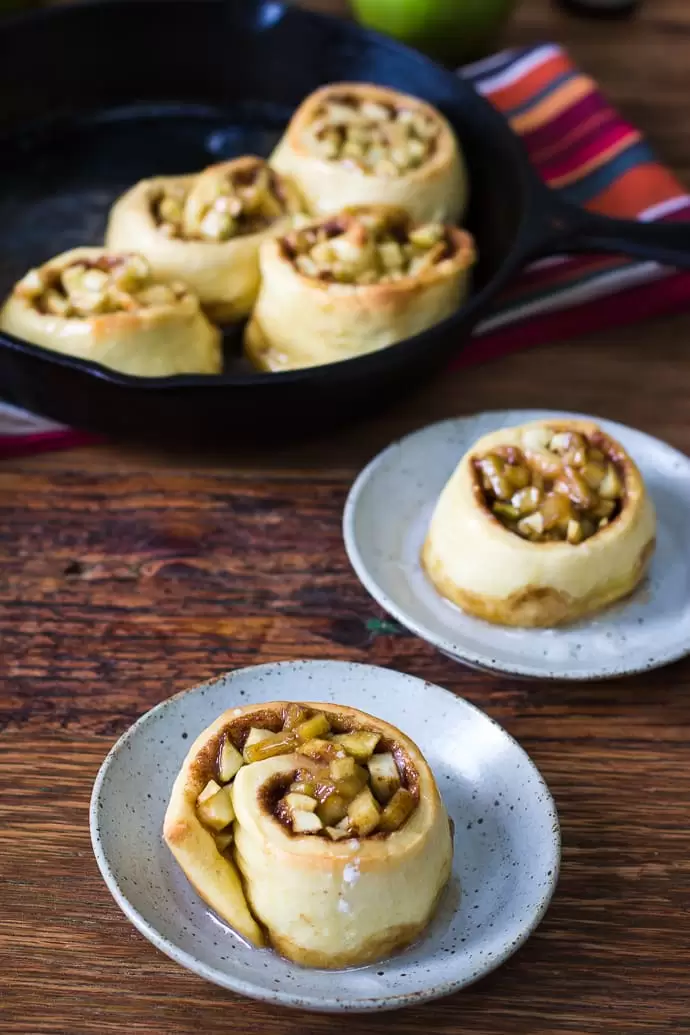 **Another important thing worth noting: I didn't caramelize my apples before putting them in the cinnamon rolls. They don't really need it since they'll cook up and get nice and cinnamony in the oven. HOWEVER, the proper way is to cook your apples for a few minutes over low heat in a little sugar and cinnamon. This gets out some of the moisture. Again, I didn't do it and loved the result but don't say I didn't warn you :)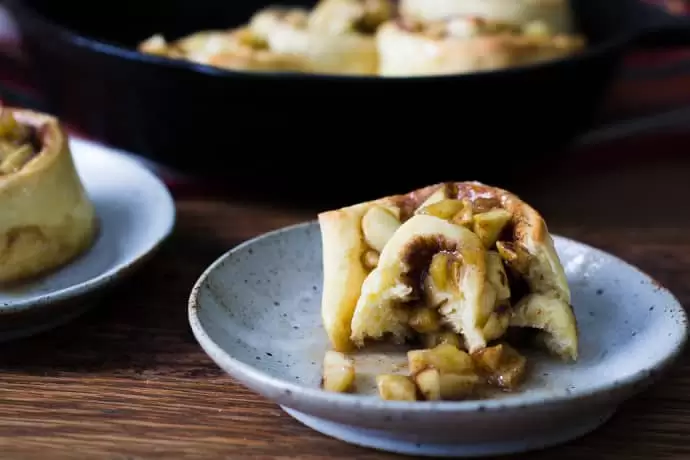 Your bake along song for the day is an extra random one. But also a good one. Happy cinnamon rolling, friends!
Print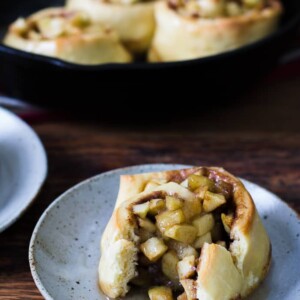 Apple Pie Cinnamon Rolls
---
Total Time:

1 hour 15 minutes

Yield:

6

1

x
For dough:
1/2 cup

of milk

2 tablespoons

of unsalted butter

2 tablespoons

of sugar

1 1/2 teaspoons

of active dry yeast

1 1/2 cups

all-purpose flour (plus a bit more if necessary)

1/4 teaspoon

of salt

1

large egg yolk
For the filling:
2

medium granny smith apples, diced into small pieces
optional (see instructions below): 1 tablespoon of sugar

1/2 cup

of brown sugar

2 teaspoons

of cinnamon

3 tablespoons

of butter, softened but not completely melted
For the glaze:
3/4 cup

of powdered sugar

1

–

2

tablespoons of cream/ milk
---
Instructions
In a small saucepan, over medium heat, mix together the milk, 2 tablespoons of butter, and sugar. Stir frequently until everything is dissolved and combined which will only take a couple minutes. Remove from heat and let cool slightly.
Once cooled for about 5 minutes, add the mixture into a large bowl or the bowl of a stand mixer. Stir in the yeast and let sit for 5 minutes to activate the yeast.
Using the dough hook of your stand mixer of hand mixer, gently stir in the flour, salt, and egg yolk to the yeast mixture. Beat until full combined. If the dough is too sticky, add more flour one tablespoon at a time.
Knead the dough a few times. This can be done with a stand mixer (knead for just about 30 seconds) or by hand. Place the dough back in the bowl, cover, and let sit for 10 minutes.
**OPTIONAL (see note above): While the dough sits, prepare the apples by combining them in a medium saucepan with 1 tablespoon of white sugar. Heat over medium low heat, stirring frequently, for about 3-4 minutes. Take off of the heat and set aside to cool.
*Alternatively, the apples can be added the the cinnamon rolls as is and baked raw.
In a small bowl, stir together the brown sugar and cinnamon and set aside.
Roll the dough out to a rectangle that is about 12 inches by 9 inches, though it doesn't need to be exact.
Making sugar to leave about 1/2 an inch of dough around the edges uncovered by any of the filling, cover the dough with the 3 tablespoons of softened butter and then evenly sprinkle the brown sugar and cinnamon mixture over top. Top with the apples.
Very gently, yet firmly, roll the dough long ways until it's tightly rolled all the way up. Cut the dough into 6 rolls (I recommend starting in the center so your rolls are even).
Place the rolls in a greased pan or skillet leaving about 1/2 an inch in between each one. Cover and let sit for about 30 minutes to rise a bit more.
Near the end of the rising, pre-heat your oven to 350 degrees F.
Uncover the rolls and bake in the oven for 18-22 minutes checking towards the 18 minute mark for doneness. They're done with the dough has a nice golden brown color. Once done, let cool slightly.
Make your glaze by whisking together the powdered sugar and 1 tablespoon of the cream/ milk. Only add more cream if the glaze is too thick.
Top the warm cinnamon rolls with the glaze and ENJOY!!! These are definitely best served warm!
Prep Time:

55 minutes

Cook Time:

20 minutes
This post may contain affiliate links. Please read my disclosure policy.