Apple Zucchini Muffins
This post may contain affiliate links. Please read my disclosure policy.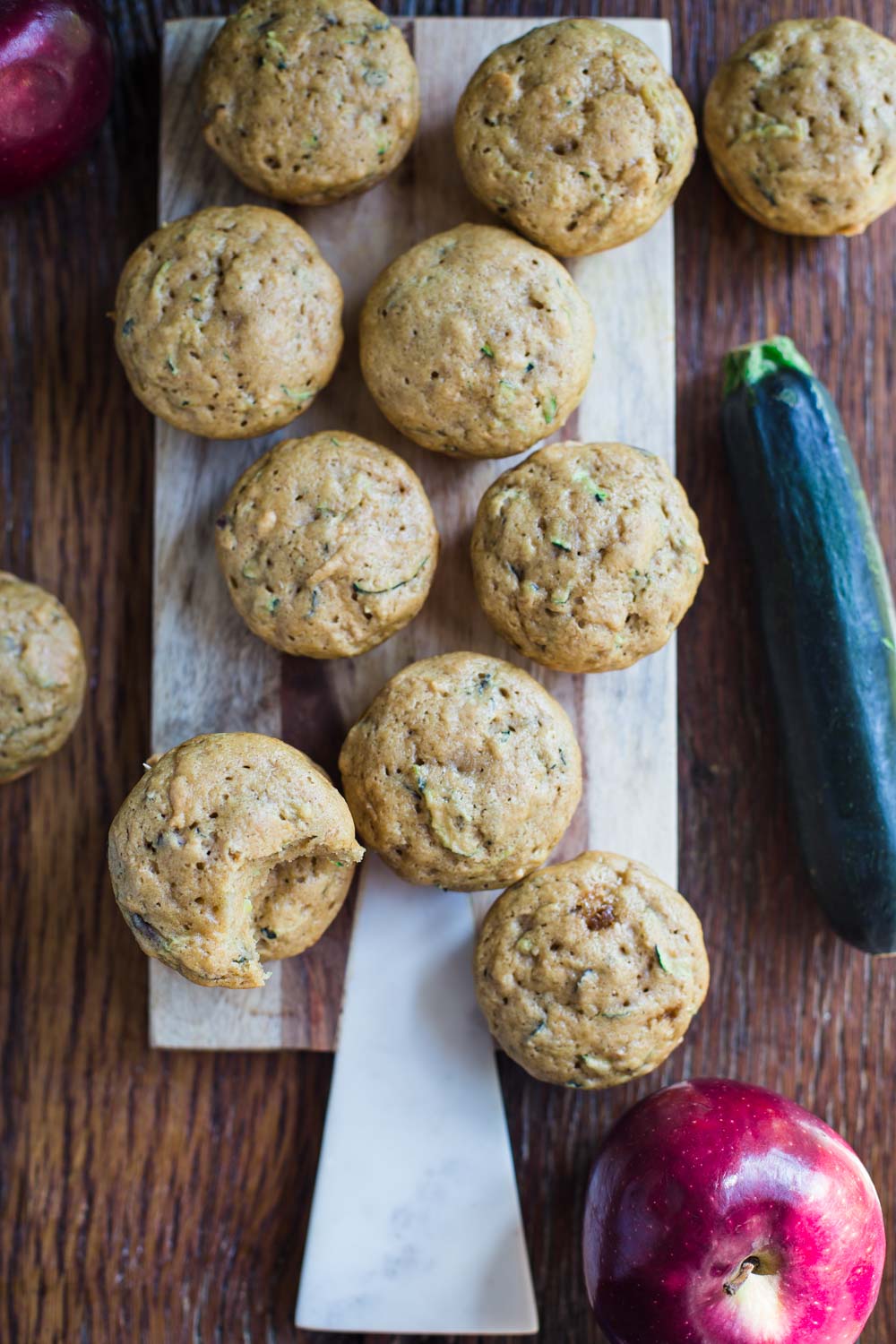 Today is the official second to last day of summer. I'm not nearly as bitter and sad about this as I usually am. I'm learning to love all of the seasons a bit more (although summer will always be my favorite). I spent yesterday evening weeding out my summer garden and preparing it for fall finally. All I really plan to grow this autumn is a butt load of lettuces but I still needed to get rid of all the old pepper, tomato, and bolted herb plants. Out with the old and in with the new.
Today we're bridging the gap between summer and fall with these Apple Zucchini Muffins. I made them a bit sweeter than intended but really loved it so it's sticking in the recipe. Sometimes breakfast just calls for something really sweet.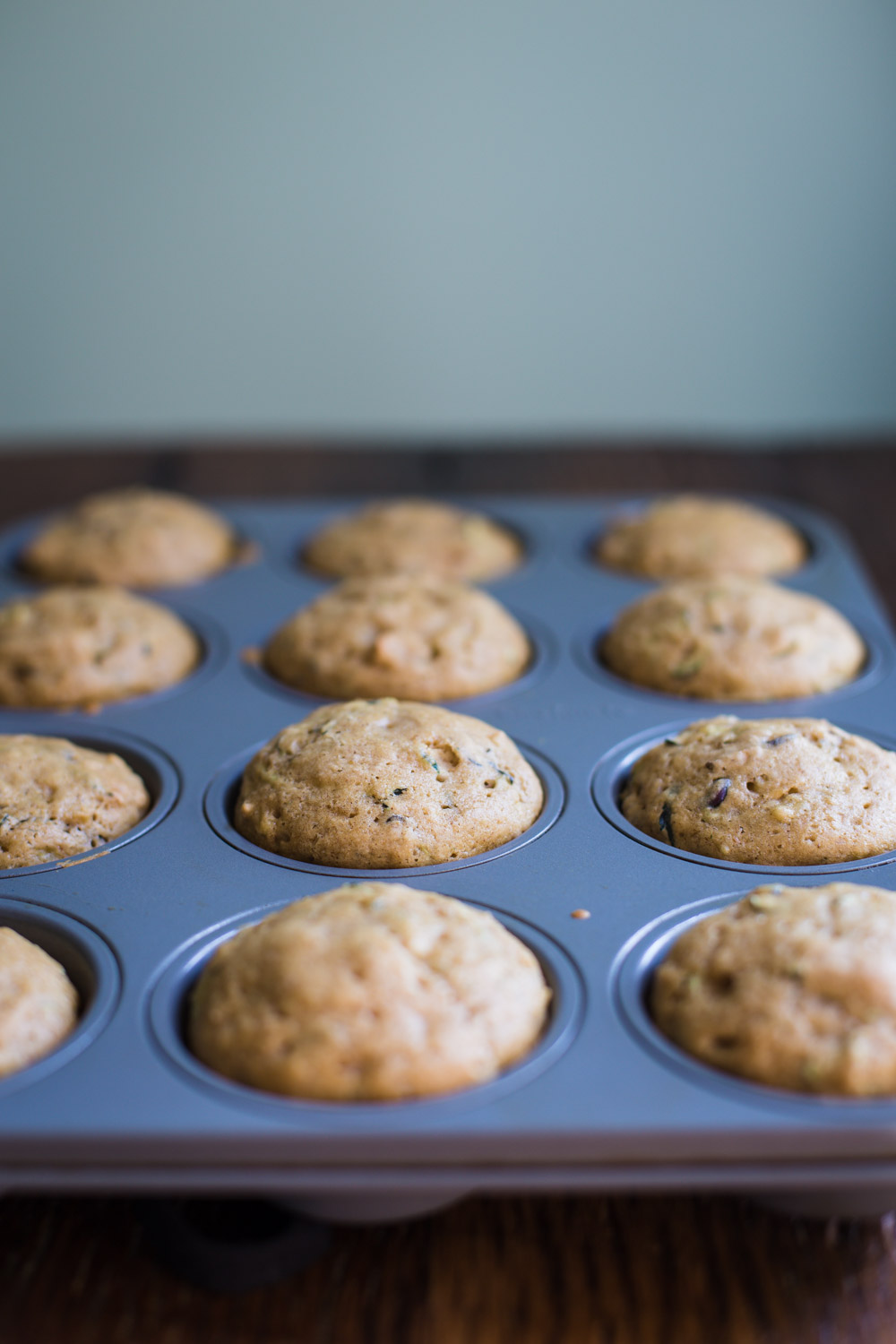 If so desired, these muffins can be made in one big ole bowl (less cleaning, duh!). First sift together the dry ingredients and then add in the apple and zucchini.
But first, you're going to want to let the zucchini and apple sit, grated, in a paper towel for a few minutes before SQUEEZING the hell out of it to remove the excess moisture. You don't want that moisture screwing with the balance of the muffins!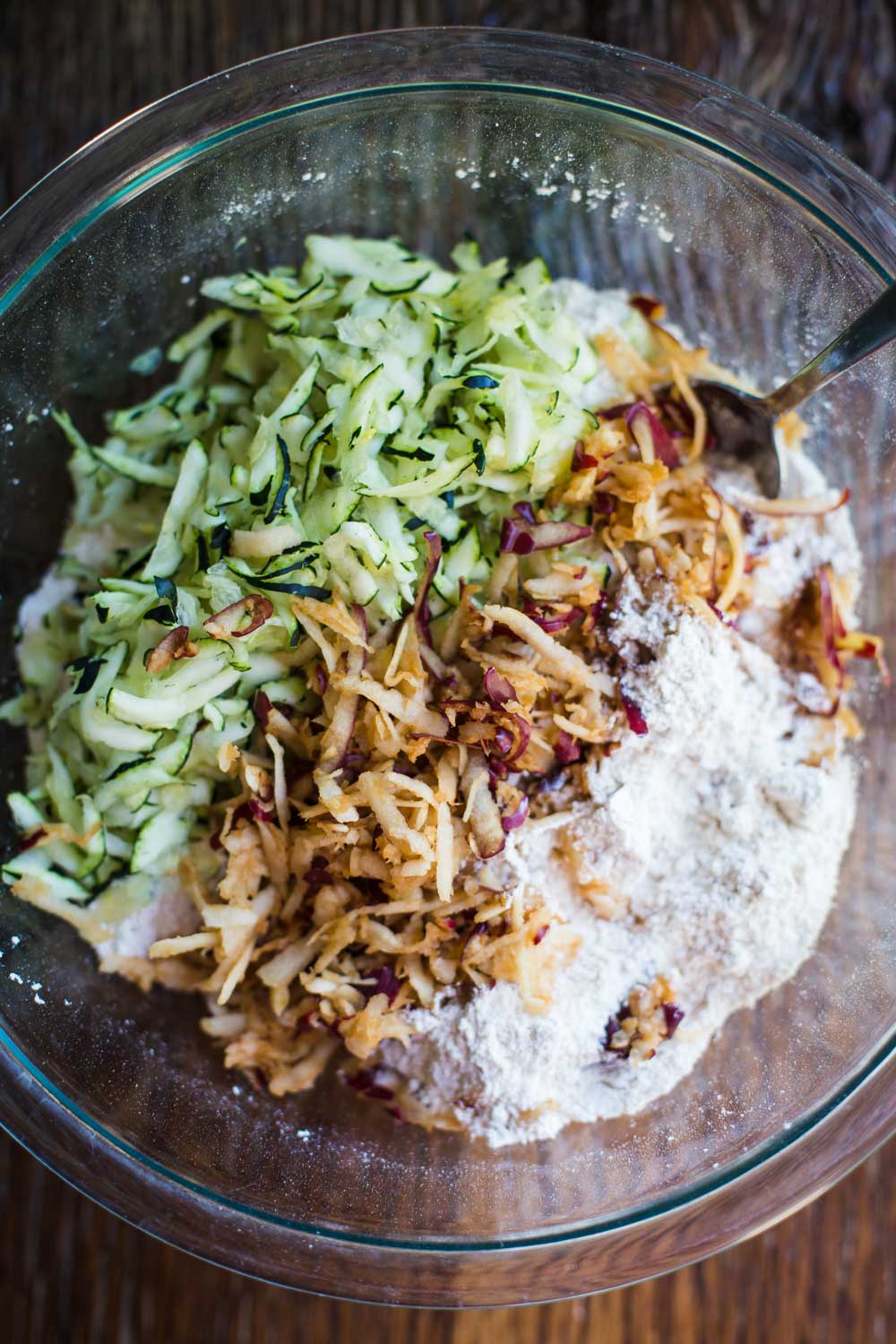 Then the wet ingredients are mixed right on into the bowl with the other ingredients and it's all mixed up to a yummy batter that you'll have a very hard time not just eating raw (which you can totally do since there's no egg in it!).
I like to make a batch of muffins like this and then bag them up to eat for breakfast throughout the week. Super quick and super easy AND an okay thing to eat in the car (something I should never do but do ALL too often anyways).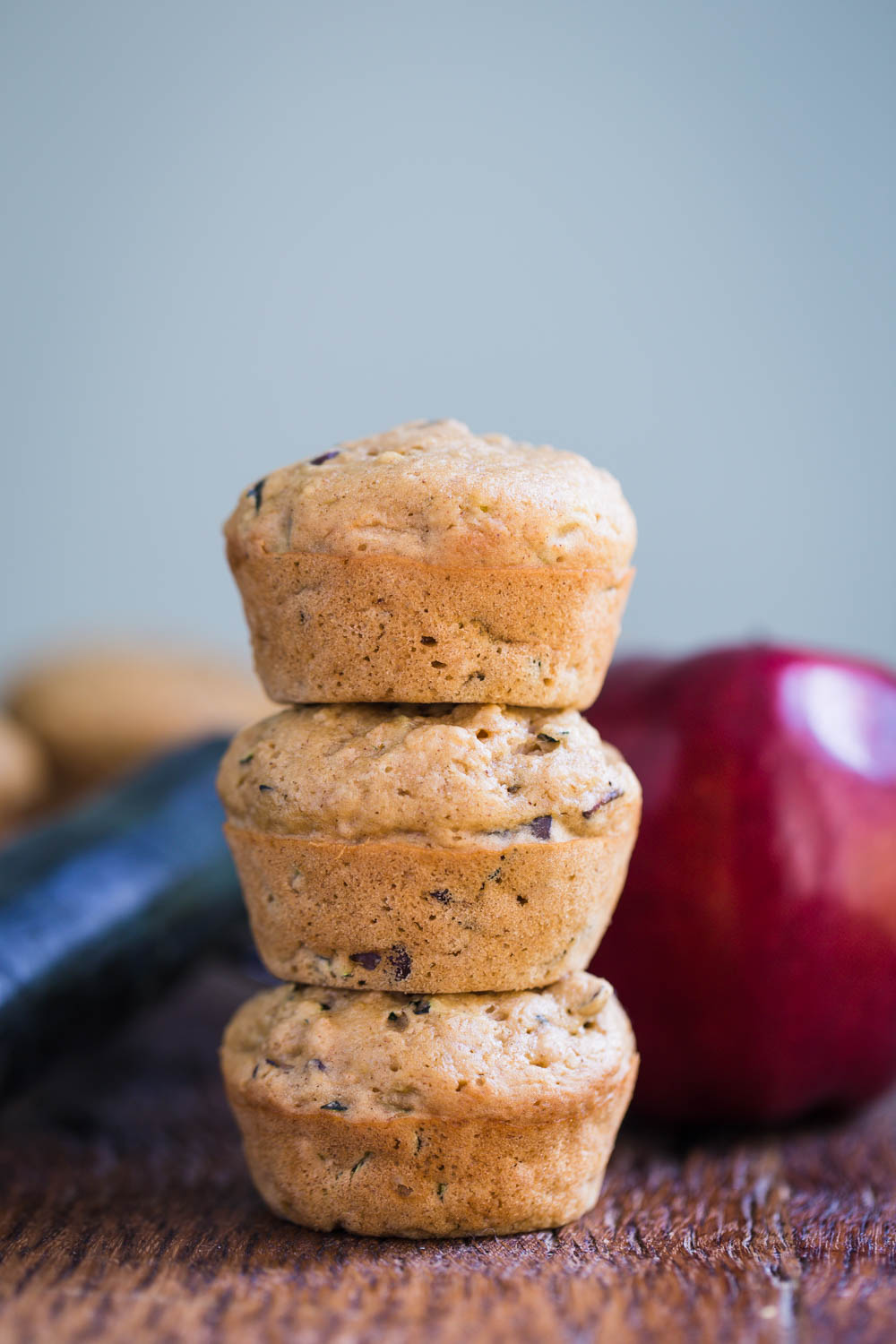 Completely unrelated to muffins, I'm heading to Baltimore and DC later this week. I plan to vlog every day of my trip so if you're interested in seeing what I get up to, make sure that you follow my Youtube channel (please??)! I'm going to do my best to post the vlogs in real-ish time (as opposed to posting them all after I'm back from the trip). We'll see how that goes :)
Happy second to last day of summer, friends!!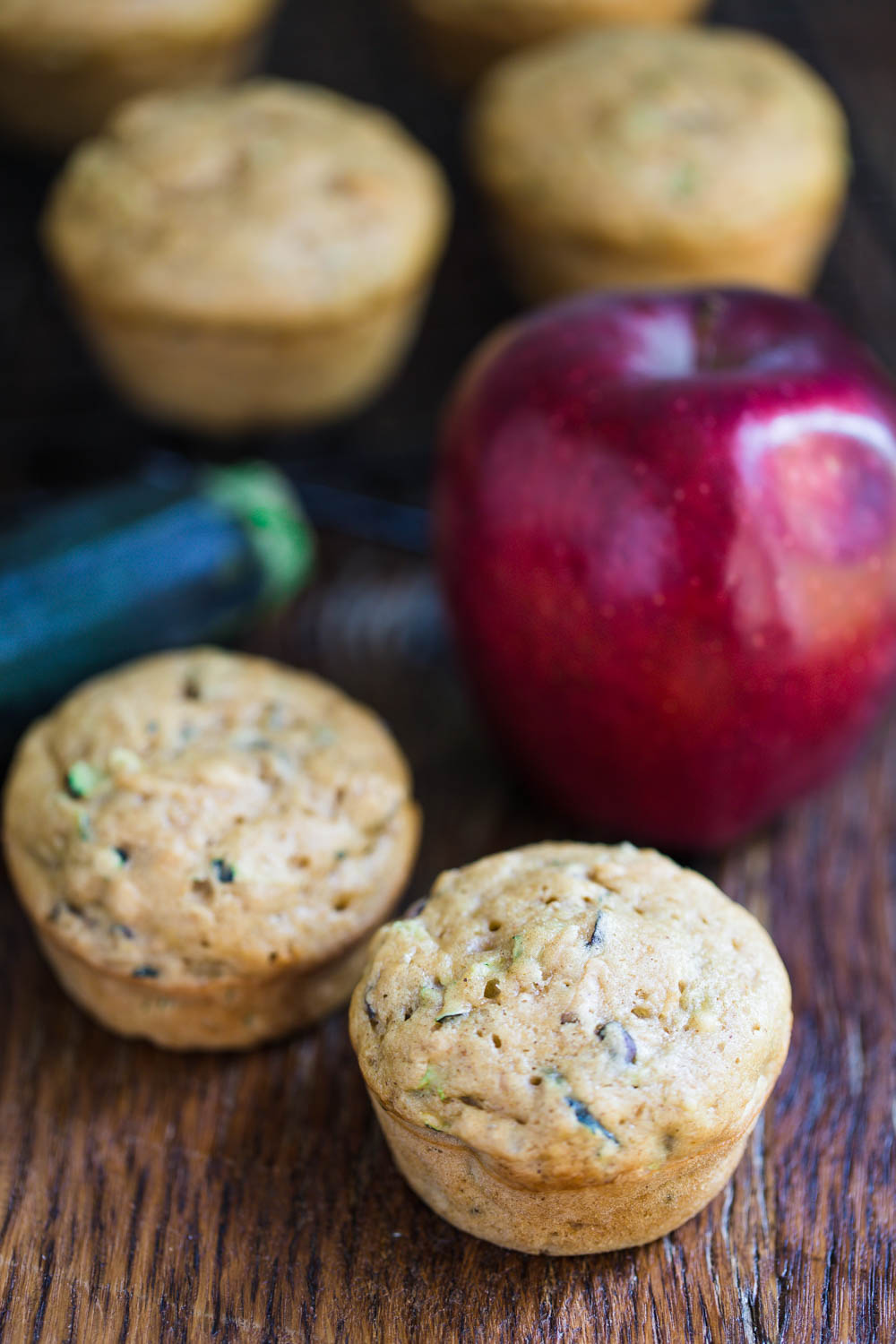 Print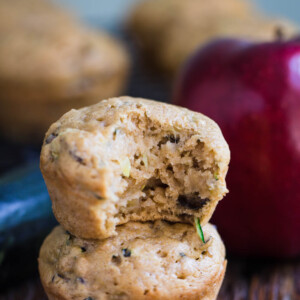 Apple Zucchini Muffins
---
Author:

Total Time:

27 minutes

Yield:

12

muffins

1

x
1 cup

of zucchini, shredded and squeezed of excess liquid

1 cup

of apple, shredded and squeezed of excess liquid (ends up being about

1

average sized apple)

2 cups

of all-purpose flour

1 1/2 teaspoons

of ground cinnamon

1

and ½ teaspoon of baking powder

¼ teaspoon

of baking soda

3/4 cup

of packed light brown sugar

1 teaspoon

of salt

1 cup

of almond milk or other non dairy milk, plain or flavored is fine

1 teaspoon

of vanilla extract

¼ cup

of apple sauce
---
Instructions
Pre-heat the oven to 400 degrees F. Lightly grease (or line) a 12 cup muffin tin.
Grate the zucchini and apple into a large paper towel (can also use a regular towel) and let sit for 5 minutes. After that time, squeeze the paper towel VERY tight over the sink to remove the excess moisture. Set aside.
In a large bowl, sift together the flour, cinnamon, baking powder, baking soda, sugar, and salt.
Add in the grated zucchini and apple and stir to coat.
Making a well in the center, add in the milk, vanilla, flax egg, and apple sauce. Stir to combine but be careful not to over stir.
Pour the batter evenly into the muffin tin and bake for 10 minutes.
After 10 minutes, lower the temperature to 375 and bake for an additional 10 minutes.
Use a toothpick to check for doneness. Let cool slightly and ENJOY!!
Prep Time:

7 minutes

Cook Time:

20 minutes
This post may contain affiliate links. Please read my disclosure policy.