Baked Avocado Tacos w/ Roasted Veggie Salsa
This post may contain affiliate links. Please read my disclosure policy.
I snapchatted me eating these tacos last weekend because I couldn't wait to share them (@bbritnell on snapchat if you were curious :)). This is another one of those "I had these at a restaurant and couldn't wait to make my own version at home". Mmmmm Avocado Tacos!
I first had a version of these tacos at Local Taco here in Nashville. I've since been back just for these tacos at least 4 different times which to me is a clear indication that I needed to try making them at home. I always ordered the deep fried avocado version (for obvious reason) although you can also order fresh avocado. For my version of the tacos, I wanted to find a happy middle ground that offered the taste of a fried avocado but without all the excess breading and grease.
Here's how we're going to do this. First we're going to slice our avocados. I tried this first with big chunks (cutting each avocado into about 6 pieces) but it was just too much avocado in one bite (is there such a thing!?). It also meant less of the breading since there were less slices to cover. So the next go around I sliced each avocado into about 12 slices which was perfecto!
Next, we'll dip each slice of avocado into almond milk mixed with just a bit of olive oil before covering it in a panko bread crumb mixture yumminess.
The avocado is placed on a baking sheet and eventually baked in the oven for about 15 minutes.
But, before the avocadoes go in the oven, the salsa is made by chopping up cherry tomatoes, onion, green pepper, and garlic and baking it in the oven for 15 minutes.
The first go round, I blended up ALL the salsa ingredients which resulted in a tasty salsa but it didn't actually look too pretty. For the next test I tried blending just about 1/3 of the veggies in with all of the garlic and some cilantro. I then mixed that in with the other veggies and liked this much better. Hence the chunky salsa. I'm a big fan :D
I get the tacos ready to go so that once the avocado is out of the oven, I can plop it into the tacos and eat ASAP because I like it hot.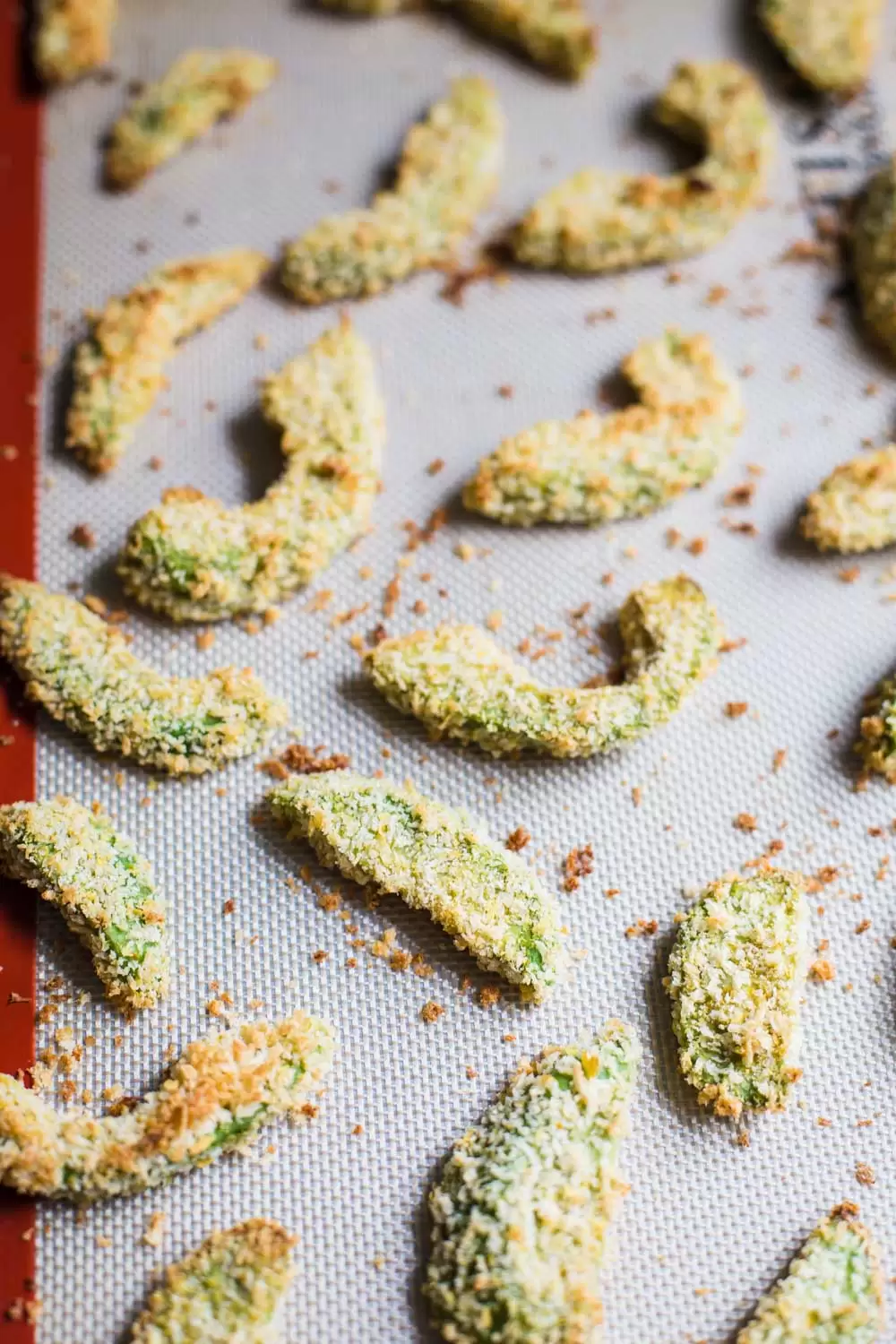 And because I was making these tacos just for myself, I refrigerated the avocadoes and the roasted veggie salsa to eat for later. I wasn't sure how well the avocado would re-heat but FYI- it's still delicious the second go round! I do recommend heating it up in the oven as opposed to the microwave for all of the obvious reasons.
So, do yourself a giant favor and make these tacos THIS WEEKEND! You'll love them!
Print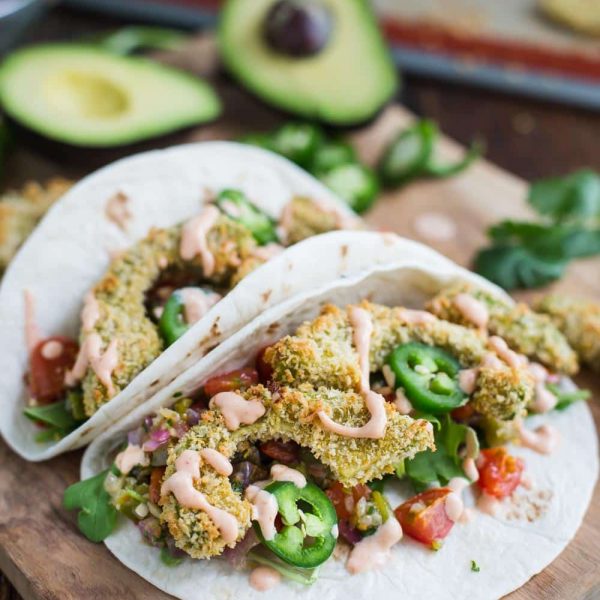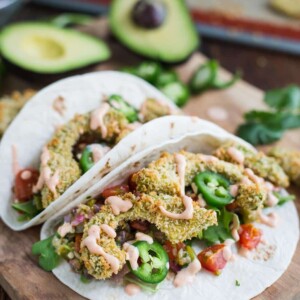 Baked Avocado Tacos w/ Roasted Veggie Salsa
---
Author:

Total Time:

35 minutes

Yield:

2

-4

1

x
Description
Baked Avocado Tacos w/ Roasted Veggie Salsa Author: B. Britnell
---
For the Roasted Veggie Salsa:
1 cup

cherry tomatoes, quartered

1/2

bell peppers (i used green), finely chopped

1/2

medium red onion, chopped

1 tablespoon

of oil (olive or avocado)

4

cloves of garlic, left whole
handful of cilantro
For the baked Avocado:
2

avocados, sliced into ~12 pieces per avocado (so

24

slices total)

1

tbs of oil

1/2 cup

of plain unflavored almond milk or other non dairy milk

1 cup

of panko bread crumbs

2

tbs of nutritional yeast

1/2 teaspoon

of salt

1/4 teaspoon

of garlic powder

1/4 teaspoon

of cumin
tortillas
For Sriracha Mayo:
2 tablespoon

of vegan mayo

1 teaspoon

of sriracha
optional for garnish: lettuce, jalapeno, spicy sriracha mayo
---
Instructions
Pre-heat the oven to 400 degrees F.
Place the chopped tomatoes, onion, and bell pepper on a lined (or lightly greased) baking sheet. Toss the veggies with about 1 tablespoon of oil and a sprinkle of salt and then spread out evenly across the baking sheet. Add in the cloves of garlic on the side and bake for 15 minutes.
Leaving the oven on, remove the veggies and set aside to cool while you prepare the avocadoes.
In a shallow bowl, combine the oil and the milk. In a separate shallow bowl, mix together the bread crumbs, nutritional yeast, salt, garlic powder, and cumin.
Dip each slice of avocado in the milk mixture being sure to fully wet it and then roll it around in the bread crumb mixture making sure to cover it on all sides. I found that gently patting the breadcrumbs into the avocado helped ensure that the slices were evenly coated.
Evenly place the avocado slices on a lined or gently greased baking tray and bake for 10-15 minutes in the oven.
While the avocado is baking, finish the salsa by blending together 1/3 of the veggie mixture, all of the garlic, and a handful of cilantro. Mix that back in with the remaining veggies and put in the fridge until ready to use.
Make the spicy mayo by mixing together the mayo and sriracha. Set aside.
Make the tacos by spooning some of the salsa into a tortilla along with lettuce, jalapenos, and a few slices of the avocado. Top with the spicy mayo and ENJOY!!
Prep Time:

5 minutes

Cook Time:

30 minutes
This post may contain affiliate links. Please read my disclosure policy.