Black Bean Breakfast
This post may contain affiliate links. Please read my disclosure policy.
This Black Bean Breakfast Recipe is a great vegetarian breakfast that's creamy, delicious, and super easy to make!
I worked on this Black Bean Breakfast recipe for QUITE a while. I had something similar to it at a restaurant here in Nashville and was SO determined to replicate that dish to a T. It took me a while BUT I did it and LOVE how it turned out!
The key: mashing a bit of the black beans to create a deliciously creamy texture for the beans. Mmmmmm
I SERIOUSLY love this recipe and am pretty sure that I'll be making it weekly forever!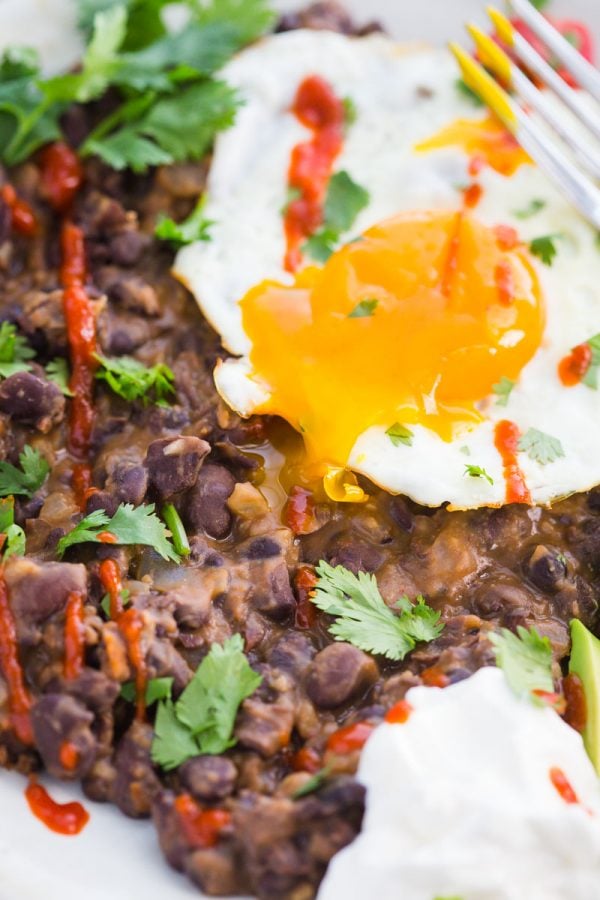 Pretty much every time that I eat this dish, I serve it with warm corn tortillas. If you pile everything on a tortilla it makes a delicious black bean breakfast taco which is basically the best way to eat breakfast.
How to Make Black Beans for Breakfast
Black beans for breakfast is not something that I've ever really done before but I'm totally obsessed with it. Between the beans and the egg it ends up being a high protein meal and a great way to start the day.
Because I love the taste, I added fresh garlic and onion into this dish. Those get sautéed in a bit of oil before the black beans and spices are added in. Here's the thing though: if you're wanting to cut out the time it takes to chop the veggies, you could easily omit the garlic and onion and instead throw in a little garlic and onion powder to get a similar taste. I've done it both ways and either way, it's DELICIOUS!
If you skip the chopping, this dish takes only about 5 minutes. SO, you have no excuses. Also, you could make a big batch of these beans when you meal prep and then just heat them up each morning for breakfast. They taste just as good and you can save even more time that way!
Don't forget: the trick to getting these black beans nice and creamy is to slightly mash about 1/4 of the beans in the pan.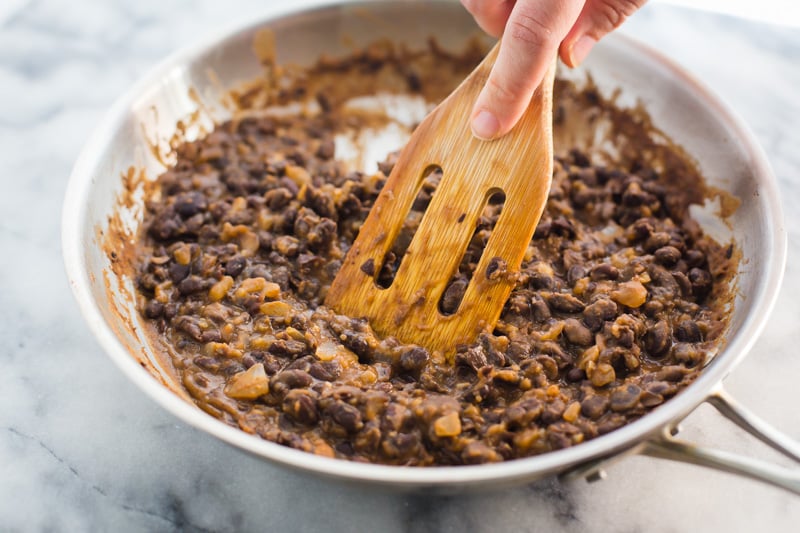 The dish is still very tasty without mashing the beans but I really love the creamy texture that the mashing adds to the dish. SO, DO IT!
If you make this Black Bean Breakfast, PLEASE let me know how you like it. I'm so pleased with how this recipe turned out and how to see lots of you enjoying it as well.
Print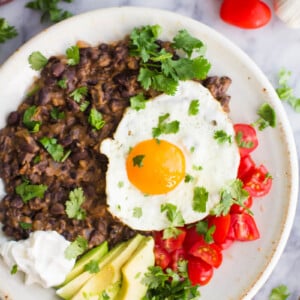 Black Bean Breakfast
---
For the Black Beans:
For the black beans:

½

–

1

tablespoon of olive oil

1

can of black beans, drained and rinsed

½ teaspoon

of cumin

½ teaspoon

of paprika

¼ cup

of chopped onion*

2

cloves of garlic*

¼

–

½

cup of broth
For serving:
Fried egg

Corn tortillas

Cilantro

Tomato

Sour cream or greek yogurt

Avocado
---
Instructions
In a medium skillet, heat your oil over medium heat. Once hot, add in the onion and garlic and cook for 2 minutes.

Add in the black beans, ¼ cup of broth, and spices. Cook until the black beans are heated through, stirring frequently. Using the back of a wooden spoon, lightly mash about ¼ of the black beans. You *can* skip this step but it creates a nice and creamy texture that's very lovely! If black beans seem quite dry, add in a couple more tablespoons of the broth and heat through.

Remove black beans from heat and divide among 2 plates. Top with fried eggs and other desired toppings! Serve with warm tortillas for a delicious breakfast taco.
Notes
If wanting to make this quickly with little-no chopping, you can easily sub the onion and garlic for ½-1 teaspoon each of onion and garlic powder. I've tried this a few times and it's still delicious.

I recommend that this dish serves 2 but it would also make a great side dish for 4.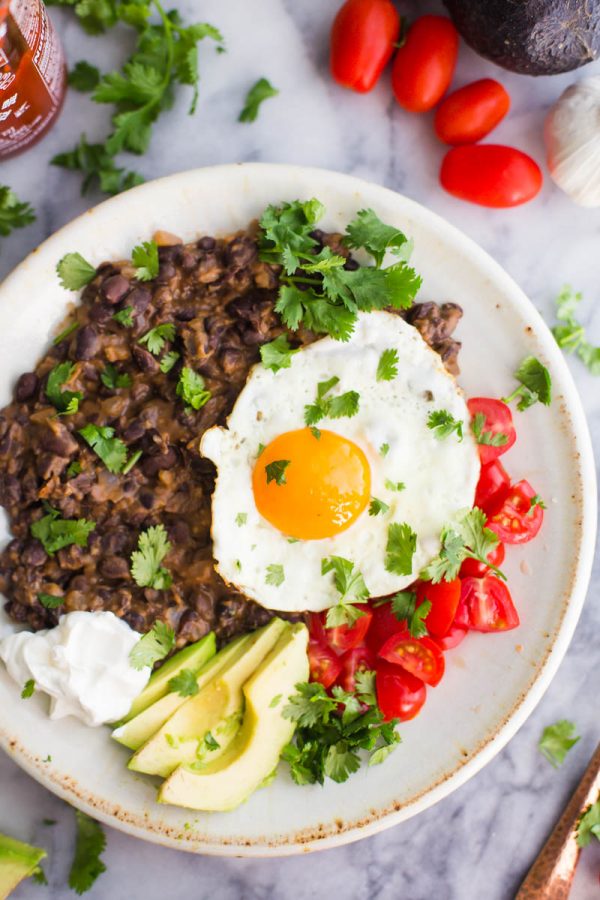 This post may contain affiliate links. Please read my disclosure policy.