Breakfast Bake
This post may contain affiliate links. Please read my disclosure policy.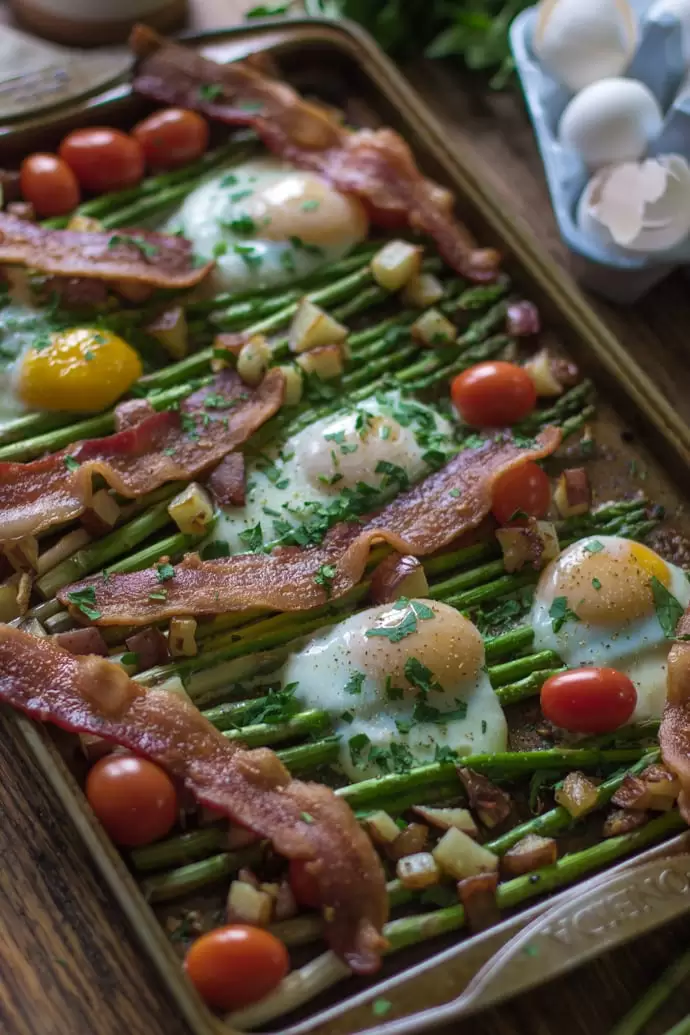 I've started a lot of conversations lately with "I was listening to this podcast the other day….".
So, I was listening to this podcast the other day and, long story short, it inspired me to try and have more of a morning routine. One where I eat breakfast that isn't just a piece of fruit in the car or a granola bar at my desk. I'm also going to do my best to fit my workouts in in the mornings instead of squeezing them in at 10pm. This should be especially easy since I just bought a shiny new set of kettlebells.
Probably most importantly, I want to start my day out on the right foot. A typical morning for me consists of laying in bed until the last possible minute, getting ready as quickly as possible, and rushing out the door in a chaotic hurry. Instead, my hope is that by waking up a bit earlier, I can relax a little, take in the morning, and mentally prepare myself for the day.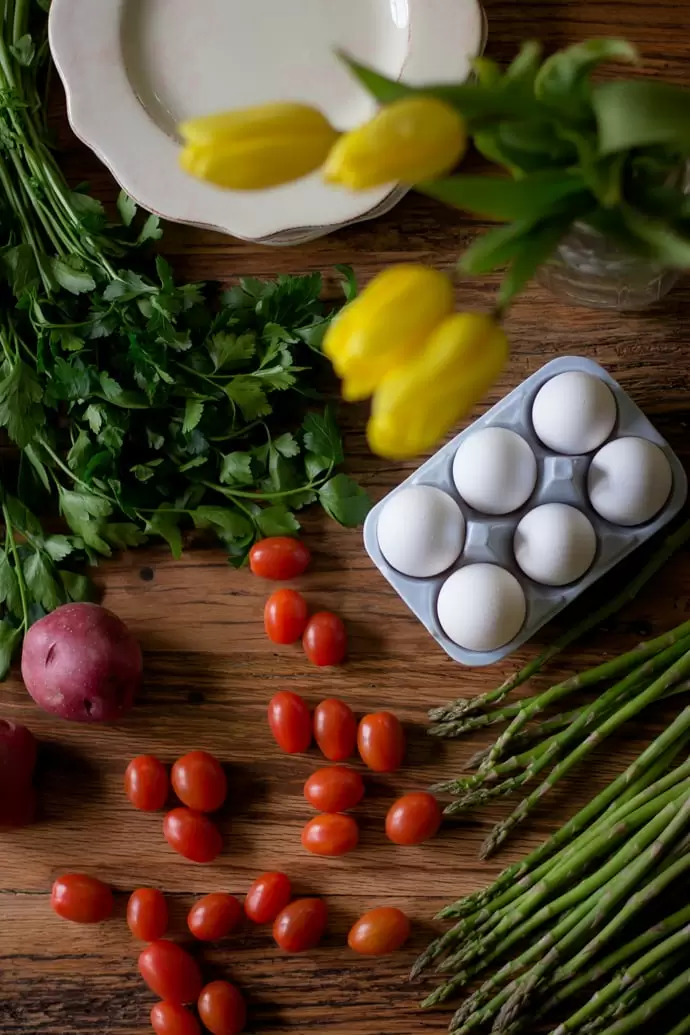 And with spring coming, I'll have to be waking up earlier anyways to water the garden and check in on our chickens (!!!!!).
I'm happy to report that day one of 'make Brita a morning person' was a success! I even got to work 5 minutes early!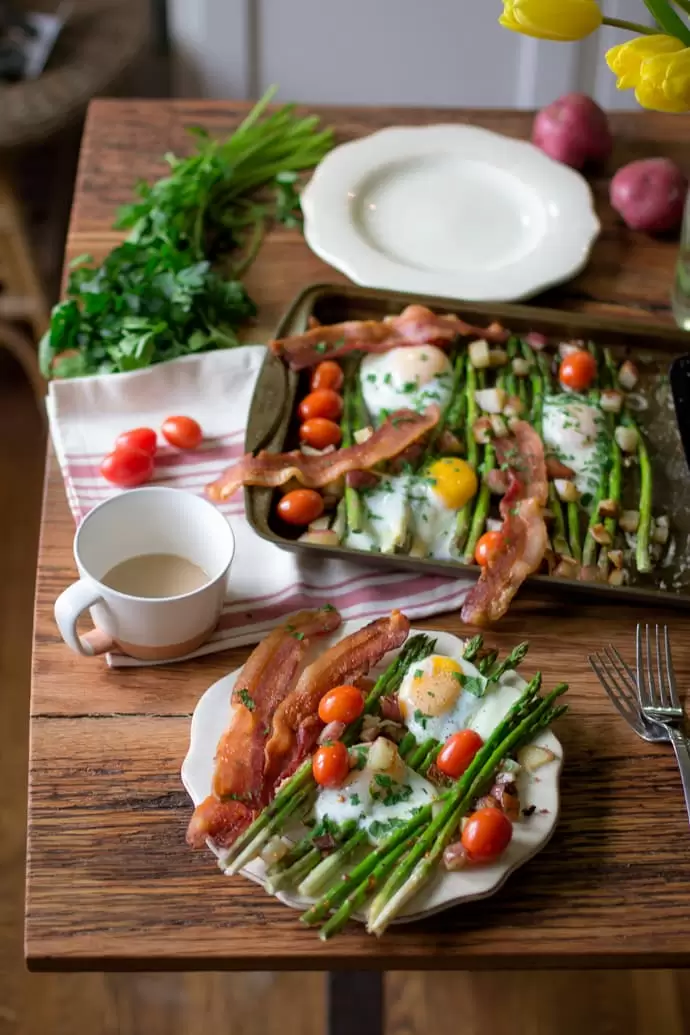 In other delightful news: it got above 70 degrees here in Nashville over the weekend. Nothing could make me happier than a sunny 70 degree weather day in the middle of winter besides maybe a cure for calories.
And with all of that, welcome to my new favorite breakfast! I call this a Breakfast Bake/ Lazy Girls' Breakfast/ a Deconstructed Omelet: (I agonized over the title of this post for far too long)
Here's how this goes: 1) throw your bacon and potatoes on a tray and bake for 10 minutes. 2) Put bacon and potatoes on a few paper towels and discard the grease from the pan. 3) Put the asparagus, tomatoes, and eggs onto the same tray and bake until the egg whites have set (about 6-7 minutes). 4) Put potatoes and bacon back on tray, top with fresh parsley and ENJOY!
It's kind of the best thing ever. To make these even lazier, you can leave out the potatoes so that this requires absolutely no effort above turning on the oven and cracking the eggs. But the garlicky potatoes are delicious, so definitely include those!
Also, there's really no limit to what you can throw in this breakfast (well, the only limit being the size of the tray you're using). Any veggies that are good roasted would tastes great paired with eggs and bacon!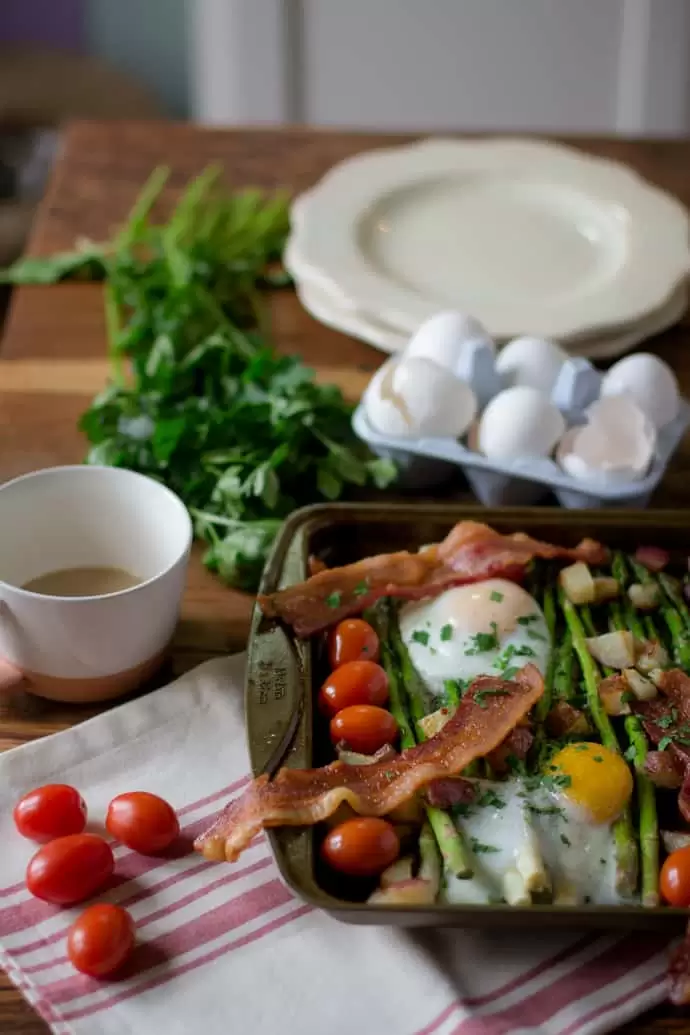 Pro-tip for maximum laziness: don't use plates. Simply set the tray down in front of hungry breakfast-ers and dig in! I might have eaten everything with my fingers minus the egg yolks. Those require a fork (or a toast soldier).
Print
Breakfast Bake
---
8

slices of bacon

2

medium red potatoes, diced

2

cloves of garlic, minced

1 tablespoon

of olive oil

1

pound of asparagus, trimmed (but, I'm lazy and of

ten

don't trim mine)

4

–

6

eggs (depending on how many eggs each person wants)
handful of cherry tomatoes

2 tablespoons

of freshly chopped parsley
Salt & Pepper to taste
---
Instructions
Pre-heat oven to 475 degrees F.
Place diced potatoes, olive oil, and garlic in a plastic bag and shake until the potatoes are fully coated. Pour potatoes out on to one side of a baking tray (they should be bunched up onto about 1/4 of the tray).
Fill the same baking tray with the bacon and bake in the oven for 10-12 minutes until bacon is fully cooked.
Place bacon and potatoes on a paper towels to collect the excess grease. Discard grease from tray but don't clean the tray completely so that there's a thin layer of grease remaining on the tray for the veggies and eggs to cook in.
Line the same tray with the asparagus and tomatoes. Top gently with the eggs and bake for 6-7 minutes until the egg whites have just set.
Put the potatoes and bacon back on the tray and bake for an additional minute.
Once out of the oven, sprinkle with the parsley and S&P to taste.
Serve & Enjoy!!
Prep Time:

2 minutes

Cook Time:

17 minutes
This post may contain affiliate links. Please read my disclosure policy.