Breakfast Nachos
This post may contain affiliate links. Please read my disclosure policy.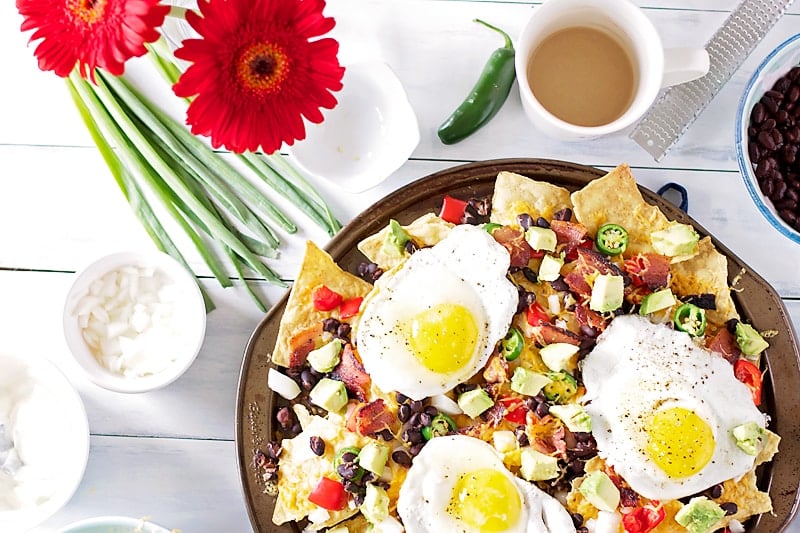 The following is the conversation that happened in my head which lead to these Breakfast Nachos:
Me: "I'm craving nachos." "What kind of nachos can I make that I haven't already blogged about" (hint: I really like nachos)
Me: "I am kind of in a breakfast mood though and just want to blog about breakfast"
Me: "What if we make nachos…for breakfast??"
Me: "No. That's weird. People will think that is too weird."
Me: "But, NACHOS!"
In all actuality, these are just nachos with bacon and eggs on them. Like, the ingredients of an omelet spread out over tortilla chips. (see, I'm still trying to justify this). But it really happened and it was delicious and a thing that will certainly happen again in the near future!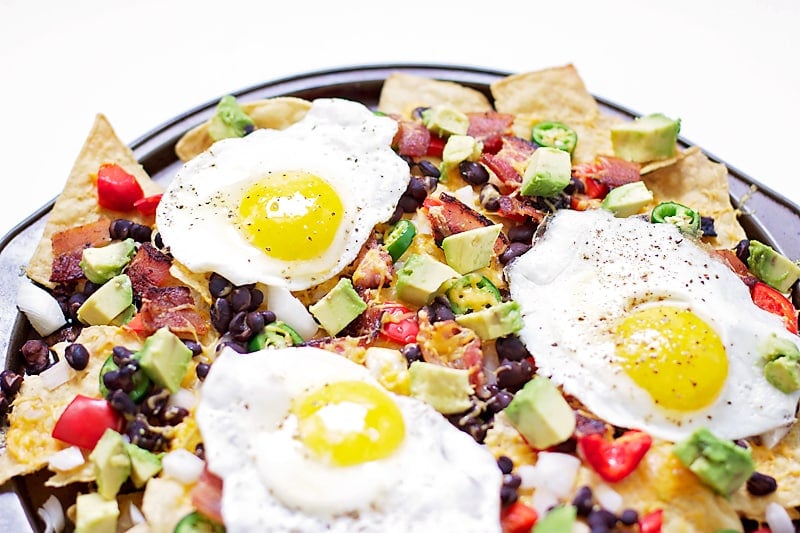 I feel maybe a little silly telling you how to make nachos. You know how to make nachos. So, we'll make this one quick. It is Monday morning after all.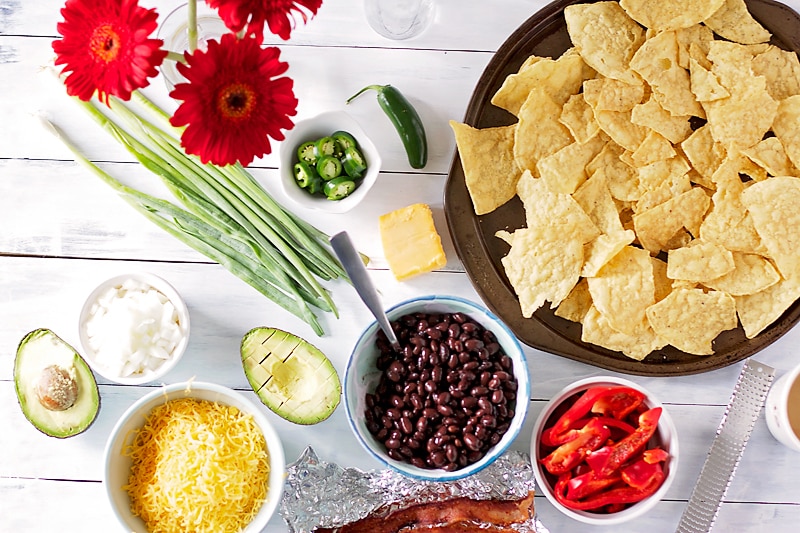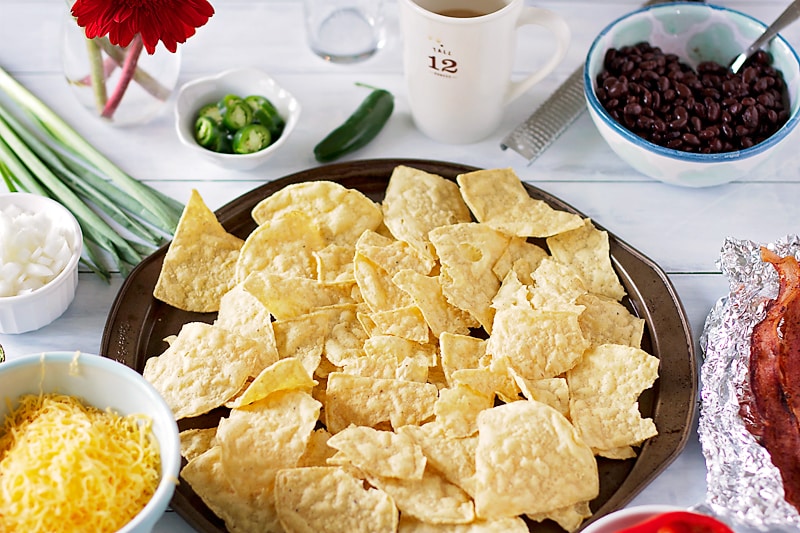 Throw some chips onto a tray. Any tray will do. I used a pizza tray.
Sprinkle with cheese (pro-tip from a profesh nacho maker: cheese should ALWAYS be the first layer)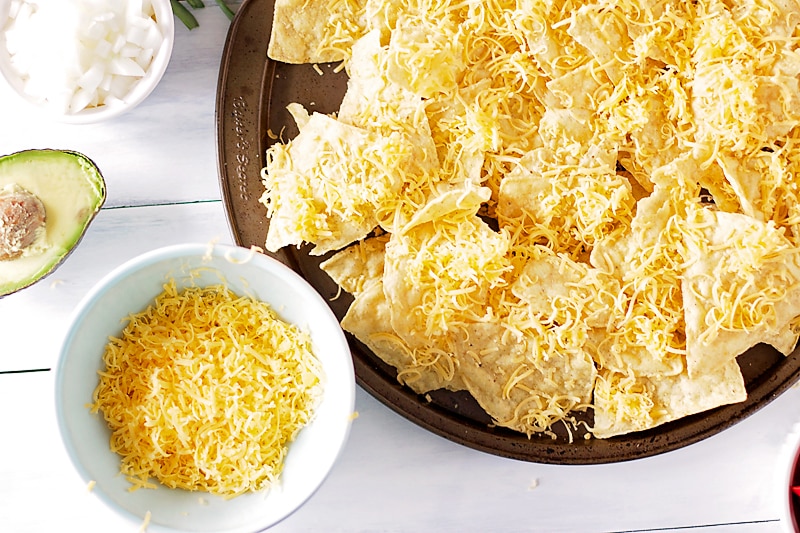 Then, throw some more stuff on there. Don't be careful with this step, just dump. Because I have them in my garden, red peppers, onions, and jalapenos were added.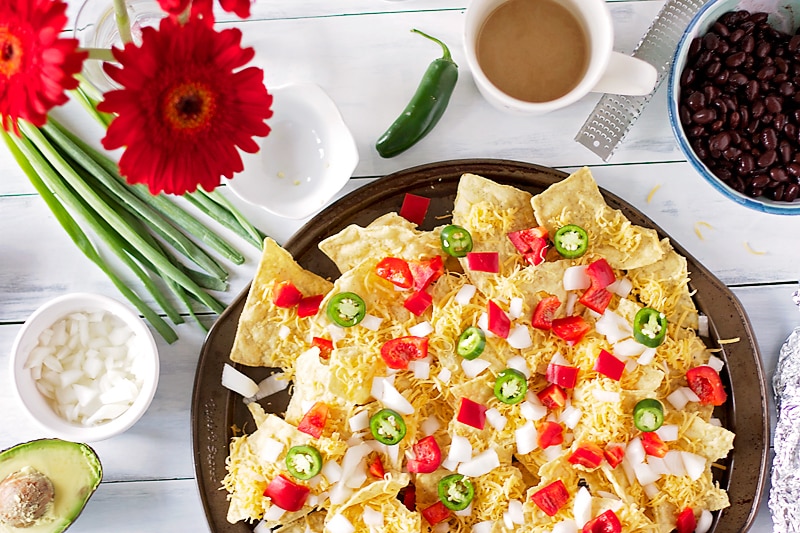 And black beans because our breakfast (brunch?) needs some good substance to it.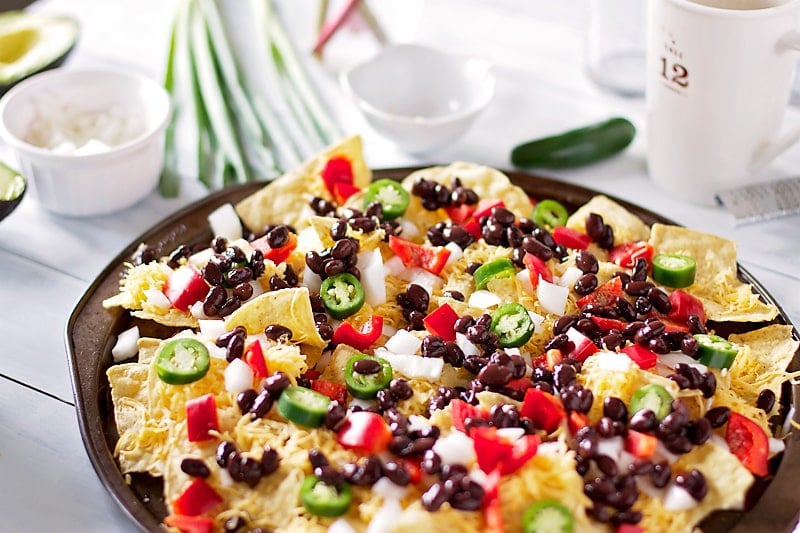 The bacon must not be forgotten!! It's one of the key ingredients that differentiates THESE breakfast nachos from normal ole lunch/ dinner/ snack nachos.
Top with another good layer of cheese and throw that breakfast creation into the oven!
While you wait, it's probably a good idea to eat the remaining strips of bacon. It would be a shame to let those go to waste.
Oh, and fry up some eggs! That's the other key ingredient to make these nachos breakfast-y.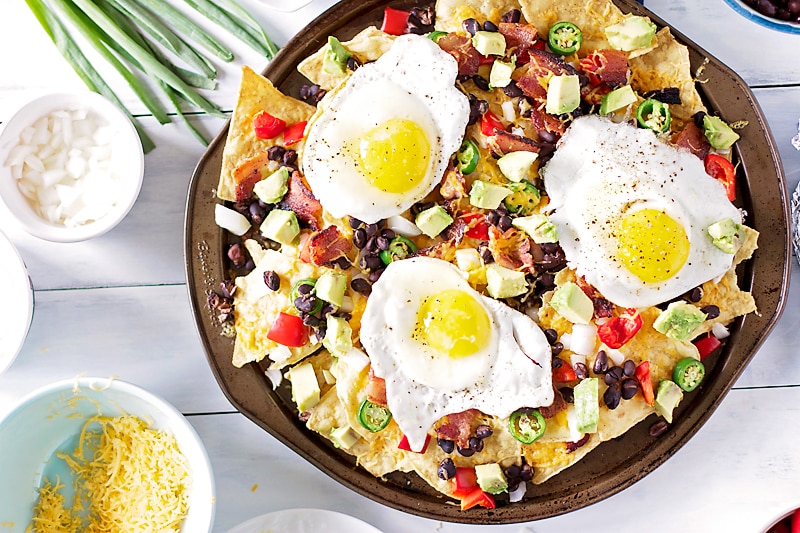 Once out of the oven, top with your fried eggs and a healthy portion of avocado and you're ready to enjoy!! I also recommend having some salsa and sour cream near by. Ya know, for dipping.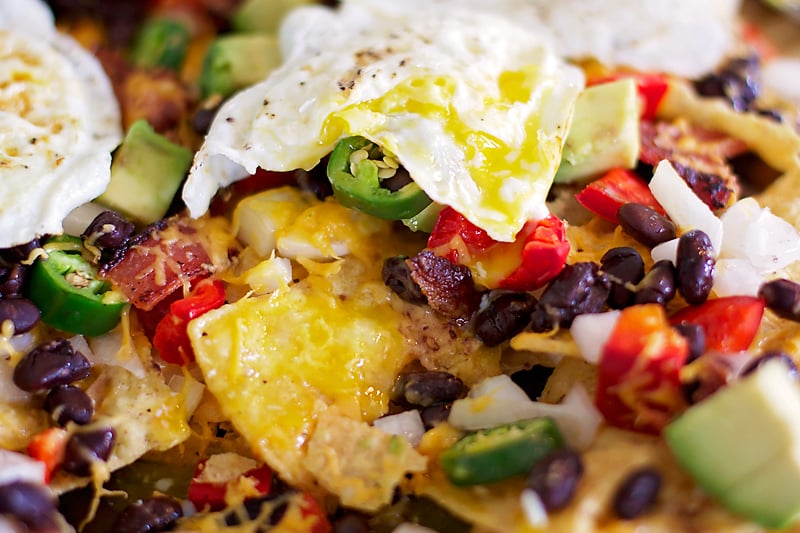 Print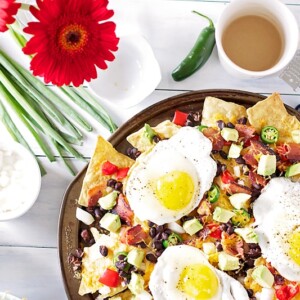 Breakfast Nachos
---
Half a bag of tortilla chips

1 1/2 cups

of shredded cheddar cheese, divided

1/2

of a small onion, diced

1

jalapeno, diced

1/2

of a red bell pepper, diced into small pieces

4

–

6

strips of bacon, chopped

1/2 cup

of black beans, drained and rinsed

1/2

of an avocado, diced

3

fried eggs
optional: sour cream and salsa
---
Instructions
Pre-heat oven to 400 degree F.
Arrange your chips evenly on a baking sheet.
Top chips with a layer of 1/2 of the cheese and all of the onion, pepper, jalapeno, black beans, and bacon.
Top with remaining cheese and bake for about 8-12 minutes until cheese is fully melted and gooey.
While nachos are baking, fry 3 eggs.
Once nachos are out of the oven, top with avocado and your fried eggs and ENJOY (immediately!!)!!
Prep Time:

20 minutes

Cook Time:

10 minutes
Have you ever had nachos for breakfast?? What's your favorite toppings?
This post may contain affiliate links. Please read my disclosure policy.