Breakfast pizza
This post may contain affiliate links. Please read my disclosure policy.
I'm debating changing the name of my blog from B.Britnell to "Put an Egg on it". My theory is that you can make ANY meal into breakfast by just adding an egg to the top. Stephen actually thinks that I would be better suited by just changing the name to "Avocado" since so many of my recipes feature the lovely avocado. Truthfully, I'll probably stick with B.Britnell for now out of fear of change and commitment.
So yea, I put eggs on an otherwise normal pizza and BAM breakfast. You're welcome.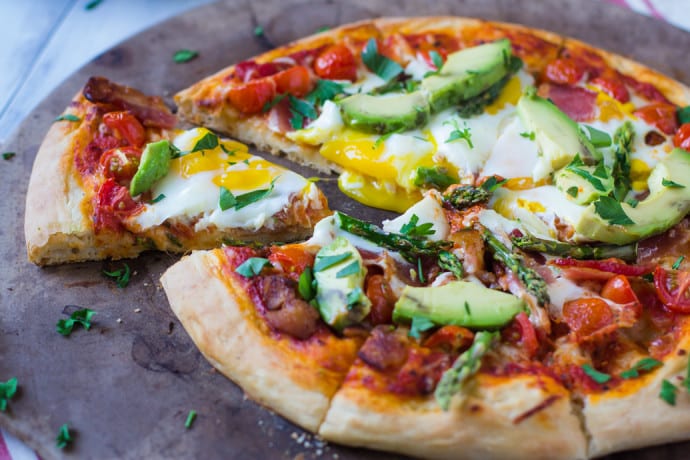 You know how much we love fresh pizza in our house based on the worn-in (I like to call it "rustic") look of our pizza stone. I won't apologize for that :)
In other news, my spring garden is in super full swing. I came home from work on Friday and spent ALL evening and night pulling and digging and planting to get everything all finished up. I planted so many yummy veggies with new varieties of cucumbers and peppers and squash that I've never tried. I have a bunch of strawberries growing that I can't seem to get the chickens to stay away from. I also planted a bunch of flowers this year including a LONG line of sunflowers along the fence line in our front yard. I'm very excited about that!
I also keep checking the weather hoping that it WILL rain. There's nothing a good garden loves more than fresh rain water.
Once the garden is in full harvest this year, I plan to make you another pizza with ALL ingredients from the garden. Oh, I can't wait for that pizza! You can bring a bottle of wine.
I made this pizza easy because breakfast should, more times than not, be pretty easy to throw together. Easy here= a store bought crust mix and a jar of marinara. You can make your own if you want. You do you.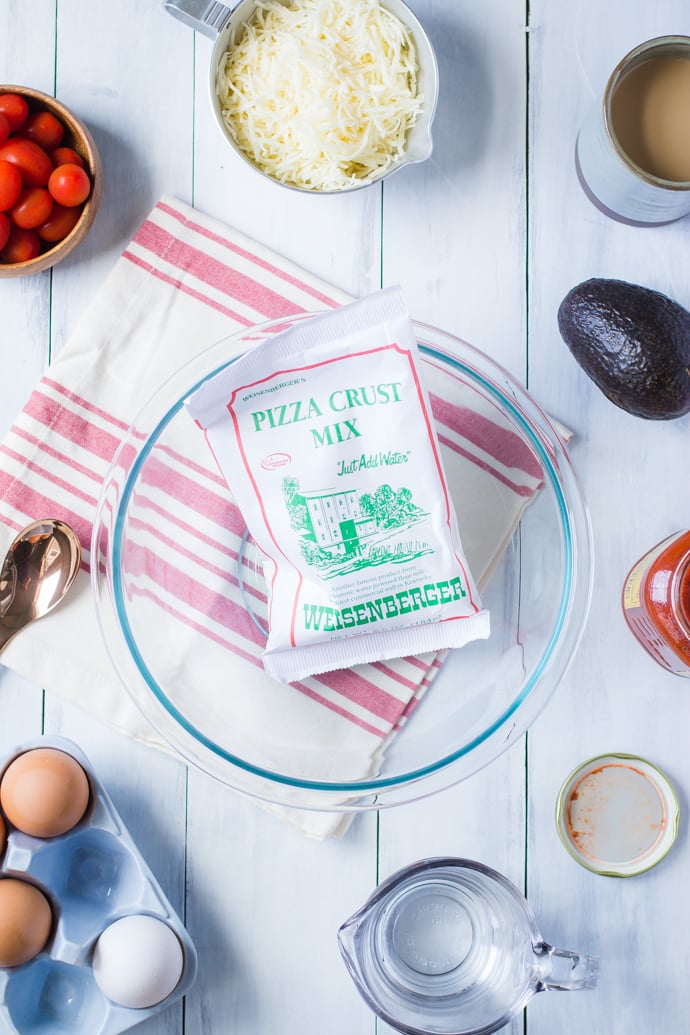 This crust is a "just add water" kind.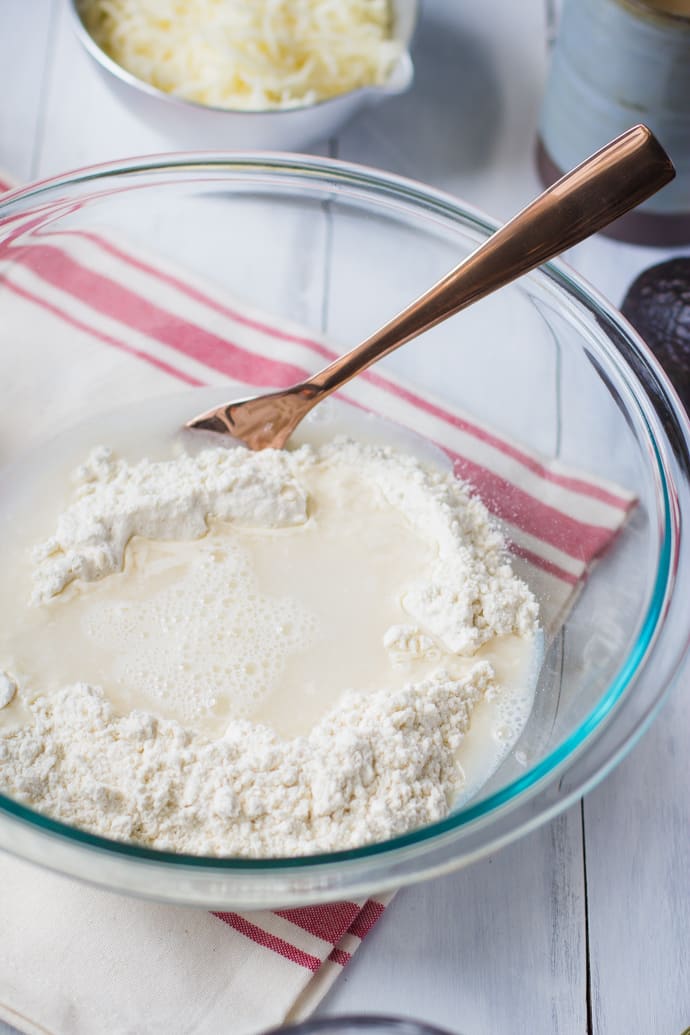 Stir well and it's pretty much done besides a nice little rest in a warm little spot.
Once the crust has risen a bit, It's flattened on a pizza stone and topped with sauce and tomatoes and cheese and bacon and put in the oven to bake about halfway.
After a few minutes, the eggs are added. One of my yolks broke in the process but just go with it. It still tastes great! I also added a few asparagus tips on there because, why not?
Bake for about 6-8 more minutes and it's done!! Avocado and herbs are added at the last minute out of a lack of self control (and yumminess!).
So, there you have it. A judgement free way to eat (non cold!) pizza for breakfast!
I hope your Monday treats you well, friends.
Print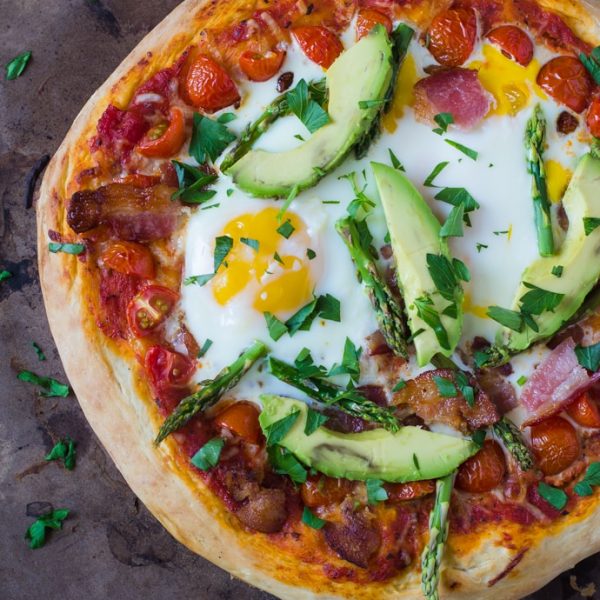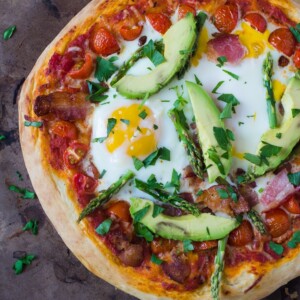 Breakfast pizza
---
Total Time:

25 minutes

Yield:

1

1

x
1

pizza crust

1/2 cup

of marinara sauce

1/2 cup

of cheese ( I used Gruyere)

1/2 cup

of cherry tomatoes (cut into quarters)

3

strips of bacon, cooked and chopped
~8 asparagus tips

2

eggs

1/2

an avocado, thinly sliced
small handful of chopped fresh parsley and/ or basil
---
Instructions
Pre-heat oven to 500 degrees F.
Prepare crust and flatten it on a greased pan or pizza stone. Pinch the edges of the crust to make edges.
Spread the sauce over the crust and top with the cherry tomatoes and cheese.
Bake for 5 minutes. Remove pizza and top with bacon, asparagus, and the two raw eggs.
Bake for an additional 5-8 minutes until the eggs are set and the crust is golden brown.
Top with avocado and herbs and ENJOY!!
Prep Time:

10 minutes

Cook Time:

15 minutes
This post may contain affiliate links. Please read my disclosure policy.