Chocolate Ganache Crepe Cake & a fond farewell
This post may contain affiliate links. Please read my disclosure policy.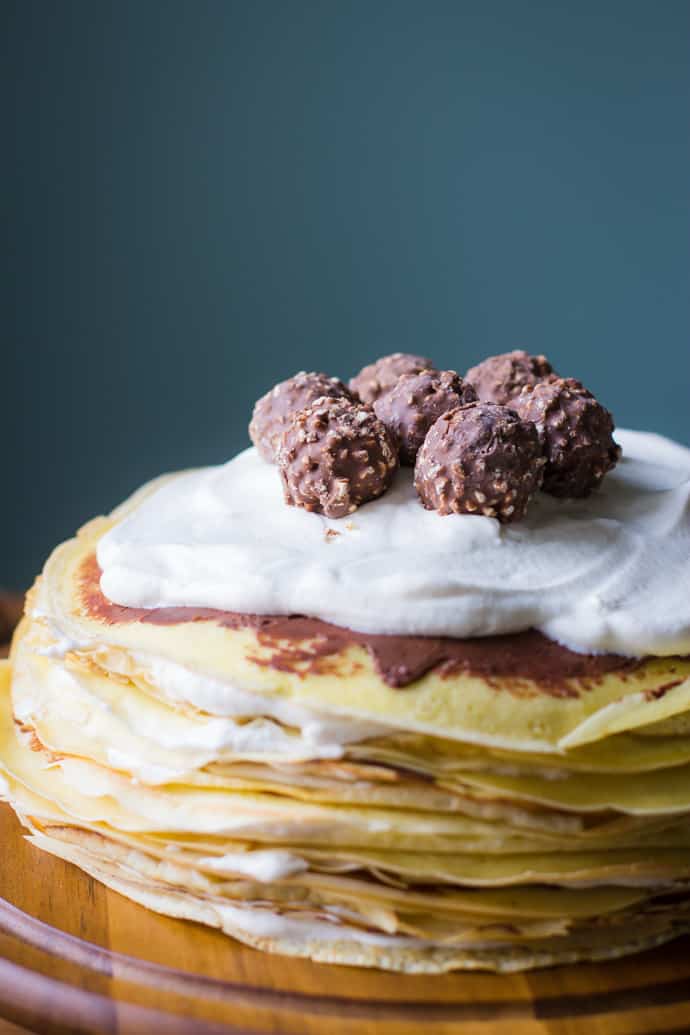 This is the last post I'll ever write from my dear little East Nashville cottage. It is the first home I owned and I'm having incredibly mixed feelings about selling it. I made this cake as a homage to my house and invited some friends over to help me say goodbye (and eat the cake so I didn't eat the whole thing myself).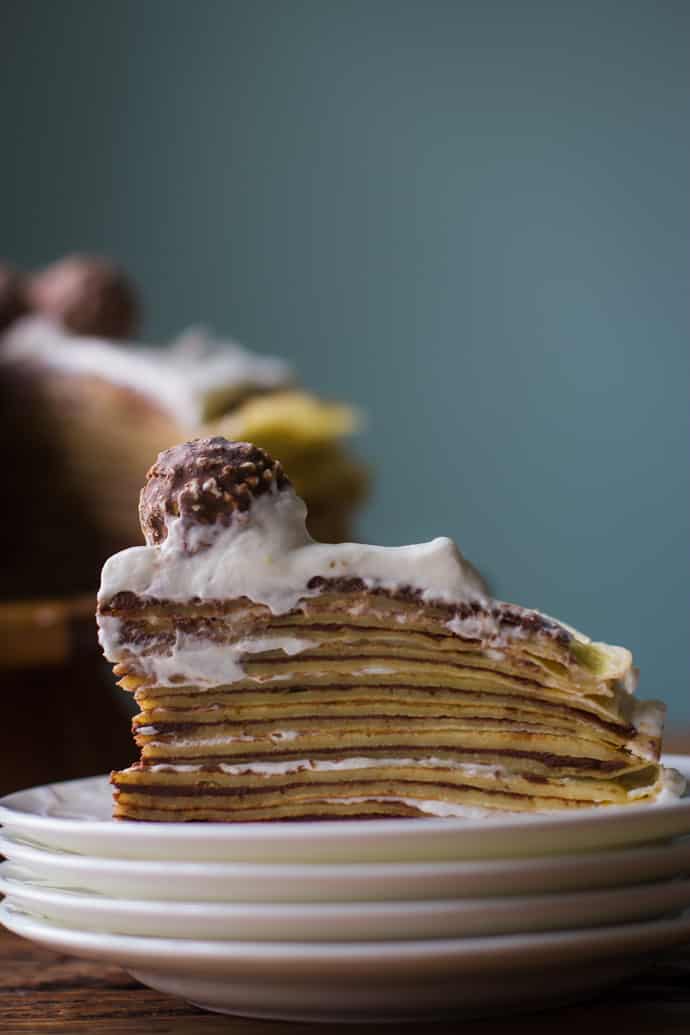 I bought this house somewhat on a whim when I was 24. I put zero dollars down and had just enough cash at the time to cover the earnest money, buy a new couch (which was the first piece of real furniture I had ever bought myself), and pay some guys from my grandmother's church to help move my stuff. Everything else I put on a credit card (which I then spent the next year paying off). [Don't use credit cards, kids.]
I don't necessarily consider buying this house the wisest move I ever mad,e but I will say that it turned out to be one hell of an investment.
The reason I bought the house? Because I have 2 large (very large) dogs and finding a reasonable rental with a fenced back yard that allows large dogs was next to impossible. And getting rid of the dogs was obviously not an option so instead I just bought myself a house. Smart, huh?
Everyone told me that you're not supposed to buy a house without putting at least 10% down but preferably 20%. It really pays off to ignore life rules sometimes. [but still, please don't aimlessly use credit cards.]
Years later, this house has been so good to me. It ended up being everything I needed and I am so so grateful for that. It makes me scared to leave but there's really no turning back at this point. And so we forge on to new and exciting things in our lives.
So why the heck am I moving if I love this house so much?? I don't really know. I mean, I do know. The timing is right. Stephen and I have talked for a while about moving a few miles out of the city to a bit more seclusion. We want something bigger than this small cottage. I want more space for the chickens to run around and more property for the dogs to patrol. I want exponentially more land for an exponentially larger garden where watermelon and pumpkin plants can sprawl out with no constraints and sunflowers can grow 12 feet tall.
But in the meantime I made a Chocolate Ganache filled Crepe Cake in ode to my little East Nashville cottage.
I've made lots of things in this kitchen and I wanted the last thing to be extravagant. Making ~20 large crepes, chocolate ganache, and whipped cream and then assembling it into a cake seemed fitting enough.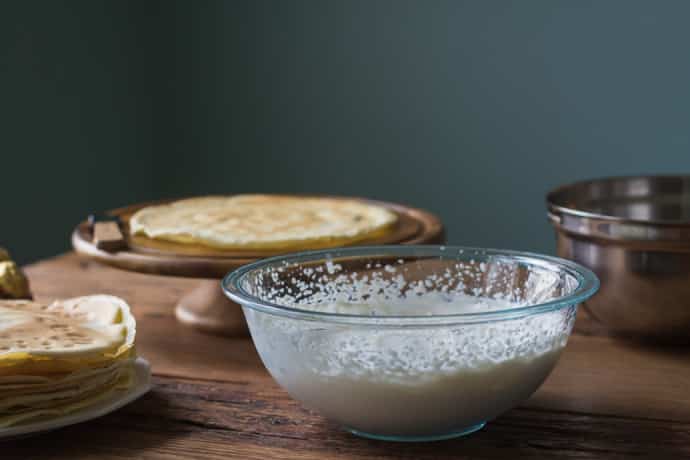 The crepes were made with a simple recipe. Chocolate ganache was made by combining heavy cream and dark dark chocolate, and whipped cream was whipped up with the addition of Bailey's creamer in it. I wanted to put regular Bailey's in it but alas. Liquor stores are closed on Sundays.
Every other crepe had a layer of ganache and then a layer of the Bailey's whipped cream.
All the way up until the whole cake was assembled.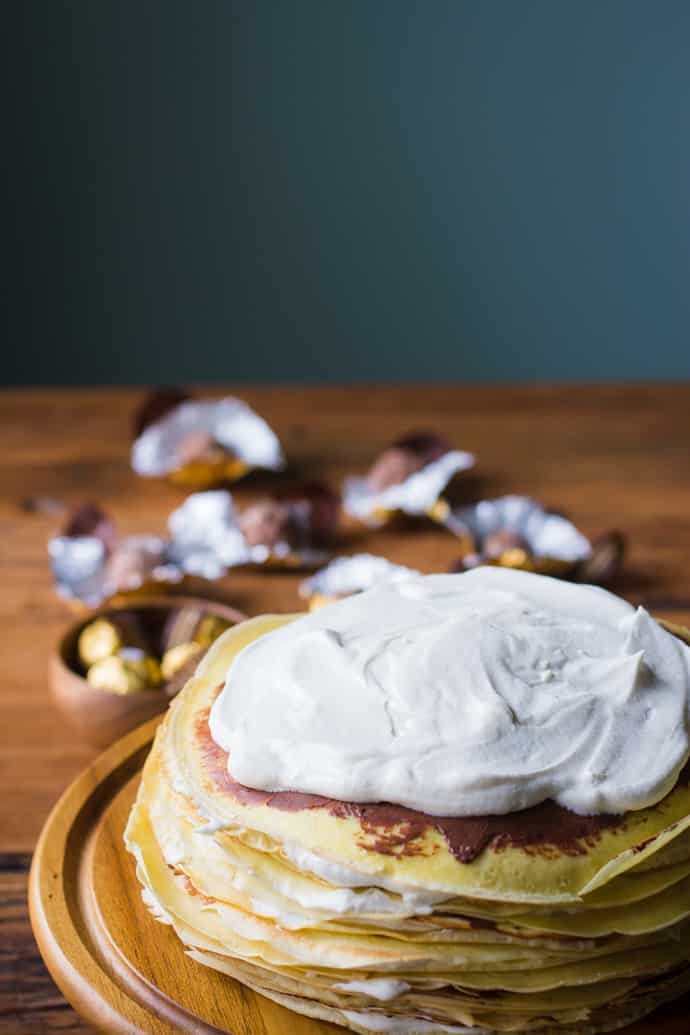 I topped it with some Ferrero Rocher chocolates because they remind me of my childhood and…. why not.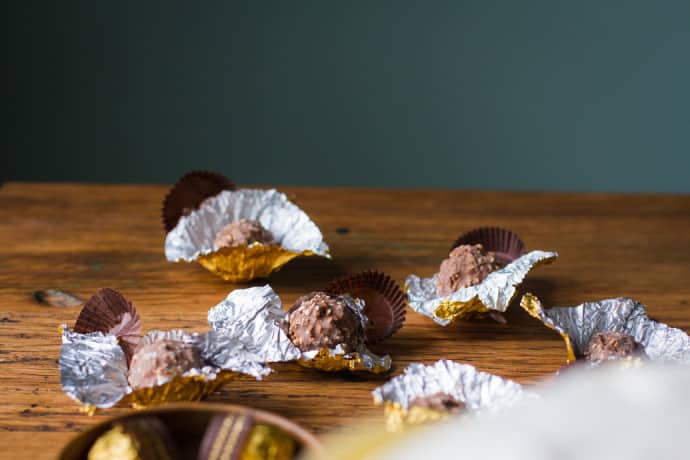 SO, here's to my lovely little house that I will miss dearly and that provided the setting for all of my first recipes and blog posts.
Print
Chocolate Ganache Crepe Cake & a fond farewell
---
Total Time:

50 minutes

Yield:

1

1

x
For the Ganache:
6 ounces

of dark chocolate

1 cup

of whipping cream
For the whipped cream:
1 cup

of whipping cream

1/2 cup

of baileys creamer or an additional 1/2 cup of whipping cream)
For the crepes:
4 cups

of all purpose flour

8

eggs

2 cups

of milk

2 cups

of water

1 teaspoon

of salt

8 tablespoons

of butter, melted

8 teaspoons

of sugar
---
Instructions
Start by making the ganache and whipped cream so that it can be chilling.
For the Ganache:
Chop the dark chocolate and put it in a heat proof large bowl.
In a medium saucepan, bring the 1 cup of whipping cream to a simmer. As soon as it simmers, pour the cream over the chocolate.
Let sit for about 30 seconds and then stir until fully combined. Place in fridge to cool.
For the Whipped cream:
Using a stand mixer or electric whisk, whip the cream and baileys creamer until hard peas form. Place in fridge to cool.
For the Crepes:
Make the crepes in 2 batches as 1 batch would be too large.
In a blender, blend together 2 cups of the flour, 4 eggs, 1 cup of milk, 1/2 teaspoon of salt, 4 tablespoons of melted butter, and 4 teaspoons of sugar.
Slowly add in 1 cup of the water as the mixture blends.
Once fully mixed, heat a large greased skillet over medium heat.
Using a 1/2 cup measuring scoop, scoop slightly less than 1/2 cup of the crepe mixture into the pan and immediately swoosh the pan around so that the mixture covers the bottom of the pan. You have to do this quickly before the batter cooks through.
Cook for 1-2 minutes on each side and then set aside to cool.
Repeat until batter is gone and then make the second batch of batter and then repeat. You should end up with about 20 crepes.
To assemble the cake:
Place a crepe on a cake stand and then cover with a thin layer of the ganache.
Place another crepe on top and then cover with a thin layer of the whipped cream.
Repeat until all of the crepes are gone.
Top with an additional layer of ganache and whipped cream and top with Ferrero Rocher chocolates (or your favorite candy).
ENJOY!
Prep Time:

20 minutes

Cook Time:

30 minutes
This post may contain affiliate links. Please read my disclosure policy.