Cilantro Lime Quinoa
This post may contain affiliate links. Please read my disclosure policy.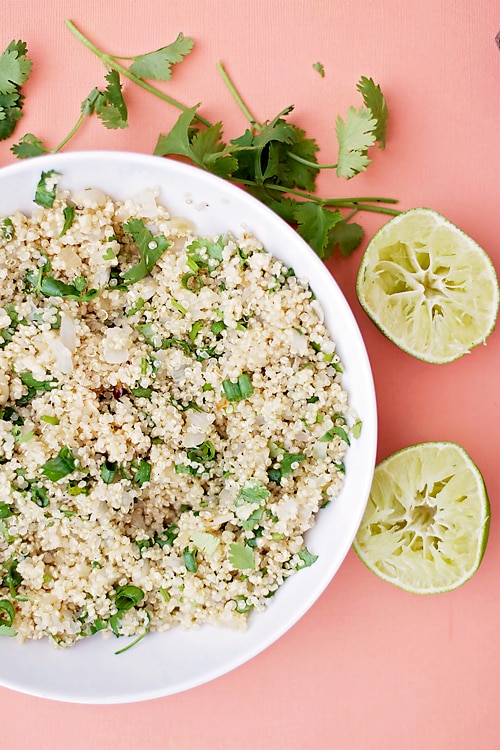 All I can think about is how nice my long, 3 day Labor Day weekend was. The world would be a better place if ALL weekends were 3 days long. Why can't that be a thing? WHY?
My weekend consisted of a butt load of recipe testing, cooking, and picture taking. And I really couldn't be more happy about that. Also, this month marks one whole year since I started my blog. Crazy! But, I'm doing something extra special to celebrate that so we'll move on to the quinoa.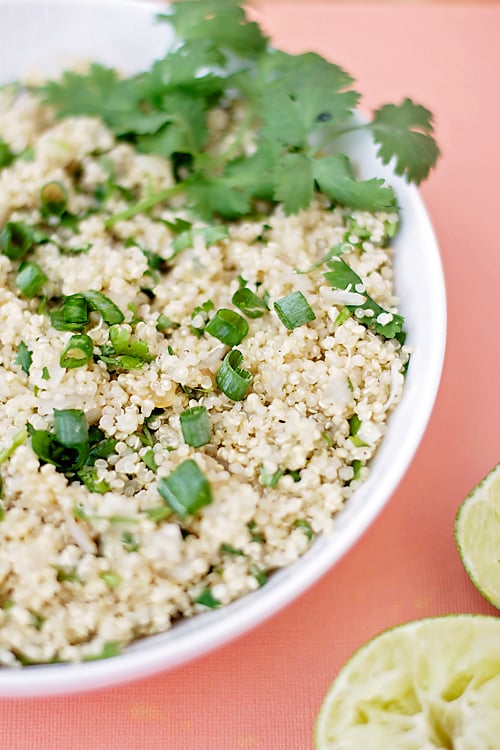 I've been really into quinoa the past year. I started out just making it plain with a bit of salt and pepper. But lately I've been doing all kinds of fun things with it and I've even been trying out different kinds of quinoa. This simple recipe of adding a touch of S&P + Cilantro and some Lime is my absolute favorite though. Just be careful you don't put too much lime. I've made that mistake and it's a hard taste to balance.
Also, this quinoa makes me think of Chipotle's cilantro lime rice and that makes me SO so happy.
While your quinoa is a cookin', you can cut up the onion and throw it in a greased skillet to saute for a few minutes. While that's happening, chop of the cilantro and green onion and get your limes ready to juice. I'm all about efficiency in the kitchen.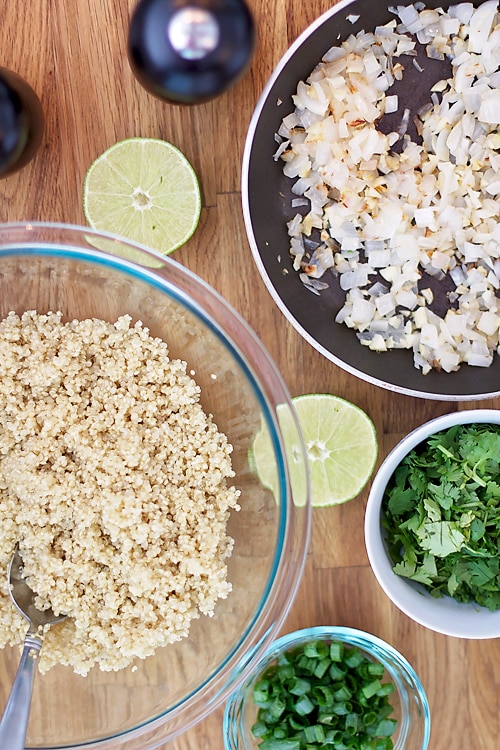 Once the onions are sauteed and the quinoa is cooked, all that's really left is to throw it all in a big bowl and stir. Add the onion to the quinoa…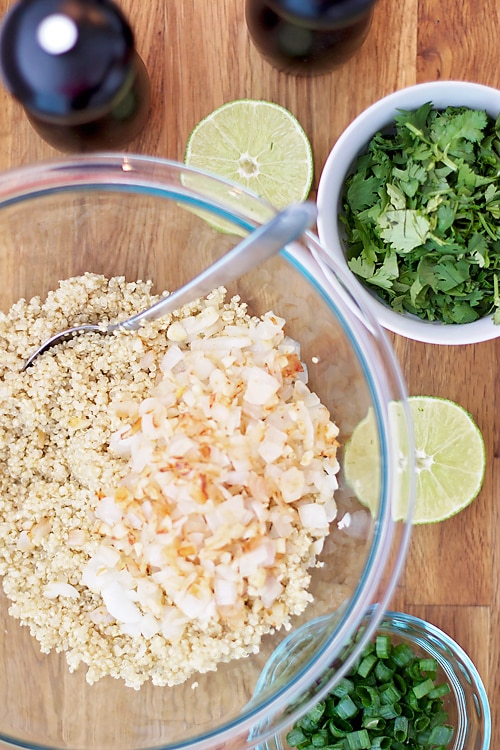 And then the cilantro and lime juice.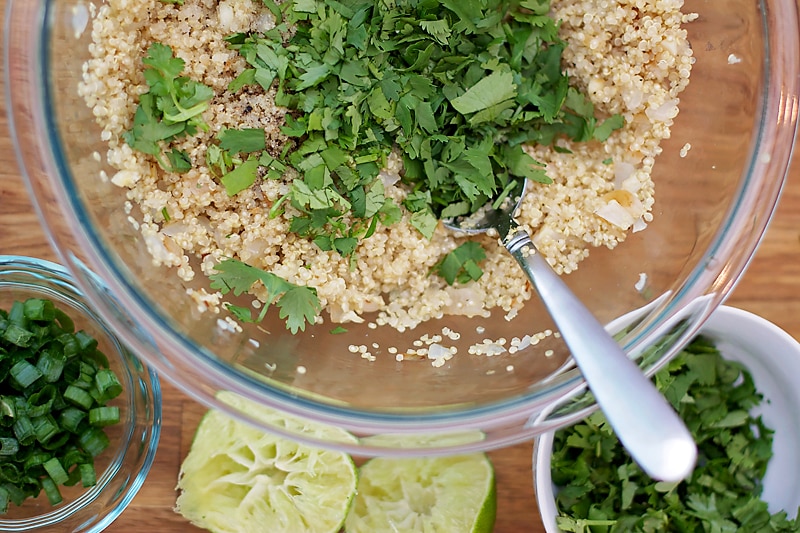 Give it all a nice good stir and you're pretty much done.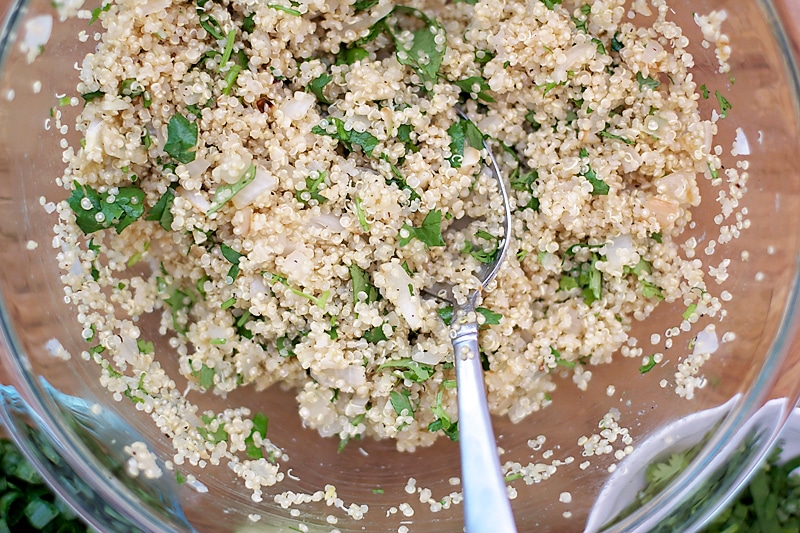 Once plated, I like to add some green onion on top and maybe a few more pinches of cilantro (because I'm thoroughly obsessed).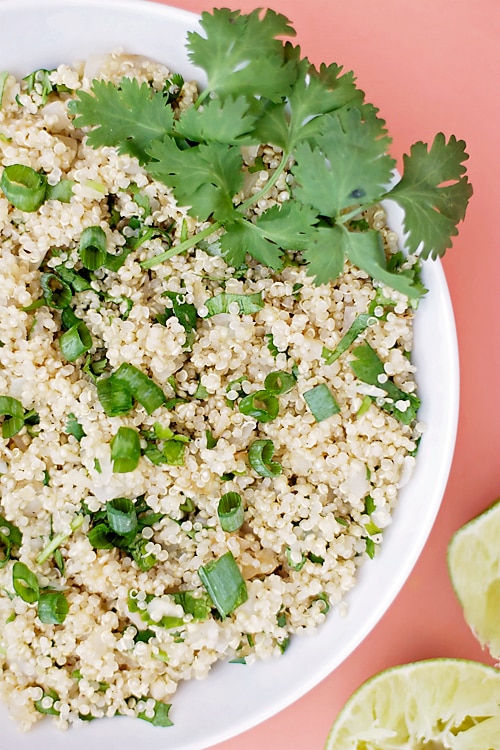 What's your favorite way to eat quinoa??
Print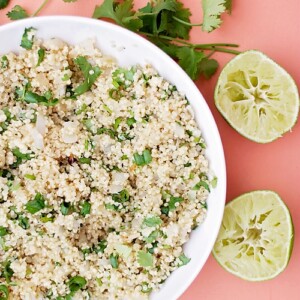 Cilantro Lime Quinoa
---
1 cup

of uncooked quinoa, rinsed

1

small white onion, diced

1/4

–

1/2

cup cilantro, chopped (depending on your likeness to cilantro)
Juice of

1/2

a lime
Salt and Pepper to taste
optional: green onion for serving
---
Instructions
Cook quinoa according to directions.
Using minimal oil (I use olive oil spray), saute your onion until it begins to turn transparent, about 7-10 minutes.
Once quinoa is cooked and the onion is sauteed, combine the quinoa, onion, cilantro, and lime juice in one big bowl. Stir.
Salt and pepper to taste.
Enjoy!!!
Notes
This recipe makes enough for 2 rather large servings (perfect if you're eating it as a meal) or 4 moderate side servings.
This post may contain affiliate links. Please read my disclosure policy.