Cilantro Lime Salmon Burgers w/ Tequila Avocado Sauce
This post may contain affiliate links. Please read my disclosure policy.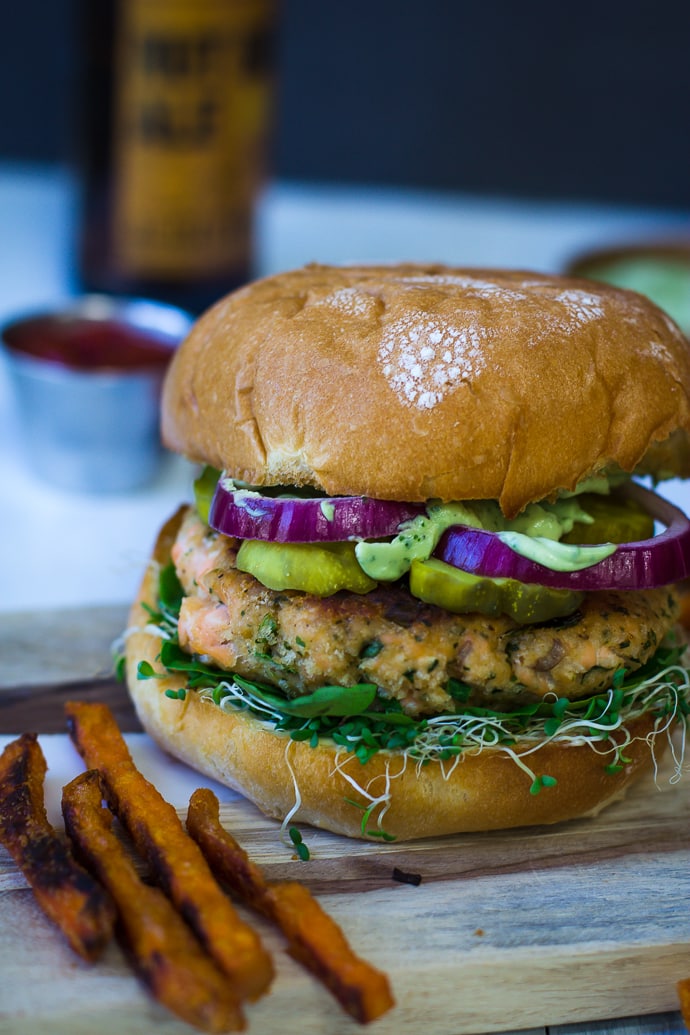 I think I've decided that burgers are my new favorite thing to photograph. Maybe I'll just make this whole space a blog about burgers and post nothing but pictures of tall, beautifully constructed burgers. But, then I would miss taking pictures of pies. How about a blog about burgers and pies? And cocktails? Oh, and definitely soups! I've had soup on the brain lately and have some really good soup recipe ideas that I plan to test out this weekend!
But today, it's all about these Cilantro Lime Salmon Burgers. I've been on a really big salmon kick lately. One thing I realized when writing the title of this post: all of the salmon recipes on my blog, and there are quite a few at this point, have LIME in them. I guess salmon and lime just really go well together. I'm not one to mess with a good thing.
I originally wanted to try putting tequila in the burgers themselves and let the salmon get drunk a little. In the end, I thought it might be best to just put it in the sauce which worked well to thin it out a little. I'm pretty happy with my decision.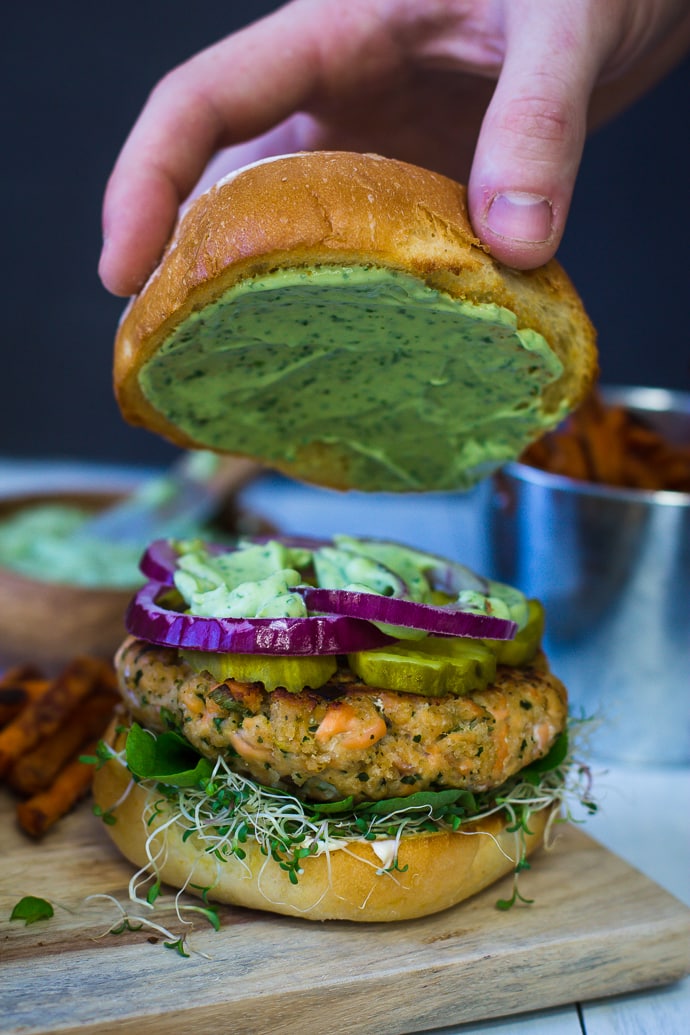 And while I love myself a good, highly stacked burger, these patties are honestly great eaten on their own or maybe on top of a bed of lettuce (ya know, if you're limiting your carb and tequila avocado sauce intake).
For this recipe, I wanted the burgers to hold together well but I still wanted there to be small chunks of salmon in the burgers. So instead of blending up all of the salmon, I started with just half of it in a food processor with cilantro, garlic, lime juice, mayo (which could be substituted for Greek yogurt), and some S&P.
That's all blended up pretty good so that there are no chunks left over at all. This finer blending will help hold the burgers together when it comes time to cook them.
Then I added the remaining salmon with a little lime zest.
This is processed for a couple quick spurts (like, 2-3 one second spurts) just to combine it all and to very slightly chop the large salmon chunks. Don't process it too much!
Finally the bread crumbs and green onion are mixed in using a spoon.
4 patties are formed. You can also make 6-8 if you want them smaller. My 4 were rather large.
The patties are cooked over medium-low heat for about 7-8 minutes on each side depending on their size.
Once done they should be a nice golden-y brown color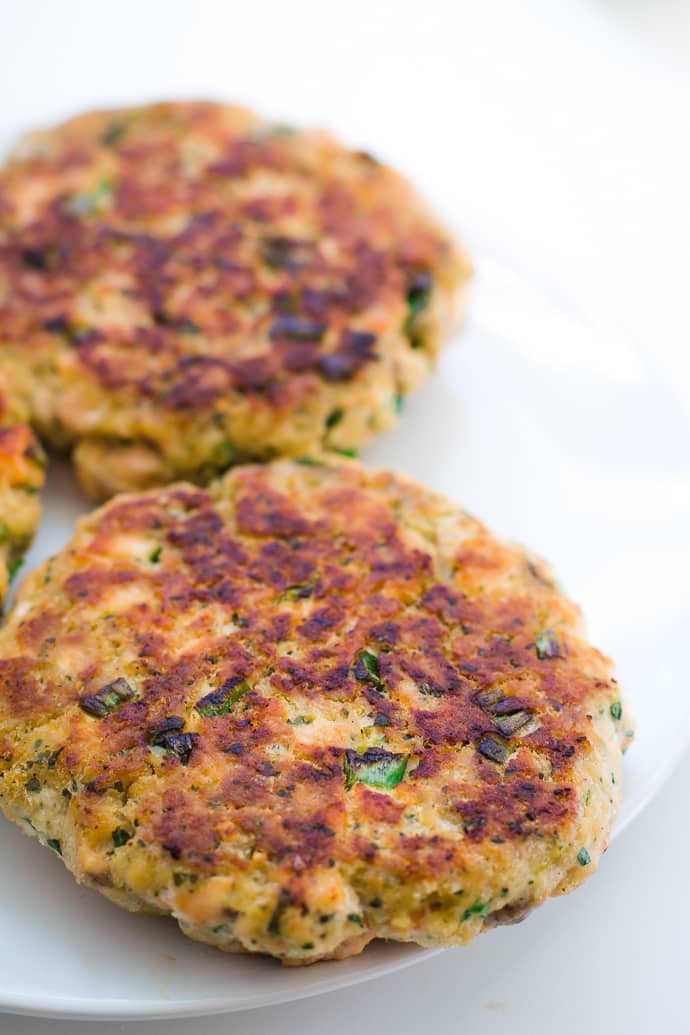 From there it's just a matter of assembling the burgers! I started mine out with a little mayo on the bottom bun and then topped it with sprouts and a bit of watercress.
Then the salmon burger which was topped with pickles, onion, and my super yummy tequila sauce!
I was very pleased with how well these burgers turned out and already can't wait to try some new variations with different spices and flavors!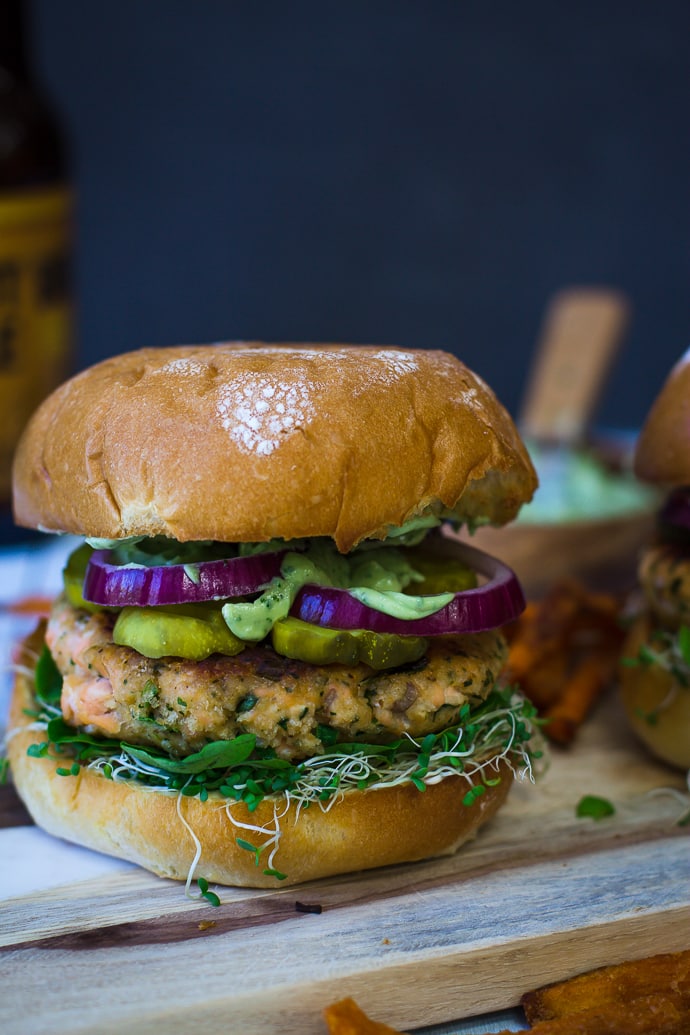 I took the leftovers to lunch during the week and ate them plain (with a little of the sauce on top but no bun) and really loved it. I think these would be great as smaller, bite sized nuggets eaten plain. I might try that soon for some healthy lunch options!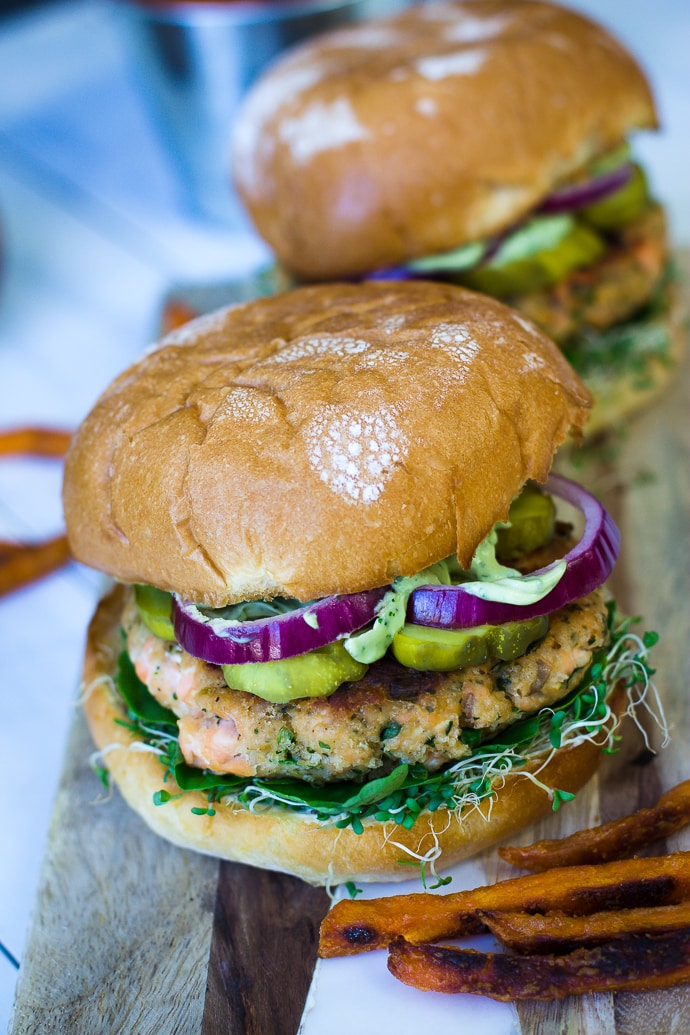 Here's your cook along song. Kina Grannis is one of my favorites :)
Print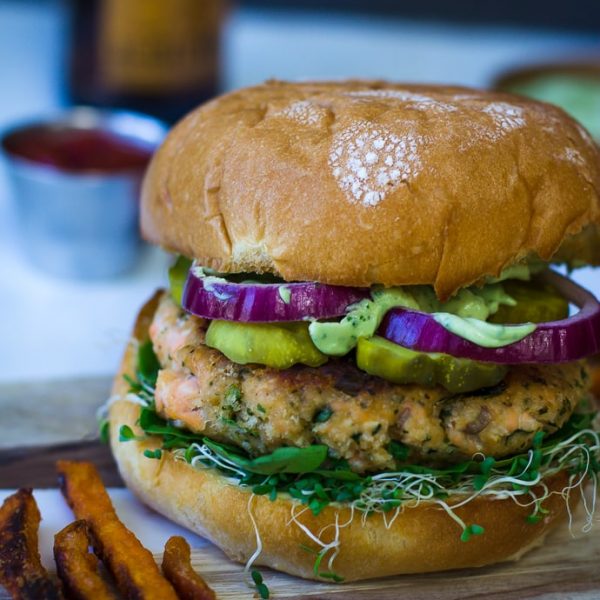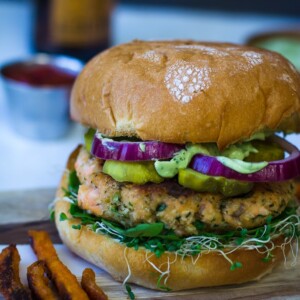 Cilantro Lime Salmon Burgers w/ Tequila Avocado Sauce
---
Total Time:

35 minutes

Yield:

4

1

x
For Salmon Patties:

1 1/2

pounds of salmon, skinned

1 tablespoon

of mayo

1 tablespoon

of lime juice

1/2 teaspoon

of salt

1/2 teaspoon

of pepper

1/2 cup

of cilantro

2

garlic cloves, roughly chopped
Zest of

1/2

a lime

1/2 cup

of green onion, chopped

1 cup

of bread crumbs (I used panko for this)
cooking spray to grease the pan
For the Tequila Avocado Sauce:
1/2 cup

of plain Greek yogurt (or sour cream)

1

avocado, pitted and skinned
small handful of chopped cilantro

1 tablespoon

of lime juice

1 tablespoon

of tequila (optional but recommended)
S&P to taste
---
Instructions
For the salmon patties:
Divide the salmon in half. Cut one half into larger chunks and the other half into more precise 1/4 inch pieces.
In a food processor, combine the larger salmon chunks, mayo, lime juice, S&P, cilantro, and garlic and process until the salmon is fully broken down and combined (see picture above).
Add in the remaining chunks of salmon with the lime zest and process a few short times for just about 1-2 seconds each time. You do not want these chunks to fully break down. (again, see picture above).
With a spoon, stir in the bread crumbs and green onion and stir until the whole mixture is fully combined.
Form the salmon mixture into patties. I made 4 large patties but this could easily be separated up to make 6 or even 8 smaller patties.
Generously grease a large skillet and heat to medium-low heat.
Cook the patties, depending on their size, for 7-10 minutes on each side. I recommend using a meat thermometer to know when they're cooked on the inside (they should be at 145 degrees F inside). Once done, let cool just slightly before serving.
For the tequila avocado sauce:
Combine all of the ingredients together in a food processor and process until fully combined.
S&P to taste.
Prep Time:

15 minutes

Cook Time:

20 minutes
This post may contain affiliate links. Please read my disclosure policy.