Coconut Almond Date Rolls (+ a video!!)
This post may contain affiliate links. Please read my disclosure policy.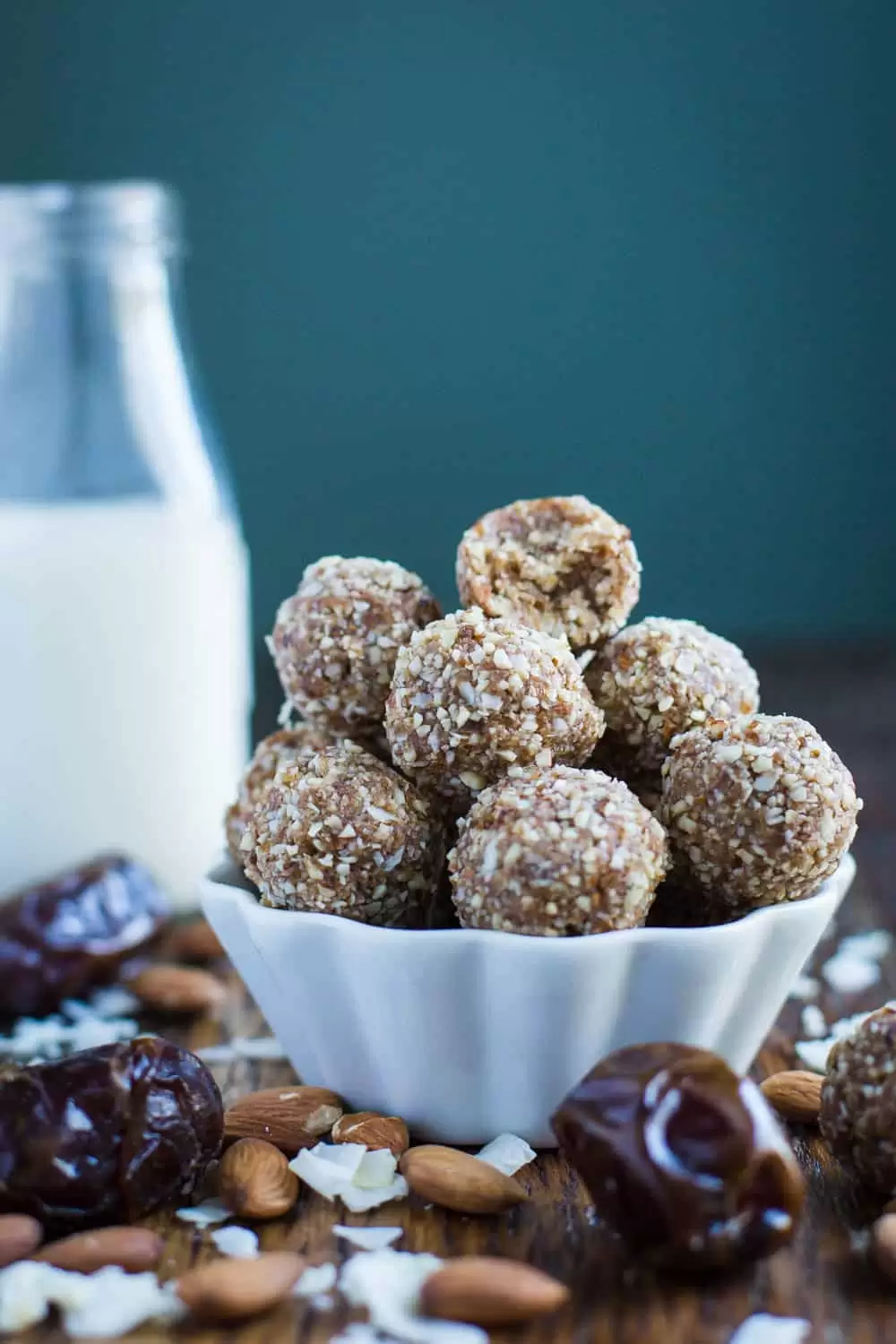 I've been sitting on this recipe for weeks because (!!!!) I made a video to go along with it and needed time to edit it because I'm video challenged for sure!
Thank goodness that I'm not much of a perfectionist or else this video would have NEVER been finished. I really want to start doing recipe videos (maybe even some with me in them??) so I figured that I had to start somewhere. I decided that this recipe was perfect for my first recipe video since the recipe itself is so super simple.
Between filming and editing, I'm embarrassed to tell you how much time I spent on that ONE minute video. Practice makes perfect, right? Like I said, I'm really hoping to continue making these videos for you and my hope is that they'll get better and better each time :)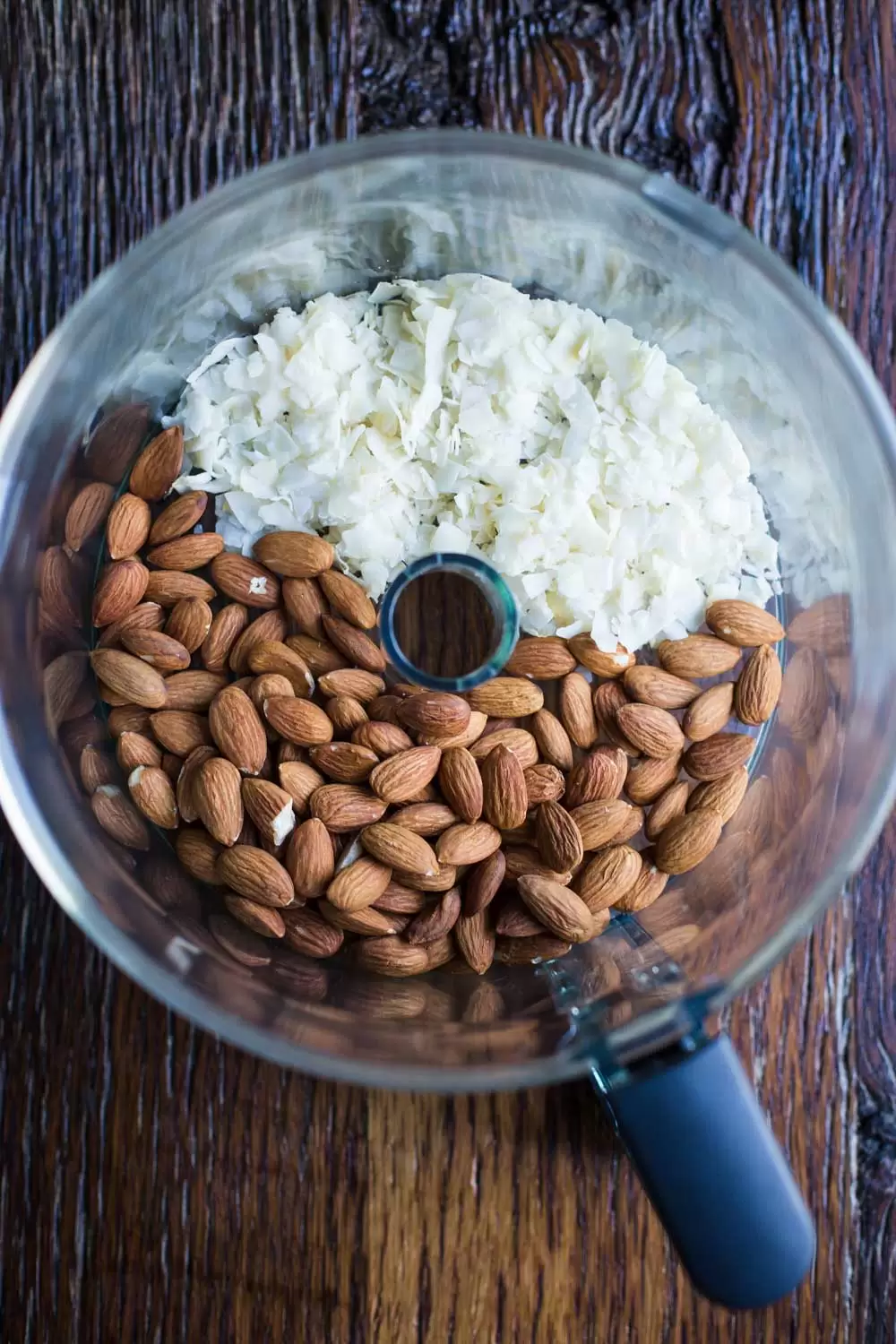 I saw these Almond Coconut Date Rolls at the store for a rather ridiculous price. I took a quick mental note of the ingredients and decided to try making them at home. As it turns out, they're SUPER easy to make! Basically just process all the ingredients in a food processor for a minute, roll them up into little balls, and let them sit in the fridge or freezer for a bit to harden.
Easy!
The first time I made these, I rolled them into balls about 1 tablespoon big which was the size they were at the store. The second time I went with slightly smaller ones that were closer to about 1 teaspoon large.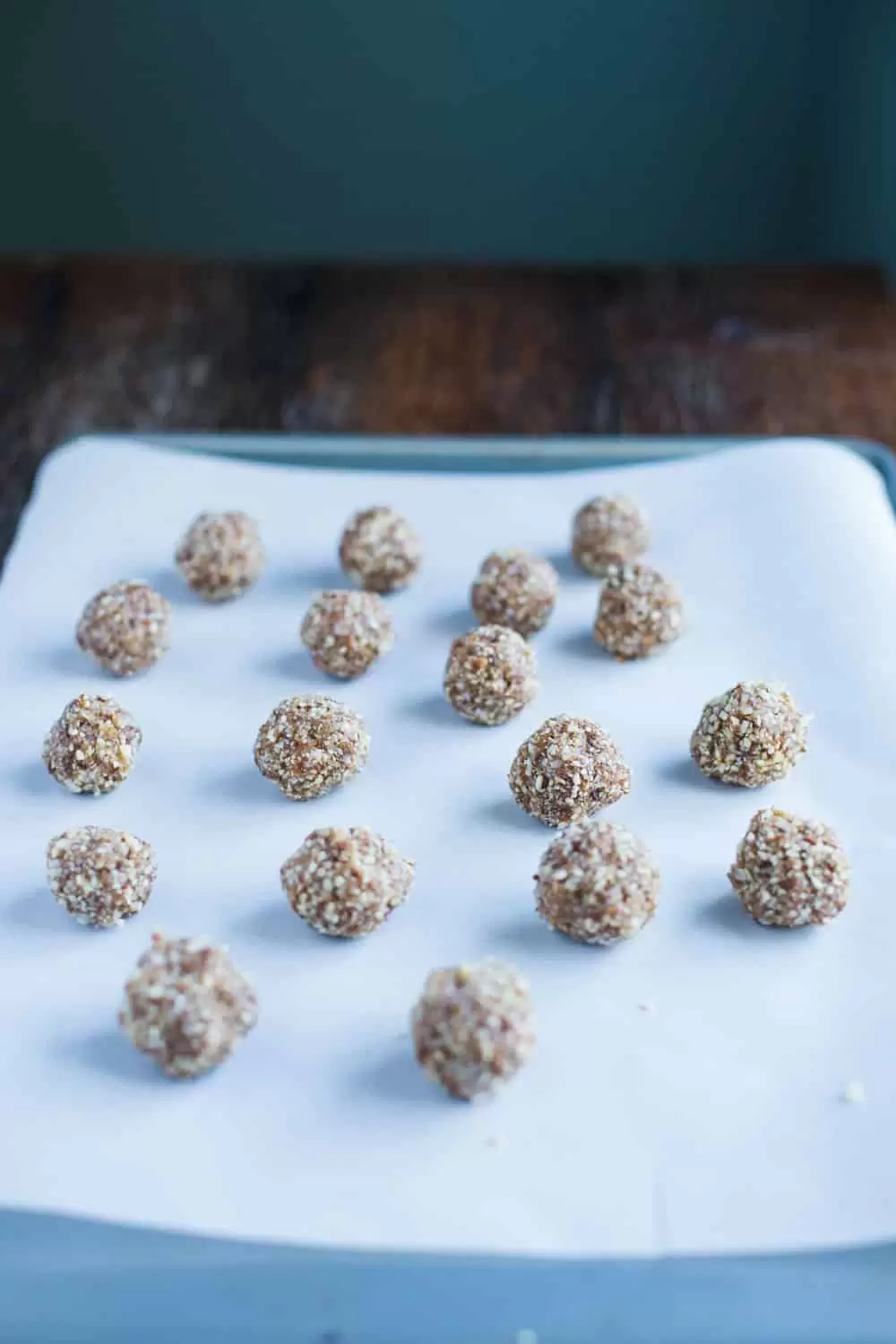 I store mine in the fridge where they can stay good for a few weeks. It's been nice having them around for those times where I just want to eat a little something between meals and actual snack times.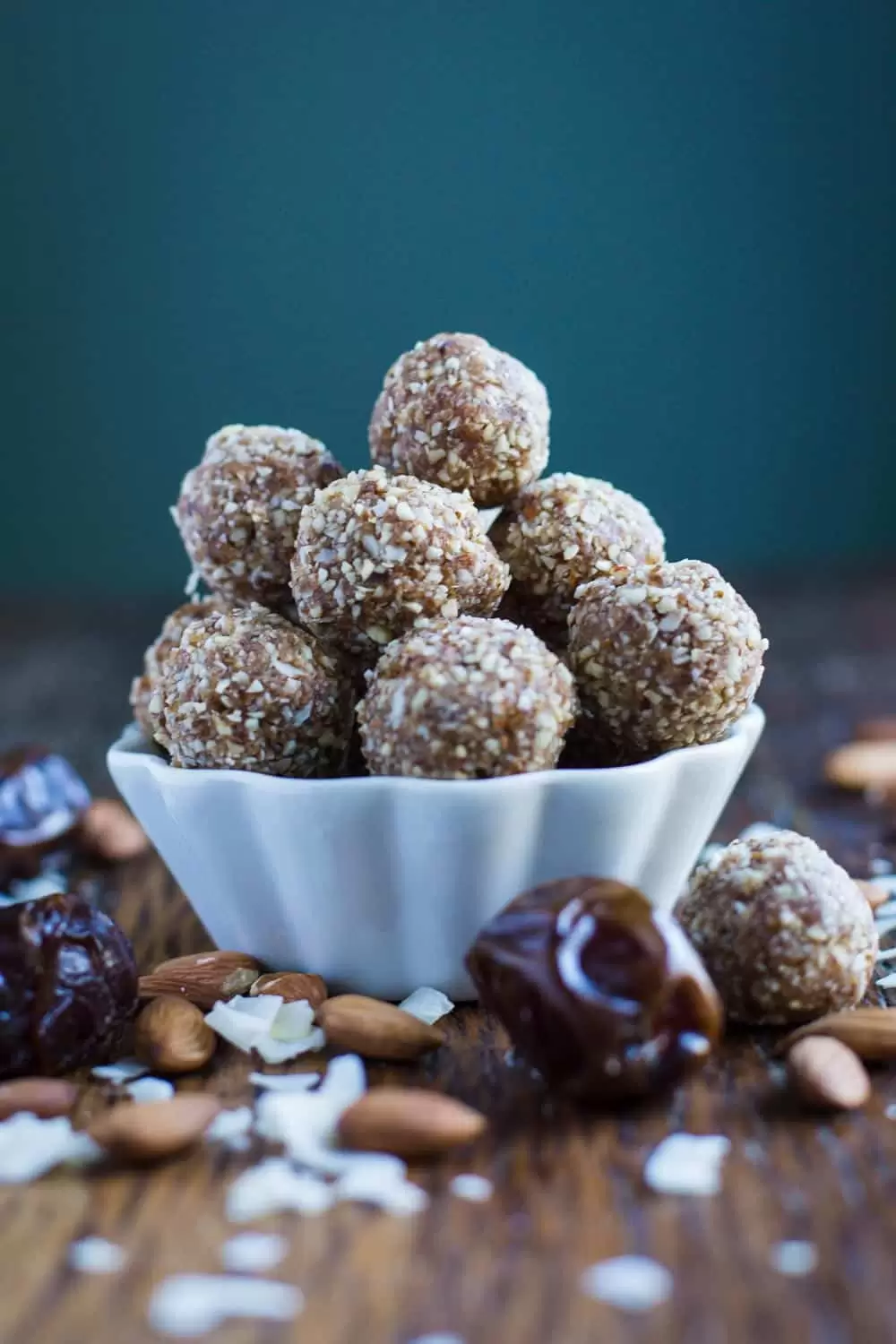 Let me know what you think about my little video! :D Even though I've already posted the recipe, I'm thinking of making my next recipe video of the Vegan Peanut Butter Pie that I posted a couple weeks ago.
Happy Hump Day, friends!!
Print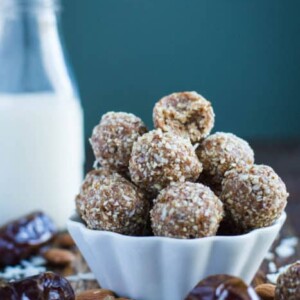 Coconut Almond Date Rolls
---
Author:

Total Time:

10 minutes

Yield:

2

0

1

x
1 cup

of almond

1/2 cup

of shredded coconut

1 cup

of dates, pitted (about 8)

1 tablespoons

of coconut oil

1/2 teaspoon

of sea salt

1/2 teaspoon

of vanilla

1/2 teaspoon

of cinnamon

1/4 teaspoon

of nutmeg
---
Instructions
In a food processor, blend together the almonds and shredded coconut until the almonds are coarsely chopped.
Add in the remaining ingredients and process for 30-60 seconds until everything is finely processed and the mixture is rather sticky. (see photo above to know the texture)
Taking 1 tablespoon at a time (can make them small though if you wish), roll the mixture in your hands so that it forms a nice smooth ball.
Place each ball on a parchment lined baking sheet. Continue until all of the mixture is used up.
Put the try in the fridge for an hour to let the rolls harden.
ENJOY!!
Store in the fridge for up to 3 weeks.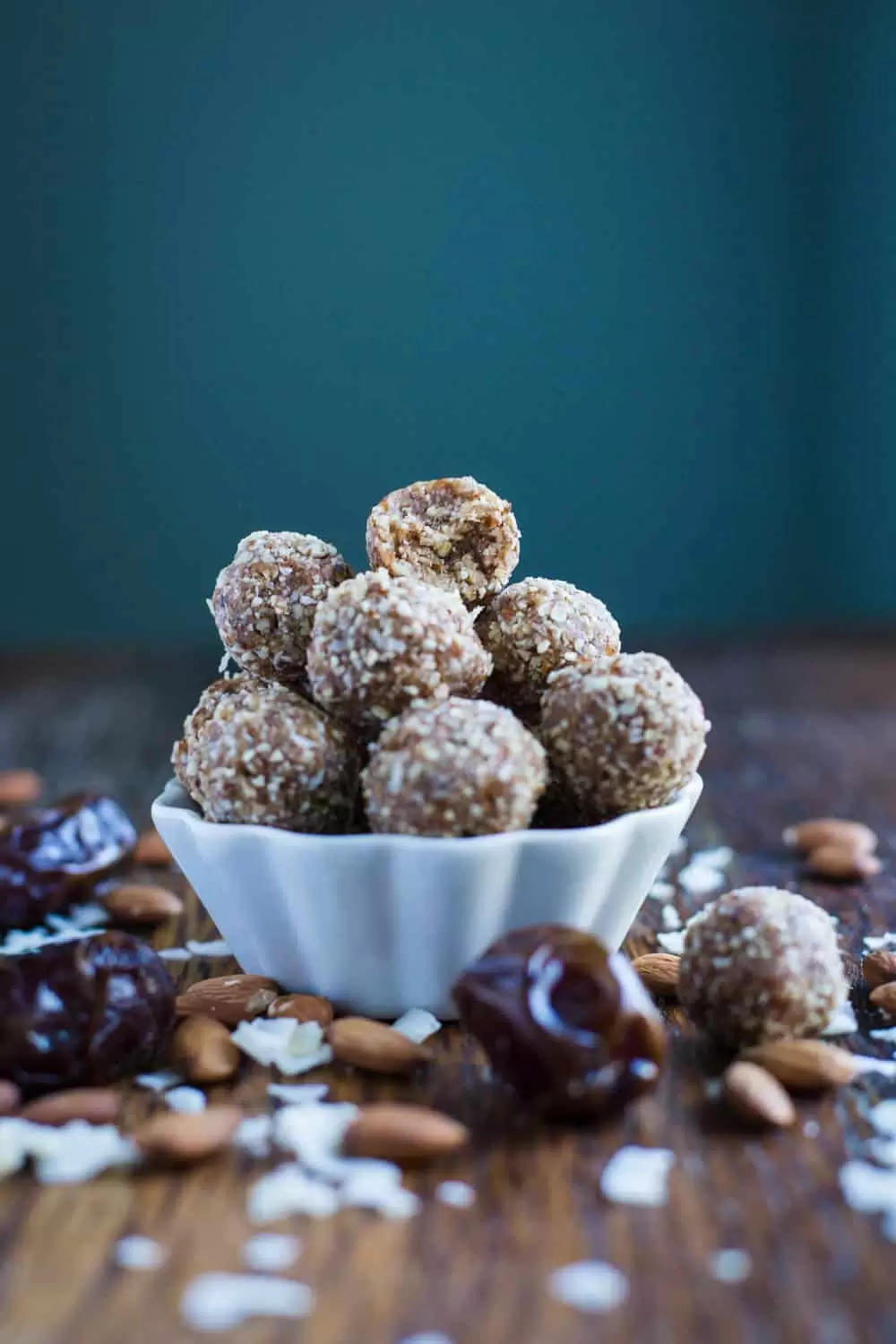 This post may contain affiliate links. Please read my disclosure policy.