Double Chocolate Vegan Muffins
This post may contain affiliate links. Please read my disclosure policy.
Let me introduce you to maybe the best muffins that I've EVER made (vegan or otherwise). Besides the excitement of the taste buds in my own mouth, I have concrete proof that these muffins are amazing: Stephen liked them! I even warned him beforehand that they are vegan (because he usually hears the word "vegan" and then instantly loses interest).
This is another recipe that I've taken and adapted from the 500 Vegan Recipes Cookbook that I've been so obsessed with. Like, I've been carrying it around with me and have bookmarked about 1/5 of the recipes. So far these Double Chocolate Vegan Muffins are one of my favorite recipes from the book.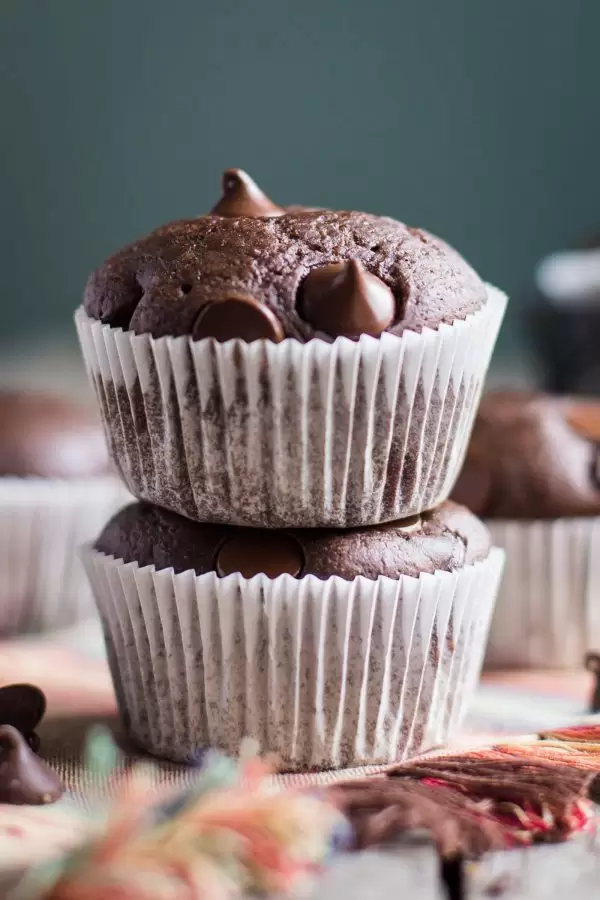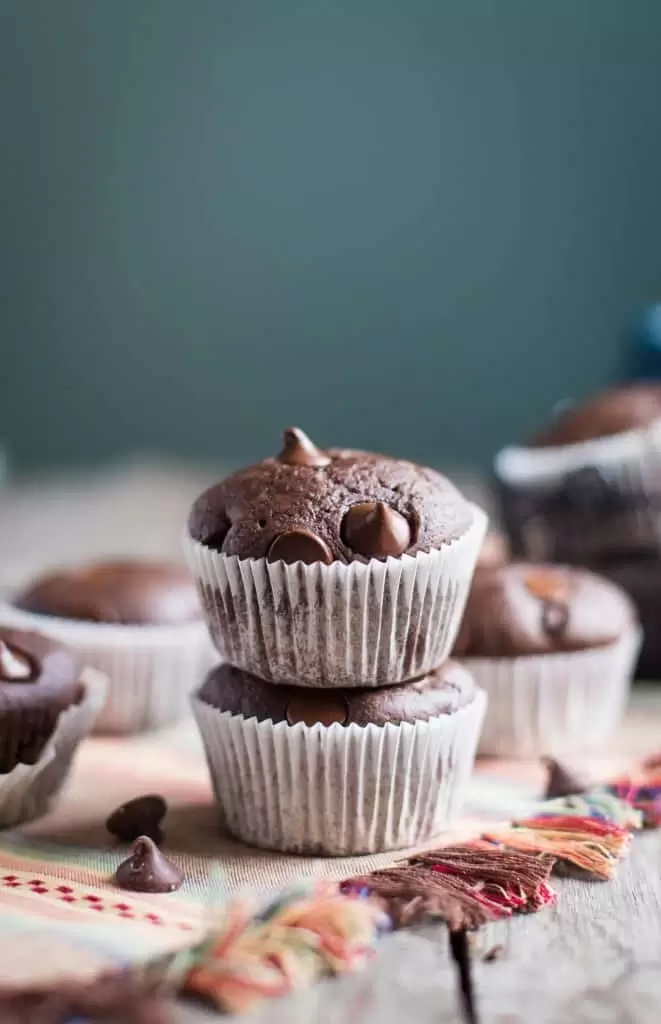 I'm a big muffin fan. They kind of feel fancy but with so little effort. Basically just mix everything in one big bowl, pour in muffin tins, and then bake. I honestly don't bake muffins enough but with this recipe, I might just make them every weekend.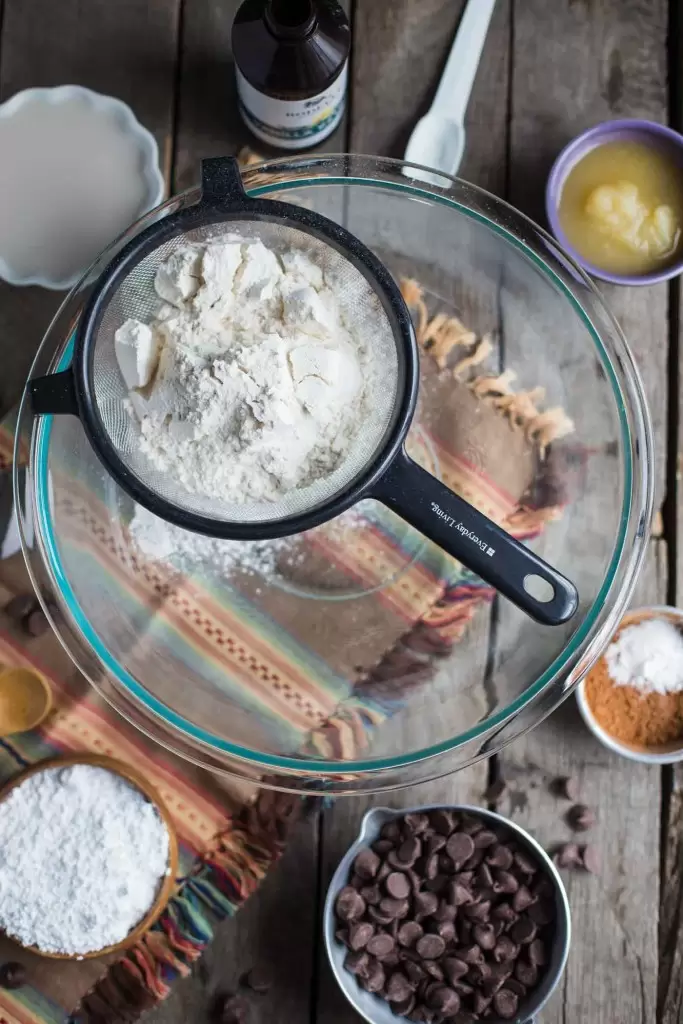 While the kettle is boiling, prepare your ingredients and sift together all of the dry ingredients in a big ole' bowl. Take a quick break from the muffins to grind coffee and get it ready in the French press.
Next, you mix all of the wet ingredients together in a separate bowl and then pour them into the dry ingredients. At this time, your water is likely done boiling and you can pour it into the French press and let the coffee brew for a few minutes.
While the coffee is doing it's coffee thing, gently stir the ingredients together, add in the chocolate chips, stir, pour in the prepared muffin tins, and pop in the oven.
While you wait the 15 minutes for the muffins, you can pour your first cup of coffee and just stand in the kitchen enjoying it while the muffins do their muffin thing.
MMmmmmmmm. ALL the chocolaty goodness. I really should have made another batch of these to enjoy while actually writing the post because now I'm just drooling on my keyboard wishing that I had some more of these muffins.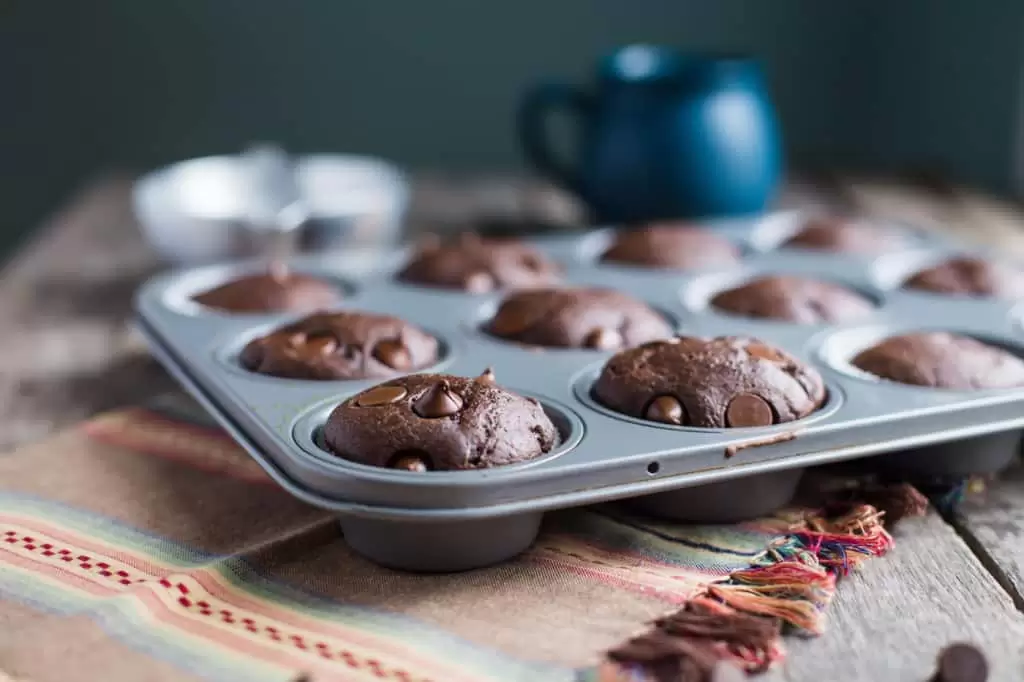 Vegan or not, I HIGHLY recommend that you make these muffins this weekend. Or tomorrow if you want. They're quick enough that you could feasibly make them and still get out the door on time. Maybe I'll make them tomorrow…..
OH. And I've been getting people asking me about chocolate chips and whether or not they're vegan. The average chocolate chips that you buy at the store will say something like "may contain milk". If you want/ need truly non dairy chocolate chips, I've found that amazon is a GREAT place to get them (let's be honest, amazon is a great place to get EVERYTHING ((says a true Amazon addict)). HERE's a list of some of the non dairy chocolate options that they have.
See how to make the Double Chocolate Vegan Muffins here:
Print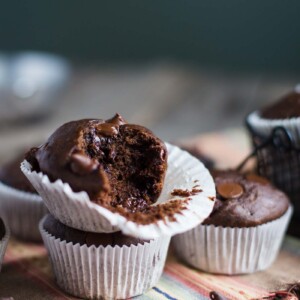 Double Chocolate Vegan Muffins
---
Author:

Total Time:

25 minutes

Yield:

1

2

1

x
1 1/2 cups

of all purpose flour

1/4 teaspoon

of sea salt

1 teaspoon

of baking soda

1/4 cup

of cocoa powder

1 cup

of powdered sugar

1 cup

of almond milk (or other nondairy milk)
heaping

1/4 cup

of unsweetened apple sauce

1 teaspoon

of vanilla extract

1 tablespoon

of apple cider vinegar

2/3 cup

of nondairy chocolate chips, divided
---
Instructions
Preheat the oven to 350 degrees F. Line or spray a 12 cup muffin tin (could also use a 6 cup jumbo muffin tin).
In a large bowl, sift together the flour, sea salt, baking soda, cocoa powder, and powdered sugar. Set aside.
In a small bowl, whisk together the almond milk, applesauce, vanilla extract, and vinegar.
Making a well in the center of the dry ingredients, fold in the wet ingredients until just mixed together fully. Try and avoid over stirring. Gently stir 1/2 cup of the chocolate chips in.
Pour the batter evenly into the muffin tins, sprinkle with the remaining chocolate chips, and place in the oven. Bake for 15-18 minutes (assuming standard sized muffins). Muffins are done when a toothpick inserted into the middle comes out clean.
Let cool slightly and ENJOY!!!
Prep Time:

10 minutes

Cook Time:

15 minutes

Category:

Breakfast
***Some of the links above are affiliate links meaning that if you end up buying one of the products, I'll make a teensy profit at no extra cost to you. Don't worry though, I'll put the money to good use like buying a giant bulk order of vegan chocolate chips :)
This post may contain affiliate links. Please read my disclosure policy.