Easy Tofu Taco Meat
Easy Tofu Taco Meat- this vegan taco meat is made with tofu crumbles and quinoa. It's easy to throw together and SO TASTY!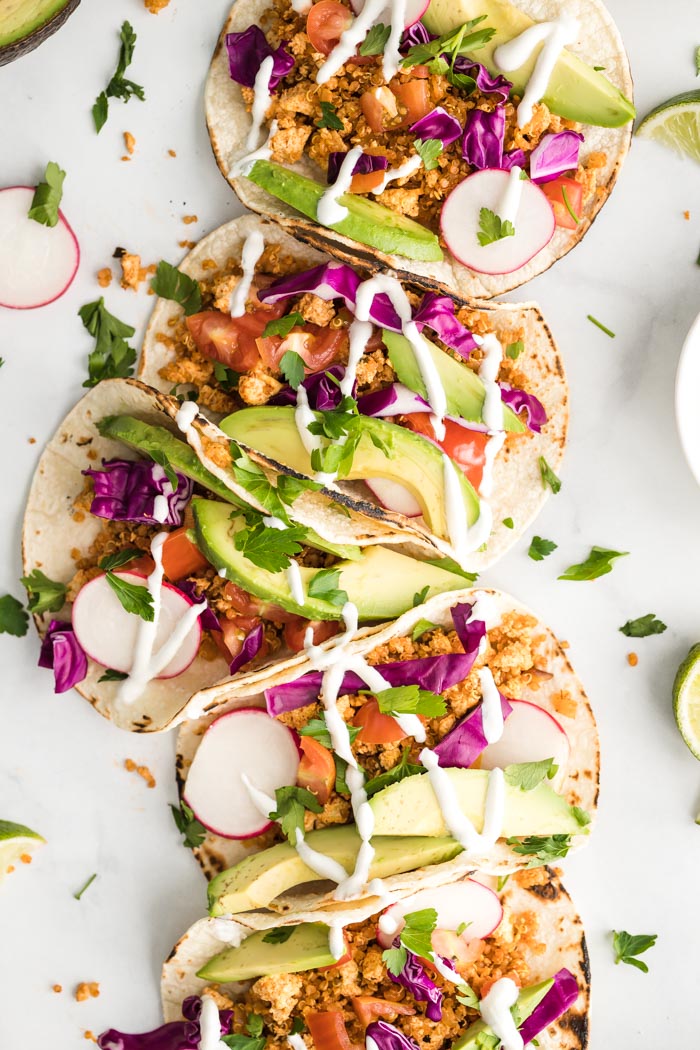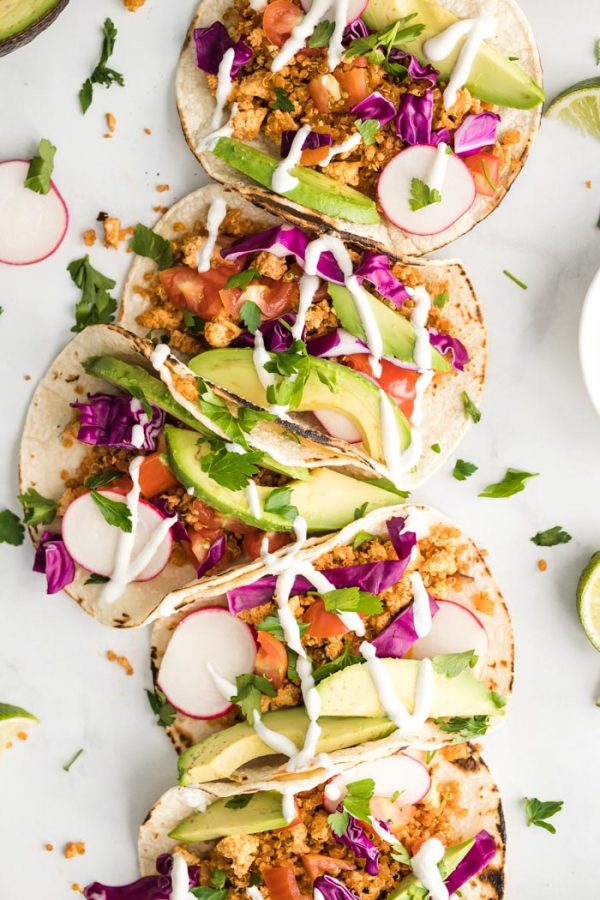 Tofu Tacos! Bear with me for a minute because I know that there are a lot of people out there who are not totally on the tofu train. I get it. I wasn't really that into tofu until the past couple of years but it has recently become a regular in our house and I'm NOT complaining about it one bit.
This vegan taco meat consists of tofu crumbles + onion & garlic + quinoa + taco spices. It's super simple and surprisingly delicious. Even I was pretty skeptical at first but I really want to try making taco meat with tofu. I have THIS recipe for Tempeh Tacos but if I have to be honest, these tofu tacos are even BETTER!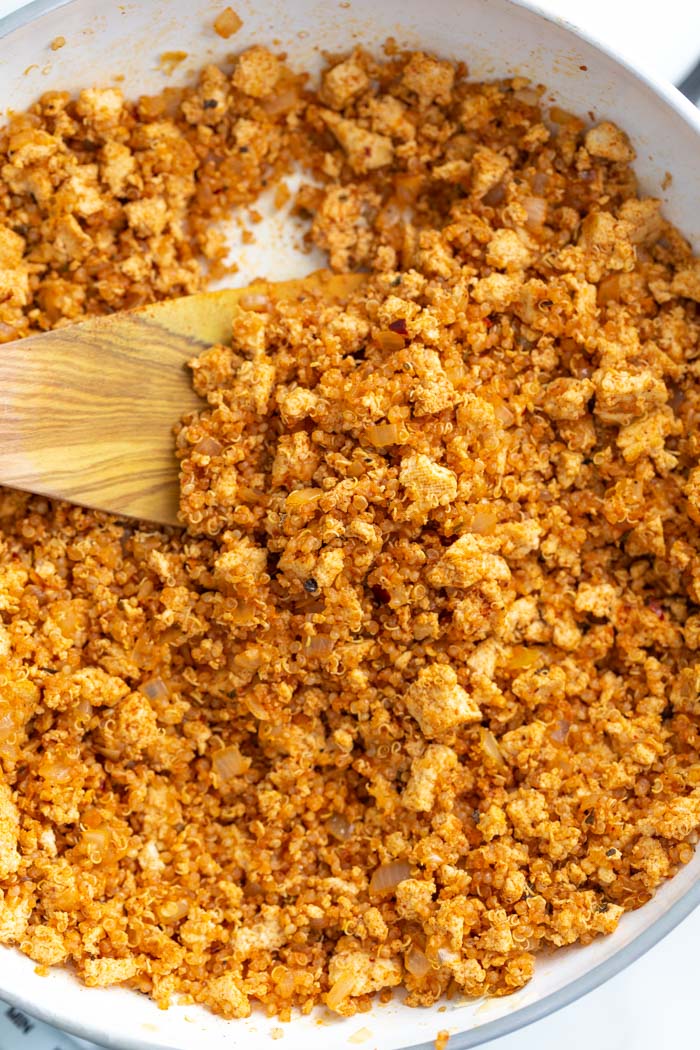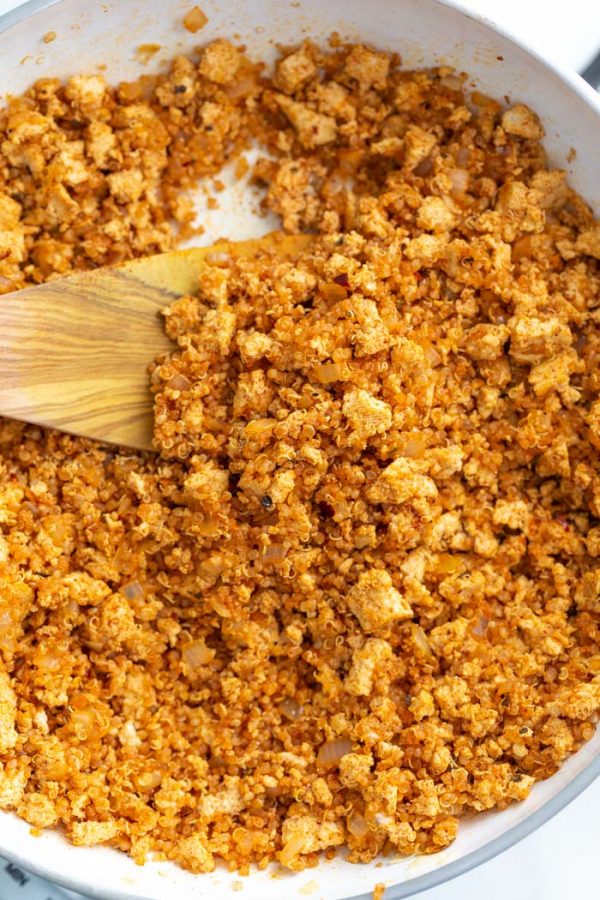 The consistency of this taco meat more closely mimics beef tacos. The quinoa gives it a little bit of crunch to it which I love.
It also keeps well for a few days so it's great for vegan meal prep or just making dinner a bit in advance. I love having it on hand for easy meals that I can throw together in a few minutes. We eat a LOT of tacos in the Britnell household and no one is ever complaining about it :)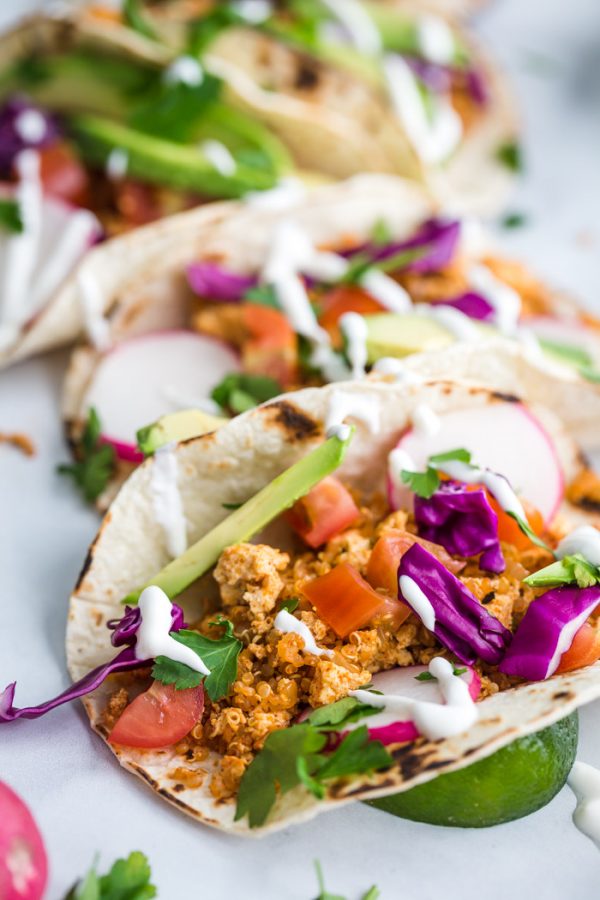 How to make this Vegan Taco Meat:
AS most of my recipes go, this one is super easy!
Sautee onion + garlic in a little olive oil.
Add in cooked quinoa and then crumble in your tofu. I use half a block of tofu so that this serves 2 hungry adults. BUT you could certainly double the recipe to use up all of your tofu and have extra taco meat.
Then we add in the taco seasonings. You can simple add in a pre-made taco seasoning OR follow my recipe below which includes: chili powder, garlic powder, onion powder, paprika, cumin, red chili flakes, and oregano. Simple and delicious!
Since the quinoa is already cooked, all we're really doing at this point is letting the spices infuse into the vegan taco meat and heating everything through. I usually let it sit on the stove for about 5 minutes.
That's it! Load up your tacos and EAT!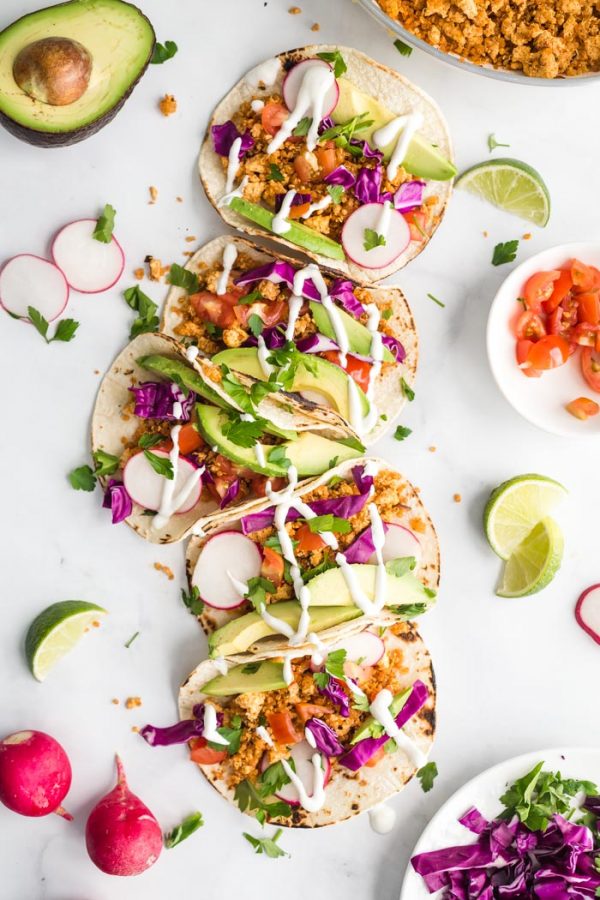 As usual, PLEASE PLEASE let me know if you end up making this vegan taco meat recipe (or any of my recipes!). I love when you tag me on Instagram!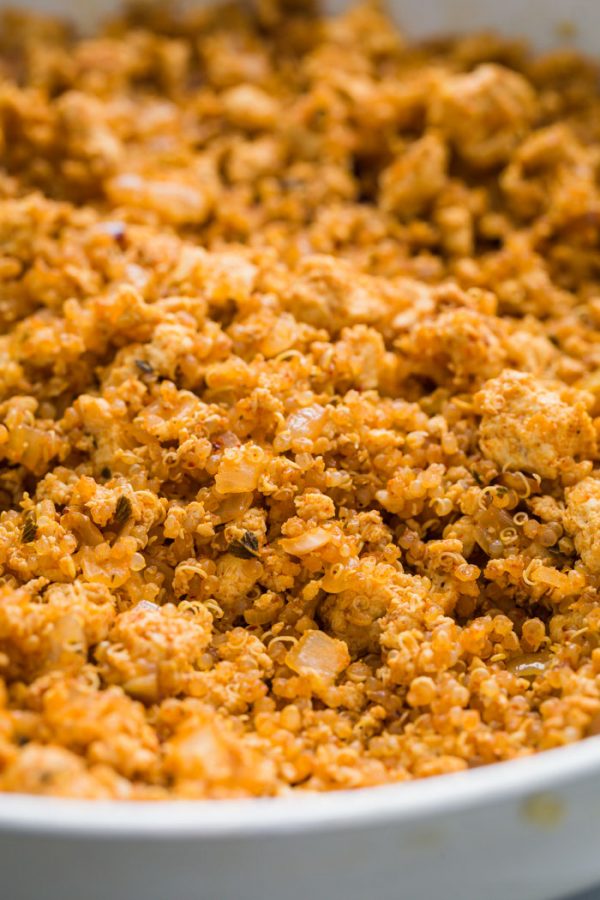 More Vegetarian Tacos that you might like:
See how to make the quinoa tofu taco meat here:
Print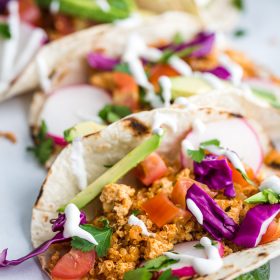 Easy Tofu Taco Meat
---
Author:
Prep Time: 5 minutes
Cook Time: 10 minutes
Total Time: 15 minutes
Yield: 2 servings 1x
Scale
Ingredients
1 tablespoon of olive oil
~8 ounces of tofu (about half of a 15 ounce block of tofu)
1 cup of cooked quinoa
1/2 cup of chopped sweet onion
2 cloves of garlic
1 teaspoon of chili powder
1/4 teaspoon of onion powder
1/4 teaspoon of garlic powder
1/2 teaspoon of paprika
1/4 teaspoon of crushed red pepper flakes
1/4 teaspoon of oregano
1 teaspoon of cumin
salt and pepper to taste
---
Instructions
Pat the tofu dry (no need to press it) and crumble it into small bite sized pieces.
In a large skillet, heat the olive oil over medium heat. Add in the onion and garlic and sautee for 5 minutes until the onion becomes translucent.
Add in the quinoa, tofu crumbles, and spices. Stir and continue to cook for 5 minutes until completely heated through.
Enjoy with you favorite taco dishes!
---
Category: tacos
Method: stovetop
Cuisine: american
Keywords: vegan, tofu, taco