Egg Casserole
This post may contain affiliate links. Please read my disclosure policy.
I've been really into eggs lately. Eggs are the kind of thing that I eat a bunch of until I hit a point where I can't stand them and I don't want to look at them at all unless they're being added to flour and sugar (in which case they're always welcome).
But yea, right now is a "yay eggs" kind of time in my life. Also, for whatever reason my breakfast just feels complete when it involves eggs. What we have here today is really just an omelet in a ramekin. But with whole eggs instead of scrambled into the veggies. So, kind of like a casserole? (can you tell that I spent FORever trying to come up with just the right name for this?).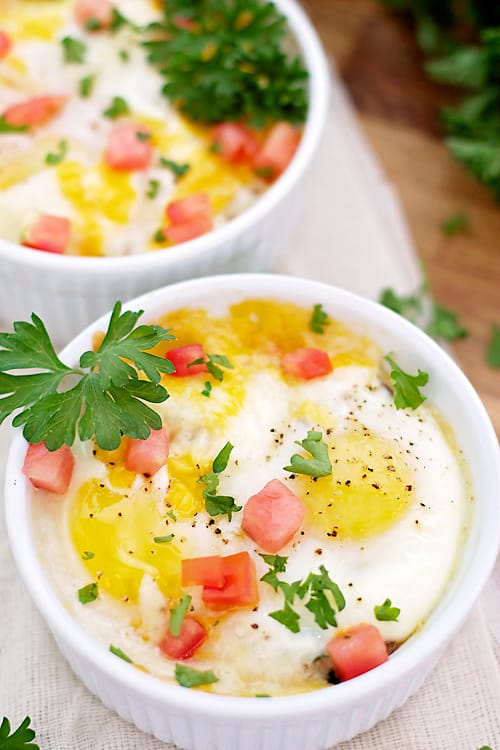 I love this mainly for the mere fact that they're much prettier than an omelet AND I really just enjoy any recipe that involves me throwing a bunch of stuff in one dish, baking it, and calling it a meal.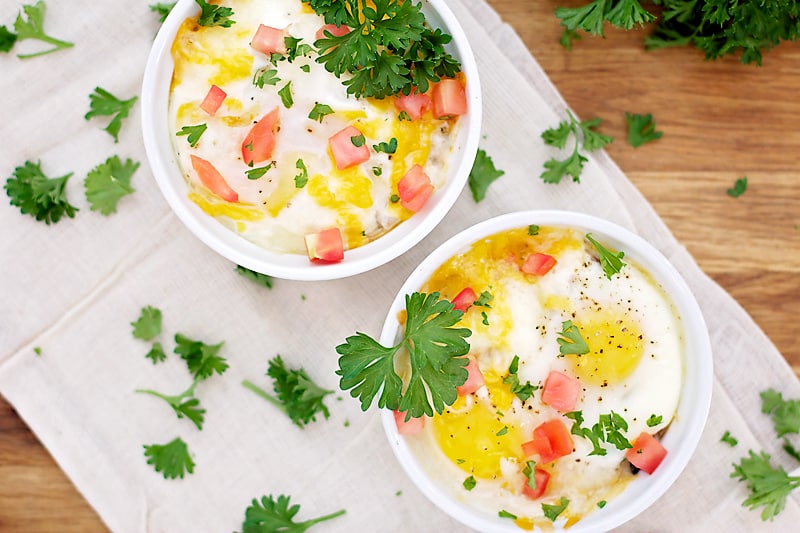 This dish started with a trip to Whole Foods and a few compulsive buys. Like 2 pieces of sausage. Who buys just 2 pieces of sausage? I do apparently. I think I just got excited that you can buy meat by the slice. So, I bought 2 pieces of this sausage that looked delicious.
Also, it's worth mentioning that I made the age old mistake of going to the grocery store hungry and basically all of the foods looked yummy. I digress.
So, I bought 2 pieces of sausage and a ton of veggies and I always have eggs on hand. Lets throw all of that in a ramekin and call it breakfast (or a casserole apparently?).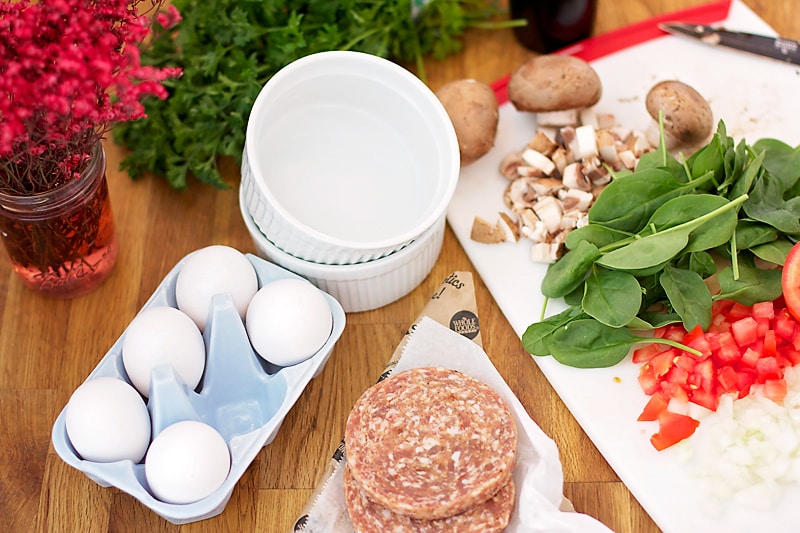 First things first, saute those veggies in a tiny bit of oil and cook that sausage. This is best done with a cup of coffee in hand and either soothing morning music playing (Feist maybe?) or a good talkative companion nearby to help with the dicing.
Next comes my favorite part! Throw it all in a bowl (ramekin if you're being chic).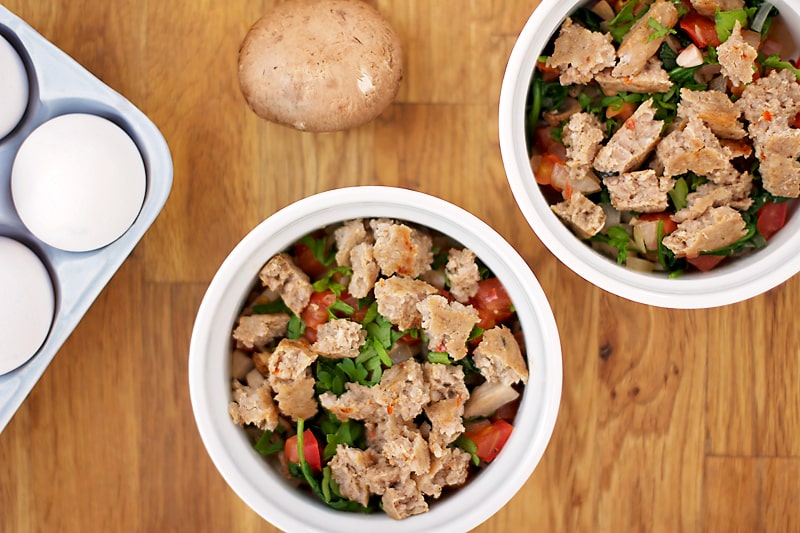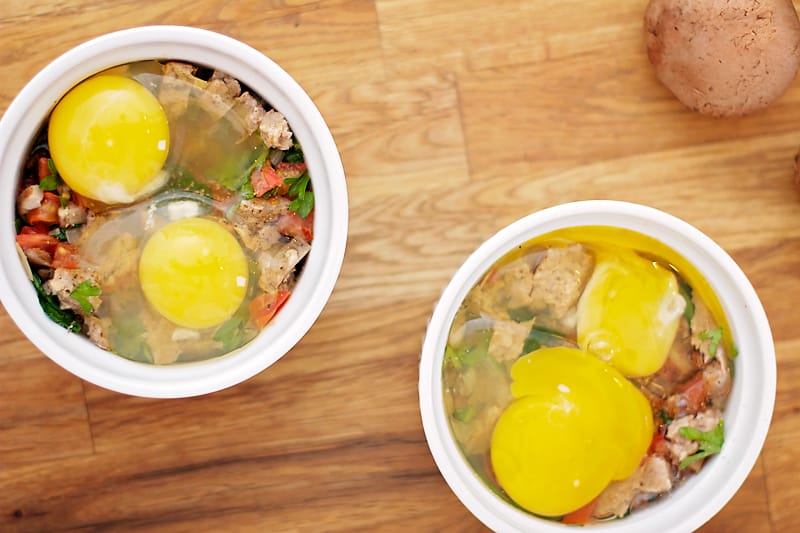 It was a pure accident that the eggs in one of the ramekins broke. But, it worked out perfectly. Now all that's left is to sprinkle with S&P and throw those ramekins in the oven.
While you wait, obsess over the flowers you got for 50 cents and can't stop taking pictures of. I think that these are technically "filler flowers" but I don't care. I love them just the way they are. And come on, 50 cents.
Oh ps, I added some cheese last minute. Just a little bit. It seemed necessary at the time.
After about 20 minutes, your breakfast is ready and you probably need another cup of coffee. So, do that while these cool.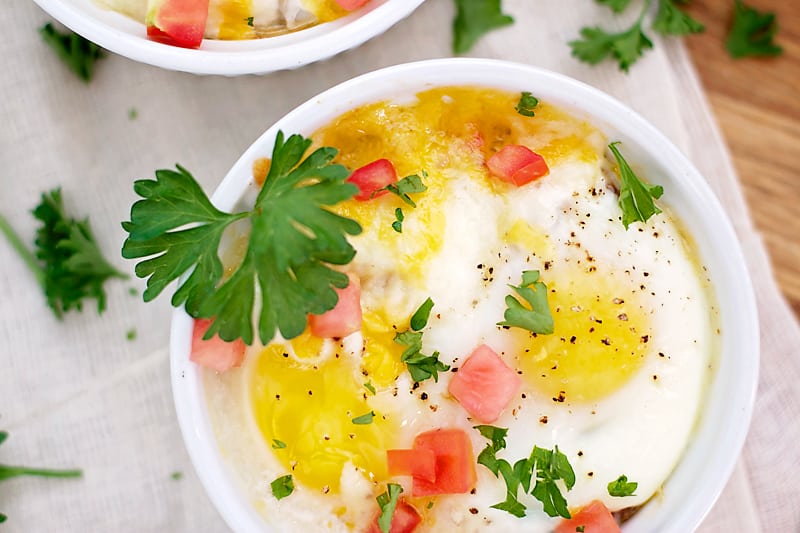 Look at those flowers! (Sorry, I couldn't resist putting another pic in here).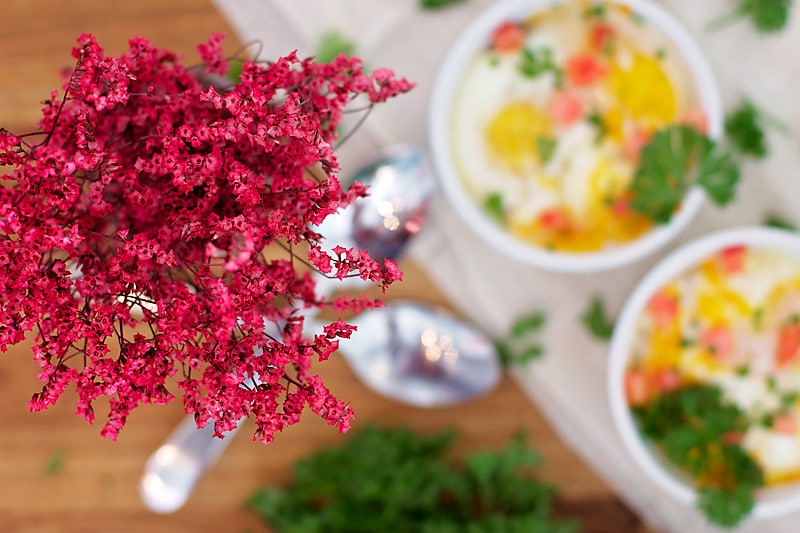 Print
Mini Egg Casserole
---
2

sausages, chopped into pieces

1/2

of a small onion, diced

1

small tomato, deseeded and diced (plus a bit more for garnish if desired)
large handful of spinach

3

large mushrooms, diced

1/4 cup

of cheese, divided

1/4 cup

of loosely packed fresh parsley

4

eggs
Salt and pepper to taste
---
Instructions
Pre-heat oven to 350 degrees F.
In two separate pans, cook the sausage in one and saute the onion, tomatoes, and spinach in a bit of oil in the other pan.
Once done, divide the veggies and the sausage between 2 ramekins.
Top each with fresh parsley and the cheese.
Crack 2 eggs over each ramekin. (you can break the egg yolks if you wish).
Sprinkle with salt and pepper.
Bake for 15-20 minutes or until the eggs are at your desired consistency.
Top with a bit more tomato and parsley if desired and ENJOY!
This post may contain affiliate links. Please read my disclosure policy.